When Greco-Roman was not included in the 2018 Final X Series, there was all sorts of push-back. You couldn't even quantify the amount of finger-pointing. Not that it didn't make sense. When the perception always has been (and mostly continues to be) that Greco in the US is constantly shafted, the hardcores have a tendency to band together and call out the targets of their collective ire. It's really wonderful, even if sometimes they're aiming at the wrong targets. Loyalty is a precious commodity, folks.
But now what?
One calendar year later and Greco is about to make its debut in the 2019 Final X Series with all ten match-ups carrying compelling storylines and the potential to deliver thrilling action on the biggest domestic stage the style has ever been given.


It would be putting the cart before the horse to say This is what we've all been waiting for. That's simply not true. What everyone has been waiting for, at least in this generation, are multiple medalists at the Worlds and Olympics. But in terms of Greco athletes wielding an opportunity to demonstrate why American mainstreamers need to be paying more attention to this discipline, Final X is as good as it gets.
Just look at the match-ups for this weekend at Rutgers. Even if you've seen a few of them before, the environment and stakes involved instantly elevates their significance.
FINAL X RUTGERS
June 8th
55 kg
Max Nowry (Multi-time National Team member, two-time US Open Champion, 2012 University World Champion) vs. Brady Koontz (2018 Junior World Team member)
Nowry is the rightful star of this weight class but Mr. Koontz stomped through the Trials Challenge Tournament displaying a lockdown elbow-deep gut that could even the playing field. Experience and versatility belongs to Nowry in this one and Koontz knows it. Good thing he already has one helluva go-to up his sleeve. 
67 kg
Ellis Coleman (2012 Olympian, three-time World Team member, two-time Junior World medalist) vs. Jamel Johnson (2012 University bronze, 2019 Dave Schultz Memorial gold)
Coleman is widely thought of as the best pound-for-pound Greco wrestler in the country. However, Johnson has made important adjustments to his game and is carrying a lot of momentum into this weekend. Plus he knows first-hand what Coleman is capable of and has prepared accordingly. 
77 kg
Kamal Bey (2017 Junior World Champion, three-time US Open Champion) vs. Patrick Smith (Multi-time National Team member, 2017 World Team member, 2014 University World silver)
After their riveting showdown in the National final, you'd be hard-pressed to find anyone who doesn't want to see these two battle it out at least two more times under the brightest lights available. There couldn't be more electricity surrounding a best-of-three series. 
82 kg
Kendrick Sanders (Two-time US Open Champion) vs. John Stefanowicz (Multi-time National Team member, 2017 CISM Military World Team member)
Like so many others before him, Stefanowicz succumbed to Sanders' reverse lift in the US Open semis, and that all but decided the match. Will this series revolve around par terre? Or will it be who can score from the feet? Either way, a brawl is almost guaranteed. 
87 kg
Joe Rau (2014 World Team member, two-time US Open Champion, 2016 Olympic Trials Champion) vs. Ben Provisor (Two-time Olympian, three-time US Open Champion)
It does not matter that they've battled plenty of times throughout the years. Whenever Provisor and Rau square off, you're witnessing two World-caliber upper-weights who are evenly-matched and intimately familiar with what the other one has to offer. That's why the scores are tight; and it's also why the degree of physicality is off the charts. 
Our coverage
5PM previews will be split between here and FLO, with a new wrinkle making its way into the content plan. In addition, we will be on-hand at Rutgers to provide updates and recaps, along with follow-ups after the event concludes.
5PM – Final X Rutgers
Bios/recent relevant histories.
Post-session recap(s).
Follow-up insights from athletes.
5PM on FLO – Final X Rutgers
The premier of Anonymous Scout.
Match-up analysis.
Post-event recap.
SUPPORT OUR ATHLETES!
Omania Talks U23 Trials Win
Here is Peyton Omania's (67 kg, MSU/CYC) 2019 thus far: two Trials tournament victories — and individual wins over every major stud in his weight class, namely Benji Peak (Sunkist/OTS), Dom Demas (Oklahoma RTC), and '18 U23 World Teamer Nolan Baker (NIRTC). Suffice it to say, that is quite the list of opponents, and as such, it is Omania who has had the most impressive domestic age-group campaign of anyone in the country.
Take the Trials series opposite Baker on Friday evening. Omania won an action-packed Match 1, was attempting to engineer a comeback in Match 2 but was whammered by a Baker headlock, and then dug down deep in Match 3 to come out on top. It takes a lot of fortitude to get up off the deck like that, though Omania disagrees with the suggestion that his tenacity trumps his actual skill ("It's a part of how I wrestle, and it's a healthy balance, but I wouldn't say it surpasses my skill," he says).
Fair enough. What is also indisputably fair to say, is that Omania is riding a big wave heading into the summer now that he has two World Championships for which to prepare. We caught up early Monday morning to go over some of that, as well as how he viewed his entertaining series versus Baker.
5PM: After you won the Junior Trials and knowing you were going to have Akron next, did you take any kind of a mini break or breather?
Peyton Omania: I took a little bit of a breather. I went home as soon as I got out of school, I think the 5th (of May) or something. I went straight home and (Mark) Halvorson was going to Hawaii on vacation for a week or week-and-a-half. I wasn't on my own since I have a great support system, but I took a little bit of a breather and reset. My shape was good, I knew that. So I just kind of maintained, focused on my technique, stayed crisp, and made everything come together again when it got time for the tournament. But I did take a little break.
5PM: With the amount of time you wrestled this year, did having a little break restore you?
Omania: Yeah, I think so. But I feel like I'm at my best when I'm in the room with one or two people just having fun, doing technique, and scrambling around. That is a break to me. That's how I get better and I have a lot of fun doing it. Yeah, it did reset me and it got me playing around with new things, which was nice.
5PM: Knowing who was in the bracket, everyone figured 67 in Akron would unfold just how it did into the semis, and sure enough, the seeds held up, though it didn't really matter so much who had whom. You had Dom Demas in your semifinal. Did you notice any differences between how he wrestled you as opposed to how he did last year?
Omania: Yeah, he stayed in my face a lot more. Last year, towards the end of the best-of-three series in Indy, he let me control the pace and be where I wanted to be. But this time he stayed in my face and he made some adjustments. A lot of my offense I hit him with in the past, he felt it coming this time. He made adjustments. But, you know… I'm just tough to take down, man. I'm just tough to score on, and I felt a lot of his offense coming, too. His adjustments were good, but I also felt good about it.
5PM: It seemed like it had to be you and Baker in the final. 
Omania: I agree. I agree because we had never wrestled each other, he beat Benji worse in Raleigh than I did in Vegas, and he beat Dom last year, too. It just made sense that he and I scrapped it out. It was time. And it is going to happen again. It's going to happen many more times most likely. I'm just glad we got the first one out of the way.
5PM: Match 2 was the headlock, his biggest strength. You've been around headlocks for most of your life, what makes Baker's headlock so powerful and different?
Omania: He's always looking for it. Always. It does not matter where, when, what you are doing, he is trying to take your head off. That's it. That is it. Another thing that caught me is I didn't know how big he was. He is big and strong, and he was kind of pushing me around a little bit. But what made his headlock different was the persistence. He didn't care if he missed two, three, or eight times, he didn't care. He is still trying to take your head off. The confidence he has in his headlock is seriously unmatched. Good for him. I mean, fuck, he hits everyone with it. He hit me with it.
5PM: What was your immediate response coming out of Match 2?
Omania: I'll tell you a funny story. After Match 2, I looked back and saw the excitement in his brother and his coaches. And I looked at my friends who were sitting right in front of me, and I could see the concern in their faces, but I also saw the excitement in Baker's corner. I saw both sides of it. That burned inside of me. It fired me up a little bit.
I went and laid down. I knew I got bombed because I saw my feet come off the mat. Okay? I saw my feet, I was looking at my feet come off the mat, and I was just like, Oh man, that sucks (laughs). But I went and laid down like eight minutes after my match to reset my mind. Then I got up and was like, I've got to see if it's on FLO. So I scrolled through real quick and saw myself getting launched, and just said, I can't do that again. I just regrouped and got it done. I knew I was going to do whatever I had to do to win.
5PM: Is there a different feeling after winning a second Trials tournament in the same year?
Omania: I was happy, but I am just so sick of not winning a medal that, not really. I didn't feel that excited. I want to win a medal and then I think I'll be okay.
5PM: The Junior Worlds are in August, the U23 Worlds are midway through October. You'll be back in school by then. There's a good amount of distance between now and then, but how do you plan on training for U23's given the timing?
Peyton Omania: My plan is going to be the same — work with Halvorson all summer long, tighten everything up, get in great shape and keep my weight down. For U23's, when I've been wrestling freestyle, I would drill Greco and then drill freestyle, wrestle freestyle live and then wrestle Greco live. And for some reason, I am finding so many more things to tie into my Greco that it's just crazy. I am adding so much more offense to my game because I am wrestling everything and being in different positions. For U23's, I'll be ready. My coaches here have done a really good job of having me do both.
When I was younger, I used to always be like, No, I just have to wrestle Greco; I've got to get my lift better, my bottom better, and I have to score more points — but only in Greco. Now I honestly feel like freestyle is making me so much better at Greco. It's good.
Questions? Concerns? Feel like reaching out? Do so on Twitter, Facebook, and Instagram!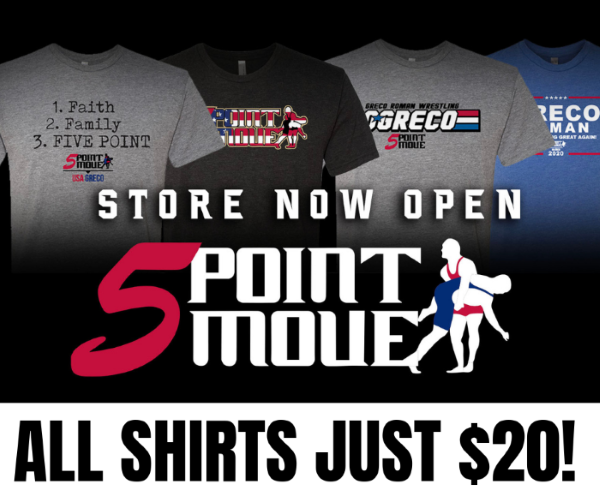 Listen to "5PM23: World Team Trials Challenge Tournament Preview" on Spreaker.
SUBSCRIBE TO THE FIVE POINT MOVE PODCAST
iTunes | Stitcher | Spreaker | Google Play Music | RSS
Notice
: Trying to get property 'term_id' of non-object in
/home/fivepointwp/webapps/fivepointwp/wp-content/themes/flex-mag/functions.php
on line
999