Although the Greco-Roman program at Northern Michigan University has been responsible for many dozens of big moments at the annual US Open throughout its two-decade history, last Friday in Iowa represented the first time in 11 seasons since two NMU wrestlers reached the top of the podium on the same night.
It is still fresh in everyone's memory bank what transpired in Coralville, where Benji Peak (67 kg, Sunkist/NTS, 5PM #11) and Kendrick Sanders (77 kg, NYAC/NTS, 5PM #6) both engineered lights-out performances to come away with National titles. Peak was methodical yet ferocious, stunning the field en-route to his first Senior Open victory thanks to five technical falls. He also garnered the award for Outstanding Wrestler for his efforts.
Sanders, he had been there and done that prior in his career a couple of times, but the 2020 event for him was breathtaking. Other than a close one with Minnesota's rising Greco star Ryan Epps, Sanders was more than on his game. The 30-year-old dynamo brandished his reliable arsenal of high-flying weaponry on several occasions during the event and capped his night with a startling defeat of two-time World Team member and top-seed Patrick Smith (Minnesota Storm, 5PM #1).


Peak and Sanders weren't the only Northerners to compete in Iowa, as former Williams Baptist athlete Duncan Nelson (67 kg) made his return to competition. Although he was likely not in love with the result, Nelson's 2-3 ledger included a few suitably encouraging moments, especially given some of the circumstances he was forced to endure on and off over the past two seasons. Riley Briggs (77 kg), another of NMU's skilled prospects, also put forth a solid day's work, which Bisek points out for the audience.
In case it isn't obvious, those Coralville Nationals are the meat of the issue with NMU/NTS head coach Andy Bisek in this first Marquette Matters of the season. But the tournament is not where it all begins. First, Bisek explains how training had been pieced together before athletes were allowed back on the mat in the Superior Dome; then the coach divulges some of the protocols which were and still are currently in place; and then it's off to the races featuring overviews of the aforementioned athletes.
5PM: We are around two months into organized, structured team activities at Northern and now you guys are back practicing. But before that, how did you have to schedule athletes? Did you have to break them up into different times, what kind of flexibility did you have?
Coach Andy Bisek: I had to break them up into groups and look at everyone's class schedule so I could find out when people had free time — whether they were better-suited for the morning, the afternoon, early afternoon, or later-afternoon. We had a capacity of 24 athletes for the wrestling room, which includes myself and our trainer, so 22 wrestlers. We needed to figure out a way where we could have two sessions while finding the best times for everyone around their class schedules, as well as making sure that they would have teammates around the same size for partners. It was a nightmare (laughs).
5PM: When did contact first become permissible?
AB: We started doing contact stuff I think right around the end of September. Whether we were doing socially-distanced training or contact, it has been required to wear a mask during practice being that it is an organized team activity. Now that we are in contact, it is a little more difficult and frustrating at times, but guys do a pretty good job understanding that a mask isn't going to stay on perfectly so just get it back on when you can. The trainer has extra masks in case they fall off, which they will.
5PM: Veering right to the Nationals, you had a good mix of athletes though they might not have had the days they wanted. That doesn't mean they don't deserve mention. Like Riley Briggs.
AB: Riley had a pretty good tournament. He lost to (Zach) Grimes. He was in that match, I thought he should have won. He just wasn't able to keep it together. In his match with Kendrick he should have scored, but they counted Kendrick's points. I thought Riley wrestled well. He is not really one to overpower people but he played it really well with Tommy (Brackett).
5PM: Duncan Nelson I thought was solid. It wasn't going his way against Ridge Lovett early but he bounced back and made that his match. He wound up not finishing high but it was his first tournament in quite a while and he looked healthy. Were you pleased with the shape he was in and his attitude?
Coach Andy Bisek: He spent a lot of time over the summer getting his body into a really competitive condition, especially that lighter weight. He is in good shape and he spent a lot of time working on that. His mindset throughout the tournament, there were definitely some things that frustrated him, but he didn't seem to let them keep his spirits down too long or anything.
5PM: You know Benji quite well by now. How was his preparation? Did you see this kind of performance coming? And also, last year he still wanted to focus on age-group. Does a win like this prop him up more for Senior events, like the Last Chance Olympic Trials Qualifier?
AB: The training up until Iowa for Benji, like most guys, he was hungry, but more than that, he had a lot of positive energy. Even before we were doing contact stuff he was trying to make the most out of everything. Being that we had the schedule with time constraints and multiple groups, we were doing things once a day. He saw that as, I only have one shot to get better and to give it all my effort. He really approached all of the training with that mindset, Okay, there is no second practice today, let's get everything we can out of this. 
He was very hungry, very excited to go to Iowa. He wanted to compete. He kind of knew that he was capable of doing this. He had put on some good size over the summer to fill out that weight class, and he is continuing to grow. I think he is definitely looking at the Last Chance as a goal for the next six months.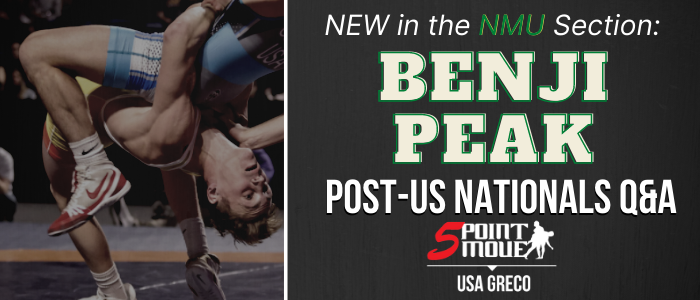 5PM: Kendrick has a real job, works real hours. How has he been able to come in and train given his schedule? He looked trim and in shape. 
AB: He was able to commit more time in the mornings. He was at a handful of the organized group practices in the afternoons but those were harder for him with his work schedule. Instead, he was able to get some of the guys from his afternoon group to come in the mornings and get some open time to work on some things and wrestle. I am there helping and observing, but it's not like it is an organized practice with a structure. It is more individually-driven with what you want to work on.
5PM: Outside of one really tough match and maybe a dicey moment against Briggs, he really hit some dynamic techniques that have been part of his deal since roundabout 2012. The kind of stuff he can do and pull off that maybe no one else in his weight can. Given Kendrick needs to turn it on since he is not yet qualified for the Trials, what do you think a third National title means to him right now at this stage of his career?
AB: I think it has given him momentum and reassures his self-belief. He is still part of the conversation, still very much belonging towards the top.
5PM: Finally, the opening for the assistant coaching position at NMU is being publicized. For you personally, you went through an entire season without one and have just began a new season without one. Does it feel like a relief knowing that this process is moving forward?
Coach Andy Bisek: Yeah, I think so. I have my hands full and I'm excited about someone who is willing and eager to come here and help, and is looking to make a difference.


Listen to "5PM40: Sam Hazewinkel and Jesse Porter" on Spreaker.
SUBSCRIBE TO THE FIVE POINT MOVE PODCAST
iTunes | Stitcher | Spreaker | Google Play Music
Notice
: Trying to get property 'term_id' of non-object in
/home/fivepointwp/webapps/fivepointwp/wp-content/themes/flex-mag/functions.php
on line
999