Listen to "5PM48: Austin Morrow and Gary Mayabb" on Spreaker.
A pair of unique first-timers are on the docket for Episode 48 as Austin Morrow (77 kg, NYAC/NTS) and Greco-Roman Manager of Operations Gary Mayabb pop on to discuss various matters of recent relevance.
Morrow, 28, had not wrestled a match in over 15 months when he stormed to first place at the Last Chance Olympic Trials Qualifier in late-March. Accompanying Morrow's victory was a jump in weight categories that took some by surprise. The NMU grad originally began his career at 66 kilograms and, aside from one tournament in '17, stayed within that weight for each and every competition over the past seven-plus seasons. But it was time for a change. Morrow chose to try putting less stress on his body by sidestepping the usual weight cut. Instead, he went up and wrestled spectacularly at "Last Chance" before impressing with a strong performance at the Trials.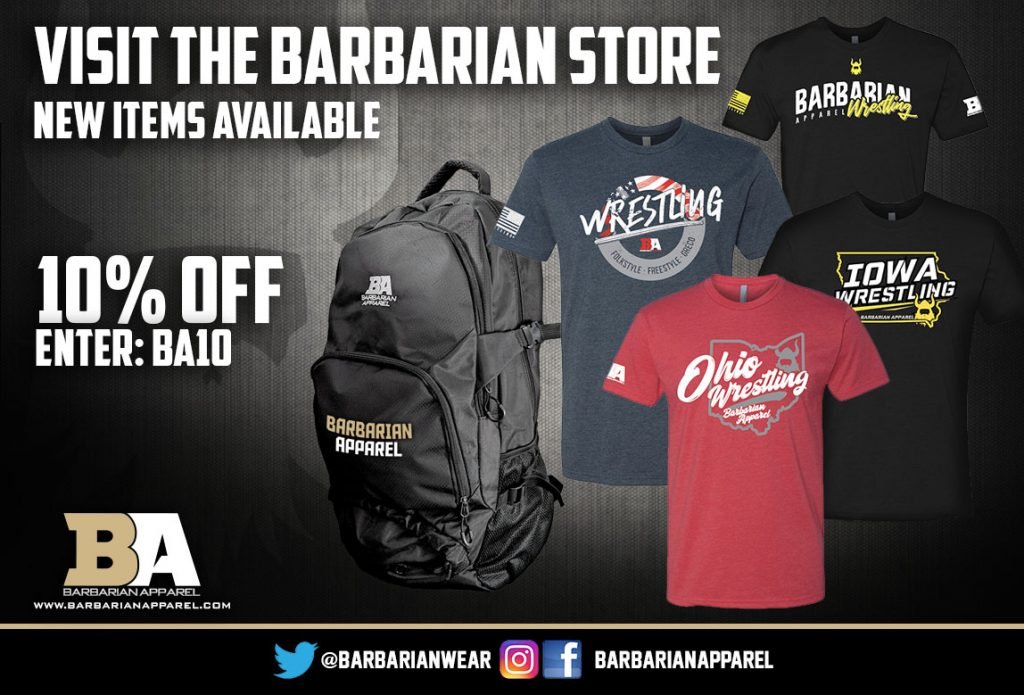 Mayabb — ever-popular and highly-respected among athletes and coaches of all styles — is at the time of this episode's release with Team USA at John Bardis' expansive training facility in Alpharetta, Georgia. Naturally, Olympic/Pan-Am camp is a topic briefly touched upon, but there are many other areas of interest pertaining to Mayabb — such as the fact that he will be heading back to the Midwest in what will be a return to high school coaching. The longtime coach delves into just a few of the factors which led to this decision, though he also quickly adds that he hopes to remain involved developmentally on the National level.
Other topics broached with Mayabb cover the gamut of Greco-Roman cultivation. From the U15 and Cadet World Teams to increasing competitive opportunities for age-groupers and bolstering retention, no stone is left unturned. To close out Mayabb's appearance are his top-3 favorite moments since joining the National program full-time four years ago.
A Few Highlights
Morrow on the difference he felt physically going up to 77 kg
"A little bit heavier, or a difference in strength and gravity. I noticed the difference when first contact was made, like, Okay, I can't move this person around quite as easily. But after just sticking to moving your feet, it kind of felt normal. I've wrestled guys who were 77 in the room all the time in practice, so I just kind of treated it like a practice and went out there and did what I did. I think that made it a lot less stressful on me because I was a little nervous beforehand. Oh, I might get manhandled, in terms of movement and strength. So it was, I'll try to do what I can, and I was very pleased with what I can do."
Morrow on what his recent surge has meant to him
"Ultimately to me, remember to have fun. I know this is going to sound ridiculously cliché — but I guess I'm a relatively cheesy person, anyway — but enjoy the whole process and the journey, and not just the wrestling. I find myself having the most fun and competing the best when I'm enjoying it with the people I love."
Mayabb on the value of perseverance
"I was a 62 pounds freshman in high school. He had no use for a 62-pounder. I was two-thirds the size I was supposed to be. 98 (pounds) was the smallest weight class at the time and 62 pounds isn't going to do anyone any good — yet all he did was pour time, energy, and effort into me. Out of that, I was 72 as a sophomore and 85, or something like that, as a junior. It wasn't until my senior year until I actually had to lose weight to make the weight class.
"Stuff like that, there's no reason for them to have to dumped that much time and energy into me, but they did. When I got to college, we had ten 118-pounders when I first walked in the door. And I was still wrestling 105 internationally at the time. I went to college and it felt like I was right back at high school. I was just taking horrendous beatings. I didn't get a takedown until after Christmas break in the room. And yet, there is a point when you think you know wrestling coming out of high school, and then you go to college and realize that you don't know anything.
"So, I quit. I quit the team. I very rarely ever saw my college coach sit unless it was in the corner. He was a Lieutenant Colonel in the Army Reserve and he is sitting on the steps of Wood Hall as I am walking into one of my social science courses. I walk up the stairs and see him. He then says to me, 'Gary, I know you're injured currently but we really want you back in the room, and we expect you back there today at 3:00pm. There was nothing wrong with me physically (laughs). I was just mentally broke, and maybe spiritually a little bit. But I went back at three o'clock.
"17 surgeries, double-digit trips to the emergency room while I was in college. The 17 surgeries, that's a lifetime, but the trips to the emergency room were quite often it seemed like. And yet — I never thought of quitting after that. Not one time. It didn't matter. Now, both hips have been replaced, eight knee surgeries, both shoulders have been reconstructed… I mean, most things have metal in them. At the end of the day, I never thought about it again. Even during all of the times lifting a three-pound weight for a couple of months so you can get back to what you love to do. I'm very fortunate."




Listen to "5PM47: Nate Engel and Xavier Johnson" on Spreaker.
Listen to "5PM46: Taylor LaMont and Jessy Williams" on Spreaker.
Listen to "5PM45: Chatting with Dennis Hall and Max Nowry" on Spreaker.
SUBSCRIBE TO THE FIVE POINT MOVE PODCAST
iTunes | Stitcher | Spreaker | Google Play Music
Notice
: Trying to get property 'term_id' of non-object in
/home/fivepointwp/webapps/fivepointwp/wp-content/themes/flex-mag/functions.php
on line
999