2019 Cadet World Team member Robert Perez III (145 lbs, CA) capped his remarkable domestic season with a second straight National title, while Seth Shumate (195 lbs, OH) put an exclamation point on an impressively dominant run that he'll likely always remember.
The finals of the 2019 16U Fargo National Championships began at 2:00pm (MT) and aired live in the US on FLOWrestling.


Taking on Matt Singleton of Georgia (a state that like California, had an excellent team showing this week), Perez got started with a passive point in the first but was unable to generate much on the feet moving into the second period. That's when it became Singleton's chance from top, though no follow-up points managed to find the scoreboard. Later in the period, Perez picked up two from a turn only to have Singleton pop out for a reversal. With the tension mounting and the bout reaching its conclusion, Perez wailed a lock and threw Singleton over for four just before the buzzer. The 7-2 decision provides Perez his second Fargo "stop sign" and serves as a nice confidence booster ahead of the Worlds later this month.
As for Shumate, there was no such drama versus Isaiah Anderson (WA). After a bit of jousting, Shumate found a lane and converted his position for a lateral. Anderson kept his wits and eased out of danger, but there was Shumate again with two from another deposit — and four more from the mat. It was all a wrap just over a minute into the period. For Shumate, it is his first title after finishing fourth a year ago.
One of the more intriguing athletes who had himself quite a run but flew a little under the radar compared to his opponent is '18 Fargo runner-up Gage Cook (220 lbs, WA), who got past returning champ Kolby Franklin (PA) in a thriller. He didn't waste much time, either. Shortly after the whistle, Cook hit a lateral to go up 4-0. Franklin, seemingly undaunted, got back in the fight with a step-out, but Cook widened his lead right before the break when he got around for two.
Franklin came out looking for points in the second, emerging with another point on the back-end of a scramble near the boundary. Then, he rammed hard inside and bodied Cook off the line for another two, and now he was well within striking distance. However, Cook remained composed, prodding and plodding towards the finish line. Franklin, feeling the bout slipping away, switched on the jets and banged around for a last gasp score. An odd sequence followed; the match apparently ended with a few ticks left, leading the Pennsylvania corner to throw the brick. But even after the bout was restarted with just :04 on the clock, the result didn't change. Cook puts a whale of a tournament in his pocket that will hopefully lead to bigger things down the road.
Minnesota has itself a trio of new champs in Caleb Thoennes (88 lbs) and Jore Volk (106 lbs). Thoennes used an early throw and back-to-back "Minnesota guts" to open up a 6-0 lead over Hunter Taylor (KS) in the first period to eventually triumph by the same score. Volk was up behind 1-0 to Benjamin Aranda (IL) from a quick step-out and had to call on some counter-offense to take command. Aranda showed a solid arm spin attack and tested Volk with the hold in the first period. Ultimately, Volk had enough and yanked back and dumped a four-pointer to surge ahead 4-1, and as was the case with his teammate Thoennes, carried his lead all the way home. Volk also became a double-style champ after also earning a title in freestyle.
Gavin Nelson (170 lbs), the heaviest (by far) of the Minnesotans, had an exciting back-and-forth affair with Tate Picklo (OK). It began innocently enough. Nelson got the first passive and then did what his ilk do best, rely on that gut to open the floodgates. But what happened here is that after Nelson achieved a turn, Picklo found his feet — and then lost them again — because Nelson wailed a headlock. Nevertheless, the Oklahoman was far from out of it. He breathed new life when two exposure points rang prior to intermission. Later in the second, Picklo darted off of a throw-by to net two, and now things were heating up. Down 7-4, Picklo was just trying to negotiate a score of any type. Nelson, admirably in fact, did some of the work for him by jutting inside for a bodylock — and as he went to hurl it over, Picklo adjusted and caught Nelson on his back. It was two, not four, so Nelson still held a 7-6 lead, which is how the adrenalizing contest would end.
Oregon's Jacob Barnes won the heavyweight crown in style at the expense of Hayden Copass (IL) in what was originally pegged as tight, tactical struggle. It did not unfold in such a manner. Barnes seized on an angle, slid in an underhook, and walloped Copass with a hip toss and held him right there for the stunning fall at just a half a minute into the bout.
2019 Fargo Cadet Nationals
July 17-18 — Fargo, North Dakota
FINAL MATCHUPS
88 lbs: Caleb Thoennes (MN) def. Hunter Taylor (KS) 6-0
94 lbs: Ray Ray Harris (CA) def. Cael Hughes (OK) 14-3, TF
100 lbs: Jore Volk (MN) def. Benjamin Aranda (IL) 4-1
106 lbs: Christian Tanefeu (ND) def. Kyle Rice (ID) 7-4
113 lbs: Brock Bobzien (CA) def. Isaiah Medina (CA) 10-0, TF
120 lbs: Nicolar Rivera (WI) def. Kayd Craig (ID) 12-2, TF
126 lbs: Ramon Ramos (AZ) def. Gavin Drexler (WI) 13-2, TF
132 lbs: Michael Kilic (GA) def. Jack Milos (IL) 8-5
138 lbs: John Wiley (OK) def. Cody Chittum (TN) 4-1
145 lbs: Robert Perez III (CA) def. Matthew Singleton (GA) 7-2
152 lbs: Robert Weston (GA) def. Jared Simma (KS) 11-0, TF
160 lbs: Bradley Gillum (IL) def. Adam Ahrendsen (IA) 6-3
170 lbs: Gavin Nelson (MN) def. Tate Picklo (OK) 7-6
182 lbs: Nick Feldman (PA) def. Jack Darrah (MO) 4-1
195 lbs: Seth Shumate (OH) def. Isaiah Anderson (WA) 10-0, TF
220 lbs: Gage Cook (WA) def. Kolby Franklin (PA) 6-4
285 lbs: Jacob Barnes (OR) def. Hayden Copass (IL) via fall
2019 16U All-Americans
88 lbs
94 lbs
100 lbs
106 lbs
113 lbs
Isaiah Kainoa Medina (CA)
120 lbs
126 lbs
132 lbs
138 lbs
145 lbs
152 lbs
160 lbs
Fernando Villaescusa (AZ)
170 lbs
182 lbs
195 lbs
Andrew Blackburn-Forst (IL)
220 lbs
285 lbs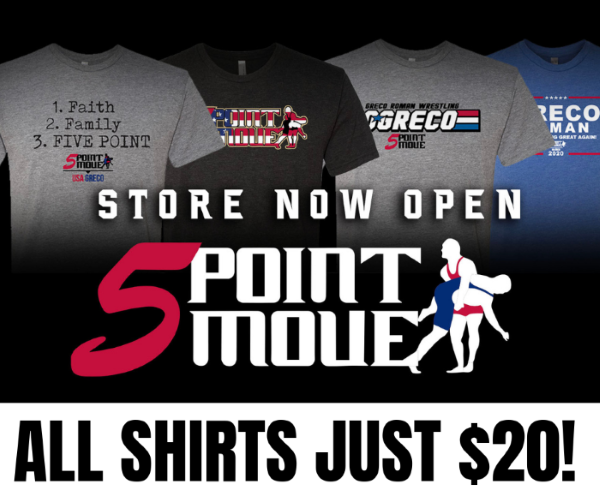 Listen to "5PM26: Princeton's Lenny Merkin and new USOTPC Greco-Roman athlete Nolan Baker" on Spreaker.
SUBSCRIBE TO THE FIVE POINT MOVE PODCAST
iTunes | Stitcher | Spreaker | Google Play Music | RSS
Notice
: Trying to get property 'term_id' of non-object in
/home/fivepointwp/webapps/fivepointwp/wp-content/themes/flex-mag/functions.php
on line
999