In the middle of all the age-group madness going on inside the Fargodome on Thursday, there was the little matter of settling a spot on the US U23 World Team.
Brady Koontz (TMWC/Ohio RTC) and U23 World Team Trials champ Liam Cronin (HWC) were ushered onto centerstage before, during, and after the 16U finals earlier this afternoon, with Koontz defeating Cronin two matches to one.
Koontz, a Junior World Teamer in '18, did not compete at the aforementioned U23 World Team Trials last month in Akron, Ohio but was given the opportunity to wrestle-off Cronin thanks to his victory at the Senior Challenge Tournament in May.


Match 1 saw Koontz take advantage of the first passivity/par terre chance by ratcheting that tremendous gutwrench twice in a row for a 5-0 lead. They fought it out from there; Cronin, dipping inside looking to catch Koontz extending; Koontz staying active and trying to command underhooks. In the second, Cronin received his passive and went to work on a lock but Koontz remained pasted to the mat. Back up, and they clashed diligently, though Koontz resumed control in the ties and walked away the 5-1 winner.
The middle bout kicked off with Cronin zeroing in on an arm spin. He went for it right away but nothing was doing. He tried again, and this time it netted four. Shortly thereafter, Cronin zipped in for a takedown and enjoyed a wide 6-0 lead. A caution then made its way into the proceedings, giving Koontz a pair of points; however, no further scoring took place in the frame and it was onto the second.
Koontz fired back by holding off a Cronin throw attempt, instead flipping the script and taking Cronin directly to his back. The sequence scored four, but Cronin still held criteria. The race was on. Koontz wanted to busy things up, maybe find an off-balance or a step-out. Cronin, for his part, did a great job of scanning for his own positions through the remainder of the contest.
It all came down to Match 3 and it played out in Koontz's favor soon into the opening stanza. Cronin was dinged for passive — and Koontz responded by cranking over a gut. In the second, Koontz himself was visited by the passive fairy, giving Cronin a shot to tie it up or take over the match. And once again, Cronin tried to muster up a turn only to have Koontz stay heavy. They returned standing for one last sprint. Cronin upped the ante a bit in the trenches but it was all Koontz, as he now finds himself on a US World Team for the second straight year.
Afterwards, we caught up with Koontz to get his take on the series as well as the training plan before the U23 Worlds later this coming fall in Budapest, Hungary.
5PM: Was this a unique experience, coming from the Trials in May, to Final X, and then getting another chance with your eligibility to take this special wrestle-off?
Brady Koontz: Yeah, it was kind of fun. It was a grind but I enjoyed it, just going back-and-forth between Columbus and working with my brother, Dennis (Hall), and everyone at home.
5PM: Cronin had an impressive tournament in Akron, he shut down (Cevion) Severado. Did you scout him at all leading up to this?
Koontz: I think a little bit. I didn't want to get too much in my head and start thinking about what he was doing instead of being aggressive. But I knew what he wanted to do. He wanted to get that arm spin or an underhook. So, my plan was to keep my elbows tight and stay aggressive.
5PM: Coming into Match 3, what kind of adjustments did you think you had to make? Was it just about sticking with your positions and seeing if you could get a shot from top?
Koontz: Well, I knew that no matter what I had to be aggressive, whether or not I got a takedown. I knew that as long as I stayed aggressive, I'd either get a takedown and have a chance from top — or, the refs would put him down and I'd get my gut. My plan was just to stay aggressive and always move.
5PM: You're one of several on the U23 Team who is in college. Your Worlds is the latest one. How will this affect your training for the tournament as well as whatever your responsibilities might be as a college wrestler?
Koontz: Thankfully, the coaches and the RTC are really supportive, and they know that I'll just be wrestling Greco with my brother until the Worlds. And then we'll think about folkstyle after that.
2019 U23 World Team Special Wrestle-Off
July 18 — Fargo, North Dakota
55 kg
Brady Koontz (TMWC/Ohio RTC) def. Liam Cronin (HWC) two matches to one
Match 1: Koontz def. Cronin 5-1
Match 2: Cronin def. Koontz 6-6 (criteria)
Match 3: Koontz def. Cronin 3-1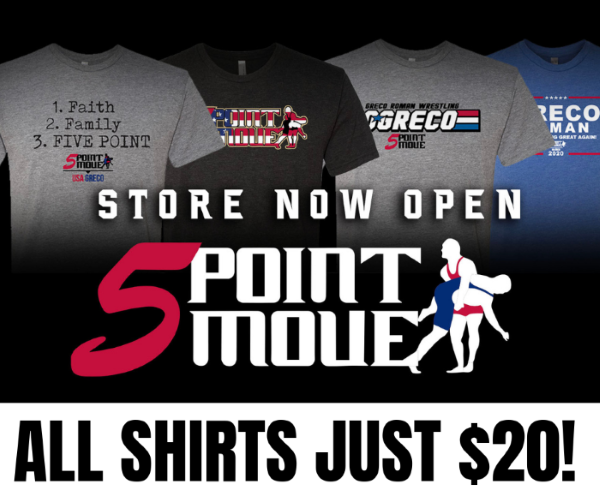 Listen to "5PM26: Princeton's Lenny Merkin and new USOTPC Greco-Roman athlete Nolan Baker" on Spreaker.
SUBSCRIBE TO THE FIVE POINT MOVE PODCAST
iTunes | Stitcher | Spreaker | Google Play Music | RSS
Notice
: Trying to get property 'term_id' of non-object in
/home/fivepointwp/webapps/fivepointwp/wp-content/themes/flex-mag/functions.php
on line
999