NEW YORK CITY — The finals are set at the 2019 Bill Farrell Memorial with 77 kilograms, as perhaps expected, dominating the storylines.
Going for gold is '19 US Open runner-up Spencer Woods, who got past three-time U23 World Teamer and NMU teammate Jesse Porter (NYAC/OTS) 5-0. Woods — who will qualify for the US Olympic Trials if he is victorious over Hassan Mohamed (EGY) in the final, had quite the day leading up. After defeating (another) NMU'er, Tommy Brackett via 2-1 nail-biter, he did the same against Corey Hope, one of the weight class favorites in this event.
But it was actually Porter who snared the biggest win of any US athlete Friday morning. In the round-of-16, he bombed 2016 Olympic Champion Davor Stefanek (SRB) 11-1. Porter then followed up with a 3-2 decision at the expense of Anthonie "Twinkie" Linares (NYAC/LOG) before locking horns with Woods.
Mohamed was able to turn back '18 World silver Andrew Berreyesa (NYAC/FLWC) 5-0 on the other side of the bracket. Berreyesa collected a contentious win over '17 World Team member Mason Manville (NLWC) to advance to the semis.
At 60 kilograms, close friends, training partners, '19 World Team members, and "Ninja Squad" founders Ryan Mango (Army/WCAP) and Max Nowry (Army/WCAP) will collide. Mango cruised to the finals on the strength of three tech's, but not Nowry. He opened with his Final X runner-up Brady Koontz (TMWC/Ohio RTC), a 5-2 decision. Next came an entertaining tussle with Matt Schmitt (WV). In the semifinal, Nowry inched ahead of Sammy Jones (NYAC/OTS) in the second period before holding on for the 2-1 win.
Mango and Nowry last met in the third-place bout of the '17 World Team Trials, which Nowry won 4-3.
Alex Sancho's (Army/WCAP) return to 67 kilos has gone extremely well. A tech fall of 2006 World Champion Joe Warren (NYAC) is how the Miami native began his trek to today's final, and Sancho was equally effective against Daniel Coles (CAN) and '18 U23 World Team member Nolan Baker (USOPTC).
Elsewhere, 87 kilos is going to have a final more than worth watching — former World bronze Aleksandr Kikiniov (BLR) and potential US Olympic hopeful Alan Vera (NYAC). Vera has been a monster all day long, as has Kikiniov. Both athletes have won their combined four bouts via tech — and are yet to give up a single point.
G'Angelo Hancock (97 kg, Sunkist) and '18 World silver Adam Coon (130 kg, NYAC/Cliff Keen) are set to make appearances in the final round. Hancock triumphed following a spirited effort from '16 National runner-up Khymba Johnson (NYAC/OTS), while Coon outlasted '16 National champ Toby Erickson (Army/WCAP).
The finals and third-place bouts are scheduled to begin at 6:00pm ET and can be viewed live in the US on FLOWrestling.
2019 Bill Farrell Memorial
November 15 — New York, New York
FINAL BOUTS
60 kg
Ryan Mango (Army/WCAP) vs. Max Nowry (Army/WCAP)
67 kg
Alex Sancho (Army/WCAP) vs. Hayanobu Shimzu (JPN)
77 kg
Spencer Woods (NYAC/OTS) vs. Hassan Mohamed (EGY)
87 kg
Alan Vera (NYAC) vs. Aleksandr Kikiniov (BLR)
97 kg
G'Angelo Hancock (Sunkist) vs. Ahmed Hassan (EGY)
130 kg
Adam Coon (NYAC/Cliff Keen) vs. Jacob Mitchell (Army/WCAP)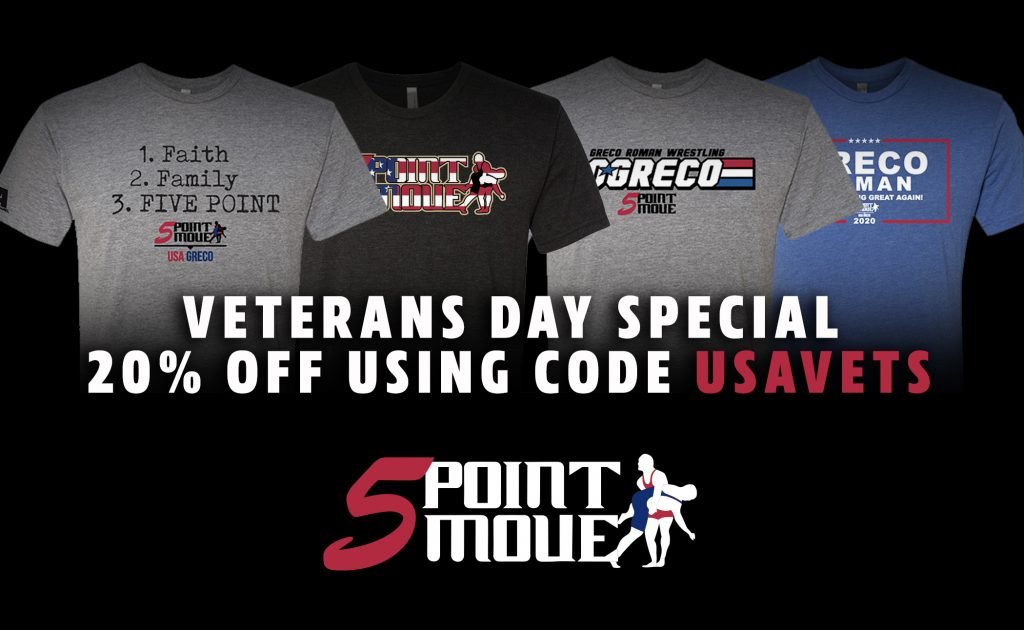 Listen to "5PM30: Jon Anderson returns at the Bill Farrell and Dennis Hall's always fiery position on U.S. Greco-Roman" on Spreaker.
SUBSCRIBE TO THE FIVE POINT MOVE PODCAST
iTunes | Stitcher | Spreaker | Google Play Music | RSS
Notice
: Trying to get property 'term_id' of non-object in
/home/fivepointwp/webapps/fivepointwp/wp-content/themes/flex-mag/functions.php
on line
999