NEW YORK CITY — To cap the first tournament of the 2019-20 season for US athletes, four of its best pulled through with gold — although at 60 kilograms, Ryan Mango's (Army/WCAP) victory was earned in the most unique fashion possible.
The final round of the 2019 Bill Farrell Memorial began at 6:00pm ET and aired live in the US on FLOWrestling.


Mango was matched up against 2019 World/Army teammate Max Nowry. Given the pair is already qualified for the 2020 US Olympic Trials — and face off on a daily basis in the WCAP wrestling room — they decided to save the combat for another time. Which is why when both took the mat and squared off, they played Rock, Paper, Scissors, and Mango came out on top.
From then on out, it was business as usual.
Alex Sancho (67 kg, Army/WCAP) dug immediately against Hayanobu Shimzo (JPN), at one instance clamping over the top and causing Shimzo to jump back in pain. After they reset, the hand-fiighting resumed with Sancho working off a lead right leg scanning for positions. The first passivity/par terre chance was all his. From top, Sancho locked for a side lift and hoisted it up. Shimzo twisted and contorted to avoid danger; so, Sancho adjusted his lock and attempted to drive forward instead. Sancho was credited with two but Japan challenged. Following the review, the score was adjusted to 4-0 in Sancho's favor.
Shimzo upped his intensity level just a bit to start the second. Sancho wrangled a two-on-one and looked to straighten before the hold disappeared. Eventually, the passivity fairy rang, this time for Japan. Shimzo locked for a gut before finding his feet for a lift, but Sancho defended. Shimzo went on the attack with time becoming a factor, and nearly collected a step-out point towards the end only to have the tables turned on him at the last possible second. In the end, it was a 5-1 decision for Sancho, who clinched his third Bill Farrell Memorial tournament win along with a spot in the 2020 Olympic Trials.
'19 Open runner-up Spenser Woods (NYAC/OTS) wanted to start hot and use his athleticism, though it was Hassan Mohamed (EGY) who made the bigger first impact. Soon after the whistle, Mohamed managed to launch Woods for five. Another exchange after the proceeding reset saw Mohamed scan for another attempt and earn a step-out. But gradually, Woods began finding his rhythm. He was more commanding and confident in the tie-ups, and looked to be the fresher athlete. A step-out put the NMU rep on the board just before the end of the first to cut his deficit to 6-1.
More jockeying for position by both cracked open the second, and Mohamed came close to another step-out point. This time, Woods was ready, and he deftly circled away from the boundary to re-engage. But the pace grinded to a halt. The more Woods started coming on, the more Mohamed was in survival mode. No further points were scored, thus providing Mohamed with a 6-1 victory.
G'Angelo Hancock (97 kg, Sunkist) had himself a willing participant in the form of Ahmed Hassan (EGY) — and he put that fact to good use. Hassan went for a throw, Hancock countered and turned it into his own four at the line, and took with him an additional point for the step-out. A similar sequence unfolded. Hassan went in on Hancock again, only to be taken down. Following one more restart, it was all over. Hancock brought Hassan into his clutches coming out of an exchange, put him to his back, and the signal for the fall arrived in quick succession. The win gives Hancock his second Bill Farrell Memorial gold (2016).
At heavyweight, '18 World silver Adam Coon (130 kg, NYAC/Cliff Keen) didn't need much time to dispose of Jacob Mitchell (Army/WCAP). Coon's gutwrench, which he deployed with what seemed like an extra touch of viciousness on this evening, is a weapon that is continuing to develop and wound up becoming responsible for six of the nine points he needed to seal this one up. Just over two minutes into the first, and that was it — Coon with his first Bill Farrell Memorial victory since '15.
Alan Vera (87 kg, NYAC) and 2009 World bronze Aleksandr Kikiniov (BLR) combined for a highly-anticipated bout that was big on positional tactics, but not points. Vera received the first passive chance of the contest and came up empty. Kikinov got a point back in the second, but was then knocked for a caution-and-two for "negative wrestling", though it was white-paddled. Shortly thereafter, Kikiniov was banged for passive. This time, Vera took advantage of par terre and rotated one gutwrench to all-of-the-sudden surge ahead 4-1, which capped the scoring and the bout.
Stay tuned tomorrow for additional notes and insights from the Bill Farrell Memorial. 
2019 Bill Farrell Memorial
November 15 — New York, New York
FINALS RESULTS
60 kg: Ryan Mango (Army/WCAP) def. Max Nowry (Army/WCAP) via RPS
67 kg: Alex Sancho (Army/WCAP) def. Hayanobu Shimzu (JPN) 5-1
77 kg: Hassan Mohamed (EGY) def. Spencer Woods (NYAC/OTS) 6-1
87 kg: Alan Vera (NYAC) def. Aleksandr Kikinov (BLR) 4-1
97 kg: G'Angelo Hancock (Sunkist) def. Ahmed Hassan (EGY) via fall
130 kg: Adam Coon (NYAC/Cliff Keen) def. Jacob Mitchell (Army/WCAP) 9-0, TF
THIRD PLACE RESULTS
60 kg: Sammy Jones (NYAC/OTS) def. Matt Schmitt (WV) 8-0, TF
67 kg: Nolan Baker (USOPTC) def. Calvin Germinaro (Minnesota Storm) via fall
77 kg: Corey Hope (NYAC) def. Jesse Porter (NYAC/OTS) 7-0
87 kg: Chandler Rogers (UA) def. Satoki Mukai (JPN) via fall
97 kg: Taichi Oka (JPN) def. Lucas Sheridan (Army/WCAP) 2-1
130 kg: Toby Erickson (Army/WCAP) def. Bryson McGowan (UA) 7-4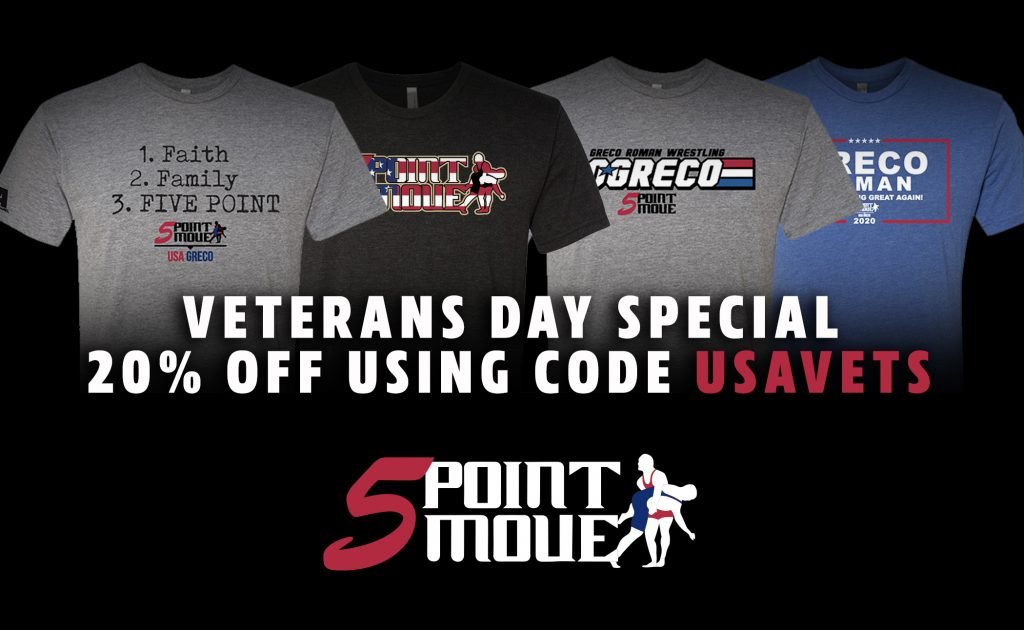 Listen to "5PM30: Jon Anderson returns at the Bill Farrell and Dennis Hall's always fiery position on U.S. Greco-Roman" on Spreaker.
SUBSCRIBE TO THE FIVE POINT MOVE PODCAST
iTunes | Stitcher | Spreaker | Google Play Music | RSS
Notice
: Trying to get property 'term_id' of non-object in
/home/fivepointwp/webapps/fivepointwp/wp-content/themes/flex-mag/functions.php
on line
999