Team USA did not get out to the strong start many had predicted prior to the Cadet Worlds, with Day 1's five athletes finishing with a combined record of 3-5. The silver lining? Medal hopes for three of them are, at the moment, still alive.
Wrestling at the 2019 Cadet Greco-Roman World Championships began earlier this morning at 10:30am (3:30am ET) from Sofia, Bulgaria and aired live in the United States on Trackwrestling.


Turkey boasts one of the more robust Greco programs on the planet, a fact that did not seem to move Corey Land's (48 kg, Ironclad) mercury all that much. Facing Berat Keskin, Land wrangled an arm throw that yielded four — and rather than sit and wait — he vice-gripped Keskin's head and arm for two more and a startling 6-0 lead. He almost shut the door soon enough. Land got a run on a takedown/turn combo that at first glance looked good. Alas, Turkey challenged and the sequence was ruled a slip. It didn't matter. After the reset, Land snapped and spun for two and a sizzling 8-0 victory.
Land stuck to his strengths opposite Cadet Asian Championships runner-up Rupin Rupin of India, but those strengths were shared by his more experienced foe. Land went back to the arm throw only to have Rupin stay heavy and nail a gut. Back on the feet, and following some jousting, Land coaxed a step-out to get on the board. The second period saw Rupin snap his way to a 6-1 advantage that Land would not be able to overcome. However, as is the case with two other Americans on Friday, hope is still available. Rupin is in the semifinals later this morning. Should he prevail, Land will enter tomorrow's repechage with a chance at bronze.
Two-time Fargo Greco champ Robert Perez III (65 kg, ABG) put a definitive beatdown on Kristijan Bosnjak (CRO) in his first World match. The Californian sauntered into the second period up 2-0 thanks to a takedown. More points were coming. In the second, Perez found the body and rushed Bosnjak to the tarp, collecting another two. Back up, and Perez strung together four more when he held position following a takedown and lassoed around Bosnjak for a turn that translated into an 8-0 tech.
Sheraz Ochilov (TJK) did not let Perez even rev his motor. A takedown by Ochilov led to back-to-back guts, creating a 6-0 deficit for Perez in the first period. Some adjustments were necessary. Perez came out for the second period and ardently — yet patiently — scanned for angles and opportunities. Ochilov, sitting on a massive lead, did not engage in much playback. Windows opened, windows closed, and Perez fell 6-0. The good news is that Ochilov is in the semis and would pull Perez back in with a victory.
As far as Day 1 draws go, perhaps no one had a tougher assignment than Braxton Mikesell (110 kg, Central Valley WC), who was paired with Cadet Euro champ Mate Gokadze (GEO). And Mikesell was in it each and every moment of the match.
Gokadze got on the board first with a step-out. After a reset, he then clambered inside for a throw attempt. As he went to complete the maneuver, Mikesell expertly adjusted to land on top — and for a moment almost had Gokadze dead to rights on his back. But the Georgian squiggled out with Mikesell holding a temporary 2-2 criteria lead. Just before the break, Gokadze ushered Mikesell off the line for a point.
In the second period, Gokadze earned another step-out (although Mikesell almost came up with exposure points) to prevail 4-2. One of the heavyweight bracket's favorites entering the tournament, Gokadze will next meet Ramzik Kurdyan (ARM). A win for Georgia over Kurdyan keeps Mikesell's medal chances intact.
Knopick and Picklo
At 55 kilograms, uber-prospect Conor Knopick (MWC) was right there with Oliver Skrzypczak (POL) through most of the first half of their round-of-16 match-up. The Nebraskan upstart fought for a lane and plowed Skrzypczak up and over for correct hold points. Unfortunately for Knopick, Skrzypczak answered right back with a four-point arm throw. The deciding sequence might have occurred towards the latter stages of the opening period. Knopick scored a takedown but could not firmly set his position. Skrzypczak wound up reversing — and in the fracas — tallied two exposure points. The result was a 7-4 lead for Poland moving into the second.
Knopick prowled in the tie-ups through the first minute of the conclusive stanza, with a promising look or two flashing and then fading. All it would take is one sequence to snare the lead. But with a minute remaining, Skrzypczak unfurled another arm throw. After a reset, Skrzypczak reached around and swept behind for one last takedown to end the match.
In the proceeding round, Skrzypczak was ousted by Pravin Pandurang (IND), putting a premature end to Knopick's first appearance in a World event.
Tate Picklo (80 kg, Matrix) confidently relied on his impressive overall wrestling ability to run over Robyn Paulberg (EST) in his first contest. He wrapped Paulberg up and dumped him for four, breaking the ice for both he and his teammates who were still waiting for their names to be called. Picklo then added a pair of takedowns to close it out via 8-0 tech.
The hill for Picklo was a little steeper in the round-of-16. Jonni Sarkkinen (FIN) had jutted behind and arched Picklo over for four, though that didn't take the wind out of the American's sails. Later in the period, Picklo outscrambled Sarkkinen on the boundary to come up with a takedown, his third of the tournament thus far. In the second frame, Finland got their passivity, with Sarkkinen receiving two from a gut. He wanted more. He didn't get it. As Sarkkinen attempted to rotate once more, Picklo stepped over. Down 7-4, he pursued Sarkkinen and had appeared to have drummed up a takedown that saw Sarkkinen expose. There was no call, so the US challenged — and lost — resulting in an 8-4 score that held up the rest of the way.
Sarkkinen was defeated in the quarterfinals by Gabriel Lupasco (MDA), eliminating Picklo from the tournament.
The semifinals are scheduled to begin at 5:30pm in Bulgaria (10:30am ET) and can be viewed live on Trackwrestling.
2019 Cadet World Championships
August 2-4 — Sofia, Bulgaria
TEAM USA RESULTS
48 kg — Corey Land (Ironclad)
WIN Berat Keskin (TUR) 8-0, TF
LOSS Rupin Rupin (IND) 6-1
55 kg — Conor Knopick (MWC)
LOSS Oliver Skrzypczak (POL) 13-4, TF
65 kg — Robert Perez III (ABG)
WIN Kristjian Bosnjak (CRO) 8-0, TF
LOSS Sheraz Ochilov (TJK) 6-0
80 kg — Tate Picklo (Matrix)
WIN Robyn Paulberg (EST) 8-0, TF
LOSS Jonni Sarkkinen (FIN) 8-4
110 kg — Braxton Mikesell (Central Valley WC)
LOSS Mate Gokadze (GEO) 4-2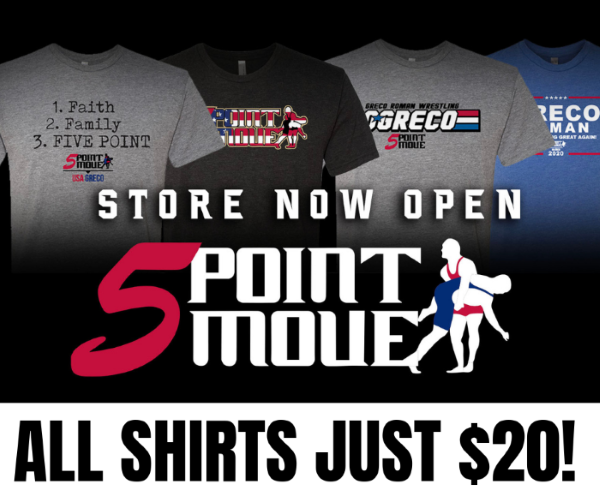 Listen to "5PM26: Princeton's Lenny Merkin and new USOTPC Greco-Roman athlete Nolan Baker" on Spreaker.
SUBSCRIBE TO THE FIVE POINT MOVE PODCAST
iTunes | Stitcher | Spreaker | Google Play Music | RSS
Notice
: Trying to get property 'term_id' of non-object in
/home/fivepointwp/webapps/fivepointwp/wp-content/themes/flex-mag/functions.php
on line
999