PISCATAWAY, NEW JERSEY — When Kamal Bey (Sunkist, world no. 5) and Patrick Smith (Minnesota Storm) met in the finals of the US Open this past April, it was a thrilling affair that reached its conclusion with the uneasy feeling of unresolved issues. Bey had proved victorious, winning his third Senior National crown. But Smith, who jumped up from 72 kilos to 77 this season, was in Bey's face step for step the entire time thanks to a physical, high-pressure attack.
The result was a contrast in styles that showcased the unique talents of both wrestlers. People wanted more of it. The heat Bey and Smith generated together stole the show in Vegas, making fans of both international disciplines itch to see them do it all over again as soon as possible.
They didn't have to wait too long.


Smith's victory at the 2019 World Team Trials Challenge Tournament in Raleigh last month assured himself another crack at the 2017 Junior World Champion, and their best-of-three series enjoyed the officially unofficial designation of "Greco's main event" at Final X: Rutgers earlier today in Piscataway, New Jersey.
Right from the whistle, Smith was heavy in his charge and pried for two-on-one's, an element of his game for which Bey was undoubtedly prepared. That doesn't mean it is easy to stop. Opportunities weren't readily available for either athlete, and it was Smith who took the first passive point and a 1-0 first-period lead. From par terre, the Storm rep hoisted Bey up in a lift attempt, but Bey nearly countered and reversed near the edge, yielding only a step-out.
Bey shook the building in the second by zipping to one of his laser show duck-unders and launching Smith for five. Following a reset, Bey again got behind Smith, who had to concede the takedown rather than risk giving up another big score. The roof was falling and there was no way to stop it.
Smith re-entered the fight holding high double underhooks whilst ushering Bey to the boundary, only it was he who stepped out, making the score 10-2 for Bey, and then 11-2 after Smith's denied challenge.
Different match, different result.
Smith entered the second bout of the series with the intent to rely much more on his physicality. This is when he is at his most comfortable. Bey was charged up, as well, but he was left having to react to his opponent. As such, it was Smith who garnered the first passivity — though his proceeding gut attempt came loose, allowing Bey to reverse for a point. It wasn't over yet, however. Smith coaxed Bey out in the second period to go up 2-1, thus forcing a third and decisive match.
The one item that was of interest involved witnessing how both athletes began the contest. Who would seize control early? And could Smith avoid making the same kind of mistake that resulted in Match 1 crashing to a halt?
Bey opened with extremely hard contact, a strategy he doesn't normally employ. It worked, as he ran Smith off the edge for a quick step-out. They skirmished in an odd sequence that saw Smith close on an attempt before Bey came out the back to pick up two. But those three points would be Bey's last of the series.
Just before the break, Bey locked for a throw at the line and Smith landed on top, netting two. They both regrouped in between periods but it was Smith who walked out as the fresher athlete. He went in hard on Bey, plowing forth and dictating the pace in the ties. Bey responded in kind, but this was not the tone he's used to. Smith asserted control and continued bullying forward, collecting Bey in the process who exposed going down. The sequence was good for four, giving Smith a 6-3 lead he would not relinquish en-route to the series victory.
"I came out a lot more physical in the second match, and that's good for me," said Smith, who becomes a Senior World Team member for the second time in three seasons. "That's my wheelhouse. I'm a brawler in the Brandon Paulson, Dennis Hall, and Mike Houck style. That's where I wanted to be and I started to execute that game plan better in the second match."
Final X: Rutgers
June 8th — Piscataway, New Jersey
55 kg
Max Nowry (Army/WCAP) def. Brady Koontz (TMWC/Ohio RTC) two matches to none
Match 1: Nowry def. Koontz 3-0
Match 2: Nowry def. Koontz 11-5
67 kg
Ellis Coleman (Army/WCAP) def. Jamel Johnson (Marines) two matches to none
Match 1: Coleman def. Johnson 9-1, TF
Match 2: Coleman def. Johnson 6-0
77 kg
Patrick Smith (Minnesota Storm) def. Kamal Bey (Sunkist, world no. 5) two matches to one
Match 1: Bey def. Smith 11-2, TF
Match 2: Smith def. Bey 2-1
Match 3: Smith def. Bey 6-3
82 kg
John Stefanowicz (Marines) def. Kendrick Sanders (NYAC/OTS) two matches to none
Match 1: Stefanowicz def. Sanders 8-5
Match 2: Stefanowicz def. Sanders 3-2
87 kg
Joe Rau (TMWC/Chicago RTC) def. Ben Provisor (NYAC/NLWC) two matches to none
Match 1: Rau def. Provisor 2-1
Match 2: Rau def. Provisor 3-1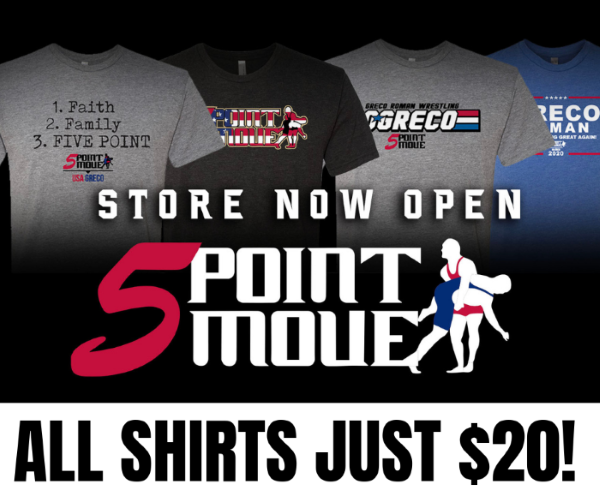 Listen to "5PM23: World Team Trials Challenge Tournament Preview" on Spreaker.
SUBSCRIBE TO THE FIVE POINT MOVE PODCAST
iTunes | Stitcher | Spreaker | Google Play Music | RSS
Notice
: Trying to get property 'term_id' of non-object in
/home/fivepointwp/webapps/fivepointwp/wp-content/themes/flex-mag/functions.php
on line
999