Most observers figured that the best-of-three series between two-time Olympian Ben Provisor (87 kg, NYAC/NLWC) and Joe Rau (TMWC/Chicago RTC) had the chance to come down to one move — and it did. But what they likely weren't banking on was a two-match sweep and that's exactly what they got.
Session I of Final X: Rutgers began at 12:00pm ET and aired live on FLOWrestling.


The seemingly never-ending saga involving Provisor and Rau kicked off the action inside the Rutgers Athletic Center, and right away it was apparent both made adjustments prior to today. Rau, in a break from custom, did not make hard first contact by ramming with his shoulder. Instead, he chose to go to work up top as the pair periodically dug around in the tie-ups. The action was just about even, but just as Provisor started to find success by ripping underhooks and moving Rau around with snaps and off-balances, he was knocked for passivity. Rau looked gut and grimaced as he tried to rotate, but nothing was doing.
Provisor got on the board early in the second period with his own passive point and bypassed a gut attempt for a front headlock. Rau balled up and fought the clasp, leading to a restart.
The bout very much appeared to be headed towards a 1-1 criteria victory for Provisor entering the latter stages. But with :05 left to go, Rau exploded towards the body and crashed Provisor off the edge for a dramatic match-winning point that gave him all of the momentum entering Match 2.
The passives were doled out in opposites for the second round. Given the nature of passivity's influence in contemporary Greco-Roman wrestling, athletes who feel that they will be mired in close battles tend to prefer receiving their passive chances in the second so as to have the criteria advantage. What that meant for Rau is that if he was to emerge victorious over Provisor in Match 2, he had to make his first period passive count.
He did.
From top par terre, Rau locked for a gutwrench and popped Provisor over once, and then again. coming away with four points and a 5-0 lead. Provisor got his point in the conclusive frame but was unable to capitalize further, resulting in a 5-1 decision for Rau and his second Senior World Team Trials triumph five years after his first.
A shootout was in order for John Stefanowicz's (82 kg, Marines) series opposite two-time US Open champ Kendrick Sanders (NYAC/OTS). They knew it, they expected it, and so did everyone else.
Sanders wanted to seize control of the tempo with an underhook, causing Stefanowicz to weave and battle back for position. He had a step on Sanders for a moment and flung an arm spin that nearly resulted in an early deficit — the attempt had come loose and Sanders covered immediately but it was ruled a slip. Later in the period, Sanders whiffed on a headlock — that at first glance looked like a slip, as well — and Stefanowicz stayed attached and converted to a gut for a big four-point sequence and a 5-1 lead.
More offense was on the way. Just before the break, Sanders roped a locktight arm spin and roped it over for four, resulting in a 5-5 score with the Northern Michigan athlete owning criteria. They were giving the people what they wanted.
Stefanowicz answered back in the second. They traded advantages in the pummel, with Sanders careful not to overextend and Stefanowicz urging forward. A step-out for the Marine soon followed, and after the reset he coaxed Sanders off the edge again, only this time it was called a caution-and-two for fleeing, widening the gap to 8-5 in Stefanowicz's favor to put a cap on Match 1.
Sanders earned the first passivity in Match 2 and his dreaded reverse lift was yet to hit paydirt. But as he went to set his position and start at the head, Stefanowicz bounded to his feet and escaped. This was the pivotal moment of the contest. The consensus coming in was that for Sanders to repeat his success against Stefanowicz from April, points via top par terre were of the utmost priority. And since Sanders' bread-and-butter is that lift, the fact he came up short seemed to narrow the odds.
He must have known that. Because as time started winding down in the first, he reached back for another arm spin. Stefanowciz countered in an instant with a takedown on the boundary to go up 2-1.
The action didn't slow in the second, but it did become more deliberate. Stefanowicz picked up a passivity point to nudge further ahead — and Sanders shuffled Stefanowicz out for a point with under a minute remaining. They clashed to the finish. Sanders upped his pace but the Marine wasn't going anywhere. With the final score at 3-2, Stefanowicz had completed an objective that he felt was a long time in the making.
"I've had that burden the whole time of knowing that, If I can't do it, I don't want to charge one of my guys with doing it," Stefanowicz said. "Having this ability now to be a World Team member, we can all be World Team members. Just proving that point and showing them what it takes to win is going to prove leaps and bounds."
WCAP's Ninja Squad Prevails
At 55 kilograms, Max Nowry (55 kg, Army/WCAP) at long last is going to a Senior World Championships.
But he had to work for it.
Facing off against 2018 Junior World Team member Brady Koontz (TMWC/Ohio RTC), Nowry used an assortment of short drags and snaps to find his rhythm in Match 1. A couple of near-misses on go-behinds represented the sum of Nowry's offense through most of the first until his shot from par terre arrived. He locked around Koontz's waist but did not bother to kick off and roll. There was another option to consider — a lift. Nowry hoisted Koontz up and brought him back down for a correct hold to climb ahead 3-0 prior to the break.
Koontz held strong in the second and appeared to be growing confidence. He was asserting himself more in the tie-ups and sustained solid position. The problem? Nowry still dominated the tie-ups, and it was he who walked away the 3-0 winner.
Their first bout only offered a flicker of offense. Their next one almost blew the roof off the joint.
It started when Koontz got the first passive. From top, his developing-but-still wonderful gut turned Nowry for a pair — but just after Nowry exposed, he raked a front headlock for four — and then Koontz reversed with a beautiful duck-under for two, putting Nowry in a temporary 3-2 hole. He closed it quickly. Right before the end of the first, Nowry raced around back for a takedown and then rolled Koontz for another deuce and a 6-5 lead.
Nowry had to try and find a way to create some distance. Koontz had proven he could score and wasn't going to just up and disappear. So there was a pursuit. Nowry worked the ties and engineered another go-behind. Once secure, he locked, lifted, and suplexed Koontz for five, eliciting a roar from the approving crowd. There was no further scoring but there didn't need to be. At 29 years of age and with a decade logged at the National level, Nowry fully enters the sport's consciousness.
"It's definitely a big relief," admitted Nowry following the series. "It took ten years and ten tries. Last year, I was overly excited and didn't stick to my game plan. This year was about sticking to the game plan and getting the job done."
Unlike Nowry, Army/WCAP teammate Ellis Coleman (67 kg, Army/WCAP) is used to basking in the spotlight, and that continued on Saturday with his sweep of talented Marine competitor Jamel Johnson.
Johnson had made impressive adjustments en-route to victory at the World Team Trials Challenge Tournament last month, and it showed in the first period of Match 1 as he kept Coleman honest with some hard pummeling. The Marine received the bout's initial passive but Coleman defended well. In the second, the ordered par terre went to Coleman — and he pounced. First was a pair of turns and then he ended the bout in emphatic fashion by blasting a four-point lift.
Coleman, out to ice his fifth spot on a Senior-level Team, was frighteningly efficient. He worked to the first passive and cranked out two guts to jump ahead 5-0. In the second period, the tempo eased back just a bit but the story remained the same. Johnson was hit for passivity again, somewhat curiously, but this time he held firm. Nevertheless, it was all Coleman, who afterwards spoke about the differences he noticed in Johnson and how he adjusted.
"He felt much stronger this time and he stayed in good position," Coleman said. "It was hard to get inside on him and he pushed in good position. But (Hayden) Tuma is my teammate, so I was pretty prepared for what he was going to do."
Final X: Rutgers
June 8th — Piscataway, New Jersey
55 kg
Max Nowry (Army/WCAP) def. Brady Koontz (TMWC/Ohio RTC) two matches to none
Match 1: Nowry def. Koontz 3-0
Match 2: Nowry def. Koontz 11-5
67 kg
Ellis Coleman (Army/WCAP) def. Jamel Johnson (Marines) two matches to none
Match 1: Coleman def. Johnson 9-1, TF
Match 2: Coleman def. Johnson 6-0
82 kg
John Stefanowicz (Marines) def. Kendrick Sanders (NYAC/OTS) two matches to none
Match 1: Stefanowicz def. Sanders 8-5
Match 2: Stefanowicz def. Sanders 3-2
87 kg
Joe Rau (TMWC/Chicago RTC) def. Ben Provisor (NYAC/NLWC) two matches to none
Match 1: Rau def. Provisor 2-1
Match 2: Rau def. Provisor 3-1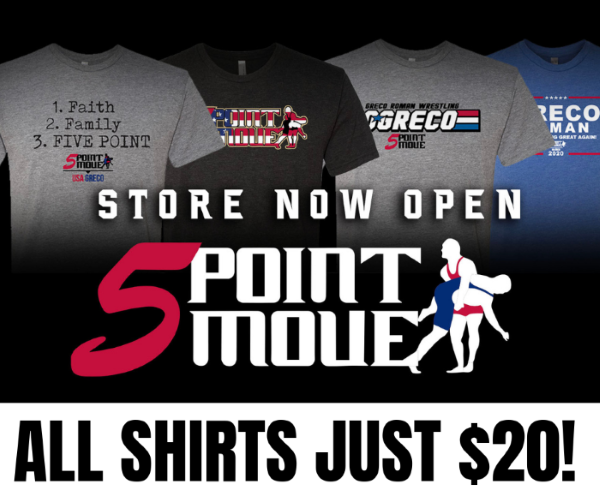 Listen to "5PM23: World Team Trials Challenge Tournament Preview" on Spreaker.
SUBSCRIBE TO THE FIVE POINT MOVE PODCAST
iTunes | Stitcher | Spreaker | Google Play Music | RSS
Notice
: Trying to get property 'term_id' of non-object in
/home/fivepointwp/webapps/fivepointwp/wp-content/themes/flex-mag/functions.php
on line
999