Cohlton Schultz (130 kg, Sunkist) entered the 2019 Junior World Championships as a returning bronze medalist. After a day's work that required four matches, he is already assured of an upgrade.
Meanwhile, Alston Nutter (63 kg, Sunkist/OTS) engineered a startling run to the semifinals by defeating two top-level opponents back-to-back, and now finds himself staring down the barrel of a bronze medal.
And best of all, it isn't just Schultz and Nutter. Team USA Greco-Roman will enter action on Saturday with three medal chances with Cameron Caffey (87 kg, MSU) receiving a new lease on life in the repechage.
Wrestling at the 2019 Junior World Championships began at 10:30am from Tallinn, Estonia (3:30am ET) and was broadcast live in the US on Trackwrestling.
Schultz & Nutter
Schultz Goes on Tear
Although Schultz enjoyed a whirlwind performance on Friday, it wasn't he who scored first against Dariusz Vitek (HUN). Vitek came out, Schultz pawed, and a correct-throw arm spin put him in the hole 2-0. But soon enough, the wunderkind made an impact. Near the edge, Schultz bodied Vitek up and over for four — and never looked back. Before the end of the first, Schultz bullied Vitek out of bounds twice for two more points. In the second period, Schultz put a cap on the bottle by tossing Vitek yet again to emerge victorious 10-2.
With the opener out of the way, Schultz stepped into the round-of-16 opposite Junior Asian Championships silver Aawesh Aawesh (IND). They started off slow. Schultz poured through the tie-ups and wedged underhooks for possible windows. Aawesh wasn't completely engaging, and as such was knocked for passive. But from top, the American couldn't generate a follow-up score and they were back on the feet. Once again, the second period is when it happened. Schultz got another shot from top par terre and rolled Aawesh right out of dodge to make the quarterfinal.


There was more consistency available for Schultz in his bout versus Youssef Issa (EGY) even if the result wasn't as dominant. The first period passive went to Schultz but Issa managed to remain pasted. Back up, and Schultz wanted to press. He looked to gain position in the ties, using his feet to keep Issa moving while busying up the works inside. Eventually this led to a takedown before the buzzer and the Coloradan strolled into the break up 3-0. Issa was in it; while he wasn't going to beat Schultz at his game, the Egyptian didn't fade. So, Schultz had to force capitulation. Patiently, as always, he pressed but waited. And when Issa came a little loose off an exchange, Schultz hurriedly capitalized for a takedown. Those two points made it 5-0 and it was onto the semis.
Schultz owned the action from the outset against Lu Zhang (CHN). At the whistle, Schultz plodded forward, leaning on that left underhook in spaces as Zhang's back began to creep perilously close to the edge. They re-centered, and passivity rang in for Zhang. From top, Schultz took Zhang over with a front headlock, immediately picking up two. And then when Zhang went to re-roll to his stomach, Schultz kept the arm clamped and turned him again. Only this time, Schultz ran a half-nelson to ensure there was no escape route and the fall was called at 1:42 of the first period.
Now for the particulars: in tomorrow's final, Schultz takes on '18 U23 World bronze Aliakbar Yousofiahmadchali (IRI). The gold and bronze matches are scheduled to begin at 6:00pm (11:00am ET), and Schultz will not be the only American involved.
Nutter Wins & Learns
Nutter called on a gunslinger approach against '16 Cadet World bronze Zaur Nuriyev (AZE), who also placed fifth at this year's Takhti Cup. Nuriyev locked long around Nutter at the whistle, and Nutter responded by uncorking a tight arm spin that netted four. But in the melee, Nuriyev reversed for one point, gutted Nutter for two, and then wrapped a correct hold for two more and an early 5-4 lead.
Later in the period, there was a scramble. Nuriyev came crashing in, Nutter lost his feet and recovered, and then nearly hit a folkstyle cement mixer. They bounded back up and Nutter got around back for a takedown to retake the advantage. After the reset, Nutter's back was to the line but he circled back in and off-balanced Nuriyev straight down. It was originally scored a step-out — but after AZE challenged — it was changed to a takedown plus another point for the lost challenge — and Nutter surged ahead 9-5. On the next reset, Nutter dashed inside and torqued Nuryiev's arm and gained two more points, though Nuryiev reversed to get one back. One more reset and another score for Nutter, as Nuryiev went to lace the body and Nutter adjusted to land in headlock position. But again, Nuriyev managed to reverse before any further damage could be done in what was a chaotic first period.
To crack open the second, Nutter went directly at his foe, hunting him down. He let him off the hook initially: Nuriyev was backing up and Nutter re-shifted his feet, thus resulting in an informal reset. But then he clambered in and rushed Nuriyev off the line (and off the tarp) for one more point. Another restart, with Nutter falling into Nuriyev's clutches but cartwheeling away to create a scramble that provided Nuryiev with exposure points and 14-9 deficit. The next exchange brought the reckoning. Nutter nestled a two-on-one, forcing a reaction from Nuryiev, who locked to throw. Nutter clamped down on the opposite arm and adjusted to land on top — and that was a wrap. Nuriyev was flattened and Nutter had dispatched of a very, very solid opponent to move into the quarterfinal.
Waiting for him was '19 Junior Asian Championships gold Assaukhat Mukhamadiyev (KAZ), another high-level competitor. Nutter went for the arm throw; Mukhamadiyev instantly went heavy, so Nutter ran the arm to get around back, though he was compelled to hold onto the waist and roll over. The end result was two points nevertheless. After a second attempt on the arm and a slip, they resumed working. Nutter set Mukhamadiyev's feet for one more try at the arm, and again it was a slip. Mukhamadiyev then had a line on a hip toss at the edge that earned a step-out. There seemed to be an answer for everything. A minute before the break, Nutter waffled his way to a step-out — and just ahead of the whistle itself, so too did Mukhamadiyev, with the American holding a 3-2 lead.
Nutter had more juice. That much was clear. Urgency also titled in his favor. That made it all the easier to understand when Nutter checked Mukhamadiyev off the line again to go up 4-2. This wasn't a breaking due to exhaustion, however. Mukhamadiyev had requisite steam. But he was also frustrated. Every restart, every tie-up, was greeted by Nutter tactically yet intensively working him in the trenches. Under :30 to go, Mukhamadiyev tried looping Nutter over to no avail. And then again with under :15 to go. Exasperated, he asked for the challenge block. Following the review to see if there was a correct throw somewhere in the sequence, Nutter received a point, and ultimately, the 5-2 decision.
The semifinal for Nutter — a milestone — introduced him to '15 Cadet World silver Abu Amaev (RUS). Unlike Nutter's first two matches, this one didn't last very long, although it did reveal his fearlessness to succeed.
At his first chance, Nutter looked high with a front headlock, leaving Amaev a clear lane to the body (not unlike Ellis Coleman vs. Ismael Borrero Molina from the Pan Am Championships). Amaev wrapped Nutter for two off the edge and he was on his way. Back on the feet and Nutter with an arm throw try. Amaev yanked and scampered to come around back, leading 4-0. This was the pattern: Amaev was just taking what Nutter was giving him and converting scores. After a reset, Nutter was towards the line with another arm spin. Amaev covered and they gave him two. The end came on the heels of a takedown and subsequent step-out that was challenged by the US (and denied), with Amaev walking away the victor 9-0 of a match in which every score was a counter. Nutter went out in the semifinals on his shield.
But he will be picking it back up again tomorrow. Nutter is in the bronze medal match where he will meet the winner of Kamil Czarnecki (POL) and Delin Wang (CHN).
Caffey, Ragusin, & Ervien
In Ilya Ermolenko (RUS), Caffey was going up against a weight class favorite who is on a fast-track towards Senior success. Though a prospect's potential is speculative, Ermolenko is as close to a sure thing as it gets, which Caffey discovered for himself Thursday morning.
Caffey didn't hesitate to engage and intently prodded at his opponent from the whistle. But Ermolenko might have had a better idea of how he wanted to attack, because it wasn't long before he reached around back and hurled Caffey off the line for four. As the first period wore on, Ermolenko was gifted a passivity point. From top par terre, he was able to turn Caffey with a gut, but that was all he could get. Back on the feet, and there was Ermolenko with a takedown to finish it off.
However — Ermolenko advanced to the final, pulling Caffey into the repechage round. Caffey will first face off with ___ and needs ___ wins to earn bronze.
Dylan Ragusin (55 kg, Izzy Style), a superb age-group competitor who also appeared in the 2017 Cadet World Championships, had designs on a big tournament in Estonia. It made sense. He's experienced, from Illinois of all places, and is beholden to a glimmering bright future. But unfortunately, none of that translated to advancement this morning.
Against Mukremin Aktas (TUR), Ragusin ran into trouble right out of the gate. Atkas started off with an arm spin that scored four. Ragusin was altogether unphased, but on the next exchange found himself clamped up top, as Atkas cranked a front head for another two. Down 6-0 in the second, Ragusin attempted to get back in the fight but Atkas' positioning was too solid. So was his footwork. He first coaxed Ragusin out for one point; and then again shortly thereafter to seal up the 8-0 tech. The Turkish wrestler was defeated by Ken Matsui (JPN) in the round-of-16 to effectively end Ragusin's tournament prematurely.
The draws are the draws, and both Jack Ervien (77 kg, Takedown Express) and Cameron Caffey (87 kg, MSU) had the toughest opening assignments they could hope to ask for.
For Ervien, it was rising Indian star Sajan Sajan, who was a runner-up at the Junior Worlds in '18 and had earned bronze the year prior. Sajan went up 3-0 early in the first and added a takedown to inch ahead further 5-0. In the second frame, Sajan converted a takedown/gut combo to ice the proceedings.
But his ride ended soon enough: Sajan was ousted by Mohammad Naghousi (IRI) in the quarterfinal, thus eliminating Ervien from possible contention for bronze in tomorrow's repechage round.
Notes:
With Schultz's victory over Zhang, the US program now has a Junior World finalist for the third straight year, and is also guaranteed a medalist for the fourth straight year.
The US finishes Day 1 with an overall record of 6-4 (four wins for Schultz, two for Nutter).
Of the six wins, two arrived via fall, there were two tech's, and two decisions.
2019 Junior World Championships
August 16-18 — Tallinn, Estonia
TEAM USA DAY 1 RESULTS
55 kg — Dylan Ragusin (Izzy Style)
LOSS Mukremin Aktas (TUR) 8-0, TF
63 kg — Alston Nutter (Sunkist/OTC)
WON Zaur Nuriyev (AZE) via fall
WON Assaukhat Mukhamadiyev (KAZ) 5-2
LOSS Abu Amaev (RUS) 9-0, TF
77 kg — Jack Ervien (Takedown Express)
LOSS Sajan Sajan (IND) 9-0, TF
87 kg — Cameron Caffey (MSU)
LOSS Ilya Ermolenko (RUS) 10-0, TF
130 kg — Cohlton Schultz (Sunkist)
WON Dariusz Vitek (HUN) 10-2, TF
WON Aawesh Aawesh (IND) 9-0, TF
WON Youssef Ah Issa (EGY) 5-0
WON Lu Zhang (CHN) via fall
TEAM USA DAY 2 DRAWS
60 kg — Mason Hartshorn (NMU/OTS)
vs. Mukjammadkodir Yusupov (UZB)
63 kg — Alston Nutter (Sunkist)
vs. Kamil Czarnecki (POL) or Delin Wang (CHN)
67 kg — Peyton Omania (MSU/CYC)
vs. Lee Jaewon (KOR)
72 kg — Tyler Eischens (CARTC)
vs. Deividas Subotkevic (LTU)
82 kg — Zac Braunagel (IRTC)
vs. Toyly Orazov (TKM)
97 kg — Nick Boykin (Sunkist)
vs. Markus Ragginger (AUT)
130 kg — Cohlton Schultz (Sunkist)
vs. Aliakbar Yousofiahmadchali (IRI)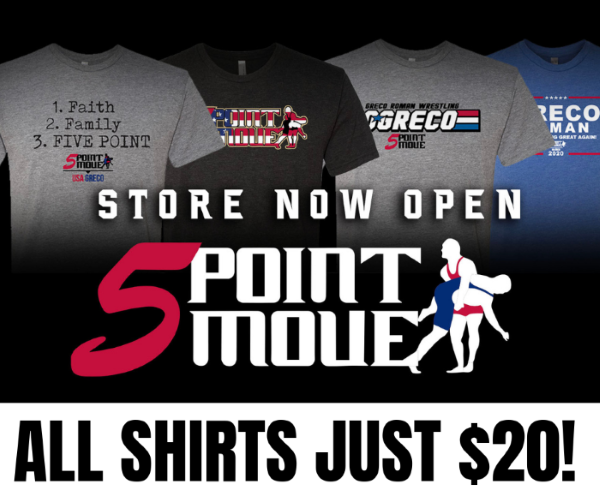 Listen to "5PM26: Princeton's Lenny Merkin and new USOTPC Greco-Roman athlete Nolan Baker" on Spreaker.
SUBSCRIBE TO THE FIVE POINT MOVE PODCAST
iTunes | Stitcher | Spreaker | Google Play Music | RSS
Notice
: Trying to get property 'term_id' of non-object in
/home/fivepointwp/webapps/fivepointwp/wp-content/themes/flex-mag/functions.php
on line
999