Three champs, six total medals, and two weights qualified equal a successful day's work for Team USA Greco-Roman.
Max Nowry (55 kg, Army/WCAP), RaVaughn Perkins (72 kg, NYAC), and Adam Coon (130 kg, Cliff Keen, world no. 2) led the way with gold medals for an American squad that is on the cusp of running away with the team race following only one day of action at the 2019 Pan Am Championships in Buenos Aires, Argentina.
The final round began at 5:00pm local time (4:00pm ET) and was broadcast live in the US on Trackwrestling.


Nowry required all of :34 to lock down his tournament victory. Facing Marcelo Torres (ARG), the 2018 US National champ zeroed in for a quick takedown right out of the gate. Back on the feet, and Nowry got behind again for two more, and then rolled Torres for the startling 8-0 tech win. The gold is Nowry's second from the Pan Am Championships (2013).
Coon's final wasn't as short as Nowry's, but it sure ended with a bang. Luciano Del Rio (ARG) received the first passive point and Coon managed to defend until making his way back standing. And then just like that, it was over. Coon clasped around Del Rio, shifted and pulled back, and then plowed forward. Del Rio was nearly flat even before the signal arrived. Coon's first Pan Ams title sees him notch all three wins via fall — and if you include the 2018 Worlds, all seven of his recent international victories have been earned in the same manner.
As for Perkins, he had light but important work to do on Thursday, and the best part was that it was done with prior to the afternoon session. The popular Nebraska native stormed out to win his first bout via fall against Francisco Barrio (ARG, and who retired after losing in the bronze round) and then sealed his tournament up as a whole with a tech over Kenedy Moraes Pedrosa (BRA).
Mango, Coleman, & Hancock Come Away with Silver
Ryan Mango (63 kg, Army/WCAP) was back to his old tricks during the morning session, racking up two blitzing tech falls. In the finals, the '18 Open champ just couldn't get going. Operating against Andres Montano Arroyo (ECU), Mango patiently worked in the tie-ups and scanned for opportunities. The pair battled back and forth, seemingly evenly-matched on this afternoon. An explosive sequence from Mango could almost be felt, but unfortunately for the US, it was Montano Arroyo who struck first.
Trailing 1-0 on a passivity call, Mango was near the edge when a fortuitous bodylock opportunity for Montano Arroyo presented itself. The four points resulted in a sudden 5-0 deficit that Mango carried entering the second frame. Soon into the period, he looped double underhooks and arched back. He came loose. Montano Arroyo landed on top for four, collecting the win as well as the 63-kilo gold.
In what was surely the most anticipated showdown of the final round, Ellis Coleman (67 kg, Army/WCAP) took on World/Olympic champ Ismael Borrero Molina (CUB). Coleman was moving extremely well. His motion, setups, and entries to the body would have taken apart most other opponents. Just not Borrero, not today.
Coleman received the first passive/par terre shot. Borrero defended and they returned standing. An off-balance later in the period caused Coleman to give up a takedown off the edge and two more courtesy of a Borrero gut. 4-1 was the score heading into the second, and while the hill still seemed steep, it didn't appear insurmountable, if only due to Coleman's speed and willingness to trade inside.
Where it went off the rails for Coleman was following an odd sequence in the conclusive period. First came a step-out for the Cuban; next, Coleman was called for finger-grabbing, a two-point caution. Shortly after the ensuing restart, Coleman clamped a front headlock but held too high, which extended his own body. The opening was more than inviting enough for Borrero to merely zip right in with a bodylock for four, tying a premature bow around the bout and giving Coleman an 11-1 tech loss.
Nevertheless, Coleman's silver accomplished one of his premier objectives on Thursday: he qualified 67 kilograms for the US at the Pan Am Games this summer.
Like Coleman, G'Angelo Hancock (97 kg, Sunkist, world no. 3) also locked down his weight for the US at the Games by advancing to the finals. And, like Coleman, his gold-medal match ended in disappointing fashion.
For Hancock, the ball started rolling the wrong direction almost immediately after the whistle. He locked Gabriel Rosillo's (CUB) arms in double underhooks and inadvertently pulled Rosillo on top of him towards the boundary. Rosillo went to follow up with a gut — and did — but Hancock also stepped over for a reversal he did not receive points for. The US challenged, and lost, and the score was 7-0 in a near eyeblink.
To his credit, Hancock competed hard. He chipped away with a step-out; and Rosillo responded with his own. Hancock clambered inside on what appeared to be a solid bodylock attempt but couldn't quite convert. He did, however, yield another step-out point and trailed 8-2. It wasn't despair, nor was it the desire to go out on one's shield. Hancock doesn't make attempts just for the optics. So when he crashed in on one more bodylock, it was because he felt the opening was worth it. The problem was Rosillo, who fought the motion and adjusted during Hancock's arch to land on top for the two match-ending points.
Roberts Hosed for Bronze
Dalton Roberts (60 kg, NYAC/OTS) brought the heat early and often against Anthony Puentes (VEN) in their bronze-medal match, but went unrewarded throughout before winding up on the wrong side of what was terrible officiating.
As he's prone to do, Roberts started off with an electric pace in the tie-ups and a try at an arm spin nearly converted. Back standing and Roberts got heavy on Puentes' head, but again, nothing was doing. They clashed often — although it was the American who steered the action. A point went to Roberts' midway through the first, curiously, if only because an opportunity from par terre top did not accompany the call. Towards the end of the opening period, Roberts frantically tried getting around back of Puentes, but the buzzer sounded before any damage could be done.
In the second, Roberts resumed stalking Puentes. The tempo hadn't slowed on his part, but Puentes wasn't quite as movable. Even still, there was no question as to who was commanding the proceedings since the Venezuelan did all he could just to stay upright. But they also weren't about to let this bout end 1-0 in favor of the American.
With a minute remaining, they called Roberts for passive, despite the consistent pressure and mat generalship he displayed through the entirety of the contest. Puentes did not score from top par terre, giving Roberts a better chance of coming up with a late score to turn it all back around. It didn't happen. What did, was a 1-1 crushing criteria loss that would leave a more bitter taste in the mouths of those who witnessed the abomination — if they weren't so used to it already.
Day 2 of the 2019 Pan Am Championships begins at 10:00am in Buenos Aires. The USA draws can be found below.
77 kg: Kamal Bey (Sunkist, world no. 9) vs. Enrique Cuero Ortiz (ECU)
82 kg: Cheney Haight (NYAC) vs. Andres Barres Machado (BRA) — round-robin weight class
87 kg: Patrick Martinez (NYAC) vs. Lesyan Cousin Otomuro (JAM)
2019 Pan American Championships
April 18th-19th — Buenos Aires, Argentina
TEAM USA DAY 1 RESULTS
55 kg
Max Nowry (Army/WCAP) — gold
WON Joshua Medina (PUR) 9-0, TF
WON Sargis Khachatryan (BRA) 4-3
WON Marcelo Torres (ARG) 8-0, TF
60 kg
Dalton Roberts (NYAC/OTS) — 5th
WON Luis Morales Mayancha (ECU) 12-3, TF
LOSS Luis Orta Sanchez (CUB) 9-0, TF
WON Andres Andrade (PAN) via forfeit
LOSS Anthony Palencia Puentes (VEN) 1-1 (criteria)
63 kg
Ryan Mango (Army/WCAP) — silver
WON Jose Davilla Cabello (PER) 9-0, TF
WON Mauri Vicente Silverio Junior (BRA) 8-0, TF
LOSS Andres Montano Arroyo (ECU) 9-0, TF
67 kg
Ellis Coleman (Army/WCAP) — silver
WON Victor Lopez Miranda (ESA) 9-0, TF
WON Shalom Villegas Requena (VEN) 11-0, TF
WON Christhian Rivas Castro (ECU) 10-0, TF
WON Ismael Borrero Molina (CUB) 11-1, TF
72 kg
RaVaughn Perkins (NYAC) — gold
WON Francisco Barrio (ARG) via fall
WON Kenedy Moraes Pedrosa (BRA) 8-0, TF
97 kg
G'Angelo Hancock (Sunkist) — silver
WON Manuel Huaman Caillahua (PER) 8-0, TF
WON Kevin Mejia Castillo (HON) 9-0, TF
WON Jose Arias Paredes (DOM) 11-2, TF
LOSS Gabriel Rosillo (CUB) 10-2, TF
130 kg
Adam Coon (Cliff Keen) — gold
WON Diego Alemendras Rodriguez (CHI) via fall
WON Angel Pacheco Romero (CUB) via fall
WON Luciano Del Rio (ARG) via fall
CLICK HERE TO DONATE TO THE USA GRECO-ROMAN PROGRAM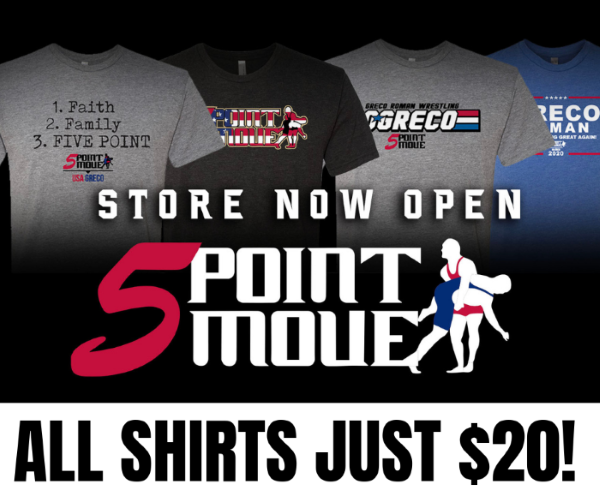 Listen to "5PM22: Sammy Jones guest co-hosts as Five Point Move visits with Lucas Sheridan and Sam Hazewinkel" on Spreaker.
SUBSCRIBE TO THE FIVE POINT MOVE PODCAST
iTunes | Stitcher | Spreaker | Google Play Music | RSS
Notice
: Trying to get property 'term_id' of non-object in
/home/fivepointwp/webapps/fivepointwp/wp-content/themes/flex-mag/functions.php
on line
999