The United States Greco-Roman Seniors had two main objectives entering the 2019 Pan American Championships this week — 1) qualify the five remaining Olympic weights necessary for the Pan Am Games; and 2) get back to the top of the Team standings
Following the first session on Day 1, all you can really say is, Things are looking good.
That's because already, Ellis Coleman (67 kg, Army/WCAP) and G'Angelo Hancock (97 kg, Sunkist, world no. 3) have done their part by advancing to the finals of their respective weight classes. In order for a nation to qualify weights for the aforementioned Pan American Games, set for later on this summer, athletes are required to place in the top-three at the Championships. Dalton Roberts (60 kg, NYAC/OTS), who won his first match on Thursday before falling to Luis Orta Sanchez (CUB), will battle for bronze this afternoon, and if successful, will compete for "true third", thus hopefully qualifying 60 kilograms.


Perkins with two in a row
RaVaughn Perkins (72 kg, NYAC) — one of eight 2018 World Team members in action this week — steamrolled to his second-straight Pan Am Championships title thanks to a first-round fall over Francisco Barrio (ARG) and a tournament-clinching tech of Kenedy Moraes Pedrosa (BRA). The speed, the snap, and the aggression were all there, but something else demanded a little attention: Thursday marked the first time since the Budapest Worlds that Perkins competed at 72 kilograms. It had been a little bit of a while, but all in all, he was pleased with the result.
"I felt pretty good, especially with it being the first time back at 72 since the Worlds," he said after receiving his gold medal on Thursday. "Although, I didn't feel as good as I wanted to. At first, I kind of wanted the match to go on longer. But then at the end, I wanted to make something happen because I was getting tired. I thought it would be worse, just because I was wrestling at 77 this season and then here I'm back down at 72. I thought it would be way tougher, but no, overall I felt good."
The concerns of the US team at large were not missed on Perkins, either. Even though 72 kilograms is not currently an Olympic weight, and therefore does not require qualification for the Games, this is still a tournament that holds an important place for the American squad. Each year, a big showing is expected. USA athletes go on runs and earn medals, which builds momentum for the program. However, while Perkins is happy for the influx of support, he'd prefer fans stuck around through thick and thin as opposed to just one event.
"Yes, it's good for the program," Perkins said referring to the US squad's success at the Pan Ams. "But at the same time, Tracy (Hancock) and I were going through all of these posts on Twitter and it's like now everyone is trying to be on our side because we're winning here. That's not a true fan of USA Greco. Now you're trying to be fan because we're winning? You should be with us during our up's and our down's. I don't blame them, it is what it is, but it's something we noticed.
"We want that support and we want it to continue on. We'll keep it going. We've had a good team performance so far today and we're doing a great job. Now we just have to carry it over to tomorrow, too."
Max Comes Up Clutch; Mango & Ellis Dominant
2012 University World/2018 US National Champion Max Nowry (55 kg, Army/WCAP) put a quick beatdown on Joshua Medina (PUR) to start his day but scored an even more satisfying win in his next bout. That's because vengeance was involved. At the 2018 Pan Am Championships in Peru, Sargis Khachatryan (BRA) defeated Nowry in controversial fashion on the strength of some questionable officiating, resulting in a silver for the American. Not that the loss hung with Nowry long-term, but it was one he didn't mind getting back.
Nowry took a 1-0 passivity point lead into the second period, and as it goes, the tables turned and he was penalized for passivity himself. Khachatryan had to work for it, but he eventually coaxed Nowry over with a collapse gut. But as he rotated, Nowry stepped over and immediately locked a t-bar on Khachatryan's left arm. The WCAP rep then cranked his opponent over for two points with under a minute left to go. Despite some desperation lunges on Khachatryan's part, Nowry earned his second win of the tournament, which puts him one win away from securing gold in the round-robin bracket.
The return of Ryan Mango (63 kg, Army/WCAP) to Senior competition following a severe arm injury got off to a good start on Thursday. Mango bombed Jose Davilla Cabello (PER) 9-0 for his first win; next, he rolled out Mauri Vicente Silverio Junior (BRA) with a succession of guts. He will now face Andres Montano Arroyo (ECU) in the gold-medal match. WCAP teammate Ellis Coleman (67 kg, Army/WCAP) outscored his first three opponents 30-0, with his par terre work standing as the primary method of destruction. He has an interesting test in the finals that could wind up delivering an instant classic — Coleman locks horns with World/Olympic champ Ismael Borrero Molina (CUB).
Hancock & Coon
The most important part about Hancock's run thus far at the 2019 Pan American Championships is not that it delivered three victories. It's that Hancock is now demonstrating that he can blow the doors off of quality opponents consistently. In his second match this morning, Hancock handily defeated Kevin Mejia Castillo (HON) via tech fall in the first period. Important to note, because when Hancock was just starting out, Castillo played the role of teacher to Hancock's apprentice. That is no longer the case — Hancock decisioned Castillo at the 2017 Pan Ams before running through him earlier today.
2018 World silver Adam Coon (130 kg, Cliff Keen, world no. 2) had two matches during Thursday's morning session, and both opponents received an intimate yet harsh brand of education as to why the American heavyweight is going to be so difficult to stop. Coon flattened Diego Alemendras Rodriguez (CHI) to begin; and then ran over Angel Pacheco Romero (CUB) to punch his ticket to the finals. 2016 Olympian Robby Smith (NYAC/Chicago RTC) qualified 130 kilograms for the US last year by earning silver, but Coon's team points are certainly more than welcome.
The finals/medal rounds of the 2019 Pan Am Championships begin at 5:00pm in Buenos Aires and can be viewed live in the US on Trackwrestling (subscription required).
2019 Pan American Championships
April 18th-19th — Buenos Aires, Argentina
TEAM USA DAY 1 RESULTS
55 kg
Max Nowry (Army/WCAP)
WON Joshua Medina (PUR) 9-0, TF
WON Sargis Khachatryan (BRA) 4-3
vs. Marcelo Torres (ARG)
60 kg
Dalton Roberts (NYAC/OTS) 
WON Luis Morales Mayancha (ECU) 12-3, TF
LOSS Luis Orta Sanchez (CUB) 9-0, TF
WON Andres Andrade (PAN) via forfeit
vs. Anthony Palencia Puentes (VEN)
63 kg
Ryan Mango (Army/WCAP) 
WON Jose Davilla Cabello (PER) 9-0, TF
WON Mauri Vicente Silverio Junior (BRA) 8-0, TF
vs. Andres Montano Arroyo (ECU)
67 kg
Ellis Coleman (Army/WCAP) 
WON Victor Lopez Miranda (ESA) 9-0, TF
WON Shalom Villegas Requena (VEN) 11-0, TF
WON Christhian Rivas Castro (ECU) 10-0, TF
vs. Ismael Borrero Molina (CUB)
72 kg
RaVaughn Perkins (NYAC) — gold
WON Francisco Barrio (ARG) via fall
WON Kenedy Moraes Pedrosa (BRA) 8-0, TF
97 kg
G'Angelo Hancock (Sunkist)
WON Manuel Huaman Caillahua (PER) 8-0, TF
WON Kevin Mejia Castillo (HON) 9-0, TF
WON Jose Arias Paredes (DOM) 11-2, TF
vs. Gabriel Rosillo (CUB)
130 kg
Adam Coon (Cliff Keen)
WON Diego Alemendras Rodriguez (CHI) via fall
WON Angel Pacheco Romero (CUB) via fall
vs. Luciano Del Rio (ARG)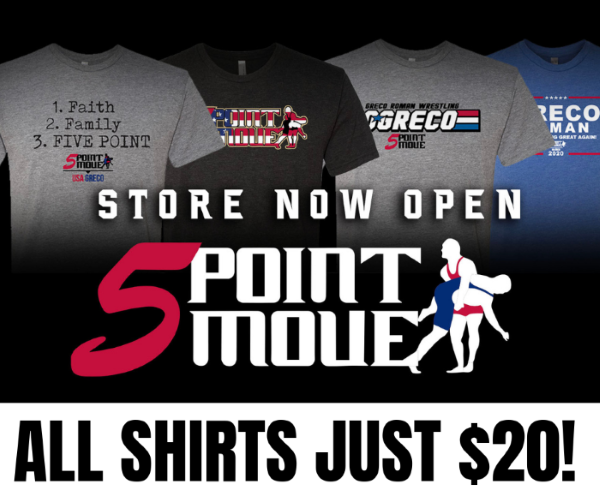 Listen to "5PM22: Sammy Jones guest co-hosts as Five Point Move visits with Lucas Sheridan and Sam Hazewinkel" on Spreaker.
SUBSCRIBE TO THE FIVE POINT MOVE PODCAST
iTunes | Stitcher | Spreaker | Google Play Music | RSS
Notice
: Trying to get property 'term_id' of non-object in
/home/fivepointwp/webapps/fivepointwp/wp-content/themes/flex-mag/functions.php
on line
999