If Patrick Smith (77 kg, Minnesota Storm) was trying get a message across today at the 2019 Pan Am Games, it was heard loud and clear.
Smith led the US charge on Wednesday in Lima, Peru, overcoming Wuileixis Rivas Espinoza (VEN) 3-2 to earn gold, Smith's first at this event. But the Minnesotan had some company in the evening session. Joining him in the final was G'Angelo Hancock (97 kg, Sunkist, world no. 3), who grabbed silver; and Ildar Hafizov (60 kg, Army/WCAP) and Ellis Coleman (67 kg, Army/WCAP, world no. 17), who both placed third.
Against 2016 Olympian Rivas, Smith wanted to get action going in the tie-ups, a task made difficult due to Rivas' insistence to frenetically paw from a distance. That might have been an actual strategy, because it did get Smith to urge forward and fall into a trap, as Rivas uncorked a correct-throw-arm-throw to take an early 2-0 lead. The majority of the period henceforth unfolded with Smith attempting to weave in underhooks or occasionally coming over the top with snaps; while Rivas stuck with grabbing Smith's fingers and avoiding any and all meaningful engagement.
Smith strolled out for the second period with the same degree of urgency he always does. And Rivas wouldn't be able to keep up. Midway through the frame, Smith got a handle on an arm and dragged behind Rivas for a takedown. A follow-up gut attempt at the line didn't convert, so back up they were. After a reset, Smith — working Rivas over in the ties by this stage of the contest — hustled a step-out point to garner the advantage 3-2. Rivas did not have a lot left and Smith kept fighting inside till the bell, earning his first Pan Am Games gold on the heels of an adrenalizing third bout of the day.


Hancock's Silver
When Hancock and Gabriel Rosillo (CUB, world no. 13) banged heads in the Pan Am Championship finals this past April, it was a messy bout that didn't go Hancock's way. The circumstances were not all that different Wednesday evening.
Rosillo came close to dragging behind shortly after the opening whistle, and it was this setup that served as his go-to. Hancock played back in, trying to wrangle two-on-ones when positioning allowed. Rosillo then turned one of those drag attempts into a step-out point after Hancock tried fighting back to safety. After a reset, they were engaged near the edge in a confusing sequence that saw Hancock almost coax Rosillo out before the latter went for a throw. Both athletes' feet danced over the orange boundary, but it was Rosillo's foot that definitely touched further off the edge. As the first period settled in, Hancock began taking command with two-one's and appeared to be gaining steam.
The match-changing moment arrived shortly into the second. Rosillo had dragged behind and Hancock once again found himself almost stepping out. But before that could be the case, Rosillo locked from behind and dumped a four-pointer. Following a reset, Hancock gave up a step-out to increase the US deficit to 5-2. With time beginning to become an ominous factor, Hancock found a lane to the body and zoomed forward. But as he plowed, Rosillo adjusted just enough to get Hancock's right foot out of bounds. Down 6-2, Hancock called for the brick, and the point was upheld. There wasn't much in the way of opportunity after that. Hancock flashed a last-gasp attack and plodded for angles only to have Rosillo remain on his feet for the remainder.
Ildar & Ellis – Bronze Medalists
At 60 kilograms, Hafizov decisioned Emilio Perez (MEX) 7-2. Hafizov received the first passivity point and strung together three gutwrenches to come up with his points. Perez scored a takedown in the second, but the outcome was hardly in doubt by then.
Coleman went 2-1 today at the Pan Am Games, and both of his wins came via fall. In the bronze match, Coleman trailed Luis DeLeon (DOM) 1-0 in the second when he countered a duck-under attempt and rammed DeLeon to his back.
Rau Drops Decision to Cuba
Joe Rau (TMWC/Chicago RTC) met up with 2018 U23 World runner-up Daniel Gregorich Hechavarria (CUB) in the 87-kilogram bronze round and was involved in some excitement right out of the gate. The pair were entangled at the hip with Rau holding an overhook and Hechavarria, an underhook. Hechavarria edged to the side and took Rau's side with both arms, forcing the American to concede. But then Rau reversed and nearly had Hechavarria dead to rights on his back. There wasn't a pin, but it was good for two points and Rau carried a 2-2 criteria lead into the break.
The second period saw Cuba get the passivity/par terre, though Rau was unmovable. With the bout inching towards its conclusion, Rau desperately searched for a step-out point. But as he brushed forward, Hechavarria countered with a four-point throw at the buzzer, resulting in a 7-2 loss for Rau and a fifth-place finish.
Coon Up Next
2018 World silver Adam Coon (130 kg, NYAC/Cliff Keen) will battle 2017 World bronze Yasmany Acosta Fernandez (CHI) in the quarterfinal tomorrow morning at 10:00am CT/11:00am ET. If Coon is successful, waiting for him in the semifinals will be none other than three-time Olympic Champion Mijian Lopez (CUB), who is making his season debut. Live coverage of the event can be found on ESPN 3.
2019 Pan American Games
August 7-8 — Lima, Peru
60 kg — Ildar Hafizov (Army/WCAP) —  bronze
LOSS Dicther Toro Castaneda (COL) 8-3
WON Emilio Perez Alonzo (MEX) 7-2
67 kg — Ellis Coleman (Army/WCAP) — bronze
WON Joilson de Brito Ramos (BRA) via fall
LOSS Ismael Borrero Molina (CUB) 8-0, TF
WON Luis DeLeon (DOM) via fall
77 kg — Patrick Smith (Minnesota Storm) — gold
WON Jair Cuero Munoz (COL) 4-1
WON Emanuel Benitez Castro (MEX) 4-1
WON Wuileixis Rivas Espinoza (VEN) 3-2
87 kg — Joe Rau (TMWC/Chicago RTC) — 5th
WON Ricardo Cardenas Esquen (PER) 5-3
LOSS Luis Avendano Rojas (VEN) 8-0, TF
LOSS Daniel Hechavarria (CUB) 7-2
97 kg — G'Angelo Hancock (Sunkist) — silver
WON Thomas Barreiro (CAN) 9-0, TF
WON Kevin Mejia Castillo (HON) 10-0, TF
LOSS Gabriel Rosillo (CUB) 7-2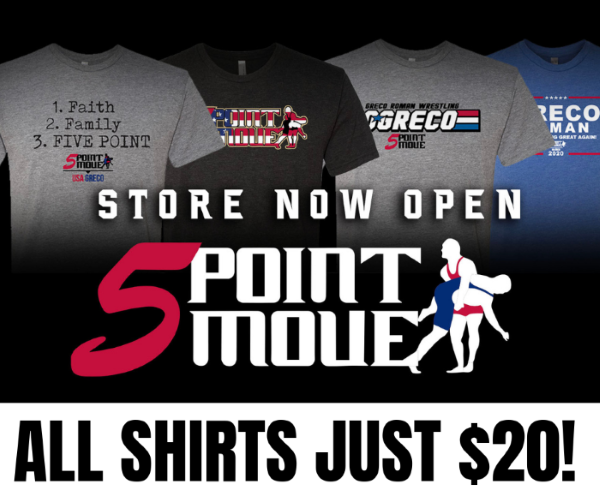 Listen to "5PM26: Princeton's Lenny Merkin and new USOTPC Greco-Roman athlete Nolan Baker" on Spreaker.
SUBSCRIBE TO THE FIVE POINT MOVE PODCAST
iTunes | Stitcher | Spreaker | Google Play Music | RSS
Notice
: Trying to get property 'term_id' of non-object in
/home/fivepointwp/webapps/fivepointwp/wp-content/themes/flex-mag/functions.php
on line
999