Patrick Smith (77 kg, Minnesota Storm) and G'Angelo Hancock (97 kg, Sunkist, world no. 3) have done their part for Team USA thus far at the Pan American Games, with both athletes advancing to the final round scheduled for later this afternoon.
On the same note, Ellis Coleman (67 kg, Army/WCAP, world no. 17) might not be gunning for gold, but he does have a shot for bronze after falling in the semifinal to 2015 World/'16 Olympic champ Ismael Borrero Molina (CUB, world no. 15). Joining Coleman in the bronze round will be teammates Ildar Hafizov (60 kg, Army/WCAP) and Joe Rau (87 kg, TMWC/Chicago RTC).


While the US was hoping for a gold-medal sweep at the 2019 Pan American Games (airing live from Lima, Peru on ESPN 3), five potential medalists on Day 1 is a reasonable compromise given the level of competition — and following several instances of suspiciously inept officiating.
After Borrero was awarded passivity in the first period, he attempted to lift Coleman, who did his best to wrap around the Cuban and avoid certain danger. But when he was returned to the mat (and with Borrero offered four by the ref), Coleman was penalized for a caution-and-two instead. The result was a restart that gave Borrero one more opportunity, which he seized by four'ing Coleman and taking a 7-0 lead. In the second period, Coleman was creating angles and diligently working through the hand-fight when he was surprisingly knocked for passive, giving Borrero the one point he needed to end the match prematurely via tech.
Rau was always supposed to have his hands full with Luis Avendano Rojas (VEN, world no. 15), and he sure did on Wednesday. Avendano screeched behind Rau immediately upon the whistle and quickly ushered the Chicagoan out of bounds. A passivity point and gutwrench later in the first provided Avendano with a 5-0 margin. In the second, Avendano led 7-0 but Rau was beginning to come to life. He poured in through an exchange to drum up an underhook and plowed Avendano off the line. It was a by-the-book step-out point. The officials, they didn't see it that way, however, and the score was not confirmed. Rau chose to challenge the non-call — the challenge was denied — and Avendano moved on with an 8-0 tech win.
Avendano made the final by defeating Daniel Gregorich Hechavarria (CUB), pulling Rau back in for this afternoon's bronze round.
Smith was victorious over Jair Cuero Munoz (COL) and Emanuel Benitez Castro (MEX) in the quarter and semifinal rounds, respectively, by identical scores of 4-1. Smith, a three-time Pan Am Championships gold medalist, will square off against Wuilexis Rivas Espinoza (VEN), who shocked Cuba's Yovsanys Pena Flores in the semifinal.
As for Hancock, he has enjoyed a dominant run to the final. After rolling out familiar Canadian Thomas Barreiro, he blitzed and threw Kevin Mejia Castillo (HON) to run away with a 10-0 tech. Now Hancock prepares for a 2019 Pan Am Championship final rematch against Gabriel Rosillo (CUB, world no. 13). When they met in April, Rosillo won, though there were a couple of questionable sequences that helped his cause.
The finals and bronze matches are slated to begin at 4:30CT/5:30 ET and are available to stream on ESPN 3.
Notes:
Two head-to-head matchups pitting the US vs. Cuba are on the docket with Rau/Hechavarria and Hancock/Rosillo. Coleman is the only American to have faced a Cuban (Borrero) so far today.
2018 World silver Adam Coon (130 kg, NYAC/Cliff Keen, world no. 2) does not take the mat until tomorrow.
Each US Greco-Roman athlete at the 2019 Pan American Games is also a member of this year's World Team.
2019 Pan American Games
August 7-8 — Lima, Peru
60 kg — Ildar Hafizov (Army/WCAP)
LOSS Dicther Toro Castaneda (COL) 8-3
vs. Emilio Perez Alonzo (MEX)
67 kg — Ellis Coleman (Army/WCAP)
WON Joilson de Brito Ramos (BRA) via fall
LOSS Ismael Borrero Molina (CUB) 8-0, TF
vs. Luis DeLeon (DOM)
77 kg — Patrick Smith (Minnesota Storm)
WON Jair Cuero Munoz (COL) 4-1
WON Emanuel Benitez Castro (MEX) 4-1
vs. Wuilexis Rivas Espinoza (VEN)
87 kg — Joe Rau (TMWC/Chicago RTC)
WON Ricardo Cardenas Esquen (PER) 5-3
LOSS Luis Avendano Rojas (VEN) 8-0, TF
vs. Daniel Hechavarria (CUB)
97 kg — G'Angelo Hancock (Sunkist)
WON Thomas Barreiro (CAN) 9-0, TF
WON Kevin Mejia Castillo (HON) 10-0, TF
vs. Gabriel Rosillo (CUB)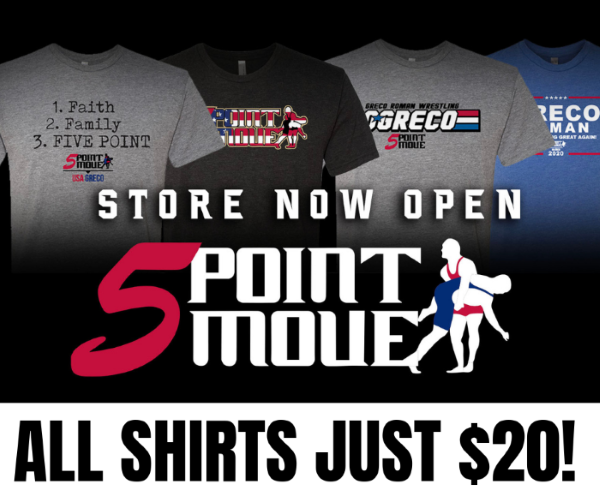 Listen to "5PM26: Princeton's Lenny Merkin and new USOTPC Greco-Roman athlete Nolan Baker" on Spreaker.
SUBSCRIBE TO THE FIVE POINT MOVE PODCAST
iTunes | Stitcher | Spreaker | Google Play Music | RSS
Notice
: Trying to get property 'term_id' of non-object in
/home/fivepointwp/webapps/fivepointwp/wp-content/themes/flex-mag/functions.php
on line
999