Maybe you saw this coming.
At the first-ever U15 World Championships earlier on Wednesday in Budapest, Hungary, Team USA Greco-Roman athletes were responsible for five golds and two bronze in a show of dominance that highlighted what many already knew: at the developmental level, American wrestlers are up there with every country on the planet.


The medal parade for the US began with the lightest three weight classes. Aden Valencia (38 kg, AWA), Paul Kelly (41 kg, Sunkist), and Zach Silvis (44 kg, PINnacle) all rammed through their respective brackets, combining for six tech falls and ten wins altogether. Brackets were not enormous at the 2019 U15 World Championships, which resulted in pooled pairings, something from which Minnesota's Silvis benefited. He had fallen to Khamitov Ongdassyn (KAZ) via tech in the second round; but after he took a decision over Yenor Kulish (UKR), Silvis met up with Ongdassyn for gold and completely turned the tables, running up a title-winning 11-3 tech.
One of the US' most prized developmental prospects, Jadon Skellenger (62 kg, Suples), raced to gold as well on Wednesday, defeating Tangirkul Aibek (KAZ) in the semis 8-0 before getting past Hlib Firsov (UKR) in the final 7-6. Skellenger was down 6-0 to Firsov late in the second period when he engineered a furious rally. First was a four-point bodylock; then with under a minute to go, the Idaho native scored on a step-out and used a front headlock for another that wound up yielding two on a Firsov caution. The heaviest American champ at the 2019 U15 World Championships came at the next weight class, with Tyler Antoniak (68 kg, MWC) winning five matches, including two against tough Hungarian opponent Krisztian Kis.
Along with five golds were the pair of bronze medalists. Joel Adams (48 kg, Legends of Gold) went 2-1, scoring a pin in the third-place bout to put a cap on his tournament, and at 85 kilos, which for U15 essentially serves as heavyweight, Andrew Blackburn-Forst (Lockport Junior Porters WC) nailed down a 2-2 ledger.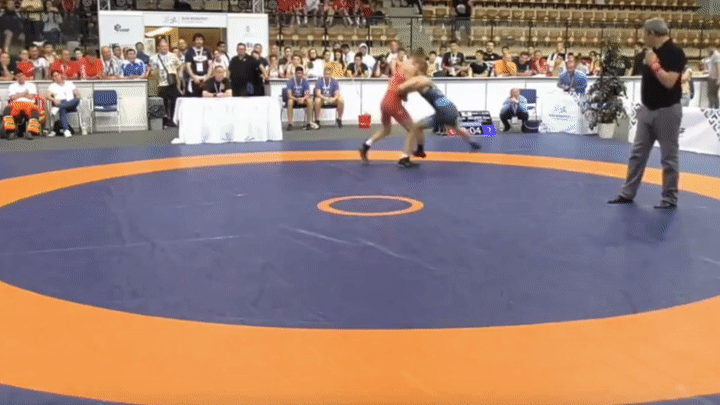 Notes:
Members of the 2019 US U15 World Team come from impressive coaching/training centers. Silvis is coached by American Greco legend Brandon Paulson at PINnacle; Skellenger has been groomed by former NMU/OTS head coach Ivan Ivanov; Adams trains at Legends of Gold, run by Terry Pack with coaches Josh Nolan, 2016 Olympian Jesse Thielke (63 kg), and Cody Pack (77 kg); and Antoniak originates from MWC in Nebraska, which is helmed by multi-time US World coach Zac Dominguez.
The event streamed live on both YouTube and the Hungarian Wrestling Federation's homepage.
Some of the boxscores were not recorded on brackets.
The event was officially dubbed the "World School Combat Games", and is the first World-level tournament in this age-group.
Of the recorded wins for US athletes were nine tech falls and five pins. Blackburn-Forst had two pins alone.
U15 WORLD CHAMPIONSHIPS
June 19th — Budapest, Hungary
TEAM USA RESULTS
38 kg
Aden Valencia (AWA) — gold
WIN Dymitro Demianovskiy (UKR)
WIN Kian Du Toit (SA) 8-0, TF
WIN Bakitzan Al Khorezmi (KAZ) 10-0, TF
41 kg
Paul Kelly (Sunkist) — gold
WIN Zander Cronje (SA) 8-0, TF
WIN Roman Yatsenko (UKR) via fall
WIN Jandu Munthir (SA) 10-1, TF
WIN Armiya Kuat (KAZ) via fall
44 kg
Zachary Silvis (PINnacle) — gold
WIN David Diaz (ESP) 8-0, TF
LOSS Khamitov Ongdassyn (KAZ) 11-2, TF
WIN Yenor Kulish (UKR), 5-3
WIN Khamitov Ongdassyn (KAZ) 11-3, TF
48 kg
Joel Adams (LOG) — bronze
WIN Alghamdi Abulaziz (KSA)
LOSS Oleksandr Shkolnyi (UKR), 6-4
WIN Cheng Hao-Lun (TPE) via fall
52 kg
Ethan Stiles (Izzy Style)
— injury/medical
57 kg
Jayden Colon (Izzy Style) — 5th
WIN Chen Zih-Wei (CHN)
LOSS Dalabay Alikhan (KAZ) via fall
LOSS Imed Khudzhadze (UKR) 8-0, TF
62 kg
Jadon Skellenger (Suples) — gold
WIN Angelo Oliveira (BRA)
WIN Tangirkul Aibek (KAZ) 9-0, TF
WIN Hlib Firsov (UKR) 7-6
68 kg
Tyler Antoniak (MWC) — gold
WIN Vladislav Deliolio (KAZ), 4-1
WIN Dhumaidi Mohammed (KSA) via fall
WIN Krisztian Kis (HUN) 6-5
WIN Hendrik DeBruyn (SA) 8-0, TF
WIN Krisztian Kis (HUN) 7-6
75 kg
Gavin Nelson (Simley) — 7th
LOSS Illarion Ilenko (RUS)
85 kg
Andrew Blackburn-Forst (Lockport Junior Porters WC) — bronze
WIN Carlos Drediaga (ESP) via fall
WIN Ali Abdulelah (SA) via fall
LOSS Azamat Kardanov (RUS) 8-0, TF
LOSS Maksym Holovatyi (UKR) 8-0, TF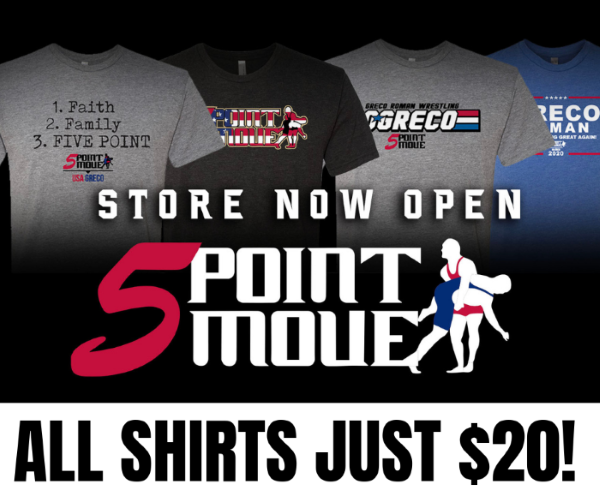 Listen to "5PM23: World Team Trials Challenge Tournament Preview" on Spreaker.
SUBSCRIBE TO THE FIVE POINT MOVE PODCAST
iTunes | Stitcher | Spreaker | Google Play Music | RSS