To perhaps no one's surprise, the latest edition of The Storm Report with Minnesota Storm head coach Dan Chandler centers mainly around one topic: Patrick Smith's (77 kg) performance at Final X: Rutgers. 
Smith, 29, earned his place on the 2019 World Team by defeating Kamal Bey (Sunkist, world no. 5) in their best-of-three series on June 8th at the Rutgers Athletic Center. The showdown between Smith and Bey stood as Greco's unofficial main event that evening and it delivered. Bey won the first bout via tech, but Smith came back with a vengeance to outhustle and outlast Bey in the conclusive pair of matches. For Smith, the win puts him on his second Senior World Team (2017) and was his fifth Trials finals appearance in the past six years.


Coach Chandler speaks to Smith's approach, their game plan prior to the event, what Smith's immediate training plans for the Worlds entail, and also, what he thought about the Final X Series as a whole.
5PM: So, Pat Smith goes and defeats Kamal Bey, it was an extraordinary series of matches. I was very impressed. 
Coach Dan Chandler: I was, too.
5PM: What does this mean for Pat? He has been in the Trial finals five of the past six years and at three different weight classes, and just made his second Senior Team in a qualifying year by defeating Bey, who is the fifth ranked wrestler in the world. This is really significant stuff. 
Chandler: Yeah, he (Bey) is a very good wrestler. He's a very good wrestler. We knew what he did and we have a lot of respect for him, so we had to wrestle him very carefully. We had a plan. For the first match, Pat did not follow the plan (laughs). He rebounded and showed a lot of poise, came back and put two near-perfect matches together.
5PM: Before the matches even started, what was the game plan for the series?
Chandler: Well, all we had to go on was that last match, and Kamal, he feels very comfortable with his heels on the out-of-bounds line. He loves it when people try to push him out of bounds. That's one thing we kind of eliminated from Pat's game plan. We didn't necessarily want to look to drive him through the zone until late in the match, if we had to. We basically wanted to control the tie-up, be extremely physical, and then win the matches at the end. Keep it close, not give up any big throws, and win it at the end. That was the strategy. It's a no-brainer. That's what you've got to do anytime you're wrestling someone who has those types of skills that Kamal Bey has.
5PM: What did you talk about with Pat between Matches 1 and 2?
Coach Dan Chandler: It's a tough situation. Anytime you get tech falled, that's a real confidence destroyer. But he showed a lot of poise and we knew that meant the match was an aberration. I saw immediately what had happened. We had worked on a pinch headlock tie-up, and Pat was pretty good at it. But when he wrestled Kamal, he was controlling it pretty well and then all of the sudden his elbow started coming apart. And he gave Kamal that opening to get to the body, which led to a five-point bodylock.
So I went back and said, Okay, we're going to eliminate the pinch headlock. Just wrestle short arms, getting underhooks, move him, break his balance, first contact. You know, just control tie-ups, push him hard, break his balance, and you'll get your chance on top; defend on bottom and then look for low-risk attacks. He had a lot of poise. He just came back super-intense and controlled every aspect of that match.
5PM: It looked extremely physical. I remember being coached by you, it was a streetfight. Bring the streetfight mentality to the feet and the pummel, and try to break people. 
Chandler: Using that language, that's how you beat someone who is technically superior to you. We called it "The American Style" during that golden era in Greco when we were winning a lot of medals. Dennis Hall personified that kind of style where you get real physical. You just stay in their face, stay real close, don't be afraid to butt heads. It's a lot of snapdowns, it is real physical, and it is a real combative style.
5PM: Are you surprised at all with Pat's success at 77 kilos considering it is his first year in the weight class?
Chandler: It's an interesting situation. We talked a lot about it last year after he was making 72. We were looking at the Olympics coming up and he says, Coach, what should I do? Should I wrestle 72 again this year? Should I go 72 this year and then go down to the next weight? He decided to go up instead, which I thought was a really smart move and it has worked out tremendously for him because he's not giving up any strength. He is very strong for the weight class. He has done a very good job of improving his strength and conditioning, and he is a much better wrestler at this weight than he was at 72 kilos.
5PM: Pat scored four in Match 3. It didn't look like a leg foul to me, did it look close at all to you?
Coach Dan Chandler: I'd have to look at it again but I know that he had the angle. There were still two minutes left in the match, he hit it pretty early in the second period. He hit a perfect slide-by through the zone, to his (Bey's) back, four points. I mean, people's legs make incidental contact all the time, whether from waist tackles, coming in low. Kamal gave him that angle, and let's face it, Kamal was tired. I don't think he really recovered from the second match. That took a lot out of him.
5PM: Pat also used front headlocks really well. He was heavy on the head, pulling him down, and occasionally cutting his air a little bit. 
Chandler: That's another one of the tactics, you know? You move the head, keep moving your hands, post the elbow, work for the underhook to a two-on-one to a snapdown; to a two-on-one to an inside bump. Just constantly applying pressure. He didn't give Kamal much of a chance to breathe. The referees also gave Kamal a lot of time outs that I don't know if anyone will get at the World Championships.
5PM: What is Pat's summer of training going to look like right now leading up to the Worlds?
Chandler: Well, he is also wrestling in the Pan American Games, which is a major international event. The Pan American Games offer very strong competition with Colombia, Venezuela, Cuba, and some of the other countries are very strong, as well, so Pat has multiple training camps in Colorado Springs. This week he is working out with another Anoka kid, Tyler Eischens. He's in town preparing for the Junior Worlds, so he is training with Pat this week and next, and then after next week I think we are going to send Pat up to train with Andy Bisek in Marquette.
When he comes back from that, he goes to Colorado Springs for a training camp, and then we'll see where he's at before we decide what he's going to do next. The focus right now is on par terre defense, getting better at what he's already good at, improving mat strategy, and working on his dance a little more. Par terre defense and conditioning.
5PM: Right, stick with what got you there.
Chandler: Yeah, the better he gets at that style, he can beat anyone with that style. If he does it perfectly, that's a classic formula how to beat Europeans.
5PM: What did you think about the Final X presentation and environment as a whole?
Chandler: As far as the competition and the arena, that is all good. I don't like the fact they are forcing the clubs to spend all that extra money to go to two more additional events. I think everyone tends to overlook the problems the clubs have. They think we're all made out of money, and some of them are. Sunkist Kids has a big benefactor, Titan Mercury has a big benefactor. We do not. We're living off of bar bingo receipts. We only had to go to one, but we could have very easily gone to both Final X dates. And that is two more flights, two more hotel stays, that's more meals. I mean, if they want to do this, they should kick in some money to help with the club's expenses.
5PM: But as far as the competition itself, you were happy with it?
Coach Dan Chandler: Yeah. I mean, the referees were a problem. It's frustrating, because they make so many errors. I don't know, it has always been that way, so it's frustrating for me. I think we got a pretty good shake, but I probably would sue the officials' association if Kamal would have came back after his five-minute rest and beat Pat. I would have been pretty irate. But it probably helped Pat more than Kamal at that point in the series. But I didn't like that. And then I saw a couple of major errors with J'Den Cox versus Bo Nickal, and then with (Zain) Retherford and Yianni (Diakomihalis). There were some major snafus in that match, as well.
Follow the Minnesota Storm on Twitter, Instagram, and their team domain for updates on events and the athletes.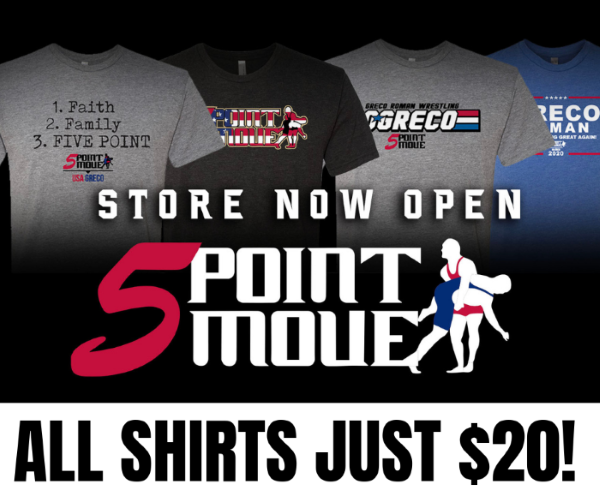 Listen to "5PM23: World Team Trials Challenge Tournament Preview" on Spreaker.
SUBSCRIBE TO THE FIVE POINT MOVE PODCAST
iTunes | Stitcher | Spreaker | Google Play Music | RSS
Notice
: Trying to get property 'term_id' of non-object in
/home/fivepointwp/webapps/fivepointwp/wp-content/themes/flex-mag/functions.php
on line
999