The key to any strong team performance at the World Championships resides in ensuring that the athletes representing the flag are up for the task. After the final round of the 2019 US U23 World Team Trials today in Akron, Ohio, it looks like that end of things is well taken care of.
Five first-time champs and a crew of usual suspects all prevailed in Friday afternoon's final round — but out of the ten best-of-three series, only two went the distance.
Wrestling began at 4:00pm Friday afternoon and was broadcast live in the US on FLOWrestling.


One of the tournament's biggest stories revolved around 72-kilogram winner Lenny Merkin (NJRTC), who stomped to the bracket final where he faced NMU's Britton Holmes. In Match 1, Holmes was holding a 2-1 lead in the first period when Merkin opted for one of his go-to's, double overhooks. Bounding near the edge, he locked up the hold and arched Holmes for four en-route to a 5-2 decision. The second bout of the series didn't last nearly as long. Midway through the opening frame, Merkin laced an over-the-top headlock and Holmes was in trouble immediately. Merkin cranked, held position, and there it was, the World Team-clinching pin at just :53 of the first period.
At 82 kilos, 2018 Junior World silver Andrew Berreyesa (NYAC/FLWC) did what he does best: stand up to the toughest opponents in his weight class and somehow find a way to win. A fast start provided a little help. Berreyesa cruised to the semis with two tech falls, and then as expected, it was another go-round with Tommy Brackett (NMU/OTS). Tight it was, and a two-point caution on Brackett played a role. But again, Berreyesa was a monster in the crucial moments (especially when Brackett had his chance from top), and moved on 3-2.
The final saw Berreyesa opposed by NCAA All-American Chandler Rogers (TMWC/CRTC). They had originally met in the semis of this tournament a year ago in what was a close, grind-it-out win for Berreyesa. Match 1 on Friday did not go down like that. Berreyesa scored four on a headlock early; added two more from a takedown; picked up another two after landing on top of a Rogers throw attempt at the boundary; and closed it out just before the end of the first with another takedown.
Rogers wanted to begin Match 2 with a bomb, but Berreyesa shook loose and covered for two — and received two more on a Rogers leg foul. Later in the first period, Rogers connected with a bodylock he carried out of bounds, picking up his own pair of points.  Up 4-2, Berreyesa benefited from another Rogers caution, this time for an inadvertent headbutt. He just always seems to be in these kinds of matches. Soon into the second, Berreyesa got behind Rogers towards the edge and converted for a takedown to jump ahead 7-2, and that was it, There was no further scoring, giving Berreyesa a spot on a US World Team for the second straight year.
Miranda, Porter, & Hancock Repeat
Randon Miranda's (60 kg, NYAC) main objective heading into Akron was to, of course, win the tournament. But he knew such a task couldn't be accomplished without first dealing with 2016 Junior World bronze Taylor LaMont (Sunkist), who had defeated Miranda two weeks ago in Raleigh for the Senior National Team spot.
LaMont led Match 1 on a passive call but Miranda answered back with a correct-throw-arm-throw to edge ahead 2-1. Early in the second, the bout's most pivotal exchange occurred. LaMont went to wrap Miranda from behind, and Miranda reached back and hooked LaMont's arm before kicking off his heels. In the melee, LaMont exposed and Miranda was awarded four — plus one more since LaMont challenged the sequence and lost. It was a 6-2 victory for Miranda but there were still two more matches to go.
In the second bout of the series, the order of passives flipped. Miranda got his in the first and LaMont's arrived in the second. With his top par terre chance, LaMont locked for a lift and walked Miranda to the line for a Polish finish. As he went to somersault the lock, Miranda failed to expose, though he did wind up out of bounds, netting LaMont one more point in what was a razor thin 2-1 decision. The third match was as competitive as the first two and the brunt of Miranda's six points entered into the equation right away. A minute hadn't even gone by in the opening period when LaMont went to free his right wrist and pummel back in only to have Miranda nail a four-point headlock.
The outcome hung in the balance deep in the second period. LaMont had received his passive chance to cut the deficit to 4-1. Just like in Match 2, he looked lift and carried Miranda to the boundary and had to settle for a step-out point. With time just about to run out, LaMont lassoed Miranda's head but was countered for a takedown, all but putting an end to an entertaining series contested by two of the nation's best young lightweights.
"I was hungry for that match, that's what I wanted," Miranda said late Friday night after sealing his second consecutive appearance at the U23 World Championships. "I liked how everything played out. The motive was of course just winning (the tournament), but I needed redemption. I wanted that head-to-head win. I needed to show I could beat him twice."
Two exceptionally gifted Greco-Roman athletes became three-time U23 World Team members on Friday.
Jesse Porter (77 kg, NYAC/OTS) breezed to the semis where he was put through the wringer by Jake Hendricks (PRTC), but that didn't stop him from wrapping up his third Trials win in the afternoon. Standing across was his runner-up from 2018, Wisconsin-born Fritz Schierl (TMWC/Ohio RTC). Unlike Porter, Schierl is not a full-time Greco athlete just yet, though he still did a nice job of pushing his more experienced foe in their two-match series.
Porter used his first par terre opportunity in Match 1 to lift Schierl for a correct throw. Two more points were tacked on in the second when Schierl tried to throw with double overhooks, which Porter deftly countered and turned into a takedown. Match 2 had Schierl rewarded with a passive point but come loose off a gut attempt that allowed Porter to score a reversal point. In the second period, Porter got his passive and gutted Schierl for two more to seal up the best-of-three with a 4-1 decision.
No one has been a busier (or more successful all-around) competitor than G'Angelo Hancock (Sunkist, world no. 3) this season, rendering his presence in the tournament as an almost anticlimactic concept. It's not intended as a slight to the U23 97-kilogram field, but to deny reality is futile. Hancock is on a different level than everyone else in this age range within the US, a fact that was further supported on Friday by his dominating march through the bracket. After outscoring his three opponent on the way to the final round 31-2, Hancock swept  2018 Junior World Team member Chad Porter (Sunkist) by scores of 9-1 and 8-0, respectively.
Omania/Baker Delivers
A high-level and top-heavy 67-kilogram bracket came down to returning champ Nolan Baker (NIRTC) and now-two-time Junior World Team member Peyton Omania (MSU/CYC). The high-flying duo did not disappoint, combining for 23 points in Match 1 — and 46 points throughout all three of their bouts.
The scoreboard read 4-2 for Omania heading into the second period of their first match. Then things went haywire. Early in the second, Omania lateralled for two. After the reset, Omania reached for a headlock, Baker's bread-and-butter, and was instead countered with four going in the other direction. They crashed out of bounds and there was Baker with another point and a 7-6 lead. Omania hit a duck-under to go up 8-7, and then added two more takedowns to increase his lead to 12-7 — plus another point following a denied Baker challenge. Omania scooted behind one last time to take Baker off the edge, and though he eventually ceded a takedown with a few seconds left, he still walked away the winner 14-9.
The difference in Match 2 wasn't just how it ended, but also, how it began. Baker jetted to a 5-0 lead in the first, and Omania responded by closing the gap to within a point by the second period. That's when the rain came down. Baker held Omania's head and arm high and tight; he then pivoted and cranked a monstrous headlock. Omania was pinned almost instantly, bringing this much-anticipated series to a third-and-decisive round.
Action was played closer to the vest in Match 3. Baker held a 1-1 criteria lead entering the second but Omania nabbed a step-out to reclaim the advantage. Feeling as though he needed to make something happen, Baker reared back for a headlock but came loose, and it was ruled a slip. With under :30 to go, Baker was urging Omania towards the line holding over/under's — and Omania exploded with a lock to hurl a correct throw for two. Baker re-attacked off the same exchange, perhaps reaching too much, and gave up an additional two before they reset. There was hardly enough time left to work but Baker kept at it, as he forced Omania to concede a late takedown to narrow the margin to 6-3. By then, it was too late, and Omania, who made the Cadet World Team in 2016 along with the Junior squad both this year and last, finds himself with a crack at two World medals this season alone.
Roberts Victorious at 63 kilos; New Studs at 55 & 87
Dalton Roberts (NYAC/OTS) had his eye on capturing his second-straight spot on the Senior World Team this spring, but with that not going according to plan, he went and grabbed the next best thing — his second appearance on the U23 roster.
But he did it up a weight class. For the first time in his Senior career, Roberts competed above 59/60 kilograms, jumping to 63 for Friday's U23 Trials. His first two bouts, tech wins over Cameron Santiago (Northern Colorado) and Matt Santos (MSU), did not provide reason for consternation. The semis were a little different. Roberts had to lean on his experience in rough matches in effort to get past a very game and talented Kyle Evans (Western Wyoming) 5-4.
It all set up a showdown with fast-rising Dylan Gregerson (UVRTC), who was a runner-up at the Junior Trials in '18 along with barely missing out on the Senior National Team two weeks ago. Gregerson, a strong and continually-developing wrestler, pressed Roberts in Match 1 but was unable to ignite his offense, ultimately falling 4-0. For Match 2, Roberts left no doubt. Operating with a burst of energy, he escorted Gregerson off the line twice early in the first before tacking on a takedown. Ahead 4-0, Roberts wanted to end it right then and there. Back on the feet, they both locked over/under's but it was Roberts who took the initiative by emphatically throwing Gregerson for four, capping this battle and the series altogether on the strength of an 8-0 tech.
Afterwards, Roberts was gracious as always, pointing to Gregerson's toughness and willingness to trade in hard exchanges why it was necessary to turn it up a notch.
"I watched him (Gregerson) wrestle Sammy (Jones) in Raleigh and I was impressed because he took Sammy to the edge and that was to make National Team," he said. "Our first match was a grind. He came out swinging at one point. In the beginning of the second, he really picked up the pace in his hand-fight. I live for that, I love that, so I was like, Okay. But I don't think I had ever seen that side of him, so that was sweet. That was cool. He gave me everything I thought he was capable of, and he's got many more years of U23 level. His time will come."
There was also how the series ended. Roberts is best-known as an all-out pressure fighter who specializes in wearing opponents down in tie-ups until they have nothing left to give. That he clinched his second spot on the U23 Team in three years with a tech-via-throw allowed some room for interpretation.
"I think people who watch me or have seen me compete know I don't bodylock that often," Roberts explained. "I just threw caution to the wind on that last exchange in the second match. I thought, Okay, I'm up four. I could continue wrestling, hand-fighting. Or, I could end it right…NOW. Which was exciting, because it's not something I do often, but I want to. This tournament, I wanted to find a different side of myself."
Incoming!

Dalton Roberts earns his way on to the U23 world team with a bomb.

— FloWrestling (@FloWrestling) May 31, 2019
Cronin & Finesilver Stand out
At 55 kilograms, unseeded Liam Cronin (IND) raced through the bracket and capped his tournament with a two-match sweep of 2017 Junior World silver Cevion Severado (MO). He remained heavy on the head in Match 1, scoring on a snapdown and step-out in the first to go up 3-0, and then landed on top of a Severado throw attempt in the second to prevail 5-0. Match 2 was predictably tighter. Cronin carried a 1-0 passive lead into the second and added a takedown later to complete the two-match shutout.
The day also belonged to Matt Finesilver (87 kg, BBWC). Outside of the full-time stars, there may not have been another wrestler who caught people's attention more in Akron. On his way to the weight-class final, Finesilver downed (in order): Timothy Eubanks (WBU), '18 U23 Trials runner-up Jimmy Stillerman (LAW), and 2018 Junior World Teamer Barrett Hughes (UA). Who was his opponent in the best-of-three series? None other than '17 U23 World Team member Blake "The Last Action Hero" Smith (OTC), who had dropped down from 97 kilos for this event.
And Finesilver hardly struggled. In Match 1, he collected three takedowns and a trap-arm gut to put Smith away in the first period. In Match 2, it was more of the same. From par terre top, he ran an arm bar and used it to go back to that trap-arm gut and turned Smith for a 4-0 lead. The second period had Finesilver darting in on Smith following an arm drag for two more points, and it all resulted in a 7-0 blanking that surely opened a lot of eyes.
Notes:
2018 National Team member David Tate Orndorff (NYAC) surrendered a mere two points as he plowed through the heavyweight bracket where he swept former Fargo champ and current Stanford wrestler Haydn Maley (CARTC) by scores of 8-0 and 9-0, respectively.
Six of Friday's Trials champs have been on World Teams before: Miranda, Roberts, Omania, Porter, Berreyesa, and Hancock
Porter and Hancock are now three-time U23 World Team members. Miranda and Roberts made their second U23 Teams on Friday (Miranda's second in a row).
The finals offered four former Junior World medalists: Severado (silver, '17); LaMont (bronze, '16); Berreyesa (silver, '18); and Hancock (bronze, '16).
Altogether, the finals produced 11 athletes who have made age-group (or otherwise) World Teams. Along with those mentioned above, there is also Baker (U23, '18); Smith (U23, '17); and Porter (Junior, '18).
Seven of the final round's 22 matches ended via tech. There were two pins and no criteria decisions.
2019 US U23 Greco-Roman World Team Trials
May 31st — Akron, Ohio
FINALS RESULTS
55 kg
Liam Cronin (IND) def. Cevion Severado (MO) two matches to none
Match 1: Cronin def. Severado 5-0
Match 2: Cronin def. Severado 3-0
60 kg
Randon Miranda (NYAC) def. Taylor LaMont (Sunkist) two matches to one
Match 1: Miranda def. LaMont 6-3
Match 2: LaMont def. Miranda 2-1
Match 3: Miranda def. LaMont 6-2
63 kg
Dalton Roberts (NYAC/OTS) def. Dylan Gregerson (UVRTC) two matches to none
Match 1: Roberts def. Gregerson 5-1
Match 2: Roberts def. Gregerson 8-0, TF
67 kg
Peyton Omania (MSU/CYC) def. Nolan Baker (NIRTC) two matches to one
Match 1: Omania def. Baker 14-9
Match 2: Baker def. Omania via fall
Match 3: Omania def. Baker 6-3
72 kg
Lenny Merkin (NJRTC) def. Britton Holmes (NMU/OTS) two matches to none
Match 1: Merkin def. Holmes 5-2
Match 2: Merkin def. Holmes via fall
77 kg
Jesse Porter (NYAC/OTS) def. Fritz Schierl (TMWC/Ohio RTC) two matches to none
Match 1: Porter def. Schierl 5-1
Match 2: Porter def. Schierl 4-1
82 kg
Andrew Berreyesa (NYAC/FLWC) def. Chandler Rogers (TMWC/CRTC) two matches to none
Match 1: Berreyesa def. Rogers 10-1, TF
Match 2: Berreyesa def. Rogers 7-2
87 kg
Matt Finesilver (BBWC) def. Blake Smith (OTC) two matches to none
Match 1: Finesilver def. Smith 8-0, TF
Match 2: Finesilver def. Smith 7-0
97 kg
G'Angelo Hancock (Sunkist) def. Chad Porter (Sunkist) two matches to none
Match 1: Hancock def. Porter 9-1, TF
Match 2: Hancock def. Porter 8-0, TF
130 kg
David Tate Orndorff (NYAC/UVRTC) def. Haydn Maley (CARTC) two matches to none
Match 1: Orndorff def. Maley 9-0, TF
Match 2: Orndorff def. Maley 8-0, TF
THIRD-PLACE MATCHES
55 kg: Jacob Cochran (NMU/OTS) def. Bruce Hrynciw (Marines) via fall
60 kg: King Sandoval (TWC) def. Dylan Koontz (TMWC/Ohio RTC) via fall
63 kg: Jaden Enriquez (MSU) def. Josh Saunders (TMWC) 6-3
67 kg: Benji Peak (Sunkist/OTS) def. Dom Demas (Oklahoma RTC) 13-4, TF
72 kg: Anthony Artalona (PRTC) def. Tyler Eischens (CARTC) 7-5
77 kg: Zach Tolver (NMU/OTS) def. Eddie Smith (OWC) 4-3
82 kg: Spencer Woods (NYAC/OTS) def. Tommy Brackett (NMU/OTS) 6-3
87 kg: George Hooker (NMU/OTS) def. Christian Dulaney (Minnesota Storm) 7-5
97 kg: Roy Nash (NMU/OTS) def. Devon Amburgy (WBU) 8-0, TF
130 kg: Tommy Helton (Southern Illinois) def. Kaleb Reeves (Kohawk WC) 8-0, TF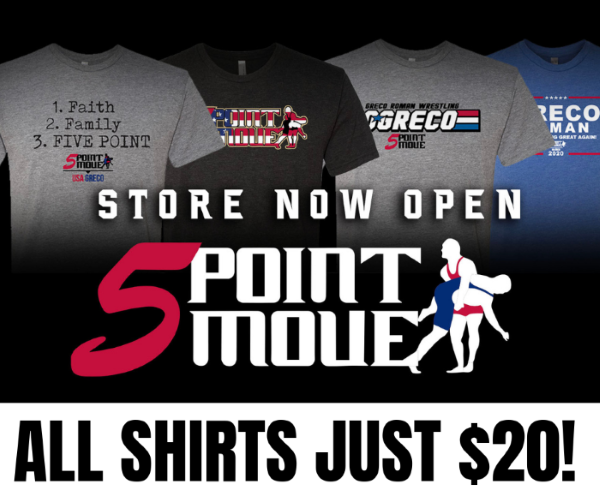 Listen to "5PM23: World Team Trials Challenge Tournament Preview" on Spreaker.
SUBSCRIBE TO THE FIVE POINT MOVE PODCAST
iTunes | Stitcher | Spreaker | Google Play Music | RSS
Notice
: Trying to get property 'term_id' of non-object in
/home/fivepointwp/webapps/fivepointwp/wp-content/themes/flex-mag/functions.php
on line
999