Prior to Thursday evening, two things were true: 1) about 99% of the populous would have agreed that two-time US National champ Cheney Haight (NYAC) and John Stefanowicz (Marines) were destined to meet in the 82-kilogram final; and 2) most figured Kendrick Sanders (NYAC/OTS) was probably not going to even medal despite his longstanding, prodigious talent and sparkling resume.
Well not only is Mr. Sanders back in an Open final for the first time since winning the thing back in 2014, the young man who will be standing across from him knocked off Haight to get there.
Sanders, who turns 29 in August, faced a determined but frustrated Stefanowicz earlier tonight and capitalized on every opportunity that presented itself. He was busy from the outset, Sanders, moving confidently as he scanned the tie-ups. The first passivity went his way, and as he settled for a lock, Stefanowicz was rung up for a caution. That instantly elevated the score to 3-0 in Sanders' favor. A Stefanowicz arm spin attempt went loose and Sanders covered. With another chance from top, he immediately locked for a reverse lift, one of his calling cards. Up went Stefanowicz…and then down went Stefanowicz.  Sanders, the pariah, the recluse, enjoyed a 7-0 lead entering the break at the expense of one of the country's toughest athletes.
In the second, the onus was on Stefanowicz to make up ground. His biggest hope resided with a potentially fatigued Sanders. That's not what he was getting. Stefanowicz brought the pressure and came on strong, looking to nudge openings any way he could — it's just that Sanders was able to more than hold his ground. A passivity point did come Stefanowicz's way with under a minute remaining but Sanders defended without issue. Aside from two late points for the Marine, this match was all his from whistle to whistle.
Friday night, Sanders will meet Olympic Training Site stablemate Spencer Woods, who advanced to the Open semis on the strength of a jaw-dropping tech win over Armed Forces gold Vlad Dombrovskiy (Army/WCAP) earlier. But it's how Woods downed Haight that left a bigger impression.


Haight, fresh off his Pan Ams win a week ago in Argentina, started this affair by locking up double underhooks and curiously lifting linearly. A deliberate loading process ensued and Woods reacted by going double-over's, taking Haight off his feet for four. Back standing and tension had already begun to develop. Towards the latter stages of the period, Haight connected on an arm spin that didn't land clean, but provided the opportunity he needed to get behind for a takedown. A follow-up gut went nowhere and it was onto the conclusive frame.
For Woods to emerge with the biggest domestic victory of his career thus far, he was going to have to stay active. There was no other choice. And he did that. He darted in from an assortment of angles, trying to keep Haight's feet moving while also flirting with go-behinds. The rugged vet wasn't biting, however, and Haight once again went back to the double under's, pulling Woods in with the same hold that had went south previously. A cascading bomb wasn't in the cards, but Haight's effort was good enough for a correct hold, cutting his deficit to a single point.
Woods remained the seemingly fresher athlete and continued to abide by a brisk pace. There was no slowing down from Haight, either; but there also wasn't much for Woods to worry about in the way of threatening exchanges as the match neared its end. The 4-3 decision for Woods means two athletes who train at the OTS on the campus of Northern Michigan will comprise a Senior National final for the first time since 2009, when Joe Betterman defeated Spenser Mango.
The rest of the recaps
55 kilograms
Max Nowry (Army/WCAP) def. Jabari Moody (NYAC) 8-0, TF
In what was one of two semifinal rematches from last year's US Open, returning champ Nowry took advantage of the first passivity/par terre to gut Moody over twice. Once they returned standing, the pair jockeyed for position, though there wasn't much available for either combatant. Eventually, Nowry seized on an arm throw for a takedown and converted one gut rotation to secure his second-straight National finals appearance.
Dalton Duffield (NYAC/OTS) def.  Jemone Carter (Marines) 11-0, TF
2018 U23 World Team member Duffield drew first blood with an arm drag that led to a takedown; next he gutted Carter for two and then two more from a lift. The Marines challenged the sequence and lost, making the score 7-0. Following the reset, Duffield iced the proceedings with a bodylock, earning the whopping 11-0 tech.
60 kilograms
Mike Fuenffinger (Army/WCAP) def. Dalton Roberts (NYAC/OTS) 8-0, TF
The 60-kilo final from 2018 was run back one more time, though these two have battled it out several times over the past two years. An off-balance for Roberts resulted in Fuenffinger covering and getting around back for two. In a surprising twist, Roberts was the first one nailed for being passive, which Fuenffinger capitalized on with a gut. Back on the feet and Roberts wanted to re-engage, but so did Fuenffinger. They exchanged tie-ups near the edge, and again, Fuenffinger managed to force Roberts off the edge for a score, thus sealing this bout way earlier than most anticipated.
Ildar Hafizov (Army/WCAP) vs. Randon Miranda (NYAC/OTS) 9-1, TF
The first passivity went in Miranda's direction but Hafizov stayed planted. There was an odd energy between the two. They had never met before, so a feeling-out process seemed natural, but it was as if one didn't know what to expect from the other. Hafizov locked a farside head-and-arm and leveraged the hold to get around back. Miranda was banged for a caution, and challenged — and the challenge was denied. That meant a restart from par terre, Hafizov's speciality, and he clamped a high gut to roll Miranda one way, and then back the opposite way over his body to run away with the 9-1 tech.
63 kilograms
Ryan Mango (Army/WCAP) def. Travis Rice (IRTC) 3-3 (criteria)
A lot of eyes were on this one, as Mango, one of seven National champs from 2018 to have made the semis, had never matched up with Rice previously. Mango divvied around in the ties before receiving the initial passivity point of the contest. That can spell big trouble for opponents, especially domestic opponents. But not here. Instead, Rice defended admirably. Onto the second and the roles reversed, with Mango being put down. Rice locked for a lift and almost got enough of it to net four, but two was the call. Down by two with time racing off the clock, Mango fired up the jets. Rice had little recourse other than to jut backwards off the line, lest risk being tossed for big points. Unfortunately for Rice, he was penalized for a caution-and-two, giving Mango a close win via criteria in what was an altogether fun dustup to watch unfold.
Sammy Jones (NYAC/OTS) def. Xavier Johnson (Marines) via inj. 
The recent history between these two suggested that a barnburner was on the docket this evening, but an injury to Johnson cut this one way short, as Jones moves into the final versus Mango for a second consecutive year via default. The score at the time of the stoppage was 1-0 for Johnson.
67 kilograms
Ellis Coleman (Army/WCAP) def. Austin Morrow (NYAC/OTS) 8-0, TF
In another semifinal do-over from last year, Coleman dashed in on Morrow with a step-out serving as the first score of the contest. The OTS wrestler fought right back and wrangled an underhook, with he and Coleman briefly hip-to-hip. The position didn't sustain very long and Coleman stood up to reset. A passivity on Morrow soon entered the picture, and as is often the case, it changed the tenor of the match in a hurry. Coleman locked around Morrow and gutted the string, earning an 8-0 first-period tech.
Hayden Tuma (Army/WCAP) def. Jamel Johnson (Marines) 8-0, TF
An early arm throw attempt is where this bout went off the rails for the Marine. Tuma snuffed it out and yanked back; in the process, he also collected Johnson's arm, which led to two consecutive trap-arm guts. Back standing and Johnson wanted to make something happen. Tuma was ready. Johnson locked around Tuma's head and arm but didn't seal the hold all the way. There was a deft touch in the reckoning. Tuma didn't relent or retreat. Rather, he extended his arms and brushed forward, forcing Johnson down and off the edge before screeching behind for two.
72 kilograms
RaVaughn Perkins (NYAC) def. Colin Schubert (NYAC/OTS) via fall
Schubert put together an inspired effort to reach his first US Open semifinal but he was facing an athlete who might just be in the midst of his athletic zenith. Perkins clambered around in the ties at first, just settling into the fight. A lane appeared and he took it. Perkins lasered to Schubert's body and lifted up high and hard. At the landing, it was scored for five, but that didn't matter, since the signal for the fall arrived soon after.
Ray Bunker (Marines) def. Michael Hooker (Army/WCAP) 4-2
Bunker's motor does not have a lot of equals. The Marine worked himself to the first passivity and gutted Hooker to go up 3-0 — but Hooker stepped right over to net two points of his own. The exchanges were even for much of the bout, the difference was that Bunker stayed in pursuit. A step-out on Hooker in the second widened the margin just a little bit, putting Bunker in tomorrow night's final following a 4-2 decision that was not entirely unlike their match at the Armed Forces two months ago.
77 kilograms
Kamal Bey (Sunkist) vs. Peyton Walsh (Marines) 10-1, TF
Credit goes to Walsh for coming with a plan. It didn't all the way work, but his strategy of bouncing to angles and working Bey inside with two-on-ones and underhook/wrist combos made this one much more competitive than their finals bout in '18. Thing was, even whenever Walsh came close at a look, Bey had already one-upped him. Down 2-1, Walsh got a chance on top. As he went to gut, Bey jumped over and cinched a headlock to hold him steady before going with a reverse lift. The hold came loose and Walsh crashed out of bounds. One more reset, and again, Walsh was keen on controlling the ties with two-on-ones and underhooks.
A throw attempt by Bey didn't go anywhere, but a step-out point — followed by another after a throw attempt — put Walsh in a precarious position. Therefore, the Marine had to start looking for offense. It came in the form of an arm spin try, only, Bey sat on it and yanked back for two. One more time on the feet and Bey closed the show with a lightning speed duck for the match-clinching points.
Patrick Smith (Minnesota Storm) def. Mason Manville (NLWC) 5-2
After Smith and Manville went at it in the Schultz final, plenty of folks wanted to see them do it again. Luckily for all involved, their second meeting was just as enthralling as the first. Smith opened by going heavy on the right side, switching between holding an overhook and a two-on-one (because, technically a two-on-one is a hook). That helped him receive the first passivity chance of the bout and Smith used it get a gutwrench. Back up, and there was Smith with a step-out. But all of the exchanges were heated, each one of them. Manville circled back in. Both appeared to be setting up angles from which to attack. In the second period, Smith lost his balance, allowing Manville to pounce. A follow-up turn didn't materialize, and once they returned standing, Smith went heavy on the head and rammed Manville out for his fifth and final point.
87 kilograms
Patrick Martinez (NYAC) def. James Souza (Army/WCAP) 2-1
Souza has firmly begun to enter the picture as a consistent performer after making his first semifinal appearance, and with it came a tough, grinding struggle opposite three-time World Team member Martinez, who has had more than his share of overseas time this season. The WCAP athlete was close on a correct-throw-arm-throw early in the first, but when it didn't land, he soon got the next best thing — the first par terre chance. However, Martinez bottomed out. When they returned standing, Martinez leaned on his strong pummel game to negotiate double underhooks. This same strategy worked just as well in the second, for Martinez was the beneficiary of the bout's second passive. It was incumbent upon Souza to get going. Down on criteria with time running out, he was within striking distance and then some. But instead, he was called for passive a second time, resulting in what is sure to be a frustrating 2-1 loss he'll remember.
Joe Rau (TMWC/Chicago RTC) def. Ben Provisor (NYAC/NLWC) 1-1 (criteria)
When Provisor and Rau locked horns in the 2018 Open final, they combined for 24 points.
Thursday evening, that total was downsized by 22.
Not entirely shocking given their styles and degree of familiarity with one another.
Provisor plowed forward practically at the whistle, eventually walking into that underhook/wrist position he has gotten down to a science. He's so hard to stop from there, his compact, powerful frame just lends itself so well to putting opponents on their heels. Rau dug back in, though his patented shoulder block was nowhere to be found. The first passivity went to Provisor — no further scoring from par terre. The second period, it wasn't identical to the first, but it wasn't far off. Rau benefited from the second passive and edged ahead via criteria. As is custom, Provisor ramped up the tempo and lunged more into an attacking posture. The on-the-mat ref wanted to be heard in the bout's latter stages, gesturing for a passive on Rau. His intent was denied and the Chicago native is now in the finals for the second year in a row, and the third time since December of 2015.
97 kilograms
G'Angelo Hancock (Sunkist) vs. Eric Twohey (Minnesota Storm) 8-0, TF
For Twohey to have even made it this far after jumping into the sport a year ago is noteworthy. But he was assigned perhaps the toughest task of anyone on the night, a surging Hancock, who used an arm drag to get behind for two; followed up with one gut; and then kept his lock to net a four-point lift. Twohey's Cinderella march to the final was over in just :39.
Luke Sheridan (Army/WCAP) def. Daniel Miller (Marines) 9-1, TF
Of all the matches Thursday night to end via tech, this one might have been the most surprising just due to how evenly-matched Sheridan and Miller had already shown to be, and still probably are. But — when they wrestled back in February, Sheridan missed on a headlock, maybe his biggest weapon, that could have been ruled a slip. Miller had popped his head out, was awarded two, and went on to emerge victorious 2-1 because of it.
Sheridan didn't miss that headlock on Thursday.
It was a walloping headlock, too, and one that easily yielded four. Miller bounded up in an instant, only to see Sheridan regain a handle and pick up another point when they careened off the line. The Marines challenged (they're prolific with the block) and lost. An arm throw try from Sheridan didn't land — and shortly thereafter, Miller got his own look at an arm spin. They were both answering back, what this kind of match should always bring to the table. The second period is when Sheridan attained total command. Soon into the frame, Sheridan darted in to lock around Miller. He just wanted to pressure down from behind and close shop with a pedestrian takedown. Miller wasn't about to go out like that, so he doggedly fought the dying of the light. So Sheridan adjusted his position and dumped Miller up and over for two the hard way. An appropriate ending and one that puts Sheridan in his first-ever Senior final.
130 kilograms
David Tate Orndorff (NYAC) vs. West Cathcart (IRTC) via fall
National Team member Orndorff cracked open this semifinal by reaching back for a throw attempt. Cathcart, once a rising star at NMU whose return to Greco is a breath of fresh air, went heavy and got credit for the cover, taking two points. The proceeding gut attempt nearly went really bad, but Cathcart recovered and back up they were. Orndorff was content to see what he could do with a two-on-one. He held it for a while, extending it, curling, extending it. Cathcart survived. Another arm spin attempt from Orndorff landed for a correct hold and he scampered behind before following with a gut. Cathcart seemed to step over at the edge but the sequence had been stopped.
At heavyweight, sometimes the darkness falls quickly. For Cathcart, that darkness was an Orndorff over/under. Orndorff locked around and powered Cathcart to his back. It was academic almost immediately. Orndorff collected the fall and will now have an intriguing match-up to deal with Friday night.
Jacob Mitchell (Army/WCAP) def. Toby Erickson (Army/WCAP) 10-1, TF
An eager Erickson bullied his way to the bout's first passive. He came close on a gutwrench but his lock loosened, allowing Mitchell to race to his feet and go for a step-out point. They clashed and battered on occasion through the first. Nothing major, although it appeared Erickson owned the pace. :15 into the second period, Mitchell straightened out a two-on-one, extending Erickson's right arm. Mitchell then got behind for two and he was off to the races, gutting Erickson over four times for the eye-opening tech victory.
The finals and medal rounds of the 2019 US Open begin at 7:00pm local time (10:00pm ET) and can be viewed live on FLOWrestling. 
Notes:
Of Thursday night's 40 semifinalists, 14 belonged to (some amalgamation of) NYAC, 11 for Army/WCAP, and seven for the Marines. Four clubs/teams had two athletes on the card, and they were: Sunkist, Illinois RTC, Minnesota Storm, and Nittany Lion (Provisor is both NYAC and NLWC). Rau was the only wrestler representing Titan Mercury.
10 of Thursday evening's 20 semifinal matches ended via tech fall.
15 of the semifinalists had won US Open titles at some point in their careers.
12 of tonight's finalists have won US Open titles at some point in their careers.
2019 US Senior Greco-Roman Nationals
April 25th-26th — Las Vegas, Nevada
Finals Pairings
55 KG
Max Nowry (Army/WCAP) vs. Dalton Duffield (NYAC/OTS)
60 KG
Ildar Hafizov (Army/WCAP) vs. Mike Fuenffinger (Army/WCAP)
63 KG
Ryan Mango (Army/WCAP) vs. Sammy Jones (NYAC/OTS)
67 KG
Ellis Coleman (Army/WCAP) vs. Hayden Tuma (Army/WCAP)
72 KG
RaVaughn Perkins (NYAC) vs. Ray Bunker (Marines)
77 KG
Kamal Bey (Sunkist) vs. Patrick Smith (Minnesota Storm)
82 KG
Spencer Woods (NYAC/OTS) vs. Kendrick Sanders (NYAC/OTS)
87 KG
Patrick Martinez (NYAC) vs. Joe Rau (TMWC/Chicago RTC)
97 KG
G'Angelo Hancock (Sunkist) vs.  Lucas Sheridan (Army/WCAP)
130 KG
David Tate Orndorff (NYAC) vs.  Jacob Mitchell (Army/WCAP)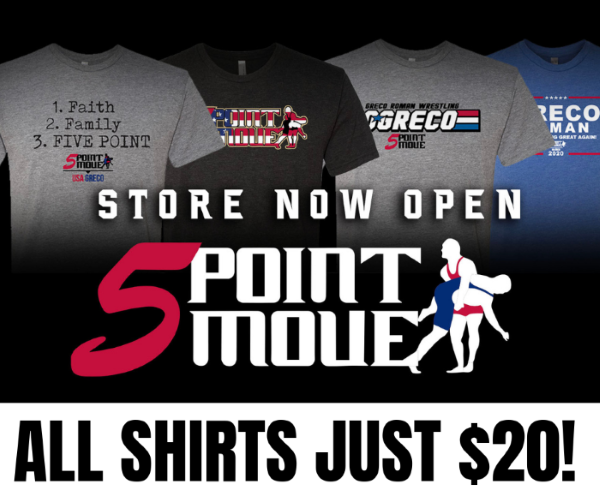 Listen to "5PM22: Sammy Jones guest co-hosts as Five Point Move visits with Lucas Sheridan and Sam Hazewinkel" on Spreaker.
SUBSCRIBE TO THE FIVE POINT MOVE PODCAST
iTunes | Stitcher | Spreaker | Google Play Music | RSS
Notice
: Trying to get property 'term_id' of non-object in
/home/fivepointwp/webapps/fivepointwp/wp-content/themes/flex-mag/functions.php
on line
999