The resurgence of Kendrick Sanders (82 kg, NYAC/OTS) continued Friday evening and included an emphatic victory over a rising star, while Ray Bunker (72 kg, Marines) pulled off one of the biggest US Open closing round upsets in recent memory by grinding past the weight class favorite. Not to be outdone, five other high-profile athletes repeated as champs, with one adding his fifth National crown to what is an already-stellar resume.
The finals of the 2019 US Open began at 7:00pm from the South Point Hotel in Las Vegas and were broadcast live on FLOWrestling.
Taking on Olympic Training Site teammate Spencer Woods, who ascended to new heights at this Open, Sanders started off by clinging to a two-on-one, in one instance extending it as Woods fought back to his feet. They checked and prodded, neither able to gain a clear advantage in the tie-ups. The first passivity call rang in on Woods with a reverse lift attempt by Sanders falling flat. Back standing and it was more of the same; Woods eagerly trying to press inside and Sanders expertly conducting the tempo.


Shortly into the second, Woods was nailed again for passivity. This time around, Sanders got his reverse lift and turned it over for four. After the impact, Woods scampered in front to rope a front headlock. He didn't have the leverage, allowing Sanders to ease into Woods for more scoring before ending the contest with a follow-up gut.
The win puts a bow on Sanders' most impressive performance since his last Open win in 2014. The 28-year-old, whose remarkable ability has never been questioned, dealt with some up's and down's on the mat and off the past few years. He hadn't been competitive this season prior to his arrival in Las Vegas, save for a charity event held by Beat the Streets Chicago during the winter. But now he's back, and with his presence locked in for the Final X Series, is in prime position to make his first-ever Senior World Team.
Bunker Stuns RaVaughn
Two-time National Champion and 2018 World Team member RaVaughn Perkins (NYAC) won last year's Open by obliterating the field and outscoring his opponents 35-0. He was on a similarly dominant run leading up to this evening's final when he happened to meet up with one of the hardest working athletes in the sport, if not the entire world.
Bunker, still considered a relative neophyte when it comes to Senior Greco-Roman, gets by largely on grit as opposed to flashy natural talent. But behind the scenes, he has willed himself to become a legitimate contender and keeps improving at a rapid pace. Even still, he headed into the bout with Perkins a sizable underdog in the minds of most, though it didn't take very long for that perception to completely unravel.
At the outset, Perkins easily assumed the underhook advantage. Bunker, compact and willing to engage, was a more than suitable target. This led to a passivity/par terre chance for Perkins, who first rolled a gut but soon went to lift. As he hoisted Bunker up, Perkins felt that he was being blocked. The non-call was challenged and denied, giving Bunker a point. After the reset, the Marine went for a bullrush that resulted in Perkins backing off the line — but it was not a step-out since the action was a push. The opening period ended with no further scoring.
It wasn't long before Perkins was dinged for passivity. Bunker wanted to clamp a gutwrench but switched off to a reverse lift, a hold he has grown more comfortable with this season. He elevated Perkins and seemed to have the mechanics necessary to yield a score. No call was made on the mat but that was changed when Marines head coach Jason Loukides threw the brick. The officials conferred and returned to award Bunker two points, thus giving him the 4-3 lead. Perkins sprinted from then on, and appeared to come awfully close on a couple of occasions with his attacks. However, Bunker remained upright the rest of the way en-route to collecting his first Senior National title.
"I realized that the tide had turned in my favor after I got put down and kind of successfully defended, although I did get turned," Bunker said afterwards. "I knew when it was going to my turn on top that I was going to score. Overall, it was a great tournament, but now it's time to get back to work, fix things, and move forward from here."
Coleman Nabs #5; Mango Over Jones
Multi-time World Team member/2012 Olympian Ellis Coleman (67 kg, Army/WCAP) was out to secure his fifth Senior Open championship Friday, and he couldn't have had a more capable counterpart in the form of 2016 Open winner and '17 Trials runner-up Hayden Tuma, one of the most explosive and experienced wrestlers in the country, and who had been positively frightening as he marched to his second final in three years.
Tuma benefited from the first passivity and executed a gutwrench to jump ahead 3-0 right away. Once they returned to the feet, Coleman began to plunge in with underhooks and eventually converted a takedown. He went to work immediately on a gut, and when he rolled Tuma over, kept the lock and hit home on another turn — making the score 8-3 moving into the second period. It didn't last too much longer. Coleman dashed inside for another takedown and gutted Tuma once again, with the four-point sequence ending the bout at 12-3.
In the only US Open finals rematch from 2018, defending champ Ryan Mango (63 kg, Army/WCAP) and Sammy Jones (NYAC/OTS) renewed acquaintances. Jones garnered the first passivity point. On the proceeding lift attempt, his lock shifted low and came loose, the byproduct of Mango effectively bottoming out. They hand-checked and prodded through most of the first, neither gaining a clear edge in any of the positions that mattered.
In the second, Jones was hit for passive before the first minute had even expired, giving Mango all the leeway he would need. A gutwrench came first; Jones hip-heisted for a step-over but Mango was ready. He adjusted his legs, squared up, maintained his lock, and drove Jones to his back. A follow-up gut was all she wrote — and Mango — who had been injured to start the year, became a two-time National Champion one week after making his season debut with a silver at the Pan American Championships.
Nowry/Duffield
At 55 kilograms, Max Nowry (Army/WCAP), one of six champs from '18 competing in these finals, emerged following an entertaining bout featuring U23 World Teamer/two-time Fargo winner Dalton Duffield (NYAC/OTS). Duffield used an arm drag to seal a takedown in the first before Nowry evened up by scoring one of his own, and in similar fashion. From par terre, Nowry's gut attempt was defended nicely by Duffield, who had a near-miss on more points when he pounced on an off-balanced Nowry at the edge before time expired.
The second period didn't carry the same steam as the first; Nowry received a passive and got a gut, and Duffield reversed for a point. Nevertheless, the 5-3 decision was an important one for Nowry, who began the season on the shelf due to double hip surgery but has come on strong of late, winning both Armed Forces and Pan Ams gold prior to this week.
Fuenffinger gets his first; Hancock reels in his 2nd
Teammates Ildar Hafizov (60 kg, Army/WCAP) and Mike Fuenffinger work together in the room often, but that doesn't mean they slow it down come match time, as evidenced by their recent domestic entanglements. Hafizov got on the board first thanks to a passive and a high over-the-shoulder gut. There was a lot to look forward to with these two, primarily because it was easy to see the intent with which they worked. Whenever on the feet, which is to say most of the bout, they circled each other like sharks, as well as raced into furious exchanges.
Fuenffinger got his shot in the second. The par terre didn't bring with it a turn, but Hafizov was penalized for finger-grabbing. That changed the complexion of the match. Fuenffinger followed with a throw attempt at the edge that saw Hafizov land on top. As was the case in several matches this evening, the call was challenged with the sequence scored the other way. Now behind with time a factor, Hafizov diligently went on the attack while Fuenffinger deflected the oncoming assault beautifully to become one of the night's three first-time champs.
G'Angelo Hancock (97 kg, Sunkist, world no. 3) picked up his second title by polishing off the most one-sided run of any athlete in the tournament. Facing National Team member Lucas Sheridan (Army/WCAP), Hancock earned a point from a step-out to begin, though Sheridan answered with a nice arm spin attempt. Following the reset, Sheridan — the owner of a booming, effective headlock — went to wail the hold only to have Hancock pop his head out and cover. Two gutwrenches followed, and back on the feet, Hancock next hustled Sheridan off the line to wrap up the 9-0 tech.
In fact, Hancock superior'ed all four of his 2019 US Open opponents, running up a combined score of 34-0.
Bey/Smith = Craziness
2017 Junior World Champion Kamal Bey's (77 kg, Sunkist, world no. 5) clash against '17 World Team member Patrick Smith (Minnesota Storm) served as the evening's de-facto main event by virtue of going on last, and plus, it was the match most fans wanted to see. And certainly, it delivered in terms of curiosity and high-level competitiveness, although it did not come without confusion.
It started when Bey dashed in behind Smith and hustled him off the edge. Bey wanted a call on Smith for blocking the follow-up lift attempt. When action resumed, Bey raced Smith off again, and in much the same manner. The officials penalized Smith for two points, putting the Storm rep in an early 4-0 hole. Smith gathered himself and stuck to his strengths, which include high pressure and constant work in the trenches. This strategy on Friday night was highlighted by Smith heavily working a two-on-one and angling off his ties so as to keep in range without giving Bey wide open looks to the body.
Down 5-0 with just over a minute remaining, Smith got on the board via step-out. He grabbed another after the next restart, though he had also inadvertently grabbed a fistful of Bey's singlet in the process. Bey's corner challenged — and lost — cutting the deficit all the way down to 5-3. Smith capitalized by hustling a takedown following the Bey throw attempt. He couldn't negotiate a turn, and back up they were. The next sequence unfolded just as hazy as the one before it. Bey went to throw with his back to the line; Smith locked around back, again grabbing Lycra; as Bey finished his arch, Smith landed on top, and Bey went to his stomach. The call on the mat was two for Bey, but Smith wanted two, as well. The Storm challenged the call, the call was changed to one for Bey, and wrestling was restarted. Right before the buzzer, Smith, obviously in a hurry, backed Bey to the line, and was greeted by a throw that was scored a step-out.
If you ignore the scoring and the bewilderment regarding the calls, Bey/Smith I was everything fans likely expected. Hopefully, should they meet again in June, there will be less drama surrounding the on-the-mat governance.
Rau Eeks Past P-Mart
Joe Rau (87 kg, TMWC/Chicago RTC) defeated three-time World Team member Patrick Martinez (NYAC) in a close battle, earning his second Senior crown. It had been a little bit since these two competed against each other, but there weren't too many differences to behold. Rau bullied to the first passivity and made it count with a gutwrench. On the feet, he fed Martinez's right arm a steady diet of two-on-ones but could not engineer scoring attacks. It was Martinez's turn to go on top par terre in the second. When the try at a gut didn't hit paydirt, Martinez stepped up for a lift. Rau stayed pasted to the mat, and they both dug back in for the waning moments of the match. Martinez did have a couple of good looks, but ultimately there wasn't much doing. Rau, who has enjoyed his most active Senior campaign in recent years, now gets a more pronounced training cycle in advance of the Final X Series.
Notes:
As mentioned throughout, all of the winners from tonight with the exception of heavyweight Jacob Mitchell (Army/WCAP) receive a bye to the Final X Series in June that takes the place of the usual World Team Trials best-of-three series. World silver medalist Adam Coon (Cliff Keen) earned his berth to the Final X automatically by making the finals in Budapest this past October.
Eight of the evening's finalists have been US World Team members, but only two matches featured both participants holding that distinction — Bey vs. Smith and Rau vs. Martinez.
Four of the ten finals matches were decided by tech fall. The rest ended via decision.
Athletes who have yet to qualify for the World Team Trials in May still have one more opportunity next weekend at the Last Chance Qualifier at East Stroudsburg University in Pennsylvania.
NYAC won the 2019 US Open team race with 127 points, followed by Army/WCAP (103 points) and the Marines (61 points). But when split into two divisions, the Marines took the Division II title.
2019 US Open
April 25th-26th — Las Vegas, Nevada
Finals Results
55 kg: Max Nowry (Army/WCAP) def. Dalton Duffield (NYAC/OTS) 5-3
60 kg: Mike Fuenffinger (Army/WCAP) def. Ildar Hafizov (Army/WCAP) 6-4
63 kg: Ryan Mango (Army/WCAP) def. Sammy Jones (NYAC/OTS) 9-1, TF
67 kg: Ellis Coleman (Army/WCAP) def. Hayden Tuma (Army/WCAP) 12-3, TF
72 kg: Ray Bunker (Marines) def. RaVaughn Perkins (NYAC) 4-3
77 kg: Kamal Bey (Sunkist) def. Patrick Smith (Minnesota Storm) 7-5
82 kg: Kendrick Sanders (NYAC/OTS) def. Spencer Woods (NYAC/OTS) 10-0, TF
87 kg: Joe Rau (TMWC/Chicago RTC) def. Patrick Martinez (NYAC) 3-1
97 kg: G'Angelo Hancock (Sunkist) def. Lucas Sheridan (Army/WCAP) 9-0, TF
130 kg: Jacob Mitchell (Army/WCAP) def. David Tate Orndorff (NYAC) 7-0
3rd Place Matches
55 kg: Jabari Moody (NYAC) def. Ibrahim Bunduka (INWWTC) via fall
60 kg: Dalton Roberts (NYAC/OTS) def. Randon Miranda (NYAC/OTS) 6-0
63 kg: Travis Rice (IRTC) def. Kyle Evans (Western Wyoming) 10-0, TF
67 kg: Jamel Johnson (Marines) def. Austin Morrow (NYAC/OTS) 5-0
72 kg: Michael Hooker (Army/WCAP) def. Lenny Merkin (NJRTC) 13-10
77 kg: Mason Manville (NLWC) def. Corey Hope (NYAC) 3-0
82 kg: Chandler Rogers (CRTC) def. Terrence Zaleski (Marines) 8-0, TF
87 kg: Ben Provisor (NYAC/NLWC) def. Vaughn Monreal-Berner (Marines) 9-0, TF
97 kg: Daniel Miller (Marines) def. Eric Twohey (Minnesota Storm) 9-1, TF
130 kg: Toby Erickson (Army/WCAP) def. Haydn Maley (CARTC) 8-0, TF
5th Place Matches
55 kg: Britain Longmire (NV) def. Jemone Carter (Marines) 8-0, TF
60 kg: Taylor LaMont (Sunkist) def. Matt Schmitt (WVRTC) 4-4 (criteria)
63 kg: Nate Cervantez (CYC) def. Xavier Johnson (Marines) via inj. forfeit
67 kg: Jarod Verkleeren (NLWC) def. Morgan Flaharty (OTC) 12-4, TF
72 kg: Nick Tarpley (NYAC) def. Colin Schubert (NYAC/OTS) 4-4 (criteria)
77 kg: Jesse Porter (NYAC/OTS) def. Peyton Walsh (Marines) 8-0, TF
82 kg: John Stefanowicz (Marines) def. Cheney Haight (NYAC) via forfeit
87 kg: James Souza (Army/WCAP) def. Barrett Stanghill (Minnesota Storm/OTS) via forfeit
97 kg: Khymba Johnson (NYAC/OTS) def. Blake Smith (OTC) 8-0, TF
130 kg: West Cathcart (IRTC) def. Ike Okoli (INWWTC) 8-0, TF
7th Place Matches
55 kg: Joe D'Angelo (West Point) def. Bernadino Gomez (Blue Chip) via forfeit
60 kg: Devon Jackson (3-Style WC) def. Josh Wright (WBU) 8-0, TF
63 kg: Dylan Gregerson (UVRTC) def. Chris Anderson (WBU) 10-8
67 kg: Jessy Williams (NYAC/FLWC) def. Daniel Van Hoose (CMU) 10-2, TF
72 kg: Connor Myers (Army/WCAP) def. Eleazar Deluca (NJRTC) via forfeit
77 kg: Tyler Dow (WIRTC) def. Brandon Mueller (Air Force/WCAP) via fall
82 kg: Carter Nielsen (Minnesota Storm/OTS) def. Jake Fisher (Curby 3-Style) 7-5
87 kg: George Sikes (NYAC/OTS) def. Haszell West (CSU Pueblo) via forfeit
97 kg: Orry Elor (Florida Jets) def. Easton Hargrave (UA) 12-7
130 kg: Tommy Helton (SIUE) def. Zach Schrader (CBU) 9-0, TF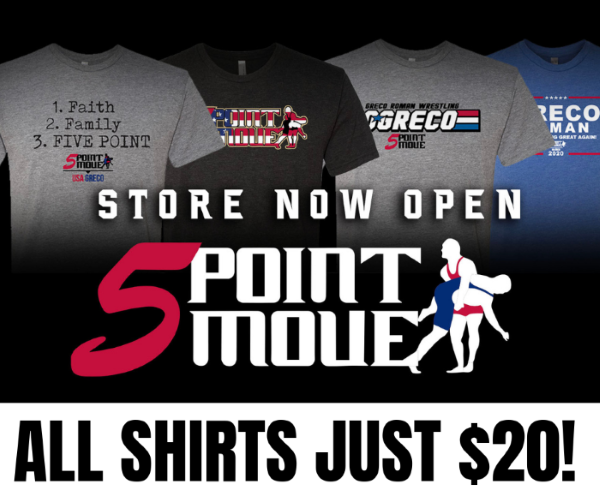 Listen to "5PM22: Sammy Jones guest co-hosts as Five Point Move visits with Lucas Sheridan and Sam Hazewinkel" on Spreaker.
SUBSCRIBE TO THE FIVE POINT MOVE PODCAST
iTunes | Stitcher | Spreaker | Google Play Music | RSS
Notice
: Trying to get property 'term_id' of non-object in
/home/fivepointwp/webapps/fivepointwp/wp-content/themes/flex-mag/functions.php
on line
999