Almost too much action to account for is what Day 2 at the 2019 US Nationals/Olympic Trials Qualifier had to offer — and with a slate of star-studded finals still to be decided, the day isn't over yet.
Wrestling began at 10:00am CT from the Fort Worth Convention Center in Fort Worth, Texas and streamed live on FLOWrestling.
For National Team member Taylor LaMont (60 kg, Sunkist), his morning began with yet another go-round against '18 World Team member Dalton Roberts (NYAC/OTS). Roberts had secured the first passive but came loose off of the proceeding gut attempt, allowing LaMont to reverse for two points. Roberts then reversed LaMont, and walked into the break up 3-2. Later in the second period, LaMont received his passivity point. There was nothing doing from top par terre, but the passive provided LaMont with the edge on criteria 3-3, which represented the eventual final score.
On Friday, former Oregon Stater Joey Palmer (Cyclone) was ousted by Roberts in the round-of-32 and ran the table on the bracket's backside to make it all the way to the third-place bout opposite LaMont. A very impressive run. Even more impressive was how Palmer hung in there with LaMont, and had himself a nice look at an off-balance early in the first. Even still, LaMont, a Junior World bronze in '16, is too experienced, too hardened to get nervous in these types of situations. The first passivity went to LaMont, and he converted a gut for a 3-0 lead. Palmer grabbed a point in the second but was unable to generate much in the way of offense the rest of the way.
X-Man & Baker Put on Classic
A rematch from last month's Haparanda Cup that saw Nolan Baker (67 kg, NYAC) come back from an enormous deficit to headlock and pin Jamel Johnson (Marines) unfolded in the consolation semis. This time around, the bout lasted all six minutes and the pair combined for 23 points in what was a 14-9 Olympic Trials-clinching victory for Baker. It was then up to Johnson's teammate Xavier Johnson — who himself had fallen to Baker on Friday — to try and gain a measure of revenge in the third-place bout.
Johnson and Baker just never stopped trying to score on each other from the first whistle to the last. Johnson got to the body early, and unable to convert to something grand, turned it into a takedown — and Baker immediately reversed with a headlock. Back standing, and Johnson created another body attack that showed some promise. He latched around and hoisted before throwing Baker for five; however, Baker reversed, again, and created a scramble. This is how it went the entire match — attack, answer, attack, answer. The only lull available took place in the second, when a few misguided voices could be heard pleading for a Baker passive.
Johnson was ahead 9-4 until Baker ripped a headlock and transitioned to a gut. Confusion had no choice but to play a role for the officials on more than one occasion. In the second period, Johnson plowed towards Baker, who responded by rolling through with a counter throw that was scored four. Johnson wanted the call, he thought it was his action. The officials conferred and scored it that way. Baker asked for the challenge block. Upon review, the sequence was scored in his favor.
Now behind 13-11, Johnson began hunting for a scoring chance, and Baker provided it for him. A headlock attempt from the Illinois native was countered with Johnson scoring a takedown on the boundary to climb in front 13-13. Almost unbelievably, there was no further scoring, and the Marine who as recently as last week was unsure of which he weight he'd wrestle, had secured bronze in one of the tournament's deepest weight classes.


RaVaughn Hits a Bomb; Nielsen Stands Out
Most would have pegged a bout featuring RaVaughn Perkins (NYAC) and Peyton Walsh (Marines) to be a six-minute thriller. Maybe down the line, but it did not go down like that on Saturday. Perkins whipped behind Walsh and wailed a five to crack open the scoring. A brief feeling-out process ensued and it appeared some jousting would commence. Instead, Perkins broke for Walsh on an another attack, causing them both to go way out of bounds. The official offered a caution on Walsh, and it was confirmed, elevating Perkins' lead to 7-0. On the next reset, Perkins wrangled back into position and uncorked one more throw, this time a four-pointer, to seal up third place.
Although he isn't in the finals, perhaps no other wrestler has had a more impactful tournament than Carter Nielsen (Minnesota Storm/OTS). Originally a Senior competitor at 82 kilograms, Nielsen was assumed to be a candidate this season at 77. But rather than cut down, he moved up to 87, the land of beasts, and has already carved out a place among the nation's elite.
A tight tussle with teammate Barrett Stanghill in the consolation semis came first today. Nielsen scored his only two points on an arm spin try he used to cut the corner for a takedown, and Stanghill received a passive point in the second to comprise all the scoring in the 2-1 decision. For third place, it was another Storm athlete, Rich Carlson, a very capable, experienced athlete. And Nielsen never gave him a chance to breathe.
The whistle blew and there was Nielsen, stalking urgently. He found a go-behind and hustled Carlson down for two and converted a follow-up gut. A reset. Next, Nielsen worked to position again and scored another takedown before rotating a gutwrench to end it right then and there.
Twohey Over Boykin; Toby Back In the Mix
Although he is forced to piece together his training due to his medical studies, Eric Twohey (Minnesota Storm) is firmly established as a viable contender in the 97 kilogram weight category, and qualified for the Olympic Trials by catching-and-pinning Khymba Johnson (NYAC/OTS) in the consolation semifinal. There was still one more bout to go for Twohey on Saturday, of course, to determine third place.
His opponent, '19 Junior World Team member "Big" Nick Boykin (Sunkist), has come on strong the past season, as well, setting up a match that had all the makings of a nail-biter. Boykin was the beneficiary of the first passive and worked a reverse lift. Twohey stayed heavy and they returned standing. After some back-and-forth in the tie-ups, Twohey was there with a takedown but could not get a handle for a follow-up score. Boykin deserves a head nod for going for it, which he did twice in this contest. In the first period, the Ohio State-bound wrestler heaved a big throw attempt only to have Twohey defend at the boundary. Boykin was at again in the second with another lock-and-launch try, but Twohey landed on top and out of danger. When it ended, it was a 5-1 decision for Twohey, who improves on his fourth-place finish from the US Open last April.
Toby Erickson (130 kg, Army/WCAP) will now begin preparing for his third consecutive Olympic Trials appearance after defeating Donny Longendyke (Minnesota Storm) in the consolation semifinal. The 2011 Junior World bronze who won his first Senior National title in '16 took advantage of his passivity/par terre chance in the first to work his way to a 3-1 decision. On the opposite side of the consolation bracket, West Cathcart (IRTC) downed former age-group stud Tommy Helton (Southern Illinois RTC), which qualified Cathcart for April's Trials, as well. However, Cathcart — who was purposely injured last month by one of tonight's finalists Jacob Mitchell (Army/WCAP) — forfeited out of the bronze round versus Erickson.
"The Brawl of '19" for 5th; Hope, Khymba, & Longendyke Qualify
Johnson/Hooker
One match that is likely to receive plenty of playbacks occurred in the 5th/6th round — with Olympic Trials qualification firmly on the line — between Jamel Johnson and Michael Hooker (Army/WCAP). This bout had some recent buildup. Johnson decisioned Hooker last month in Haparanda 6-4; and Hooker defeated Johnson yesterday in this tournament 7-1. Whatever frustrations the pair had with each other were probably beaten out of them on Saturday.
Aggressive clashing greeted both from the outset. It did not even seem tactical, so much as an excuse to make the hardest contact possible prior to pummeling around for possible attacks. Johnson has reinforced his pummel game over the past year but is still an athlete who prefers crooked-numbers for his scores. Meanwhile, Hooker walks the line between offensive aggregator and counter-scorer. Whatever perceived strengths each athlete brought to bear were largely ignored as it became a test of wills and an opportunity to see who might break first — if only the officials let it be so.
After a minute and change had gone by in the first period, Johnson was awarded the passive. He dug in for a lock and Hooker swiveled his hips in an effort to defend. It worked. Once back on the feet, more in-fighting arrived with neither wrestler able to snare an advantage.
The :30 intermission did not alter the intensity leading into the second period. If anything, there was more punishment to be dealt. And like clockwork, Hooker and Johnson collided, shoulder-to-shoulder and head-to-head. The result was a few time-outs to address damage to faces and trickles of blood on the mat. Hooker still had a bounce in his step, and received the second passive. There wasn't much with which to work as Johnson expertly brought his elbows in to disrupt any and all lock attempts.
Time, as it always does in matches of seeming consequence, began taunting Johnson. Down 1-1 on criteria with a minute remaining, the onus was on him to at the very least push Hooker enough to incite a call from the officials. Deservedly or not, that is exactly what happened. With under :30 to go, Hooker was dinged for passive and Johnson reclaimed the lead 2-1. The expression on Hooker's face didn't change. He simply went back into the trenches to try and create an opportunity that might turn it all around. It was not to be. Johnson, energized and poised throughout the battle, made it to the end in one of the most physically-charged bouts of the year.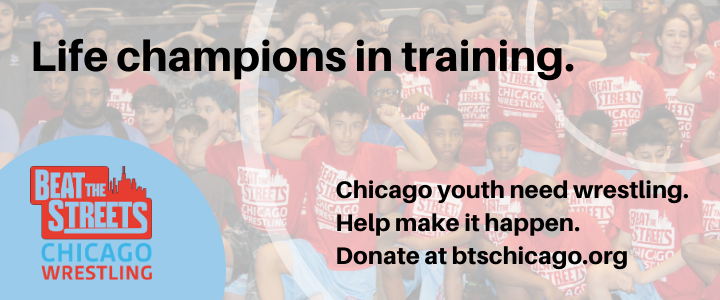 Corey Hope (77 kg, NYAC) has another crack at the Olympic Team after overcoming a spirited effort from '18 Junior World silver Andrew Berreyesa (NYAC/FLWC). It was a rebound match for Hope, who had lost to Walsh in the consolation semis.
Hope and Berreyesa employ similar approaches, but it was Hope's insistence on trying to pour in underhooks that influenced the first passive. From top, he locked a side lift and converted for four points. Berreyesa had a solid chance in the second when he off-balanced Hope before gaining a step-out point, but otherwise, windows closed as soon as they were opened. In the latter stages of the bout, Hope was penalized for fingers, giving Berreyesa two caution points. The Cornell product would not come any closer, with Hope earning the 5-3 decision.
At 97 kilos, Johnson is in for State College thanks to a determined, step-by-step game plan against Orry Elor (NYAC). Johnson went to work in each phase, looking at underhook positions as if they are check-in stations. This methodology helped result in a step-out point, and later, a go-behind that came close to being a throw but instead translated to two points off the edge. Scoring was capped after that, and the longstanding NMU'er moved on with a 3-0 victory.
It was Longendyke and Helton to determine the last qualifying spot of the afternoon. And unfortunately for the upstart Helton, Longendyke got on a roll, literally, early in the first. Operating from par terre top due to the passive chance, Longendyke locked on a gut and cranked it over four times to secure the tech.
Notes:
Stanghill did not wrestle for 5th/6th with the already-qualified Rogers forfeiting. Stanghill is now assured a berth in April.
As of now, the New York Athletic Club leads Army/WCAP by two points (136 to 134) in the team race. Minnesota Storm is in third with 80 points.
The finals are scheduled to begin at 7:00pm CT and will air live on FLOWrestling (see the bout card below).
2019 US Nationals Finals Pairings
60 kg: Mike Fuenffinger (Army/WCAP) vs. Sammy Jones (NYAC/OTS)
67 kg: Alex Sancho (Army/WCAP) vs. Calvin Germinaro (Minnesota Storm)
77 kg: Kamal Bey (Sunkist) vs. Jake Fisher (Curby 3-Style)
87 kg: Patrick Martinez (NYAC) vs. Jon Anderson (Army/WCAP)
97 kg: Lucas Sheridan (Army/WCAP) vs. Daniel Miller (Marines)
130 kg: Cohlton Schultz (Sunkist) vs. Jacob Mitchell (Army/WCAP)
2019 US Nationals/Olympic Trials Qualifier
December 20-21 — Fort Worth, Texas
Third Place Results
60 kg: Taylor LaMont (Sunkist) def. Joe Palmer (Cyclone) 3-1
67 kg: Xavier Johnson (Marines) def. Nolan Baker (NYAC) 13-13
77 kg: RaVaughn Perkins (NYAC) def. Peyton Walsh (Marines) 11-0, TF
87 kg: Carter Nielsen (Minnesota Storm/OTS) def. Rich Carlson (Minnesota Storm) 8-0, TF
97 kg: Eric Twohey (Minnesota Storm) def. Nick Boykin (Sunkist) 5-1
130 kg: Toby Erickson (Army/WCAP) over West Cathcart (IRTC) via forfeit
5th Place Results
Winners qualify for the 2020 US Olympic Trials 
*Already qualified
60 kg: *Dalton Roberts (NYAC/OTS) over *Ryan Mango (Army/WCAP) via forfeit
67 kg: Jamel Johnson (Marines) def. Michael Hooker (Army/WCAP) 2-1
77 kg: Corey Hope (NYAC) def. Andrew Berreyesa (NYAC/FLWC) 5-3
87 kg: Barrett Stanghill (Minnesota Storm) over Chandler Rogers (TMWC) via forfeit
97 kg: Khymba Johnson (NYAC/OTS) def. Orry Elor (NYAC) 3-0
130 kg: Donny Longendyke (Minnesota Storm) def. Tommy Helton (Southern Illinois RTC) 9-0, TF
CONSOLATION SEMIFINAL RESULTS
60 kg
Joseph Palmer (Cyclone RTC) over Ryan Mango (Army/WCAP) via forfeit
Taylor Lamont (Sunkist) def. Dalton Roberts (NYAC) 3-3 (criteria)
67 kg
Nolan Baker (NYAC) def. Jamel Johnson (Marines) 14-9
Xavier Johnson (Marines) def. Michael Hooker (Army/WCAP) 5-0
77 kg
Peyton Walsh (Marines) def Corey Hope (NYAC) 7-1
RaVaughn Perkins (NYAC) def. Andrew Berreyesa (NYAC/FLWC) 11-0, TF
87 kg
Rich Carlson (Minnesota Storm) over Chandler Rogers (TMWC) via forfeit
Carter Nielsen (Minnesota Storm/OTS) def. Barrett Stanghill (Minnesota Storm/OTS) 2-1
97 kg
Eric Twohey (Minnesota Storm) def. Khymba Johnson (NYAC) via fall
Nick Boykin (Sunkist) def. Orry Elor (NYAC) 10-0, TF
130 kg
Toby Erickson (Army/WCAP) def. Donny Longendyke (Minnesota Storm) 3-1
West Cathcart (IRTC) def. Tommy Helton (SIRTC) 7-2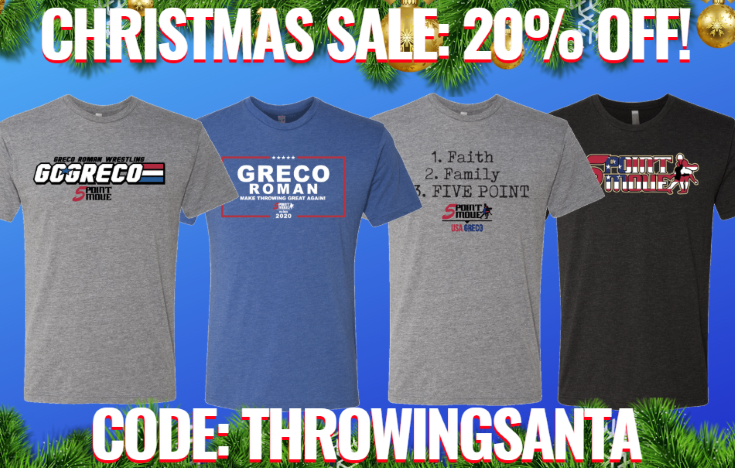 Listen to "5PM32: Previewing Senior Nationals with Dennis Hall" on Spreaker.
SUBSCRIBE TO THE FIVE POINT MOVE PODCAST
iTunes | Stitcher | Spreaker | Google Play Music | RSS
Notice
: Trying to get property 'term_id' of non-object in
/home/fivepointwp/webapps/fivepointwp/wp-content/themes/flex-mag/functions.php
on line
999