Three first-time champs  highlighted a thrilling slate of finals matches that closed the 2019 US Nationals/Olympic Trials Qualifier in style. Not to be outdone, Kamal Bey (77 kg, Sunkist) was able to outlast a veteran who made plenty of waves this weekend, while a pair of high-level upperweights continued what has become the best rivalry in the country.
Wrestling began at 7:30pm CT from the Fort Worth Convention Center in Fort Worth, Texas and streamed live on FLOWrestling.
They began with a flourish of energy at 60 kilograms, as "Wildman Sam" Sammy Jones (NYAC/OTS) darted into returning champ Mike Fuenffinger's (Army/WCAP) clutches before coming over the top to latch a quick front headlock. They reset and Jones darted to the body and found another front headlock position, and again, Fuenffinger fought out of trouble. The workrate was enough to provide Jones with the first passivity/par terre chance. Attempts at a lift came up empty though the 1-0 lead was still his entering the break.
Soon into the second period, Fuenffinger ambled behind, causing Jones to hip away and scramble. He ended up perilously close to the line and the two became intertwined in a 50/50 that Fuenffinger used to his advantage, collecting two points when Jones had no choice but to hit the deck. Back on the feet and Fuenffinger dug back inside. Jones, more of a fast-twitch operator, scanned for a tight window to exploit. He eventually clamped a front headlock and thought about a score until Fuenffinger broke free.
With the match inching towards its conclusion, Jones did manage to wrap Fuenffinger's body but the hold was shaken loose before any damage could be done. In the race to finish, Jones level-changed and bullied forth — but Fuenffinger countered by getting behind for two more points, ultimately taking the bout by a score of 5-1.
Fuenffinger, a runner-up to teammate Ildar Hafizov at Final X: Lincoln last June, won the US Open in April and was second to Dalton Roberts (NYAC/OTS) in 2018.


Though hard to believe for some, Alex Sancho (Army/WCAP) was hunting for his first Senior National crown this evening when he met up with Calvin Germinaro (Minnesota Storm). Germinaro, along with Jake Fisher (77 kg, Curby 3-Style) and Storm stablemate Carter Nielsen (87 kg), had been the talk of the tournament due to his wins on Friday in conjunction with some sparkling technique and uncommon tenacity. Still, in Sancho, Germinaro was facing an experienced top athlete who knows how to capitalize on even the smallest openings.
Sancho prowled at the whistle and committed immediately to a two-on-one. This would become a theme. But Germinaro freed his arm and went on the attack. He pursued the body and forced Sancho down and out for two points. Back after the restart, and Sancho was in on that two-on-one again, this time straightening it all the way until Germinaro recovered to his feet. They were answering each other in tight, tactical flurries, even if it looked like Germinaro was demonstrating just a little more vigor in the tie-ups. To Sancho's credit, he briefly had a shot with a throw — but Germinaro shifted and covered, though the attempt was white-paddled.
Germinaro was knocked for passive early in the second. From top, Sancho locked for a lift and netted two for exposure. He stayed with it, did Sancho, and went for one more try, elevating a little more to pick up four points. All of the sudden, Germinaro was staring at a 7-2 deficit. Later in the period, Sancho was banged for a caution-and-two, trimming his margin to 7-4. Germinaro was still in the thick of things, all he wanted was to create a sequence that might result in solid scoring chance. He got a line towards Sancho's body once more for a step-out point, but that would be it. In an entertaining affair that displayed the strengths of both athletes, Sancho prevailed 7-5.
For Sancho, it is his first US National title after coming in second twice ('15 and '16).
Bey, Miller, & Schultz
The tournament positioned Bey/Fisher as the main event of sorts, putting it on last (as they did in April, when it was Bey against Patrick Smith). Whether the gamble paid off or not is up to the viewer, but two things are for sure: Bey knows how to turn it on when it counts, and Fisher is a very real player this Olympic season.
Bey started off with a pair of snappy arm attempts as Fisher moved in tight to pummel. Opponents of Bey's always want to key in on the ties and knot the arms and hands to mitigate the speed and fluidity Bey exhibits when level-changing for bodylocks. Fisher showed some of that, but he also seemed to have an idea of where he wanted to go once a position availed itself. That opportunity did not arise in the first so much, as Bey received the first passivity chance. He locked for a reverse lift, hopping from one side to the other. Fisher — who goes back far enough to have competed during the reverse lock rule-set over a decade ago — defended well and walked to the corner for the break down by only a point.
Passivity went in the other direction in the second period. Fisher went high with his lock to start and then stepped for a lift. He came back down for a gutwrench, but his leg was caught and the official was just about to stand them up, anyway. Bey was behind according to criteria, which meant it was time to work. Fisher went to the arms and then switched over looking to pummel. With that, Bey quickly clasped the body, and Fisher tried to fight the position by leveraging his hook. Something had to give, and Bey went for it, collecting Fisher with a bodylock off the edge and executing a four-pointer. There was more to deal with, the match wasn't over just yet. Fisher resumed divvying in the ties, but Bey was darting around enough to stay out of trouble en-route to his fourth National championship.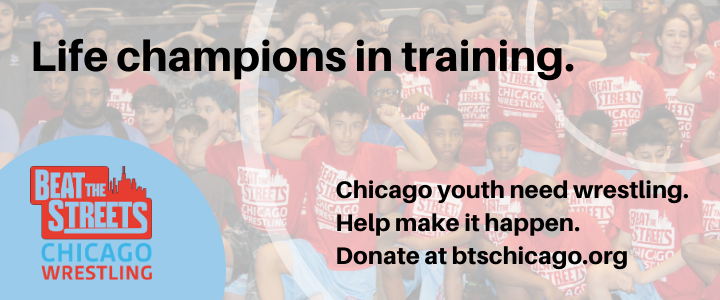 Miller Edges Sheridan In Latest Battle
It is a rivalry that is now starting to add layers. Daniel Miller (97 kg, Marines) earned the first victory in his saga with Lucas Sheridan (Army/WCAP) at last year's Armed Forces Championships. Two months later, Sheridan got him back at the US Open; less than a month after that, Sheridan took two out of three matches at the World Team Trials; and last month, they were in Sweden mired in a tight match until Sheridan bombed Miller with a headlock to end it.
This one kicked off with a loooong try at an arm spin for Miller. Sheridan saw it coming and covered for the slip. From there, they pecked and prodded in the ties — Miller wanting to plunge underhooks, Sheridan looking to generate exchanges that might offer a read on something big. The WCAP wrestler was awarded the first par terre chance. He cleared Miller's left arm and locked for a lift before ultimately deciding on a collapse gut that yielded two. Back standing, and Miller was able to momentarily isolate a head-and-arm but Sheridan wriggled free.
Another arm spin attempt opened the second, a much cleaner one. The result didn't change, Sheridan snuffed it out and went for the cover until the referee confirmed the slip. Miller was given the next passive. He went for a lift and Sheridan defended, but with a couple of extra tries, Miller retained the lock and executed a correct hold for two. That put the score at 3-3 with Miller ahead on criteria. It also meant that Sheridan needed even the smallest score to retake the lead. They upped the ante in the tie-ups, and Sheridan — who not once in this bout attempted a headlock, his go-to — clasped head-and-arm but did not have it secure long enough to where he could work the position. That was the biggest threat of the match's latter stages, and Miller survived this round via 3-3 criteria decision. It also represents the Marine Captain's second National title, with his first coming in 2018.
Schultz Blanks Mitchell
There was not a lot of history to speak of between 2017 Cadet World Champ/two-time Junior World medalist Cohlton Schultz (130 kg, Sunkist) and Jacob Mitchell (Army/WCAP) prior to tonight. Their only meeting before this one took place in the semifinal of the Trials Challenge Tournament in May, which saw Schultz emerge victorious via fall.
They went all six minutes this evening and their bout started off with a little heat. Mitchell turned on an arm drag that caused Schultz to go to his knees but there was no capitalization. Instead, Schultz regained his feet and followed Mitchell, who curiously tried to spin out and away of Schultz's advances. The result of the motion was Mitchell falling down to a knee but getting back up before Schultz himself could take advantage. When they resumed jousting, Schultz grabbed a two-on-one and went hunting down a left arm underhook, then he made some hard contact. The official stopped the bout and warned both wrestlers, and that was that.
Mitchell was dinged for passive. Schultz lassoed a front headlock and tried to yank it over the top. It was close to exposure, but Mitchell defended and reversed, though he, too, was unable to drum up any points. There was more of the same in the second. Schultz owned the tie-ups and the tempo. Mitchell was constantly compelled to react, his feet moving according to the 19-year-old's will. Another Mitchell passive entered the equation, and he stayed planted on a gut attempt. The remainder of the bout was limited to Schultz working Mitchell around the mat until the proverbial bell.
Schultz earns his first Senior National championship less than a year removed from his debut on the top level in Denmark. Thus far, his Senior domestic record stands at 9-3.
Anderson Gets His First
The caveat would likely read, "But not how he wanted it to happen." Jon Anderson (Army/WCAP) secured the first Senior National tournament victory of his remarkable career Saturday night, though it came without a match. Top-seeded Patrick Martinez (NYAC/FLWC) forfeited the 87-kilogram final due to injury. Anderson had built some momentum heading into the final round with the matches he had on Friday. The 2014 Military World silver breezed through his first two bouts, received a forfeit from Barrett Stanghill (Minnesota Storm/OTS), and then decisioned the already-Trials-qualified Chandler Rogers (TMWC) 5-2.
Notes:
Not one finals bout ended via tech or pin.
Army/WCAP blew past NYAC in the team race 149-136. NYAC led by two points going into tonight's finals. Minnesota Storm takes third with 80 points.
Following his bout with Fuenffinger, Jones was presented with the 2019 Jacob Curby Award along with Max Nowry (55 kg, Army/WCAP, world no. 5), who was not present. Army coach Spenser Mango accepted the honor on Nowry's behalf.
A full overview including stats and notes will be available in the next Monday Roundup. 
2019 US Nationals/Olympic Trials Qualifier
December 20-21 — Fort Worth, Texas
Finals Results
60 kg: Mike Fuenffinger (Army/WCAP) def. Sammy Jones (NYAC/OTS) 5-1
67 kg: Alex Sancho (Army/WCAP) def. Calvin Germinaro (Minnesota Storm) 7-5
77 kg: Kamal Bey (Sunkist) vs. Jake Fisher (Curby 3-Style) 5-1
87 kg: Jon Anderson (Army/WCAP) over Patrick Martinez (NYAC/FLWC) via inj. default
97 kg: Lucas Sheridan (Army/WCAP) def. Daniel Miller (Marines) 3-3 (criteria)
130 kg: Cohlton Schultz (Sunkist) def. Jacob Mitchell (Army/WCAP) 2-0
Third Place Results
60 kg: Taylor LaMont (Sunkist) def. Joe Palmer (Cyclone) 3-1
67 kg: Xavier Johnson (Marines) def. Nolan Baker (NYAC) 13-13 (criteria)
77 kg: RaVaughn Perkins (NYAC) def. Peyton Walsh (Marines) 11-0, TF
87 kg: Carter Nielsen (Minnesota Storm/OTS) def. Rich Carlson (Minnesota Storm) 8-0, TF
97 kg: Eric Twohey (Minnesota Storm) def. Nick Boykin (Sunkist) 5-1
130 kg: Toby Erickson (Army/WCAP) over West Cathcart (IRTC) via forfeit
5th Place Results
Winners qualify for the 2020 US Olympic Trials 
*Already qualified
60 kg: *Dalton Roberts (NYAC/OTS) over *Ryan Mango (Army/WCAP) via forfeit
67 kg: Jamel Johnson (Marines) def. Michael Hooker (Army/WCAP) 2-1
77 kg: Corey Hope (NYAC) def. Andrew Berreyesa (NYAC/FLWC) 5-3
87 kg: Barrett Stanghill (Minnesota Storm) over Chandler Rogers (TMWC) via forfeit
97 kg: Khymba Johnson (NYAC/OTS) def. Orry Elor (NYAC) 3-0
130 kg: Donny Longendyke (Minnesota Storm) def. Tommy Helton (Southern Illinois RTC) 9-0, TF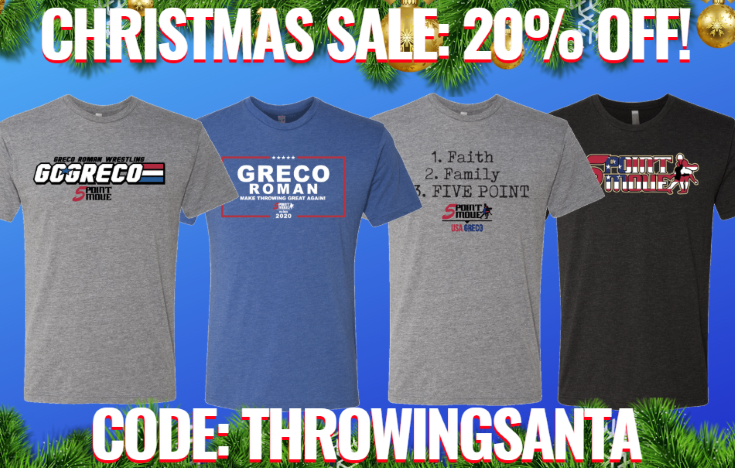 Listen to "5PM32: Previewing Senior Nationals with Dennis Hall" on Spreaker.
SUBSCRIBE TO THE FIVE POINT MOVE PODCAST
iTunes | Stitcher | Spreaker | Google Play Music | RSS