In the aftermath of the four bronze medals and adrenalizing pair of victories earned by World Teamers Max Nowry (55 kg, Army/WCAP, world no. 12) and Ray Bunker (72 kg, Marines) yesterday, two more US Greco-Roman athletes had their own opportunities to grab some hardware at the 2019 Wladyslaw Pytlasinski Memorial this morning.
National Team member Taylor LaMont (60 kg, Sunkist) demonstrated a resilient spirit opposite returning Pytlasinski runner-up Gevorg Gharibyan (ARM) but ultimately dropped a 7-1 decision. Morgan Flaharty (67 kg) similarly had his hands full against Russia's Asker Orshokdunger and was unable to generate enough offense to come away with a victory.
Sunday's bronze medal round at the 2019 Wladyslaw Pytlasinski Memorial began at 1:45pm in Warsaw, Poland (7:45am ET) and was broadcast live on YouTube.


LaMont pushed forward at the whistle with Gharibyan looking to immediately re-engage. The Armenian then flashed an arm throw attempt that LaMont seemed to easily fend off. He hadn't moved all that much during the action and easily limp-armed out of potential danger. The US challenged the call — and won — wiping the points off the board. Later in the frame, LaMont was knocked for passive, giving Gharibyan the opening he was looking for, running three guts to stockpile a 7-0 lead.
The second period gave way to a more intent LaMont and a retreating Gharibyan. The American urged inside, pecking away in the tie-ups. It would take over half the period for Gharibyan to receive his passive ding, but when it arrived, LaMont's gut attempt fell short. Down 7-1, LaMont did not have a lot of time with which to work and Gharibyan avoided any and all potential issues to snare the decision.
Flaharty's biggest error was committed shortly after the whistle, as his head was low enough for Orshokdunger to wrap a front headlock. A throw variation from the hold failed to yield any points; so Orshokdunger stayed with it, dumping a prone Flaharty over the shoulder for two pairs of exposure points. At the reset, Orshokdunger managed a step-out. Another reset, and Flaharty was there with a beautiful arm spin attempt that almost connected at the edge. Nevertheless, it was still good for a step-out point and he was on the board. Midway through the first, Orshokdunger hustled Flaharty out of bounds for one more point to widen the gap at 7-1. He forced Flaharty off the boundary again following the next restart before finishing the match with a snap-spin takedown.
The delegation of US Seniors in Warsaw will now stay put for a joint international training camp. We plan to have follow-ups and other perspectives available during the week.
Notes:
2019 World Team members finished the 2019 Wladyslaw Pytlasinski Memorial with a combined record of 7-7 (counting forfeit victories), highlighted by two tech falls.
Two athletes made their debuts at the Olympic category of 77 kilograms — Andrew Berreyesa (NYAC/FLWC) and Alex Mossing (Air Force/WCAP).
Official placing results will be updated on this page once the tournament wraps.
2019 Wladyslaw Pytlasinski Memorial
August 2-4 — Warsaw, Poland
TEAM USA FULL RESULTS
55 KG
Max Nowry (Army/WCAP) — bronze
WON Dogus Ayazci (TUR) via fall
LOSS Nugzari Tsurtsumia (GEO) 8-1
LOSS Echin Ibragimov (RUS) 2-0
WON Murat Cankaya (TUR) 5-4
60 KG
Taylor LaMont (Sunkist) — 5th
LOSS Erbatu Tuo (CHN) 9-0, TF
LOSS Gevorg Ghabriyan (ARM) 7-1
63 KG
Ryan Mango (Army/WCAP) — bronze
LOSS Aleksandr Hrushyn (UKR) 9-0, TF
WON Rahman Billici (ARM) via forfeit
67 KG
Morgan Flaharty (UA) — 5th
LOSS Mateusz Bernatek (POL) 8-0, TF
LOSS Asker Orshokdunger (RUS) 9-1, TF
72 KG
Ray Bunker (Marines) — bronze
WON Bartolomei Klimek (POL) 9-1, TF
LOSS Malkhas Amoyan (ARM) 9-0, TF
WON Ahmet Yilmaz (TUR) 7-5
77 KG
Andrew Berreyesa (NYAC/FLWC) — 10th
WON Brandon Mueller (Air Force/WCAP) 4-1
LOSS Dawid Klimek (POL) 2-1
Alex Mossing (Air Force/WCAP) — 11th
WON Bin Yang (CHN) 7-5
LOSS Vladmir Yakovliev (UKR) 8-0, TF
Brandon Mueller (Air Force/WCAP) — 13th
LOSS Andrew Berreyesa (NYAC/FLWC) 4-1
82 KG
John Stefanowicz (Marines) — bronze
LOSS Burhan Akbudak (TUR) 10-0, TF
WON Fedi Rouabah (ALG) 8-0, TF
LOSS Salih Aydin (TUR) 10-0, TF
WON Movsar Douguchev (RUS) via forfeit
97 KG
Lucas Sheridan (Army/WCAP) — 10th
LOSS Di Xiao (CHN) 2-1
87 KG
Patrick Martinez (NYAC/FLWC) — 9th
LOSS Yuri Shkruiba (UKR) 1-1 (criteria)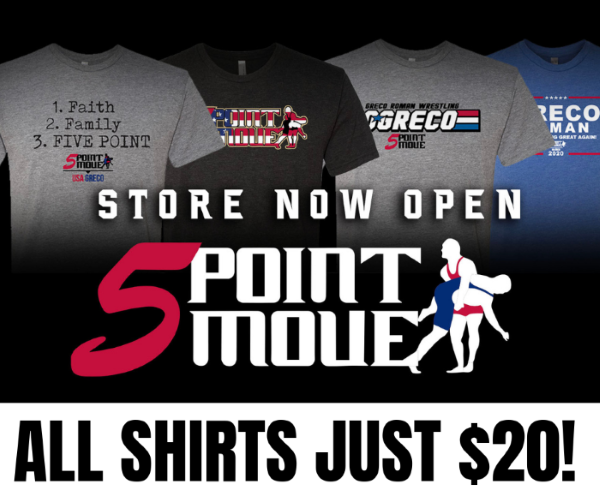 Listen to "5PM26: Princeton's Lenny Merkin and new USOTPC Greco-Roman athlete Nolan Baker" on Spreaker.
SUBSCRIBE TO THE FIVE POINT MOVE PODCAST
iTunes | Stitcher | Spreaker | Google Play Music | RSS
Notice
: Trying to get property 'term_id' of non-object in
/home/fivepointwp/webapps/fivepointwp/wp-content/themes/flex-mag/functions.php
on line
999