Four members of the 2019 US Greco-Roman World Team earned bronze medals on Saturday at the Wladyslaw Pytlasinski Memorial in Warsaw, Poland, one of the most competitive international tournaments held each summer.
Max Nowry (55 kg, Army/WCAP, world no. 12), Ryan Mango (63 kg, Army/WCAP, world no. 17), Ray Bunker (72 kg, Marines), and John Stefanowicz (82 kg, Marines) will all be coming home with hardware — though only Nowry and Bunker actually participated in bronze-medal matches, since Mango and Stefanowicz both received forfeits. Two other Americans — National Teamer Taylor LaMont (60 kg, Sunkist) and Morgan Flaharty (67 kg, NYAC) — are also in position to earn bronze should they emerge victorious on Sunday.
Nowry, operating against Murat Cankaya (TUR), dug in to control the arm for a two-on-one, which would be a pattern in this bout. Nowry observed a brisk tempo and consistently moved Cankaya off his spot early. It was good enough for the officials to reward the American with the first passivity/par terre chance. From top, Nowry collected Cankaya's right arm and hooked inward, turning it into a modified trap-arm gut. He rotated and got the points; but came loose and Cankaya reversed. Cankaya locked for his own gut and rolled it over to earn exposure just as Nowry had almost fully stepped over. They were entangled near the line with Nowry practically kneeling on top of his foe. So, Cankaya hipped, and Nowry stepped, but he did so out of bounds. The score following the sequence was 4-3 for Turkey.


Entering the second, Nowry began working to the side once more scanning for a two-on-one. The on-the-mat official was gesturing and appeared close to calling Nowry for passive. But before he could get it confirmed, Cankaya whiffed on an apparent headlock with Nowry easily covering for two, thus reclaiming the lead. Cankaya tried to make a go of it from then on. His issue was that Nowry was the fresher athlete and resumed his dominance in the tie-ups. With the final score reading 5-4, Nowry checks in with Pytlasinski hardware for the first time in his career.
In what might wind up as one of our Matches of the Year, Bunker systematically broke Ahmet Yilmaz (TUR) en-route to victory. At the whistle, the Marine waltzed into a left-side underhook and immediately brought the pressure. Yilmaz was on his heels and forced to fight back in. Once he gained his composure, he reached around Bunker and nearly got behind but had to settle for a step-out. Following the reset, Bunker resumed his pressure-cooker approach. An off-balance from Yilmaz caught Bunker's attention and they returned to busy work. The action was steady, neither wrestler was content to play chess. Next — and with the official looking to call passive — Yilmaz dumped Bunker to the mat for four right at the edge. This was all within the first :90 of the match. After another reset, the pair were busied up in a 50/50 position near the edge with Bunker hipping just enough for Yilmaz to go out first. More craziness was on the way shortly.
Just as that passive was about to likely be confirmed, Yilmaz got caught underneath Bunker after an attempt to the body fell flat. Bunker pounced, and clamped a front headlock. He planted his legs under and then stepped, plowing Yilmaz over for four at the edge. Initially, the call was a one-point step-out point for Yilmaz. But after the US challenged, four points went in Bunker's direction and he assumed a 5-5 criteria lead.
For as physical as the first period was — and it was — a more tactical tone enveloped the beginning of the second. Yilmaz enjoyed a slight edge in position but Bunker was bearing down. They still wanted that passive call for Bunker, did the officials. And once again, Bunker made them keep it in their pockets. Just as Yilmaz held Bunker towards the line, Bunker scampered back in and ushered Yilmaz out of bounds. He just wouldn't be denied. With the clock ticking away, it was clear that Yilmaz was both frustrated and exhausted. He had no answers, with further evidence arriving in the form of one more Bunker step-out point with under :20 left. The Marine, in a monumental show of heart, comes away with his first medal from Pytlasinski.
LaMont, Berreyesa, & Mossing
National Team member Taylor LaMont (60 kg, Sunkist) had himself a formidable draw in returning Pytlasinski champ and '19 Asian Championships gold Erbatu Tuo (CHN). The gifted Utah Valley stud who made six age-group World Teams prior to this season still holds untapped potential, and he will likely use what occurred today as a learning experience from which to grow.
LaMont/Tuo did not last long. Tuo went to his premier go-to, a front headlock, and cranked LaMont over for four. When they reset, Tuo was at it again, applying the same hold and yielding the same result. There is a brightside: not only is LaMont staying around training camp, but Tuo reached the final. That means LaMont will have a shot at third place on Sunday when he faces '18 Pytlasinski runner-up Gevorg Gharibyan (ARM).
New Blood at 77
As he prepares for the U23 World Championships later in the fall, 2018 Junior World silver Andrew Berreyesa (NYAC/FLWC) jumped on board this tour aiming to harden up with some additional experience. The added wrinkle is the weight: Berreyesa will be competing at 82 kilograms at the U23 Worlds; but for this tournament, he was down at the Olympic category of 77.
But instead of being called upon to test himself against a foreigner in his first bout, Berreyesa had the pleasure of doing battle with '17 Military World Teamer Brandon Mueller (Air Force/WCAP), who made his Pytlasinski debut last summer.
Berreyesa and Mueller display similarities in terms of workrate and stamina, and it showed through the early stages. Both dug inside each other's hunches for underhooks with fervency, but rather than wait to grind it out, Berreyesa uncorked a correct-throw-arm-throw to jump ahead 2-0. The tempo was negligible. Even still, one guy had to be rung up, and that was Mueller. Berreyesa locked for a gut but lost the handle, allowing Mueller to reverse. Now with his own opportunity, Mueller tried to yank Berreyesa over with his own gut — and did achieve rotation — but Berreyesa failed to expose. Alex Mossing (77 kg, Air Force/WCAP) was present in Mueller's corner and wanted a challenge. He and Mueller felt that Berreyesa's legs had played a role in the non-turn. After a brief review, the challenge was denied and Berreyesa walked to the corner at the break leading 4-1.
They tussled and they clashed. Mueller's motor never stopped churning. However, neither athlete was able to engineer meaningful offense throughout the sum of the second period and the score remained the same with Berreyesa prevailing via 4-1 decision.
In the quarterfinal, Berreyesa was edged by highly-seasoned Dawid Klimek (POL) 2-1. Klimek did not advance to the final, ending Berreyesa's tournament at 1-1.
Mossing notched one of the most impressive wins for a US athlete this weekend — and perhaps his biggest international Senior win to date — when he took out 2016 Olympian Bin Yang (CHN) in his first bout. Yang broke the ice with a clean four-point arm spin, although Mossing recovered and raced back into the fight. From there, he looked for two-on-one's on Yang's right side. Nothing was doing, and following another exchange, Yang picked up another point from a step-out. Down 5-0, Mossing appeared to be in heaps of trouble.
But he stayed composed. And when the whistle blew to begin the second, resumed trying to latch onto Yang in search of a worthwhile attempt. Yang wasn't as willing of a dance partner all the sudden, leaving Mossing to carry the load. He would benefit from a passivity call soon enough, and boy, did he take advantage. Mossing got his lock, satisfied his grip, and torqued Yang over three consecutive times to drump up six points. Whether Yang's ribs were taxed or he was simply out of gas is left to speculation. But when the string of guts was finished and it was time to return standing, Yang hung out for more than a moment to ponder what had just transpired. Either way, it translated to a solid 7-5 decision for Mossing and he moved onto the quarters.
Waiting for him was Hungarian Grand Prix bronze Vladmir Yakovliev (UKR). Unfortunately for Mossing, this is where the ride ended. Yakovliev swooped in and arched a lateral for four. Mossing worked to get within range but he might have been reaching too a little too much, because towards the end of the first, Yakovliev found over/under's and four'ed Mossing again to wrap up the tech.
Flaharty & P-Mart
Morgan Flaharty (67 kg) is interested in building a strong foundation for his game ahead of the Olympic Year, making this tour a worthwhile excursion. His first match out of the gate on Saturday, however, was not an easy one — 2017 U23 World runner-up Mateusz Bernatek (POL), who triumphed over Flaharty 8-0. Bernatek did make the 67-kilogram final, allowing Flaharty to recharge for Sunday's bronze round. He is scheduled to square off against Asker Orshokdunger of Russia.
Three-time World Team member Patrick Martinez (87 kg, NYAC/FLWC) engaged in prolonged affair with Yuri Shkriuba (UKR) that was plagued by questionable officiating. Martinez dug in from the outset and tried to drag out to create an angle. Shkriuba unfurled an arm spin attempt that was easily defended. Martinez didn't rush, but he did stay around the head before spinning behind. The ref on the mat held up the signal for two points — and it was white-paddled. Nevertheless, Martinez owned the pace and found little difficulty negotiating the ties and moving Shkriuba around. That got Martinez his passive point. From the ensuing par terre, Martinez loaded for a lift and then went collapse-gut. Nothing was doing and they were back on the feet. Martinez keyed in and thought he had a lane to the body. Again, Shkriuba bailed, though right before the break off-balanced Martinez but was unable to capitalize due to time running out.
Not :40 went by in the second period when Martinez himself was banged for passive. Shkriuba locked and looked gut, but Martinez couldn't be budged. The remainder of the period unfolded in frustratingly familiar fashion: Martinez constantly clashed, pulled, prodded, and lowered his level for looks at the body; and his opposition did not reciprocate. No warnings, no passives, and most importantly, no scoring. The result was a 1-1 loss for Martinez that probably didn't go down so smoothly. As for Shkriuba, he fell in the semifinal to Artur Shahinyan (ARM).
Wrestling resumes on Sunday at 1:00pm local time (7:00am ET) and streams live on SportZona's YouTube channel.
2019 Wladyslaw Pytlasinski Memorial
August 2-4 — Warsaw, Poland
TEAM USA DAY RESULTS
55 KG
Max Nowry (Army/WCAP) — bronze
WON Dogus Ayazci (TUR) via fall
LOSS Nugzari Tsurtsumia (GEO) 8-1
LOSS Echin Ibragimov (RUS) 2-0
WON Murat Cankaya (TUR) 5-4
60 KG
Taylor LaMont (Sunkist)
LOSS Erbatu Tuo (CHN) 9-0, TF
vs. Gevorg Gharibyan (ARM)
63 KG
Ryan Mango (Army/WCAP) — bronze
LOSS Aleksandr Hrushyn (UKR) 9-0, TF
WON Rahman Billici (ARM) via forfeit
67 KG
Morgan Flaharty (UA)
LOSS Mateusz Bernatek (POL) 8-0, TF
vs. Asker Orshokdunger (RUS)
72 KG
Ray Bunker (Marines) — bronze
WON Bartolomei Klimek (POL) 9-1, TF
LOSS Malkhas Amoyan (ARM) 9-0, TF
WON Ahmet Yilmaz (TUR) 7-5
77 KG
Andrew Berreyesa (NYAC/FLWC)
WON Brandon Mueller (Air Force/WCAP) 4-1
LOSS Dawid Klimel (POL) 2-1
Alex Mossing (Air Force/WCAP)
WON Bin Yang (CHN) 7-5
LOSS Vladmir Yakovliev (UKR) 8-0, TF
Brandon Mueller (Air Force/WCAP)
LOSS Andrew Berreyesa (NYAC/FLWC) 4-1
82 KG
John Stefanowicz (Marines) — bronze
LOSS Burhan Akbudak (TUR) 10-0, TF
WON Fedi Rouabah (ALG) 8-0, TF
LOSS Salih Aydin (TUR) 10-0, TF
WON Movsar Douguchev (RUS) via forfeit
97 KG
Lucas Sheridan (Army/WCAP)
LOSS Di Xiao (CHN) 2-1
87 KG
Patrick Martinez (NYAC/FLWC)
LOSS Yuri Shkruiba (UKR) 1-1 (criteria)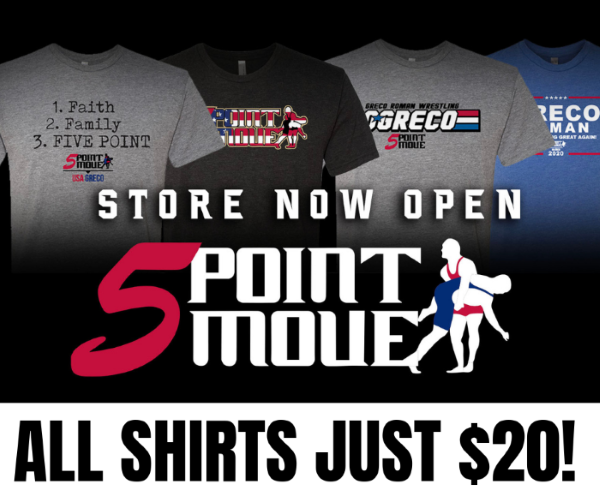 Listen to "5PM26: Princeton's Lenny Merkin and new USOTPC Greco-Roman athlete Nolan Baker" on Spreaker.
SUBSCRIBE TO THE FIVE POINT MOVE PODCAST
iTunes | Stitcher | Spreaker | Google Play Music | RSS
Notice
: Trying to get property 'term_id' of non-object in
/home/fivepointwp/webapps/fivepointwp/wp-content/themes/flex-mag/functions.php
on line
999