Four members of the 2019 US World Team battled it out on Friday at the Wladyslaw Pytlasinski Memorial in Warsaw, Poland in effort to sharpen up ahead of the final push to Nur-Sultan.
Max Nowry (55 kg, Army/WCAP, world no. 12) has had a strong desire to test himself against top-flight foreign competition and that's exactly what he got Friday morning. Operating within a pooled bracket (similar to the Nordic system), Nowry started off by earning a pin over Dogus Ayazci (TUR), who last year enjoyed a strong season that included tournament wins in Zagreb and at the Petrov.
In a scene reminiscent of the Pan Am Championships, Nowry was working from bottom part terre when Ayaczi attempted a turn. Nowry floated, stepped over, and then caught Ayaczi on his back to pick up the fall. In the next round resided an even tougher obstacle, 2018 U23 World Champion/Senior World bronze Nugzari Tsurtsumia (GEO, world no. 5). Things didn't go as well this time around, with Tsurtsumia prevailing 8-1.


That put Nowry in what was the 55 kilogram bracket's semifinal opposite Russia's Elchin Ibragimov. Neither athlete found much in the way of advantageous positioning and the pace was constantly slowed by Ibragimov's lack of aggression. Even still, the Russian received a passive point in the first — and another in the second — and led 2-0 late in the bout. Nowry flipped the switch and nearly dragged behind for a takedown right before the buzzer, but ultimately, Ibragimov remained on his feet and survived to advance to the final. On Saturday, Nowry will go for bronze against Murat Cankaya (TUR), who was steamrolled by teammate Nugzari on the opposite side of the bracket.
Ryan Mango (63 kg, Army/WCAP, world no. 17) fell behind 2-0 to '18 U23 World bronze/multi-time age-group medalist Aleksandr Hrushyn (UKR) on a passive and a step-out following a throw attempt from par terre. Hrushyn added another step-out before the break and one more midway through the second to go up 4-0. Mango was still within striking distance, four points is not undoable. But things went south in a hurry.
First, Mango was rung up for passive. Hrushyn locked for a gut and Mango diligently defended — but was called for fleeing and subsequently penalized for a caution-and-two. That gave way to a restart from par terre, and Hyrushyn quickly gutted Mango once to end the bout at 9-0. The good news is that Mango will have a shot at bronze on Saturday as he faces Billici Rahman (TUR).
The two Marine World Teamers also saw some action on the first day of the Pytlasinski.
Ray Bunker (72 kg) outhustled Bartolomei Klimek (POL) from pillar to post in his first match. Bunker led 3-1 and benefited from a passive/par terre chance, which he used to lock for a reverse lift and dump Klimek over for four more. In front 8-1, Bunker gained position to knock Klimek off the line to cap the 9-1 tech with :12 remaining in the first period. Unfortunately, Bunker's run to the final came to a halt in the semis. Malkhas Amoyan (ARM) capitalized on the first passive chance with a lift that yielded five. To start the second, and now down 7-0, Bunker wanted to pour it on. He clashed into Amoyan and tried to ram him through the zone. However, the result was a scramble on the boundary with Amoyan spinning behind and collecting a takedown. Bunker disagreed and called for the brick. After review, the score held up, and Amoyan had a 10-0 victory. Bunker will next face Ahmet Yilmaz (TUR) for bronze.
John Stefanowicz (82 kg) was turned back by 2017 U23 World Champion Burhan Akbudak (TUR) 10-0 in his first round. Like Nowry, the Marine is in a pooled bracket, so that first loss didn't hurt him too badly. For his second match, Stefanowicz found little trouble delivering a beating to Fedi Rouabah (ALG). That arm throw made an appearance; ahead 3-0 in the second, Stefanowicz set it up perfectly and Rouabah had no choice but to go head over heels. After the reset, the Marine stayed in Rouabah's face and forced him off the line to close it out. Match 3 was another reversal of the script with '17 Junior World bronze Salih Aydin (TUR) emerging victorious 10-0, with Stefanowicz now scheduled to meet Movsar Douguchev (RUS) for bronze.
Final X runner-up Lucas Sheridan (97 kg, Army/WCAP) had himself a fitful, bruising six minutes with 2016 Olympian Di Xiao (CHN). Sheridan kept it physical. He bullied his way to the first passivity point of the contest, though Xiao stayed planted on the tarp. The sequence that provided Xiao with his points was an interesting one. After Sheridan was hit for passive with just under 1:30 to go in the second, Xiao attempted a side lift. As he went to complete the action, Sheridan nimbly kipped up and out of danger. Unfortunately, he landed out of bounds, giving Xiao the extra point he needed to come away the winner of a 2-1 decision.
More to Come
Alex Mossing (Air Force/WCAP), '17 U23 World Team member and runner-up to Bunker at Final X, makes his 77-kilogram debut on Saturday and will see 2016 Olympian Bin Yang (CHN), who is coming off of a 9th-place finish at Karavaev last weekend. Also appearing at 77 kilograms for the first time will be '19 U23 World Teamer Andrew Berreyesa (NYAC/FLWC). Morgan Flaharty (67 kg, NYAC), Brandon Mueller (77 kg, Air Force/WCAP), and three-time World Team member Patrick Martinez (87 kg, NYAC/FLWC) are all expected to compete on Saturday, as well.
Wrestling picks back up again at 10:30am local time/4:30am ET. Live results and links for the stream can be found right here.
TEAM USA DAY 1 RESULTS
55 kg
Max Nowry (Army/WCAP)
WON Dogus Ayazci (TUR) via fall
LOSS Nugzari Tsurtsumia (GEO) 8-1
LOSS Echin Ibragimov (RUS) 2-0
63 kg
Ryan Mango (Army/WCAP)
LOSS Aleksandr Hrushyn (UKR) 9-0, TF
72 kg
Ray Bunker (Marines)
WON Bartolomei Klimek (POL) 9-1, TF
LOSS Malkhas Amoyan (ARM) 9-0, TF
82 kg
John Stefanowicz (Marines)
LOSS Burhan Akbudak (TUR) 10-0, TF
WON Fedi Rouabah (ALG) 8-0, TF
LOSS Salih Aydin (TUR) 10-0, TF
97 kg
Lucas Sheridan (Army/WCAP)
LOSS Di Xiao (CHN) 2-1
TEAM USA DAY 2 DRAWS
60 kg
Taylor LaMont (Sunkist)
vs. Erbatu Tuo (CHN)
67 kg
Morgan Flaharty (NYAC)
vs. Mateusz Bernatek (POL)
77 kg
Andrew Berreyesa (NYAC/FLWC)
vs. Brandon Mueller (Air Force/WCAP)
Alex Mossing (Air Force/WCAP)
vs. Bin Yang (CHN)
Brandon Mueller (Air Force/WCAP)
vs. Andrew Berreyesa (NYAC/FLWC)
87 kg
Patrick Martinez (NYAC/FLWC)
vs. Yuri Shkruiba (UKR)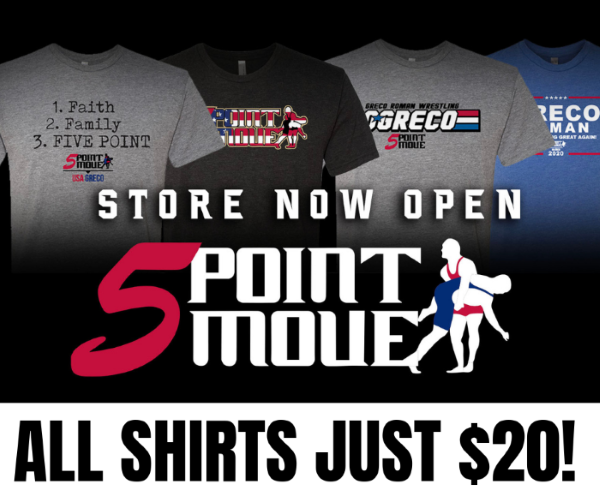 Listen to "5PM26: Princeton's Lenny Merkin and new USOTPC Greco-Roman athlete Nolan Baker" on Spreaker.
SUBSCRIBE TO THE FIVE POINT MOVE PODCAST
iTunes | Stitcher | Spreaker | Google Play Music | RSS
Notice
: Trying to get property 'term_id' of non-object in
/home/fivepointwp/webapps/fivepointwp/wp-content/themes/flex-mag/functions.php
on line
999