The second group of USA Greco athletes to hit the mat at the 2019 Cadet World Championships showed a lot of heart, but only one of them is in position to earn a medal.
Action began at 10:30am local time (3:30am ET) from Sofia, Bulgaria and aired live in the US on Trackwrestling.
2018 Fargo champ Tyler "Truck" Hannah (92 kg, Combat) had perhaps the toughest draw on paper for the US Saturday morning in the form of '17 Cadet World champ Muhammad Evloev (RUS). But he did not walk onto the mat without some confidence. Hannah eagerly engaged Evloev and looked to work on the hands. It was just Evloev's position that was a problem. A brief exchange saw Evloev busy Hannah towards the line and eventually off of it, yielding a point. Following a reset, Evloev angled to a slide-by and Hannah was immediately in danger. The Russian quickly converted consecutive guts to take a 6-0 lead. Just before the break, Evloev notched a step-out to edge the gap a little wider.
It wouldn't be a Cadet Worlds (Or any Worlds, for that matter — Ed.) without a questionable call. Soon into the second, Hannah was penalized for "negative wrestling", the rule guideline making a re-appearance for this tournament. Two points went to Evloev; the US challenged the infraction — and lost; and Hannah was on the wrong end of a 10-0 tech.
Evloev advanced to the final, pulling Hannah back into the repechage round tomorrow where he will greet Saeid Karimizadeh (IRI). Evloev defeated Karimizadeh 8-4 in the round-of-16. Hannah will need to win three bouts to earn his bronze.
Decker
Gifted lightweight prospect Parker Decker (60 kg, Mile High WC) enjoyed a strong first-ever match at the Worlds, running over Arturs Seskens (LAT). If there were nerves involved, they were eradicated early, as Decker pounded out an arm throw and viciously added a gut on the back-end of the sequence to surge in front 6-0. The score stayed put until the second when Decker, who looked to be gaining steam, darted in on Seskens for a takedown that tied a bow around a 9-0 tech.


Decker's tournament began in the round-of-16, which meant he was already in the quarters by the time Arman Vardanyan (ARM) was standing across. Their energy was mutual; both wrestlers intently tested one another's reactions and body mechanics. Vardanyan drew first blood with a step-out. A short time later, Decker responded by hustling Vardanyan off the edge to take a 1-1 criteria lead.
It all bitterly unraveled in the second period. Armenia clasped and wrangled a takedown. In the ensuing struggle, Decker was banged for legs, which translated into two more points going Vardanyan's way. They reset from par terre with Vardanyan on top, and two gutwrenches hence it was over via tech.
Unfortunately, Vardanyan was shut down by Mert Ilbars (TUR) in the semifinal, dashing Decker's hopes for a bronze.
Gehloff, Strickenberger, & Segura
Fireballing age-group stud Mason Gehloff (45 kg, Sebolt) trailed Gheorghita Scheul (ROU) 4-0 following a first-period sequence, though he remained undaunted. Gehloff got back to work and started coming on. He wanted to dictate the tempo, and when he found his chance, he took it. Gehloff got around on Scheul for a much-needed takedown and cut his deficit in half entering the second.
Tension ruled the remainder. Gehloff wasn't about to back off, but to his credit, Scheul didn't go into full retreat mode with the lead, either. With time winding down, Scheul pounced and swam behind to net two takedown points. Gehloff had one last gasp effort as precious seconds disappeared from the clock, but just fell short. Scheul was blanked in the quarters by Mahdi Ahadi Zenab (IRI), eliminating Gehloff from a potential shot at bronze tomorrow.
One young man who impressed Saturday morning but won't go home with a medal is Jett Strickenberger (51 kg, SOT), who faced Ou Deng (CHN) in his first bout. Strickenberger pried for openings through much of the first and did not seem phased by the size of the stage. The action was fairly even, but then in a flash, Strickenberger found double underhooks and dumped Deng to his back just ahead of intermission for four points. The second period unfolded similarly to the first — until Strickenberger struck again, creating a lane to the body and depositing Deng for four more. China challenged — and lost — giving Strickenberger once more point and a 10-0 victory via technical superiority.
Strickenberger fought and fought throughout his next match but was unable to get over the hump. Denis Mihai (ROU) scored first when he collected a takedown that included a follow-up attempt that put Strickenberger off the edge. The American answered right back with a takedown that he didn't let go to waste, instead converting for exposure points and a 4-3 advantage. It was topsy-turvy. Then Mihai got on a run, zipping for a takedown and two guts. Romania added two more points before the break — and another takedown shortly into the second period — to prevail 13-4. Mihai fell in the proceeding round to Elmir Aliyev (AZE), thus ending Strickenberger's tournament altogether.
Daniel Segura (71 kg, Team Miron) should be proud of his effort in Bulgaria. He never stopped coming forward, never gave an inch to Andreas Vasilakopoulos (GRE). Vasilakopoulos led 3-2 at the break with Segura intent on seizing the momentum. The game-changer (and not in a good way) was a non-call on a step-out. Segura had appeared to hustle Vasilakopoulos off the line but there were just enough moving parts to cause confusion. If the point was upheld, Segura would have had a 3-3 criteria lead. However, after said point initially being awarded, it was waved off by the table with Segura still behind 3-2. So it was a race to the finish. Segura went hard at Vasilakopoulos , trying to gain a handle on a limb, head, anything that would result in a score. He breathlessly got after it. But — Vasilakopoulos kept his feet through the remainder before getting his doors blown off by Rauf Aliyev (AZE) in the round-of-16.
Perez Falls in Repechage
Robert Perez III (ABG) never got going against Arman Khachikyan (ARM) in the 65-kilogram repechage round. Khachikyan swarmed and threw Perez to his back, and the ending follow soon enough.The California star did his letter-best to claw his way back to daylight, but eventually, the fall was called and Perez's World debut had reached its conclusion.
Sunday's repechage round begins at 4:00pm local time (9:00am ET) and can be viewed live on Trackwrestling.
2019 CADET WORLD CHAMPIONSHIPS
August 2-4 — Sofia, Bulgaria
TEAM USA DAY 2 RESULTS
45 kg — Mason Gehloff (Sebolt)
LOSS Gheorghita Scheul (ROU) 6-2
51 kg — Jett Strickenberger (SOT)
WON Ou Deng (CHN) 9-0, TF
LOSS Denis Mihai (ROU) 13-4, TF
60 kg — Parker Decker (Mile High WC)
WON Arturs Seskens (LAT) 9-0, TF
LOSS Arman Vardanyan (ARM) 9-1, TF
71 kg — Daniel Segura (Team Miron)
LOSS Andreas Vasilakopoulos (GRE) 3-2
92 kg — Tyler Hannah (Combat)
LOSS Muhammad Evloev (RUS) 10-0, TF
TEAM USA FULL RESULTS
48 kg — Corey Land (Ironclad)
WIN Berat Keskin (TUR) 8-0, TF
LOSS Rupin Rupin (IND) 6-1
55 kg — Conor Knopick (MWC)
LOSS Oliver Skrzypczak (POL) 13-4, TF
65 kg — Robert Perez III (ABG)
WIN Kristjian Bosnjak (CRO) 8-0, TF
LOSS Sheraz Ochilov (TJK) 6-0
LOSS Arman Khachikyan (ARM) via fall
80 kg — Tate Picklo (Matrix)
WIN Robyn Paulberg (EST) 8-0, TF
LOSS Jonni Sarkkinen (FIN) 8-4
110 kg — Braxton Mikesell (Central Valley WC)
LOSS Mate Gokadze (GEO) 4-2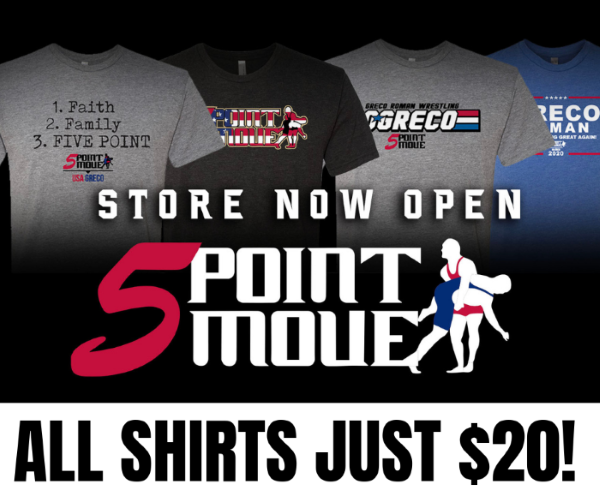 Listen to "5PM26: Princeton's Lenny Merkin and new USOTPC Greco-Roman athlete Nolan Baker" on Spreaker.
SUBSCRIBE TO THE FIVE POINT MOVE PODCAST
iTunes | Stitcher | Spreaker | Google Play Music | RSS
Notice
: Trying to get property 'term_id' of non-object in
/home/fivepointwp/webapps/fivepointwp/wp-content/themes/flex-mag/functions.php
on line
999