He did not receive as many competitive opportunities as he's used to having. But every time G'Angelo Hancock (97 kg, Sunkist, world #7, 5PM #1) stepped on a mat in 2020, he made it count. In doing so, he also now becomes the first person to be named 5PM's Athlete of the Year twice.
For the second consecutive year, the voting committee was swayed by two factors when it came to Hancock: performance results and wins over quality competition. The difference this time, aside from total number of matches, is that he stands alone — in '19 Hancock shared Athlete of the Year honors with Max Nowry (60 kg, Army/WCAP, world #3 at 55 kg, 5PM #3).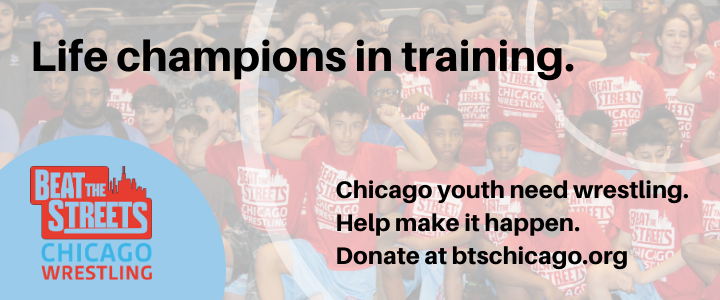 Hancock, 23, only had three tournaments in which to make an impact. He did not disappoint. His 2020 campaign began at the Matteo Pellicone "Ranking Series" tournament last January in Rome. After blowing out '16 Olympian Hardeep Hardeep (IND), Hancock earned a 5-0 decision over German Ramsen Azizsir. In the semifinal round, '17 European Championships gold Felix Baldauf (NOR) prevailed against Hancock 7-2. The rebound, however, was an impressive one. For bronze, Hancock demolished two-time U23 World Champion Semyon Novikov of Ukraine in under a minute, closing out the tournament with a 9-0 technical superiority that was the result of a forceful gut-lift combination.
The focus then shifted to March and a critical trip north of the border to Ottawa, Ontario, Canada. The United States program had back-to-back assignments, with one more important than the other. First was the Pan-American Championships on March 6; the following week, the Pan-American Olympic Qualifier.
With "Ranking Series" points looming as an incentive, Hancock did not require any additional motivation. Not to say it was a breeze, although he had found little trouble disposing of Edson Acuna Salazar (MEX) in the opener of pool competition. The next round presented '19 Junior World Champion Gabriel Rosillo (CUB). Talented, quick, unpredictable, and a young scoring machine in his own right, Rosillo was no stranger to Hancock, or anyone else on the US side. They had a history, particularly because Rosillo defeated Hancock in both Pan-Am events the previous year. Their matches were messy. Chaotic. Confusing. Each one told a different story and their first tussle in Ottawa failed to deviate. An odd sequence saw Rosillo net a turn and catch Hancock on his back. The official called a pin, and out of nowhere, it was over.
Hancock dusted himself off for the next round, grabbing a contentious decision at the expense of Luillys Perez Mora (VEN). The victory provided Hancock with another shot at Rosillo in the gold medal match. Brevity was on the agenda. Hancock roped a pair of front headocks from par terre, each scoring four, and the matter was settled inside of the first period.
It was Hancock's first Pan-Ams gold, counting three prior appearances in the Championships along with the '19 Games. There was good reason to acknowledge the feat, just not enough time. No one was fooling themselves. The Pan-Am Championships event was about earning points and, just in case, creating bracket separation in the Qualifier (most specifically, the Cubans, though this concern was obviously not shared by Hancock).
The week in between events gave rise to an uneasy feeling. The United States had begun preparing for COVID-19 to make landfall much like a destructive hurricane. Athletes, coaches, staff… They were fielding calls from friends and relatives while in Ottawa, wondering if they might wind up stuck at the airport after the tournament concluded. The event organizers soon banished fans from attending; they didn't expect a full house, anyway, but the empty arena on March 13 seemed to host a menacing grey cloud. It would be a portend of things to come. Yet, even under indefinable ominosity cloaked in darkness, the US performance on that Friday provided supporters with a bright, shining light — and Hancock's role in that perception couldn't have been much larger.
Methodical. Destructive. Elegant. Hancock plundered the field in waves. He anticipated victory. That wasn't the issue, nor a singular proposition. The lot at 97 kilograms understood what awaited them, too. They just had no hope of stopping it. One by one, Hancock was checking boxes down the list with all of the emotion you'd expect from a contract killer. Mexico? Done, 8-0, see ya later. A return bout with Perez Mora, with whom Hancock struggled the previous week? Goodbye, 9-0. The dedicated Thomas Barreiro of Canada, whose physical makeup elicits visions of a human battering ram? Sorry, but I'm not sorry. 
Nothing about the reckoning was personal. Strictly business.
By the time Hancock had reached the penultimate bout of the day, the Qualifying-spot clincher against longtime adversary Kevin Mejia Castillo (HON), he had racked up three dominating superiorities without giving up a point. Castillo? The whole thing was appropriate, for it was the Honduran who is credited with cracking open Hancock's understanding of foreign competitors while he was still but a teenager. Those early bouts were tough on Hancock. Life has changed. Castillo — who had nearly clipped Rosillo in the first round of the tournament — was, again, found wanting. Hancock, he was equal parts deliberate and explosive in closing up shop. One more name to cross off. One more tech fall to adorn his ledger.
The task was complete. Hancock advanced to the final, thus securing 97 kilograms for Team USA Greco-Roman in the Tokyo Olympics. But, he and Rosillo both decided to run it back. Call it a mutual yearning for elite competition, or a simple desire to test each other one more time. Go ahead and call it a co-opted exercise intended to demonstrate what upper-weight Greco can look like on a regular basis. Tag it whichever way you please. In a tournament where finals matches invited zero consequences other than putting pride at risk, Hancock and Rosillo chose to heave their chips towards the center of the table as if bound by an agreement to conclude the Greco portion of the event on a high note.
Such is what they tried to do.
In a match that was later clipped and parsed by United World Wrestling so as to recap the tournament, Hancock and Rosillo provided almost too many highlights. And not in a loose, "exhibition match" sort of fashion. No, they meant it. Each and every exchange was contested. They traded multi-point techniques the same way Hagler and Hearns traded power shots. It was quite the scene. And when behind by three points with time about to expire, Hancock wailed a bodylock that shook the rafters. He prowled, pounced, and snatched up Rosillo, twisting, he thought, his way to victory. Alas, the clock had reached zero just as Hancock had declared the action. Unfortunate for him, though undeniable the display put forth by both in its totality.
This was Hancock's season. It did not end in April or August. Other than a one-off exhibition in November opposite Alan Vera, he has remained dormant. All he desires at the moment is a rightful continuation. One that makes sense. One in which he doesn't have to bury his head in his palms and ruminate about work not being done. That he is always good for, doing the work. It's why you know his name; why if he makes the US Olympic Team, the medal hopes will be high.
Why he has just won this award twice.
Five Point Move Athlete of the Year
2020: G'Angelo Hancock
2019: G'Angelo Hancock & Max Nowry
2018: Adam Coon
2017: Kamal Bey
2016: Jesse Thielke


Listen to "5PM43: Christmas Time with Millersville's Kerry Regner" on Spreaker.
SUBSCRIBE TO THE FIVE POINT MOVE PODCAST
iTunes | Stitcher | Spreaker | Google Play Music
Notice
: Trying to get property 'term_id' of non-object in
/home/fivepointwp/webapps/fivepointwp/wp-content/themes/flex-mag/functions.php
on line
999