There is a problem. It is a good problem, and the reason why that isn't paradoxical is because the USA Greco-Roman National program stands as the beneficiary. The issue of the day? They have more depth than previously realized.
Roughly three months away from the Last Chance Olympic Trials Qualifier, the two heaviest weight categories are witnessed as emerging propositions. In one corner, there are a few concrete individuals whose collective experience and track records suggest unquestioned candidacy. But on the other, a groundswell of youth. When you combine the two weight classes, what you find are over a dozen capable athletes, all under the age of 25, and many of whom with relevant miles logged in Senior competition. Entering this Olympic cycle, the lens was narrower. These brackets were in sore need of replenishment.
Not anymore.
The Last Chance Olympic Trials Qualifier, had it occurred on schedule last spring, was deemed by many as both the second most important tournament of the domestic season as well as the most "packed" event of its kind in several cycles. A 12-month postponement has not altered this perception. In fact, it has only served to expand the field; and curiously enough, the upper-weights are at least partially responsible for why that is the case.
Other 2021 Watchlists
2021 Watchlist: US Last Chance Olympic Trials Qualifier
In order to produce lists of potential contenders for the Last Chance Olympic Trials Qualifier, the 5PM Rankings acted as the primary source — though recent performances along with previously acquired credentials and presumed athlete availability factored in, as well.
The conclusion of this three-part series spotlights 97 and 130 kilograms, two weight classes that have been the subject of much scrutiny over the past four years. Participation in these brackets has at times fluctuated, with the result bearing an unsettling degree of predictability — most significantly among those considered on the fringe of National Team-level competition. Less names tends to lead to less surprises when it comes to tournament placings.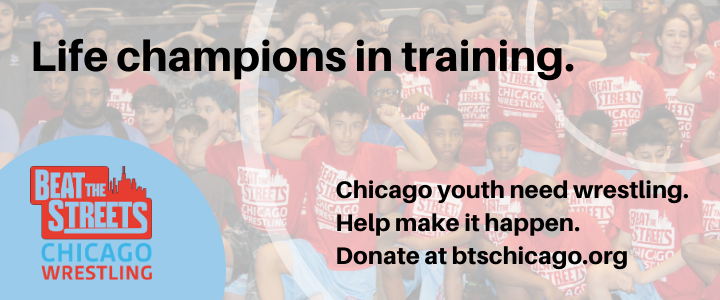 An influx of athletes, be them former age-group stars or viable newbie Seniors, are fitfully chipping away at the manner in which these monster-driven categories are viewed. And as you might suspect, the timing couldn't be more perfect.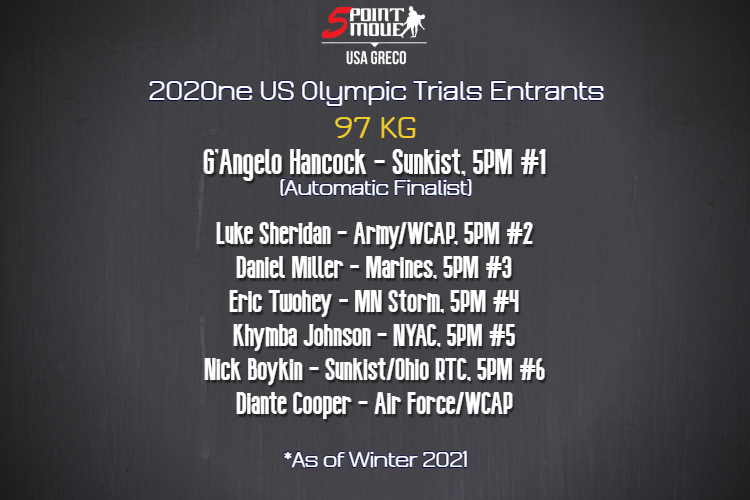 97 kg
Orry Elor (NYAC, 5PM #7)
'14 University World Team
Could fight his way into one of the two spots. Certainly capable. It feels like people forget about his enormous amount of experience, and maybe part of that is due to how quickly this weight class became top-heavy over the course of the quad. First it was Hancock and Zillmer, then Miller and Sheridan after Zillmer. There have been some others, too, but the point is that Elor is now fully under the radar. Might be an advantage. 
Chad Porter (Sunkist, 5PM #8)
'18 Junior World Team, ,'19 U23 World Team, '20 US National runner-up
The most encouraging aspect is the consistency. That was a brief concern in '18, when you didn't know if he was going to stick around. Now he is deeply invested. Had a few very solid matches at the '19 Senior tournament. Gave Miller a run for his money but Elor ended the qualifying bid. Performed up to expectations in October. Slinks into position pretty smoothly, busy on the hands… Plus, just a sharp wrestler overall. His final against Boykin was an underrated match entertainment-wise, too. 
Braxton Amos (Wisconsin RTC, 5PM #9)
No one was surprised about his run in October. A machine in the making. Has as a small but relevant history with Boykin and they had a very tight match this time. The attitude is what matters. He had that as an age-grouper, a natural fighter packaged in a prototypical frame. Who are his partners at Wisconsin? That's a worthwhile question. Par terre is what wins at Senior, especially at this weight. Other than that, for sure a potential finalist.
George Hooker (All-Army)
'20 U23 National Champion
If not for a decision win in the final, Hooker's performance at U23 would have been labeled "dominating". Good tournament for him. The win was nice; nicer still was getting to see him have the chance to display some offense. Remembering that '19 US Open. Was given the last seed, went 0-2. Last year he stepped in on relatively short notice for Armed Forces and went 1-2. But, those events were at 87. Could it be that 97 is a better fit?
Timothy Eubanks (NMU/NTS)
Not the smoothest road for him, having started at Williams Baptist and then making his way over to Marquette. Sometimes those moves, even when an upgrade, cause a disruption. But he's coming along. Lets himself get moved around and out of position a little, usually a sign of indecisiveness. Was originally ticketed for 87 but is gaining the strength for this climb. U23 in November demonstrated his improvement. 
Jeremiah Imonode (West Point RTC)
One of those wrestlers who seems to have identified Senior Greco as a career-extender and is pursuing it accordingly. Has made a few appearances over the past couple of years, though he was outgunned most of the time. That wasn't the case in Coralville, where he finished fourth and only took losses to Porter and Amos. A bit of a plodder but very quick in transition. Solid arm drag, too. Would like to see more intensity from the outset, however. 
Trey Hardy (NMU/NTS)
A lot of his attention has been focused on the weight room but was already a very strong wrestler before that. Hasn't had a million competitions despite being a full-timer for over a quad, which is a big missing piece. Tentative at times in matches, too much so. This has led to getting caught in some bad situations. Either pull the trigger or don't. Problem is that he is capable of more than he realizes. You root for him to understand that. You kind of root for him, period. No reason why he shouldn't present a serious problem here if prepared to jump levels. 
Brady Vogel (Dubuque WC)
Has the whole center of gravity thing working for him, ala George Sikes. Which is to say, he's short for the weight class. Like most of the young guys, particularly in the upper-weights, does not seem to know that it's okay to clear a position he doesn't like in an effort to find a new one. A common issue. Ability is there, though. A gamer, wants to create action. Not a bad quality.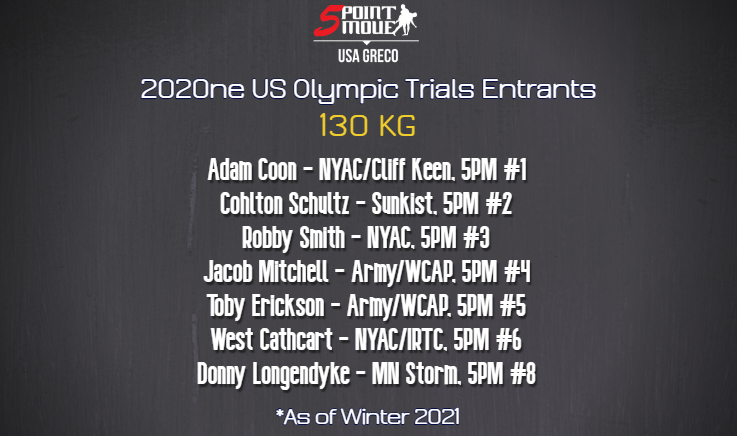 130 kg
Tate Orndorff (NYAC, 5PM #7)
'19 U23 World Team, '19 US National runner-up
An unknown potential asset. Is he in? Is he out? Could have wrestled Greco in Coralville but opted for the other style. So, might not be a factor here. Shame. We don't like to lose anyone, nevermind an excellent heavyweight who made a National Team in his first try ('18). If he decides that this is his best shot at the Trials, will be seen as a presumptive favorite. 
Trent Osnes (Marines, 5PM #9)
Packed on some size just prior to an injury that x'ed out his entire season last year. Not many upper-weights these days are 'tweeners the way he had been. Yet, he was managing pretty well once he committed to 130. Just a very tough, bruising kind of heavyweight. Would have been nice to see how his more recent overseas experiences might have influenced his approach while those were still fresh. Don't count this guy out. 
Tanner Farmer (IRTC, 5PM #10)
Is he the top seed? That's a possibility if Orndorff sticks with legs. The seed doesn't matter, of course. Those who have done their homework know that much. They also know that in one tournament, Farmer made a huge splash and has already acquitted himself quite well against a couple of stud heavies. People fall in love with the size and power, but it's the footwork and balance which stand out even more. That he is in maybe the best room in the country for this weight is another arrow in his quiver. 
Hadyn Maley (California RTC, 5PM #11)
Didn't go to the December '19 tournament. College season, etc. But he sure was a player at the '19 Open, where he placed fourth. After Fargo and any and all age-group concerns previously, watching him outwrestle a few really good Seniors would have suggested, to anyone with a working brain, that qualifying at the '19 Nationals was a very legitimate possibility. But he didn't enter. Have his prospects changed since then? Not really. He's that good. 
Tommy Helton (Southern Illinois RTC, 5PM #12)
A true "Greco guy" dating back to his youth. You think of Fargo and summer duals, that sort of thing. Meanwhile, he is an actual young man now — which is why it has felt really good to watch him continue down this path. Knows position. Patient. Proud resident of "Underhook City". Has had a couple of Senior losses he would probably like to have back. Has also hung in there with more-established types and trucked a few others. An extremely promising package if he sticks with it. Just keep it rolling. 
Luke Luffman (IRTC, 5PM #13)
'18 Cadet World Team
Hard to ignore the ability. A "total wrestler" who happens to love this discipline and is coached properly. Doesn't let opponents get away with those myriad little time-wasting mechanics, which are epidemic at heavy. Also doesn't love collar ties. Will fight out of them and move to a more scoring-friendly position as soon as possible. Drags, snaps, minding the zone… He does it all well. Top-shelf material. Is this tournament too soon in his Senior career? Not if he focuses on it. Shouldn't be hard to do considering the company he keeps. 
Malcolm Allen (LOG, 5PM #14)
Wasn't too long ago when his name would have been brought up earlier. Time away from competition does that. Still a tank. Ended the Coralville event with a 3-3 record, good for sixth. The landscape is a little different from '16-'18. Depth has increased significantly since then. Partners will be important coming up if he's going to make a run at this thing. 
Roy Nash (NMU/NTS, 5PM #12 at 97 kg)
'13 Junior World Team
Reportedly eyeing the climb north. Questionable, but he returned to action in '18 at 130, so there's that. Consistent competitor. If he turns the heat on, backs guys up without a problem. Hard contact early in bouts should be a more frequent tool. Set the tone more on his terms. Has a tendency to win big or lose big. You don't like to make that into a topic in this sport. What you do know is that he's better than his recent results. 
Conor Karwath (Rise)
Had the misfortune of drawing Cohlton Schultz in the first round of the past two Nationals. Not an ideal way to start a tournament in a repechage-less system. A product of Williams Baptist. That in and of itself shows you his zeal for competition. A promising up-and-coming heavyweight whose development could skyrocket if he expands his horizons. Powerful. Game. Aggressively exploits opponents' mistakes. Some will say it's still too early. They're probably right. But these tournaments are crazy sometimes. 


Listen to "5PM43: Christmas Time with Millersville's Kerry Regner" on Spreaker.
SUBSCRIBE TO THE FIVE POINT MOVE PODCAST
iTunes | Stitcher | Spreaker | Google Play Music
Notice
: Trying to get property 'term_id' of non-object in
/home/fivepointwp/webapps/fivepointwp/wp-content/themes/flex-mag/functions.php
on line
999