FORT WORTH, TX — Many in and around the stands, and on social media and everywhere else, keep referring to this Olympic Trials as "crazy". And while there are several deviations from the norm, defining it that way might be a stretch. After all, if any tournament is supposed to be "crazy", isn't it this one?
The Challenge Tournament finals of the 2020 US Olympic Team Trials began at 6:30 pm CT live from Dickies Arena and aired on NBC Sports Universal.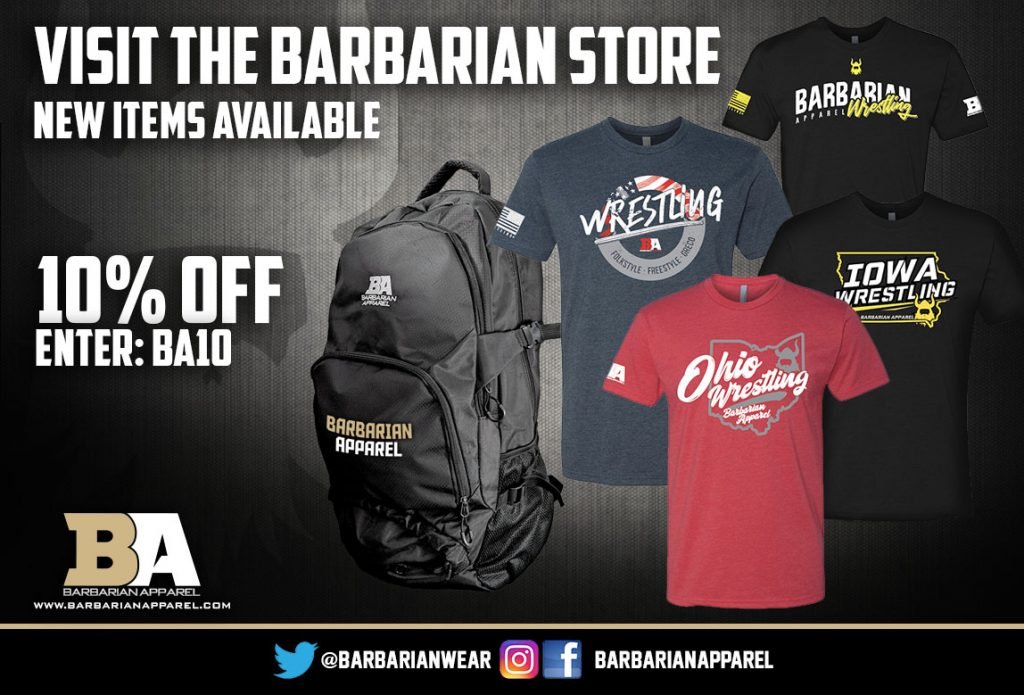 The card kicked off with one athlete who had generated a ton of buzz earlier in the day, and an established, if not regal competitor everyone knows by name. Such was the setting for the 67-kilogram showdown between '20 National Champion Benji Peak (Sunkist/NTS, 5PM #10) and '12 Olympian/multi-time World Teamer Ellis Coleman (Army/WCAP, 5PM #1).
Just as had been the story earlier on Friday, it was Peak who drew first blood. The pair tangled in the ties with "Mr. Fantastic" getting the better of the exchanges thanks to those long-armed underhooks. Passivity rang in on Coleman, and Peak swarmed with a lift that yielded two. The tempo was on and off, ebbing and flowing. Both wrestlers seemed as though they wanted to unleash, but couldn't, lest one slip on a banana peel and ruin the dramatic wrinkle embedded within the struggle.
The second period is always make or break in critical matches during critical events. Peak, for all of his youthful exhuberance, certainly understood that directive. So, he pawed and clutched Coleman, trying to maintain an active posture. But Coleman, the experienced pro, dug in even harder. The inevitability was a passive, which entered the equation midway through the period. Coleman achieved his clasp in an effort to rake a gut. He reset the lock and rolled Peak once; then he went elbow-to-elbow and cranked over two more for a 7-3 lead.
Peak did what he could to not abandon protocol. The basics were still evident as he worked to avail windows. Coleman's positioning, strength, and balance — well-honed over the course of a ten-year-long career, were all visible, as well. And with the 7-3 triumph, "The Flying Squirrel" moves on to tomorrow's best-of-three opposite teammate Alex Sancho (5PM #2).
More Army
Army/WCAP is guaranteed an Olympian at 67 kilos. It is the same deal at 60, where '19 World Team member Ryan Mango (5PM #2) outlasted two-time National Champion Mike Fuenffinger (5PM #4).
Movement, motion, and an intimate degree of familiarity with one another thus set the tone. They jousted as if almost in a mirror, each man's positioning mirrored and countered in a synchronized fashion. Mango wasn't exactly heavy on the wrists, but his hips in conjunction with the pummel-work were enough to garner the first par terre opportunity. From top, the Stanford grad looked to lift. But after he set his legs there was a pause. It appeared to be a hitch in his step. No harm done, however, as Mango shook it off and eventually walked into the break holding a 1-0 advantage.
A minute into the second period, Mango weaved inside of Fuenffinger's grasp and looped an apparent salto. The action initially was scored for tow, but a Fuenffinger challenge wiped those points off the board. At the restart, Mango pounced for a takedown, essentially getting those points back. Fuenffinger then, naturally, increased his urgency. He brought forth more speed, more angles, and the occasional dip in levels. Mango was prepared for all of it. Pocketing a 3-0 victory, he now prepares to face Ildar Hafizov (world #5, 5PM #1) tomorrow.
STEF & P-Mart
87 kilograms, in near perpetuity the most underrated bracket in the nation, offered a Challenge Tournament final that hardcores could fully appreciate: three-time World Teamer Patrick "P-Mart" Martinez (NYAC, 5PM #3), and fresh 87 entrant John Stefanowicz (Marines, 5PM #4), who represented the US at Nur-Sultan '19.
Slugfests are part and parcel with the methodology for both athletes, and they delivered a memorable one on Friday night. Martinez observed a more prowling posture as he waded into the trenches. Stefanowicz met him head-to-head, and their opening pummel was tight, save for sporadic re-adjustments. Again, the scoring just wasn't going to come from the feet. Although Martinez was able to let loose on Jon Anderson (West Point WC, 5PM #5) in the semis, Stefanowicz was decidedly non-compliant in betraying similar vulnerabilities. Passivity it was, on Stefanowicz, and Martinez's gut attempt — while suitably rib-crunching — didn't produce an exposure.
The order flip-flopped in the second. Martinez was dinged, giving Stefanowicz his chance to do some damage. No dice. But, there was a little ketchup involved. "STEF" required a time-out before heading back into the fight whilst owning criteria. Martinez, he navigated the ties and switched off towards short looks to the body. Nothing doing. A brief adjustment and some more. Stefanowicz, who did need one more respite to address some blood, as well as staff did in order to wipe the mat, didn't mind the playback. The Marine kept his feet to the whistle, and Joe Rau (TMWC/IRTC, 5PM #2) will be waiting for him Saturday night for the best-of-three.
Amos & Boykin: Youth Runs Wild
Braxton Amos (97 kg, Wisconsin RTC, 5PM #9) took out the #2 seed Luke Sheridan (Army/WCAP, 5PM #2) in the semis; '19 Junior World rep Nick Boykin (Sunkist/Ohio RTC, 5PM #5) did his part by wrecking the day of top-seeded Daniel Miller (Marines, 5PM #3). Add in Amos' 19 years of life on Earth, and Boykin's two wins over the West Virginian, and what you had was a bout that was on every serious fan's "must watch" list.
Much will and should be made of Amos' improvements match-to-match over the past week, but what should not get lost in the discussion is the progression of Boykin, whom throughout this event has displayed a sharper edge and an uptick of athletic sensibilities which project even better in the future. His conviction helped propel him to the match's first score, a nifty reactionary takedown. Amos ambled to his feet afterwards instantly searching for payback. No reasonable opportunity for an answer-back score.
Amos did strike back. Passivity helped the cause. Boykin got put down, and Amos squeezed and squeeze on his lock to net a turn. Boykin ambled up at the completion of the score, and Amos was right there to force a step-out. Up 4-2, the future Badger was in control. As the match began to wind down, Boykin leapt, and leapt again, attempting with all his might for a Coleman-esque match-saver. On the second try, Amos caught him and inadvertently, or not, slammed Boykin to the mat. The 4-2 triumph caps what has been a sizzling Challenge Tournament run for the Junior-eligible Amos, who next squares off with three-time World Team member G'Angelo Hancock (Sunkist, 5PM #1) to see who goes to Tokyo.
Wrestling resumes at 12:00pm CT with consolation rounds. Best-of-three finals start at 6:30pm and air on NBC Sports Universal. 
2020 Olympic Team Trials
April 2-3 — Fort Worth, TX
CHALLENGE FINAL RESULTS
60 kg: Ryan Mango (Army/WCAP) def. Mike Fuenffinger (Army/WCAP) 3-0
67 kg: Ellis Coleman (Army/WCAP) def. Benji Peak (Sunkist/NTS) 7-3
87 kg: John Stefanowicz (Marines) def. Patrick Martinez (NYAC) 1-1 (criteria)
97 kg: Braxton Amos (Wisconsin RTC) def. Nick Boykin (Sunkist/Ohio RTC) 4-2




Listen to "5PM47: Nate Engel and Xavier Johnson" on Spreaker.
Listen to "5PM46: Taylor LaMont and Jessy Williams" on Spreaker.
Listen to "5PM45: Chatting with Dennis Hall and Max Nowry" on Spreaker.