FORT WORTH, TX — A major youth movement has materialized on Friday evening during the 2020 US Olympic Team Trials — and maybe, everyone should have seen it coming.
It began at 67 kilograms, where '20 National champ Benji Peak (Sunkist/NTS, 5PM #10) got ahead of '19 World Teamer Ray Bunker (Marines, 5PM #3) and put a bow on the proceedings nearly immediately. Peak scored a takedown, followed with a gut, and then once again went to his side lift. As soon as it was locked, so was the result. Peak brought Bunker up and over for four, ending the match at 9-0 (following a Marine challenge).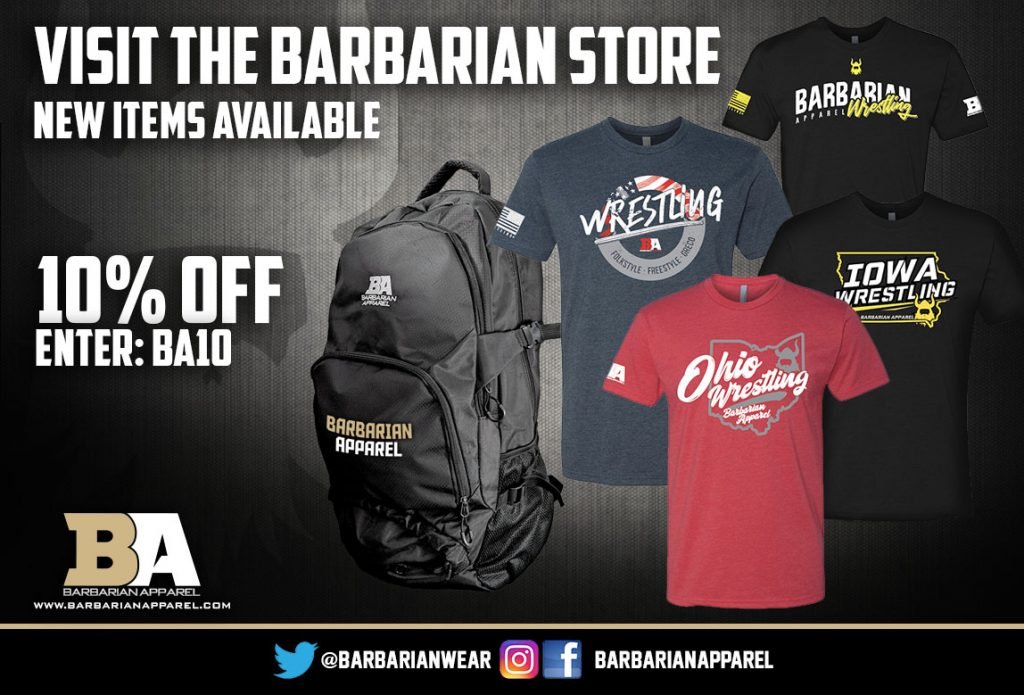 Peak is one wrestler to have emerged from the Last Chance Qualifier and advance to the Challenge final. The other is from his own room. Jesse Porter (77 kg, NYAC/NTS, 5PM #12), whom like Peak also had to fight from the round-of-16 onward, took advantage of the second period passive to engineer two correct throws (via lift) and send returning World Team member Patrick Smith (Minnesota Storm, 5PM #1) to the consolation bracket.
97 kg — Let's Have It
19-year-old Braxton Amos (Wisconsin RTC, 5PM #9) survived a couple of close calls in the form of Luke Sheridan (Army/WCAP, 5PM #2) on his way to a jolting 8-6 decision. Amos' lead in the second period had ballooned to 8-2 until Sheridan cranked a four-point front headlock. That was as close as the multi-National Team member would get, however.
On the top side of the bracket, '19 Junior World Team member and reigning National champ Nick Boykin (Sunkist, 5PM #6) surprised Daniel Miller (Marines, 5PM #3) 7-5. The pair of youthful competitors set up quite the showdown. Boykin defeated Boykin at the '19 Junior Trials and in the Open semis this past October.
Stefanowicz Eliminates Vera
The question at 87 kilos hasn't been Who will face Joe Rau in the best-of-three? It has been, Who is Alan Vera going to beat before he faces Joe Rau in the best-of-three? And the answer to that question is Christian DuLaney (Minnesota Storm) earlier today, at least for now.
Stefanowicz gave up a gutwrench to Vera in the first period to fall behind 3-0, with the Marine fighting for all he was worth in order to avoid surrendering a further score. Eventually, Stefanowicz received two points from a Vera caution. But with under :30 to go, Stefanowicz bit down and desperately clasped the body. He must have been squeezing pretty hard, because just as desperately, Vera tried to answer back with his own throw almost as if to relieve the pressure. Stefanowicz landed on top and collected four points, which proved the difference in the thrilling semifinal.
Challenge Finals are coming up shortly. 
2020 US Olympic Trials
April 2-3 — Fort Worth, TX
SEMIFINAL RESULTS
60 kg
Mike Fuenffinger (Army/WCAP) def. Dalton Roberts (Army/WCAP) 5-2
Ryan Mango (Army/WCAP) def. Sammy Jones (NYAC/UVRTC) 4-1
67 kg
Ellis Coleman (Army/WCAP) def. Xavier Johnson (Marines) 8-0, TF
Benji Peak (Sunkist/NTS) def. Ray Bunker (Marines) 9-0, TF
77 kg
Peyton Walsh (Marines) def. Jake Fisher (Curby 3-Style) 4-1
Jesse Porter (NYAC/NTS) def. Patrick Smith (Minnesota Storm) 5-3
87 kg
John Stefanowicz (Marines) def. Alan Vera (NYAC) 6-3
Patrick Martinez (NYAC) def. Jon Anderson (West Point WC) 8-0, TF
97 kg
Nick Boykin (Sunkist/Ohio RTC) def. Daniel Miller (Marines) 7-5
Braxton Amos (Wisconsin RTC) def. Luke Sheridan (Army/WCAP) 8-6
130 kg
Adam Coon (NYAC/Cliff Keen) def. West Cathcart (NYAC/IRTC) via fall
Cohlton Schultz (Sunkist) def. Jacob Mitchell (Army/WCAP) 4-3




Listen to "5PM47: Nate Engel and Xavier Johnson" on Spreaker.
Listen to "5PM46: Taylor LaMont and Jessy Williams" on Spreaker.
Listen to "5PM45: Chatting with Dennis Hall and Max Nowry" on Spreaker.