A show of strength was the object of much hope for the Americans on Thursday morning in Scandinavia, and things certainly seemed headed in that direction following the opening round of competition.
But unfortunately for the US, as of press time only one athlete from the event's opener will move on with a chance to medal.
Day 1 of the 2021 World Championships began at 10:30am from Oslo, Norway (4:30am ET)  and aired live in the US on FloWrestling.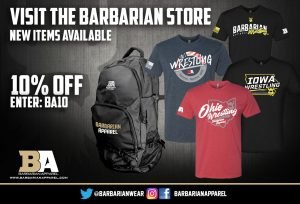 Returning World Team member Max Nowry (55 kg, Army/WCAP, 5PM #1) and two-time Olympian Ben Provisor (82 kg, NYAC, world #4, 5PM #1) both earned victories in their first bouts before falling short in the proceeding round. '19 Pan-Am Games gold and three-time World Teamer Patrick Smith (72 kg, Minnesota Storm, 5PM #1) provided young Molodovan star Valentin Petic with the fight of his life but was edged 4-3.
As of press time, "Big Ben" is still in the medal race thanks to his vanquisher's win in the semifinals.
Grind it out he did in order to exit his round-of-16 affair victorious at the expense of Satoki Mukai (JPN). Provisor was trailing 1-0 deep into the second period when he seized on a fortuitous opportunity. Mukai was hawking over the top with his back to the line before going for the arch; Provisor easily drove forward with the action for the land-on-top score in what eventually became a 2-1 decision.
Burhan Akbudak (TUR) did not allow for momentum to linger. On the feet, Provisor was testing the ties patiently, pawing for handles capable of drawing in a pummel exchange that might avail his right underhook. For his part, Akbudak was content to divy in and out, and both athletes were left grasping at straws in terms of attempts.
Provisor was knocked for passive first. From top par terre, Akbudak — as is custom for him and several other Turks — quickly sought a reverse lift. Provisor appeared to be defending adequately, but was soon penalized with a caution-and-two. The call gifted Akbudak a 3-0 advantage accompanied by another chance from PT. Again, Provisor stymied the reverse lock, but only temporarily. Akbudak, the beneficiary of a generous amount of time to work, finally hoisted the hold and pasted Provisor to the tarp. The referee signaled for five, the call was confirmed, and the match had effectively reached its conclusion. Two additional points were added to Akbudak's tally as Provisor was penalized for touching the legs following the throw.
However — Akbudak decisioned Pejman Postam (IRI) in the semifinals, which opens the door for Provisor to return to action in the repechage tomorrow where he will face the winner between Laszlo Szabo (HUN) and Gegham Torgomyan (ARM). Should Provisor get past his first repechage adversary, he will then face Postman for World bronze later in the day.
Nowry
Nowry was eagerly jousting with Sajjad Abbaspourragani (IRI) through the early stages of their round-of-16 contest when the game change arrived. Abbaspourragani, whose lone attempt had been a body attack that resulted in an off-balance for Nowry, was dinged for passivity after his approach became relegated to ties on the wrists and forearms. There was a lack of pretense from par terre top for the US guy. Nowry immediately looked to corral Abbaspourragani's right arm, and it worked. One rotation proved successful; and then after an adjustment, Nowry cranked the Iranian over twice more for a 7-0 lead. On the back-end, Abbaspourragani managed to reverse position, though his own tries from top came up empty.
Back standing, the lanky Abbaspourragani worked to Nowry's right side whilst apparently eyeballing a takedown/gut combo. Nowry responded by latching onto Abbaspourragani's far left arm, inching and hipping to an exposure that netted two more points. The match was effectively concluded, though Iran's forthcoming challenge delayed the official decision, which was a 10-1 VSU in Nowry's favor.
Momentum did not follow Nowry into the quarterfinal. Norayr Hakhoyan of Armenia was credited with a takedown that received a challenge from the US side. Nowry had zipped an arm throw attempt, Hakhoyan clutched and swam, and the feeling was that it might have been a slip. Alas, the call was upheld, with Armenia holding another shot from top. Hakhoyan made good on one gut but Nowry had come awfully close to stepping over the lock. And that lock was the key to the operation, as well as Nowry's eventual undoing.
Nowry scooted and clasped over the top of Hakhoyan, feeling a front-head or chest wrap might turn the tide. In doing so, there was enough elevation for Hakhoyan to attack Nowry's waist and drive forward. The reactionary tackle did not appear "feet to back" on first glance — but four points it was for Hakhoyan, who emerged triumphant 9-0. Top seed Emin Sefershaev (RUS) got past Hakhoyan 3-2 in the semis, thus putting an untimely end to Nowry's performance at the '21 Worlds.
Smith
It is not a sport measured by whole parts, but by fractions. Razor-thin margins, millisecond decisions. Petic delivered his own passionate effort and capitalized when it counted. He was also out-hustled and, an argument could be made, out-wrestled. But two sequences told the story, two actions Smith and his legion of fans would like to have back.
Petic wanted the two-on-one and worked mainly to Smith's right side through the feeling-out process. They weren't digging and plunging. An equally intense and conventional hand-fight unfolded, with neither gaining much in the way of advantageous position. Passivity reared its head halfway into the first, favoring Petic. He tried to lock, turn, and lift, but Smith defended. Soon after, they jockeyed towards the edge, a situation in which Smith is often able to commandeer. That was the case here, as Smith snapped, popped, and spun to a takedown along with a 2-1 lead.
Customarily, the pace was high and Smith held the baton. He was waging war on the inside, whenever possible, though Petic proved a willing participant. Time began to wane on the scoreboard clock when they broke off from an exchange, creating a momentary shift that saw Petic zoom to Smith's body and collect a last-second takedown. Instead of strolling to the corner ahead by a point, Smith entered the break trailing 3-2.
Smith's underhooks were available to start the second. His righty was burrowed deep behind Petic's scapula, and his left was starting to wedge its way inside depending on the footwork. The waltz had commenced. Smith escorted Petic towards the yellow line, contemplating either a multi-point attempt or one his calling-card step-outs. To ward off the possibilities, Petic roped his overhook on Smith's shoulder for an off-balance, and they reset.
Passivity on Petic happened upon the proceedings shortly thereafter. Critera thus belonged to Smith in addition to a chance for even more offense. Smith gathered his lock and began churning to his right — and then in an instant, his fingers lost their grip, the lock was gone, and Petic had reversed. Moldova went to work on a gut at the edge — and successfully rotated — but no points were awarded.
Down by one point with a little over 1:00 remaining, Smith poured into Petic, breathlessly hunting for opportunities. Collar ties, snaps, one clearing tie-up after another. On skates, for the most part, was Petic. The sum of his requirement en-route to a 4-3 decision.
Petic was downed by Sergei Kutuzov (RUS) in the round-of-16, which eliminated Smith from possible contention for bronze through the repechage.
Porter
The dynamic machinations of one Mr. Porter present a real danger whenever he is able to utilize his unconventional entries to stifle opponents coming off of exchanges. Just as they begin to feel comfortable and have a beat on his pattern, Porter oft explodes into an attack that breaks the scoreboard. Red-white-and-bluers watching at home likely figured Bogan Kourinnoi (SWE) might join the list of many who have been turned inside-out by a Porter-bomb.
But Porter, he struggled to negotiate or compel the kind of openings most associated with his customized style.
The preamble did not offer much promise. Porter divvied from angles, mostly to his right, and hand-checked Kourinnoi. Tension was part of it, real or imagined. The tempo failed to provide a clue, as flurries were absent from their contact. Then passivity — on Porter. He required an adjustment or two, but Kourinnoi finally elevated and arched Porter for correct hold points and a 3-0 lead ahead of the break.
Against Porter, deficits are more of a subjective concept. Three points, four points, seven points… He can overcome all of it within a matter of moments. So when Kourinnoi was knocked for passivity early in the second, a rush of scoring stood as a marked potentiality. From top, Porter seized on a lock and brought Kourinnoi up for a lift. The problem was that — even following an actual rotation — that the official deemed the lock too low. But Porter had another shot, and indeed went back for a lift — only to have Kourinnoi flounder to safety and land on top off the edge. No points were involved, meaning that Porter was still well within striking range needing one multi-point execution.
But Kourinnoi knew what to do. He tied up Porter at the hands but kept his feet moving more than enough to avoid offering a stationary target. The attempts were there; Porter snapped and dipped on a few occasions, relative last-gasp efforts. Nothing landed, and Kourinnoi survived to the whistle.
Kourinnoi was decisioned by Kodai Sakuraba (JPN) in the round-of-16 to cut the string on Porter's time in Oslo.
Day 2 of Greco at the '21 Worlds starts Friday morning at 10:30am local time (4:30am ET) with four fresh Americans ready for battle — Provisor will have repechage, and Dalton Roberts (60 kg, Army/WCAP), G'Angelo Hancock (97 kg, Sunkist), and Cohlton Schultz (130 kg, Sunkist) begin their own treks to the medal stand.
2021 World Championships
October 7-10 — Oslo, NOR
TEAM USA DAY 1 RESULTS
55 kg: Max Nowry (Army/WCAP)
WON Sajjad Abbaspourragani (IRI) 9-1, TF
LOSS Norayr Hakhoyan (ARM) 9-0, TF
72 kg: Patrick Smith (Minnesota Storm)
LOSS Valentin Petic (MDA) 4-3
Jesse Porter (NYAC)
LOSS Bogdan Kourinnoi (SWE) 3-1
82 kg: Ben Provisor (NYAC)
WON Satoki Mukai (JPN) 2-1
LOSS Burhan Akbudak (TUR) 10-0, TF




Listen to "5PM50: Mr. Fantastic Benji Peak" on Spreaker.
Listen to "5PM49: Robby Smith on coaching, fatherhood and mentors" on Spreaker.
Listen to "5PM48: Austin Morrow and Gary Mayabb" on Spreaker.
SUBSCRIBE TO THE FIVE POINT MOVE PODCAST
iTunes | Stitcher | Spreaker | Google Play Music
Notice
: Trying to get property 'term_id' of non-object in
/home/fivepointwp/webapps/fivepointwp/wp-content/themes/flex-mag/functions.php
on line
999