The faces, most of them pass for "mainstream" when discussing and dissecting American Greco-Roman wrestling. Two of Sunday evening's finalists just came back from the Olympics. Another athlete was on a pair of Olympic Teams himself throughout his remarkable career and is quite accustomed to gearing up for best-of-three's. Some who are still only budding are also familiar with the higher stage and brighter lights. But for nine out of the 20 wrestlers who are set to take the mat on Sunday with Senior World Team spots firmly on the line, this is all a brand new experience.
Day 1 of the 2021 World Team Trials began Saturday morning at 10:00am CT from the Pinnacle Bank Arena in Lincoln, Nebraska and aired live on FLOWrestling.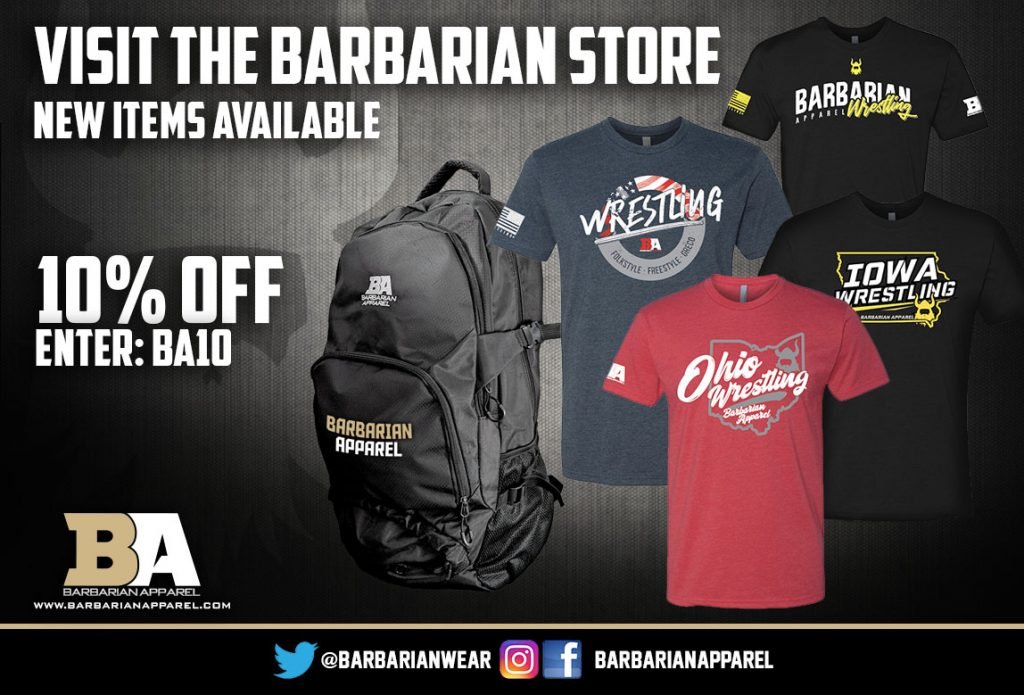 Ildar Hafizov (60 kg, 5PM #1) and Alex Sancho (67 kg, 5PM #1) — both of whom competed last month at the Tokyo Olympics — are in position to defend their statuses atop their respective pecking orders. Hafizov enjoyed a bye to the semifinal, where he dispatched King Sandoval (Bandits) 10-0. Sancho, meanwhile, was tested on occasion by Morgan Flaharty (NYAC) in the quarterfinal before prevailing 8-2. In the semis, the space between Sancho and the opposition was decidedly much closer.
Facing '19 Junior World bronze/'21 U23 World Teamer Alston Nutter (Sunkist/NTS, 5PM #5), Sancho was staring a a 5-2 deficit heading into the second period. Nutter had countered an arm throw attempt to get behind for a takedown and added a high gut to surge in front 4-0. Later in the frame, Sancho zeroed into the body near the boundary for a correct hold only to have Nutter regain his footing and earn a step-out point.
The second period did not invite a rush of par terre scores, which bucked conventional wisdom regarding from where the point tallies might come. Sancho yielded two when he once again swam to the body and partially executed a bodylock. He was still in the hole upon the latter stages of the bout. Just :39 remained on the clock with Nutter leading 5-4, less than a minute away from the Wisconsinite's most significant Senior domestic victory. But for the third action in a row, Sancho roped the body and arched for one more correct hold, thus earning two points along with a 6-5 decision in what was an exceptional match from start to finish.
In Sunday's final round, Hafizov will go toe-to-toe with now-teammate and two-time National champ Dalton Roberts (5PM #2) in a rematch of the '18 Trial finals. That series went to Roberts, who had persevered and hustled through three grueling contests.
Like Hafizov, Roberts did not have a quarterfinal opponent. Only one match was available, which was one more chapter in the long-running saga between he and fellow former NMU'er Randon Miranda (Rise RTC, 5PM #4). Miranda, originally pegged for 63 following the April Open, was on the brink in the first period as Roberts piled up a 7-2 advantage. It didn't stay that way. The second saw Miranda rally for three more to climb within striking distance. But with a minute left to go, Roberts forced Miranda out and received two points to gain the distance necessary to emerge otherwise unscathed.
Omania, 72 KG, & Provisor
After Day 1 wrapped on Saturday night, most of the talk centered around '19 Junior World bronze Peyton Omania (CYC/MSU, 5PM #8). There is a reason for that. When an athlete, particularly a young one, overcomes two of their weight class' most explosive and successful competitors, there is bound to be some excitement.
Omania began his trek with two-time National titleist Hayden Tuma (Suples) and was off to the races thanks to a searing four-point headlock soon into the first period. A correct hold at the line tacked on two more, and Omania sewed up the proceedings with two step-outs for an impressive VSU.
Next up for Omania was '16 Olympian Jesse Thielke (Army/WCAP, 5PM #4) — whose return to competition was highlighted by a front headlock assault on '18 Open runner-up Jessy Williams (NYAC/Spartan RTC). Passivity brought about the first legitimate scoring opportunity. Thielke was dinged, and Omania capitalized with two high guts for a 5-0 lead. In the second, Omania added a correct throw and a takedown to triumph 9-0. In Tuma and Thielke, Omania has defeated the #2 and #3 seeds, respectively, as well as two of the most explosive lightweights in the country. For his first-ever Senior Trials final, he will dance with Sancho, which is quite the string of opponents in a US domestic event.
72
The seeds held up at 72 kilograms with two-time World Team member Patrick Smith (Minnesota Storm, 5PM #1) advancing to his sixth Senior Trials final after downing teammate Griffin Parriott (5PM #6) and '19 Trials runner-up Michael Hooker (Army/WCAP, 5PM #4). On the bottom side of the bracket, "Mr. Fantastic" Benji Peak (Sunkist/NTS, 5PM #2) torched both Brandon Mueller (505 WC) and '21 Pan-Ams gold Jamel Johnson (Marines) via tech, and both in under a minute. Against Johnson, Peak countered a headlock with a four, and immediately stepped up for a booming side lift that ended the match.
"Big Ben"
Smith is slated to appear in his sixth Trials final since '14. Two weight categories north, Ben Provisor (82 kg, NYAC, 5PM #1) will take the mat for his seventh best-of-three series. It only took one match. Provisor, like far too many Greco athletes this weekend, drew a bye straight to the semis. Waiting for him there was a returning Rich Carlson (Minnesota Storm), with Provisor getting the tech just before time expired.
First-Timers
Provisor's impending finals appearance is something to celebrate for the Stevens Point, Wisconsin crowd. Joining the two-time Olympian this evening will be Fritz Schierl (TMWC/Ohio RTC), who is readying for Olympic Trials champ Jesse Porter (NYAC, 5PM #1) at 77 kilos. Provisor and Schierl were both coached by Dennis Hall, and know each other quite well off the mat.
The nine Greco-Roman athletes who will be competing for a Senior World Team spot for the very first time are:
— Sammy Jones (63 kg, NYAC, 5PM #2) — Jones started his day in the semis by superior'ing We Rachal (IRTC).
— David Stepanyan (63 kg, NYAC/NTS, 5PM #3) — Another tough win over Dylan Gregerson (UVRTC) is how the U23 World Teamer earned the right to face Jones.
— Peyton Omania (67 kg, CYC, 5PM #7) — Has already notched two of the most sparkling victories of his young Senior career.
— Benji Peak (72 kg, Sunkist/NTS, 5PM #2) — Big wins over Mueller and Johnson, aided in large part by more strength and loads of confidence.
— Fritz Schierl (77 kg, TMWC/Ohio RTC) — Took an injury default win over Austin Morrow (NYAC/NTS, 5PM #6) before gritting his teeth for a criteria decision against Nate Grimes (NYAC).
— Spencer Woods (82 kg, Army/WCAP, 5PM #2) — One more go-round against Tommy Brackett (UA, 5PM #3) following their Open final. Their semis match on Saturday was much cleaner.
— Alan Vera (87 kg, NYAC, 5PM #3) — Was tested more than most thought would be the case by "The Viking Warrior" Dan Olsen (UA, 5PM #8).
— Ryan Epps (87 kg, Minnesota Storm) — Was supposed to be at 77. But engineered a pair of tight, physical decision wins at the expense of Tyler Hannah (Combat, 5PM #9) and George Sikes (NYAC/NTS, 5PM #6).
— Nick Boykin (97 kg, Sunkist, 5PM #4) — The reigning two-time National Champion surprised Luke Sheridan (Army/WCAP, 5PM #3) in the semis, a scrambly takedown in the second period proving the difference.
The final round of the 2021 Senior Greco-Roman World Team Trials are scheduled to begin on Sunday at 3:00pm ET/4:00pm CT and will air live on FLOWrestling.
2021 World Team Trials
September 11-12 — Lincoln, NE
FINALS PAIRINGS
55 kg: Max Nowry (Army/WCAP, 5PM #1) vs. Brady Koontz (TMWC/Ohio RTC, 5PM #3)
60 kg: Ildar Hafizov (Army/WCAP, world #1, 5PM #1) vs. Dalton Roberts (Army/WCAP, 5PM #2)
63 kg: Sammy Jones (NYAC, 5PM #2) vs. David Stepanyan (NYAC/NTS, 5PM #3)
67 kg: Alex Sancho (Army/WCAP, 5PM #1) vs. Peyton Omania (CYC/MSU, 5PM #7)
72 kg: Patrick Smith (Minnesota Storm, 5PM #1) vs. Benji Peak (Sunkist/NTS, 5PM #2)
77 kg: Jesse Porter (NYAC, 5PM #1) vs. Fritz Schierl (TMWC/Ohio RTC)
82 kg: Ben Provisor (NYAC, world #4, 5PM #1) vs. Spencer Woods (Army/WCAP, 5PM #2)
87 kg: Alan Vera (NYAC, 5PM #3) vs. Ryan Epps (Minnesota Storm, 5PM #7 at 77 kg)
97 kg: G'Angelo Hancock (Sunkist, 5PM #1) vs. Nick Boykin (Sunkist, 5PM #4)
130 kg: Cohlton Schultz (Sunkist, 5PM #1) vs. Jacob Mitchell (Army/WCAP, 5PM #2)




Listen to "5PM50: Mr. Fantastic Benji Peak" on Spreaker.
Listen to "5PM49: Robby Smith on coaching, fatherhood and mentors" on Spreaker.
Listen to "5PM48: Austin Morrow and Gary Mayabb" on Spreaker.
SUBSCRIBE TO THE FIVE POINT MOVE PODCAST
iTunes | Stitcher | Spreaker | Google Play Music