It is one thing for an athlete to gain momentum during a big tournament. It is decidedly another to sustain it, and exhibit the confidence necessary to push their limits just a little more once the stakes couldn't be higher. That was Peyton Omania's (67 kg, NYAC/CYC, 5PM #8) deal when action concluded on Saturday. But whatever he had managed to accomplish less than 24 hours earlier was but a prelude to the most significant moment of his career thus far.
The final round of the 2021 World Team Trials began at 3:00pm ET on Sunday from the Pinnacle Bank Arena in Lincoln, Nebraska and aired live in the US on FLOWrestling.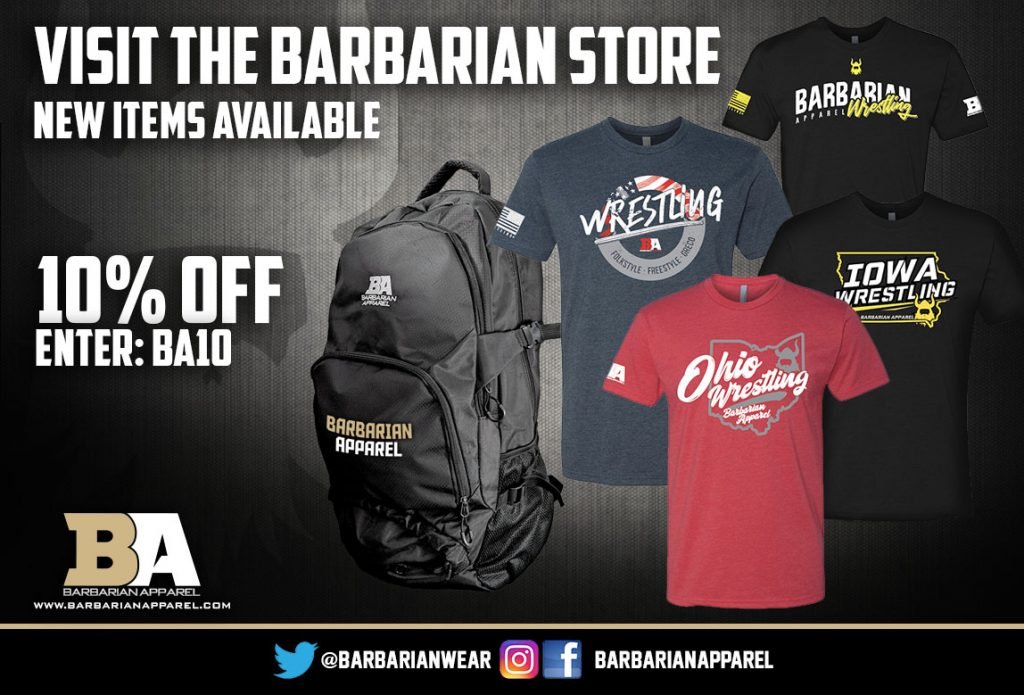 Omania went to bed Saturday night as the talk of the Trials. And he will go to bed Sunday night the same way after taking two straight from '20 Olympian and top seed Alex Sancho (Army/WCAP) to earn the 67-kilogram spot for Team USA at the World Championships next month.
The flame was ignited in Match 1. Omania caught Sancho in-between with a throw that was initially scored for four. A long conference then transpired, followed by an Army challenge. The call was upheld, eventually, to give Omania a 5-0 lead. Sancho did not relent in his angular attacks. But he also could not pressure forward with abandon, lest he risk walking into another Omania attack. With the feeling-out process having all but washed away, Sancho remained cautiously-aggressive in the ties until the end of the period.
Passivity failed to play a role in the first period. When it did in the second, Sancho was dinged. Omania locked for a turn but nothing was doing. Back standing, and it was difficult to discern if and from whom another score might materialize. Would Omania strike again? Or would Sancho reel in the body and pile on in quick succession? Both scenarios were possible and plausible, and perhaps both combatants recognized such. The action bogged down just enough — though in short order — for a second passivity, this time on Omania. Par terre top is Sancho's world. He would not waste any time in clasping for a lift. He had Omania hoisted, but it was only good for two. Down by three points, Sancho pursued Omania as much as is reasonable in the race to the finish as the latter kept his poise with a 6-3 decision resting in his pocket heading into Match 2.
Omania must have scoffed at the notion of a preamble in what wound up the series clincher. Within the contest's first :03, he had snared a correct-throw-arm-throw that was quite close to a four-pointer. He had started fast. But the match wouldn't, if not couldn't, stay that way. The hand-fight demanded an acknowledgement of each other's strengths; and Sancho by then had begun doing more to veer the hand-fight's mechanics more aligned with his own footwork. But attacks were hard to navigate, as Omania observed a brisk pace. Passivity was called on Sancho late in the opening frame, though there were no follow-up scores as Omania came up empty from top par terre.
Before the first minute had elapsed in the second, Sancho received his best shot to make a dent. Omania had been knocked for passivity, closing the gap to 3-1. Sancho tried once, and then again, for a match-changing lift, and Omania defended until action was restarted on the feet.
Under a minute remained. That was it. Soon, it was under :30. Then :20. Sancho had to make his move. He clambered inside off of an exchange near the boundary to force a step-out. His deficit was 3-2, but he needed a multi-point score, because Omania would hold criteria if they were knotted at 3. So, he darted towards the '19 Junior World bronze, investing in a last-gasp effort to somehow undo the narrative. It wouldn't happen. Omania's stunning run in Lincoln was ending on his terms, and with his arms raised in jubilance after having defeated the three most established names in the bracket to make his first Senior World Team.
Roberts Downs Hafizov
Dalton Roberts (60 kg, Army/WCAP, 5PM #2) won the Nationals in '18. Later that year, he defeated Ildar Hafizov (Army/WCAP, world #1, 5PM #1) in the Trials best-of-three.
Roberts won the Nationals this past April.
And here was Hafizov again, except fresh off of the Tokyo Olympics. That, along with the fact that Roberts did not have a bye to the Trial finals by virtue of his Open win this year and the pair are now teammates for Army, are the three main differences separating '18 from '21.
Otherwise, history repeated itself everywhere else but the scoreboard.
In '18, Roberts fell to Hafizov in Match 1 before taking the next two. On Sunday, Hafizov also took the first match of the series. An arm spin attempt from the '20 Olympian was yanked back by Roberts as a counter-measure. Up 2-0, Roberts urgently stalked, constantly bringing pressure while Hafizov attempted to gain control of the pace via two-on-ones. He'd have his chance. After a reset, Hafizov tightened up another try at the arm. It didn't score, but Roberts was penalized for defensive legs to provide Hafizov with a criteria lead. The second period was only dramatic due to the talent involved. Action was hard to come by, as both athletes traded passivity calls. Neither scored from top, and Hafizov walked away the 3-3 winner.
Match 2 was a little different once it got to the second period. Roberts had a 1-0 passive lead until the script flipped. Hafizov went high on his lock for a turn that ushered in a 3-1 advantage. Roberts soon picked up a point after a long review process, but was still behind with time beginning to become a factor. Then with less than :20 to go, Roberts found double underhooks and pressured Hafizov to the edge. As is near custom, Hafizov responded with a last-ditch double underhook throw — and Roberts landed on top off the line for two. Hafizov naturally opted for the challenge brick, giving way to one more officials' review. The call stuck, Roberts tallied another point, and grabbed Match 2 via 5-3 decision.
The third and decisive match almost began with Hafizov roping an arm attempt that had certainly appeared close to a correct hold. No points were awarded, and Roberts had instantly reversed position upon the completed action. Midway through the first, Hafizov momentarily grew comfortable with a head-and-arm tie. He did manage to pivot his hips as if on an attempt; but Roberts simply re-locked and took Hafizov in the other direction to garner two points. A third tick was added to the scoreboard in Roberts' favor shortly before the break following a step-out.
Step-out #2 of the match arrived just past the 4:00 mark. Inch by inch. Roberts wasn't taking big bites, mostly because they weren't available. Hafizov still posed a threat, and there was no use in forcing attacks that did not have to be attempted.
Unless the opportunity was too good to ignore.
Only 1:09 remained when Roberts rushed behind Hafizov and, with the front of his planted left foot touching the line, arched to land a booming four-point lift. The match, in a sense, was over. However, Hafizov wanted the officials to take a deeper look. They did, the four points counted with an extra tossed in for the lost challenge, and Roberts had earned himself a ticket to the second Senior Worlds of his career.
Jones, Vera, & Schultz
The "Wildman" is on a Senior World Team.
Sammy Jones (63 kg, NYAC, 5PM #2) was tested in spaces by David Stepanyan (NYAC/NTS, 5PM #3) but ultimately came out on top in two straight for his first Trials victory. Match 1 was all Jones, as he had seized on the opening passive/PT chance to gut the string en-route to a 9-0 VSU. Stepanyan was much more in the game for Match 2, as he capitalized on par terre in the first period to enter the break up 3-1. Jones started clicking soon after the second period got underway. Once again, the passive fairy. Two guts brought the surge. A throw after the reset resulted in ten unanswered points to Stepanyan's three. The U23 upstart didn't go down without a fight. One last ditch attack from Stepanyan illuminated the board one more time. Too little too late. The match belonged to Jones, as did the series. A University World bronze in '14, Jones has now finally broken through at the top level.
Vera
'20 National Champion Alan Vera (NYAC, 5PM #3) rose to the occasion by getting past '21 Open runner-up (at 77 kg) Ryan Epps (Minnesota Storm). Vera — understood as the most technically-polished upper-weight at 87 kilograms — breezed to a pair of superiors (9-0 and 8-0, respectively) to seal the series.
Match 1 had Vera take down an undersized-but-chiseled Epps early in the first — but Epps was able to survive from par terre bottom, albeit temporarily. Passivity rang, Vera rotated two guts and raced ahead 7-0. A throw-by takedown later in the stanza shut the door.
Weirdness in Match 2 came about when Vera got behind Epps near the boundary. Epps couldn't keep himself in-bounds, and Vera was to duly receive a step-out. The officials conferred and tacked on a caution for Epps regardless, putting Vera in front 2-0. The show closed with 1:20 remaining. Vera scored a takedown, kept position in back of Epps, and uncorked a picturesque side lift.
Schultz
People expected a tough best-of-three and it played out in that fashion. For the most part.
'17 Cadet World Champion/2X Junior medalist — and recent Olympic Trials runner-up — Cohlton Schultz ( Sunkist, 5PM #1) had to battle back from a one-match deficit against 2X National champ Jacob Mitchell (Army/WCAP, 5PM #2) in order to claim the heavyweight spot.
Halfway through the first period of Match 1, Schultz and Mitchell were mired in clinching tug-of-war, with Schultz focusing mostly on the head-and-arm. He had over-committed. And, Mitchell was ready with a bodylock that yielded four. The second period saw Schultz battering-ram Mitchell off the edge, netting an additional caution point. Down by two, he pressed and prodded in the ties but was unable to generate a workable attempt as Mitchell went on to prevail with a 4-2 decision.
The second round was one-sided, and short. Schultz used an arm drag to scamper behind for two — before cranking three consecutive guts to drop the curtains inside of the first minute.
A sense of urgency hummed in Schultz's ear for their third go-round. The front headlock position paid off early. Schultz was over the top of Mitchell and brought his right arm across to spin behind. A similar takedown would be earned soon enough. He was hustling, and a step-out prior to the break brought forth a cushy 5-0 margin.
It was a large hole out of which to climb for Mitchell. Not unreachable, however.
But he had an issue. The hand-fighting was about even, though an exception would be that Schultz minded his foot movement, which forced Mitchell to play back inside at a frequent-enough clip to at least portray passiveness. Uncharacteristic it is for the trailing wrestler to get knocked; still, the officials agreed that Mitchell deserved the call. From top, Schultz looked gutwrench but his opponent defended adequately for the third time in the match.
The outcome from then on never appeared in doubt. Schultz dictated when and where each subsequent hand-fight and fleeting pummel would transpire, all the while keeping his legs busy to the beat of his own drum. The 6-0 triumph places him on a Senior Team for the first time, along with fellow '19 Junior World medal-winner Omania.
Pat vs. Benji
If Omania/Sancho was seen as the "must-watch" finals series of the Trials, then Patrick Smith (72 kg, Minnesota Storm, 5PM #1) versus Benji Peak (Sunkist/NTS, 5PM #2) was, at worst, a close second if not the co-main event. Smith, the already-multi-time World Teamer and '19 Pan-Am Games gold, had looked like his usual bruising self on Saturday. The return to the non-Olympic weight failed to betray any ill effects as he took a 4-0 decision against Michael Hooker (Army/WCAP, 5PM #4) in the semifinal — and that signature lung-expansion for which he is well-known was primed for as many minutes as his piston-firing legs would allow.
In the opposite corner was Peak, aka "Mr. Fantastic", who has been one of the style's bright shining lights over the past year, and whose progression on the Senior level has now elevated him to elite status within the confines of the US. In moving up to 72 from 67 in the spring, Peak has added some muscle to his frame, which has helped solidify those driving locks and lifts he calls to order.
So, the question was on Sunday: can Peak survive the typical Smith onslaught and find a way to score from his positions?
Peak did survive. And he had his moments. But in the end, Smith was Smith, and few in the sport — at any weight — can keep up with his pressure-based tactics.
Though, Peak was unafraid to try doing just that. From the whistle, he poured inside, prepared for the clashing. They were twisting each other up at the arms, underhooks slapping and popping before disappearing into the ether. Ironically, Smith was dinged first. Peak secured his lock but a lift wasn't happening. Back on the feet and Smith compelled a step-out. There was a response. Nifty footwork for the taller Peak paid off when he bumped Smith off the line — and a 2-1 lead was his heading to the second period.
If once wasn't enough, Peak scored an additional step-out point shortly into Period 2. That tends to be Smith's game, and the Northern Michigan wrestler's temerity in attempting to commandeer the initiative did not go unnoticed. But Smith was relentless in his charges, and the constant forward movement on his part would pay dividends. Coming off of an exchange, Smith bullied Peak to the fat yellow line and finished for the point. Passivity factored in with just over :90 to go. Peak was rung up to give Smith a 3-3 criteria lead. Par terre offered no further points, and the Stormer had Match 1 in his pocket.
For the second bout of the series — and the second bout in a row, which is a rarity — Smith was hit for passive in the first period. Unlike Match 1, there was a harvest. Peak locked — and cranked, and cranked — and his inside left foot propelled a turn for two points. A more impressive feat was achieved later in the period. As Smith wrangled the wrists and appeared close to checking Peak off the edge, Peak cut his arm around Smith and reversed course. 4-0 was the score, and the arena started buzzing.
But — a gamechanger.
Just when it had appeared that the first period might ebb onward to the break, Smith jutted in double underhooks and locked around Peak's back. Smith isn't big on bodylocks, usually; but he likes using the position to finagle a variety of other scores. It's a vast arsenal. And when an opponent re-locks or counter-throws, Smith is quick with the land-on-top. Peak fell right into that sort of trap. Four went to Smith — plus one more after Peak's corner challenged and lost.
There was no contentment, no complacency. Peak had three minutes to fight for a third match. Smith's wavelength in second periods never deviates. The tempo wasn't slowing, though Peak's machinations had begun to portray signs of fatigue. Smith stayed on the throttle, creating motion in every tie-up. The officials waited until the last minute to call passivity. A gutwrench for Smith was defended by Peak, who was visibly depleted.
Mustering all that he had coursing through his veins, Peak bit down in search of a score. Time was racing off the clock. Opportunities to somehow corral Smith into a compromising position along with it. Frenetic was the output. The U23 World Teamer was pouring it on as best he could — and Smith was still in his face. He wasn't going anywhere, except to Oslo on the heels of a 6-4 victory responsible for inserting him on a World Team for the third time.
Porter
Nowry and Koontz — they know each other well with four meetings logged together. '20 Olympic Trials winner Jesse Porter (77 kg, NYAC, 5PM #1) knows Fritz Schierl (TMWC/Ohio RTC) just as intimately. Schierl was Porter's U23 runner-up in both '17 and '18, and had met a couple of other times before Lincoln popped up on the calendar.
Such a high degree of familiarity did not hinder Porter for Match 1, nor did it help Schierl, who succumbed to two Porter four-pointers following the first par terre. Match 2 began unfolding in nearly the same manner; Porter received the first passive/PT opportunity and had amassed a 7-0 lead (two of which stemmed from a throw attempt after a restart) — until Schierl got on the board with a correct throw with a minute left in the period.
Passivity in the second was doled out against Porter. Schierl went to work around the head, and eventually switched off to a three-quarter nelson as Porter attempted to scamper back to his feet. Porter was cautioned, Schierl netted two points, and the score was all of the sudden 7-5. On the next try from PT top, Schierl locked for a side lift and Porter was penalized once more, this time for fleeing. Yet another reset from par terre brought forth another Schierl lift. On the action, the lock was loose, allowing Porter to hop over for exposure points as well as a clear-cut 9-7 advantage that he would not relinquish.
Sunday's festivities were not an entirely new experience for Porter, who did win the Olympic Trials in April. But — he was unable to qualify 77 kilograms for the US in Bulgaria, and therefore did not compete in Tokyo. As such, his performance in Lincoln guarantees him a spot in a Senior World-level event for the first time after appearing on three U23 Teams previously ('17-'19).
Nowry, Provisor, & Hancock
Max Nowry (55 kg, Army/WCAP, 5PM #1) is going back to the Worlds after sweeping domestic rival Brady Koontz (TMWC/Ohio RTC, 5PM #3) in two close matches on Sunday. Nowry defeated Koontz by scores of 2-1 and 3-1. A snap-spin takedown in Match 2 helped sew up Nowry's second Trials win. The three-time National Champion placed fifth at the '19 Nur-Sultan event and is anticipated to find himself in the hunt again in October.
82 kilograms for Team USA next month will be occupied by an athlete who is indeed comfortable with World-level competition: Ben Provisor (NYAC, world #4, 5PM #1). "Big Ben" was in command opposite '21 National champ Spencer Woods (Army/WCAP, 5PM #2) throughout much of Match 1 thanks to a takedown/gut combo. It was more of the same later on in the dustup, with Provisor scoring again from his feet, aided in part by a caution on Woods. "The Alaskan Assassin" breathed fire till the last — and a step-out towards the conclusion ruined Provisor's shutout.
Woods maintained an upticked pace in the proceeding round, but it wasn't enough to halt Provisor's timely scoring. Ahead 1-0, Provisor netted two from a passive gut, which was in its own way a missed opportunity for he had managed to trap Woods' left arm in the process. But a 4-0 lead it was, meaning that Woods was going to have to ignite some offense, a exceedingly difficult prospect against Provisor. So, Woods thought to make it a brawl. Hard snaps and sporadic clubs were the tactics deployed, and they worked insofar as they generated movement. The tempo also had begun to favor Woods' methodology. Passivity on Provisor was called in the second but he hardly budged from bottom PT. A step-out for the WCAP rep right at the buzzer cut Provisor's slice of the pie in half. Alas, it was mere window-dressing.
Provisor appeared in the '12 and '16 Olympics as well as the '17 Paris Worlds, thus making Oslo his fourth Senior World-level endeavor.
G'Angelo Hancock (97 kg, Sunkist, 5PM #1) bolted Tokyo with a bad taste in his mouth. He now has the turnaround that he wanted, along with plenty of other medal hopefuls from around the globe who exited the Olympics in disappointment.
Hancock defeated U23 World Teamer Nick Boykin (Sunkist, 5PM #4) on Sunday in two straight (8-2 and 5-0) for his fifth Trials tournament title. Hancock piled on in Match 1 via string of step-outs which were largely the result of his uncanny movement and threatening ties.  In Match 2, Hancock gutted from passive/PT to net three points with a step-out in the second delivering the fifth point in what eventually became a 5-0 blanking.
2021 World Team Trials
September 11-12 — Lincoln, NE
FINALS SERIES RESULTS
55 kg
Max Nowry (Army/WCAP, 5PM #1) def. Brady Koontz (TMWC/Ohio RTC, 5PM #3) 2 matches to 0
Match 1 — Nowry def. Koontz 2-1
Match 2 — Nowry def. Koontz 3-1
60 kg
Dalton Roberts (Army/WCAP, 5PM #2) def. Ildar Hafizov (Army/WCAP, world #1, 5PM #1) 2 matches to 0
Match 1 — Hafizov def. Roberts 3-3 (criteria)
Match 2 — Roberts def. Hafizov 5-3
Match 3 — Roberts def. Hafizov 9-0, TF
63 kg
Sammy Jones (NYAC, 5PM #2) def. David Stepanyan (NYAC/NTS, 5PM #3) 2 matches to 0
Match 1 — Jones def. Stepanyan 9-0, TF
Match 2 — Jones def. Stepanyan 10-6
67 kg
Peyton Omania (NYAC/CYC, 5PM #8) def. Alex Sancho (Army/WCAP, 5PM #1) 2 matches to 0
Match 1 — Omania def. Sancho 6-3
Match 2 — Omania def. Sancho 3-2
72 kg
Patrick Smith (Minnesota Storm, 5PM #1) def. Benji Peak (Sunkist/NTS, 5PM #2) 2 matches to 0
Match 1 — Smith def. Peak 3-3 (criteria)
Match 2 — Smith def. Peak 6-4
77 kg
Jesse Porter (NYAC, 5PM #1) def. Fritz Schierl (TMWC/Ohio RTC) 2 matches to 0
Match 1 — Porter def. Schierl 9-0, TF
Match 2 — Porter def. Schierl 9-7
82 kg
Ben Provisor (NYAC, world #4, 5PM #1) def. Spencer Woods (Army/WCAP, 5PM #2) 2 matches to 0
Match 1 — Provisor def. Woods 7-1
Match 2 — Provisor def. Woods 4-2
87 kg
Alan Vera (NYAC, 5PM #3) def. Ryan Epps (Minnesota Storm) 2 matches to 0
Match 1 — Vera def. Epps 9-0, TF
Match 2 — Vera def. Epps 8-0, TF
97 kg
G'Angelo Hancock (Sunkist, 5PM #1) def. Nick Boykin (Sunkist, 5PM #4) 2 matches to 0
Match 1 — Hancock def. Boykin 8-1
Match 2 — Hancock def. Boykin 5-0
130 kg
Cohlton Schultz (Sunkist, 5PM #1) def. Jacob Mitchell (Army/WCAP, 5PM #2) 2 matches to 1
Match 1 — Mitchell def. Schultz 4-2
Match 2 — Schultz def. Mitchell 8-0, TF
Match 3 — Schultz def. Mitchell 6-0
THIRD PLACE RESULTS
55 kg: Dalton Duffield (Army/WCAP, 5PM #5) def. Jacob Cochran (NMU/NTS, 5PM #4) via fall
60 kg: King Sandoval (Bandits, 5PM #8) def. Dylan Koontz (TMWC/Ohio RTC, 5PM #5) 8-0, TF
63 kg: Dylan Gregerson (UVRTC, 5PM #5) def. We Rachal (IRTC, 5PM #7) 9-1, TF
67 kg: Hayden Tuma (Suples, 5PM #3) def. Jesse Thielke (Army/WCAP, 5PM #4) 8-0, TF
72 kg: Jamel Johnson (Marines, 5PM #3) def. Michael Hooker (Army/WCAP, 5PM #4) 7-4
77 kg: Britton Holmes (Army/WCAP, 5PM #10) def. Peyton Walsh (Marines, 5PM #2) 14-6, TF
82 kg: Rich Carlson (Minnesota Storm, 5PM #4) def. Tommy Brackett (Gator, 5PM #3) 6-4
87 kg: Tyler Hannah (Combat WC, 5PM #9) def. George Sikes (NYAC/NTS, 5PM #6) 6-4
97 kg: Khymba Johnson (NYAC, 5PM #6) def. JD Souza (Army/WCAP, 5PM #5) 9-0, TF
130 kg: Tanner Farmer (NYAC/IRTC, 5PM #5) def. Donny Longendyke (Minnesota Storm, 5PM #3) 8-0, TF




Listen to "5PM50: Mr. Fantastic Benji Peak" on Spreaker.
Listen to "5PM49: Robby Smith on coaching, fatherhood and mentors" on Spreaker.
Listen to "5PM48: Austin Morrow and Gary Mayabb" on Spreaker.
SUBSCRIBE TO THE FIVE POINT MOVE PODCAST
iTunes | Stitcher | Spreaker | Google Play Music