When the news came down earlier this week that two-time Olympian Ben Provisor (NYAC/NLWC) is dropping from 87 kilograms to 77, it naturally garnered a lot of attention. Provisor — who has appeared in every US Trials tournament final this quad and six altogether throughout his incredible career — was going to enter yet another season as a strong contender to wind up the last man standing. Such is the respect Provisor, 29, still demands heading into his ninth year of full-time Senior competition.
87 kilos, which had been considered the deepest domestic weight category since 2017, will remain a shark tank without Provisor thanks to multi-time World Teamers Joe Rau (TMWC/Chicago RTC), Patrick Martinez (NYAC/FLWC), and Cheney Haight (NYAC) — not to mention Jon Anderson (Army/WCAP), Barrett Stanghill (Minnesota Storm/OTS), and surging Marines Terrence Zaleski and Vaughn Monreal-Berner.  Of course, if Alan Vera (Florida Jets) proves eligible to represent the nation in Tokyo and Jake Clark (Minnesota Storm) indeed returns, it will prove even tougher to debate those who maintain that 87 still reigns supreme when it comes to bracket sheets.


However, Provisor's presence along with Patrick Smith (Minnesota Storm), Kamal Bey, RaVaughn Perkins (NYAC), 2019 World Team member John Stefanowicz (Marines), and over a dozen others, elevates 77 kilograms to ridiculous proportions in terms of credentials, and in several cases, immense projected upside. Such is the result of the Olympic Year.
Given its all-of-the-sudden unrivaled depth, there is a lot to unpack with this weight class and thus requires itemization in the form of four main categories — Prior World Team Members; National Team Members; Experienced Contenders; and Next-Gen Challengers.
USA – 77 kg Prior SR World Team Members
The first item that bears mentioning is Senior World Championships experience. Provisor is the only athlete at 77 kilograms to know what suiting up for an Olympiad looks and feels like, but seven others have also appeared in a Senior World-level event. For context, 87 will max out with four prior World Teamers should Clark show up, which could be the same number for 60 kilograms.
Athletes listed in chronological order according to World Team placement.
*Already qualified for 2020 US Olympic Trials.
**Unconfirmed for 77 kg. 
*Patrick Smith (Minnesota Storm) — 2017 (71 kg); '19 — Although the 2016-17 season saw Smith win both the Open and Trials (as well as a couple of international medals), his most recent campaign was even more impressive. Three straight overseas medals started him off and then there were wins at Schultz, the Trials mini tournament, and the Pan Am Games. 77 kilos provided a much better fit for Smith than most might have expected. Now with a full year under his belt, Smith's viability in this weight class has even more to offer. It's one thing when an athlete has a tried-and-true technique that is hard to stop. For Smith, it's not a technique, it's an attitude, and there is no counter available for that.
*John Stefanowicz (Marines) — 2019 (at 82 kg) — For Stefanowicz to drop down in weight, the only thing you can be sure of is that he will do it meticulously so as not to endure any ill effects. He is the anti weight-cutter and prefers maintaining optimal athletic performance at all costs. If that is to hold true, then Stefanowicz's style — which is not entirely unlike Smith's though the Marine does love his arm spins — will prove problematic to deal with for everyone here.
*Kamal Bey — 2018 — Bey is not likely to make his season debut until after the New Year, which provides him with some distance from his series loss to Smith at Final X: Rutgers. A little time away is a good thing. Bey is used to the spotlight, but in '19 he could be under a microscope. A short break (and change of scenery) combined with an expanded field might take some of the heat off as he looks to redefine his status as one of Greco's biggest stars. Shake what happened in June out of your head. Because, once April hits, Bey will still be seen by most as an odds-on favorite.
*-**Geordan Speiller (Florida Jets) — 2018 (at 82 kg) — Speiller has yet to officially declare his candidacy at 77 — and it has been three years since he competed in this weight category (75 kg with a day-before weigh in) — but this is where he belongs. A pair of surgeries over the past year suggest he could return to action more primed and ready than has been the case since an arm injury disrupted his captivating 2017 season. Assuming the scale won't be an issue, Speiller is an easy pick to contend. Just far too talented to ignore.
*RaVaughn Perkins (NYAC) — 2018 (at 72 kg) — When healthy, Perkins is undoubtedly one of the US program's top two or three competitors. Period. It is not subjective. The underlying issue is that Perkins has experienced so many injury downturns this quad it is difficult to pinpoint a time when he was even operating at full capacity. None of this diminishes his chances come April, however. With rest, rehab, and the opportunity to focus on staying up in weight, he will hopefully be able to engineer the kind of run that ends on his terms.
*Mason Manville (Army/WCAP) — 2017 — An incredible gamer. Manville is a rare breed in that he is one of very few who can consistently turn on the heat — no matter who he's going up against, or how long he has been away. Last season was a pleasure. You got to see Manville at Schultz, the Open, and the Trials. His battles with Smith and Corey Hope (NYAC) demonstrated the hyper-competitive nature that can separate him from the pack. The only missing ingredient? Scores from the feet. It is something Manville can do better than most and a weapon he'll likely need to prevail in April.
*Ben Provisor (NYAC/NLWC) — 2012, '16 (Olympics); '17 — As soon as whispers regarding Provisor's decision started leaking out in August, everyone in this weight category was put on notice. They're wondering how big "Big Ben" will still be at 77; they're curious if those punishing underhooks that are thrown like uppercuts, and those chopping off-balances at the shoulder and neck-crunching snaps will follow him to the lower weight. Maybe they will, maybe they won't. Provisor's style may require a couple of slight adjustments, there is more speed available at 77. But he still wields the most prominent advantage. Provisor knows how to make Olympic Teams. That is a mental edge no one else here can claim.
**Jake Fisher (Curby 3-Style) — 2010 — After taking a breather from the sport following the 2016 Olympic Trials, Fisher came back for the '18 Open (at 87 kilos) but dipped down to 82 for the World Team Trials. His participation was initially intended as a "fun first" endeavor, meaning, Fisher just wanted to wrestle and missed competing. No stress, no time-tables, no problems. He returned again for last year's Open, ultimately finishing eighth but grabbed a nice first-round win over Chandler Rogers (87 kg, Air Force RTC). A chiropractic student with a busy life, Fisher is reportedly training with a purpose at the moment. That is important. We haven't seen him fully prepared for a tournament in years. That version of Fisher presents an intriguing proposition, even at 35 years of age.
Current/Former National Team Members
Peyton Walsh (Marines) — Walsh began his Greco career in 2017. He is already a two-time National Team member and was a runner-up at the Open in '18. His toughness is besides the point; Walsh is a tremendous wrestling athlete whose ceiling is unquestionably high. If he were to find a way to emerge out of the gauntlet in April there are many who would declare it an upset. But that would only be because they haven't been paying attention.
Kendrick Sanders (NYAC/OTS) — Imagine if the first Senior Team Sanders makes is this Olympic Team? Imagine? Well, it could happen. Sanders liked not having to deplete for 77 this past season, but it is a weight cut that will not give him too many headaches. Everyone knows by now how off-the-charts his skills are. Sanders is the best US athlete yet to secure a place at the table. If he is preparing for the slate of action now staring him fully in the face during what looks like the crossroads of his career, then wow. What a story this might become.
*-**Jon Jay Chavez (NYAC/FLWC) — The World Team Trials champ in '18 at 72 kilos, Chavez is as enigmatic as he is talented. And his talent is more than considerable. He suited up at 82 for last year's Open but that was hardly a fair rendering of his actual ability. Could steal the show in '20. Incredible hips, explosiveness, instincts, and an enormous arsenal. When locked in, Chavez is as dangerous as it gets.
Experienced Contenders
A collection of athletes who have yet to break through at the Senior level but have more than established themselves as legitimately capable competitors.
Corey Hope (NYAC) — Returned from an 18-month layoff at the US Open where he was edged by Smith in the semis, and Manville for third. At the Trials, Hope seemed in control against Manville deep into the second when a throw attempt went awry. Incredibly strong and boasting an extensive skill-set as well as an encyclopedic brain for the sport, Hope is really only an undercover sleeper to those who are new around here. Underestimate him at your own peril.
Alec Ortiz (Minnesota Storm) — No other US wrestler guarantees your money's worth of action more than Ortiz. There is never a moment during any match in any round of any tournament when he isn't looking to score somehow, some way. He had put together a memorable run on the backside of the bracket at the '18 Open, and was looking forward to a bigger things last year, but a torn ACL ruined his plans. If healthy — and a little more defensive minded — Ortiz should stay put on your radar.
Brandon Mueller (Air Force RTC) — An eager fighter with an exceptionally-vast gas tank who treats every opponent the same. But — is in need of go-to techniques on which to rely, especially on the feet. Mueller is tough enough to pose problems for everyone he faces and committed to this weight class early on when staying in the non-Olympic 72 likely would have resulted in more success. So, he's all-in. The early tournaments, be it New York's Farrell or the US Open, or both, will be telling. A Mueller who has made adjustments might have a say in all this.
Jesse Porter (NYAC/OTS) — About to appear in his third consecutive U23 World Championships and is one of the most explosive wrestlers in the country — and perhaps on the planet. Very few can do what Porter does regularly. Once he realizes that, who knows what might happen. Plus, with those U23 Worlds now right around the corner, there is an extra carrot dangling in front of his eyes — if Porter medals in Hungary, he automatically qualifies for the Trials.
Colin Schubert (NYAC/OTS) — The last time we saw Schubert, he put in a solid effort at the Senior Trials where the only one who gave him trouble was Alex Sancho (67 kg, Army/WCAP). He has tasted 77 before on a limited basis, Schubert, so it'll be interesting to see his body fully adapt. A very hard, very gritty and underrated athlete.
Next-Gen Challengers
They have begun to make an impact at Senior and are set to dominate the landscape at the conclusion of this quadrennial.
Andrew Berreyesa (NYAC/FLWC) — Junior World silver in '18 and a U23 World Team member this year at 82. Like Smith, Manville, Hope, and Stefanowicz, Berreyesa exemplifies gameness and is willing to suffer in the trenches if it means points. Not an everyday attribute. Good partners in the room and a manic work ethic are also good to have.
Alex Mossing (Air Force RTC) — Final X runner-up (at 72 kg), Mossing gave 77 kilos a try at the Pytlasinski in August and busted up 2016 Olympian Bin Yang's (CHN) ribs with a nasty gutwrench. Yang had a 5-0 lead entering the second, and then Mossing dished out the hurt. Will be on the shorter side of things at 77, but is a scoring-friendly athlete everyone respects.
**Carter Nielsen (Minnesota Storm/OTS) — Delivered one of the most inspiring matches of last season at the U23 Worlds and gave Bey a nice tussle in the '19 Schultz final. At his best, a kinetic scorer on the feet who tirelessly works to create opportunities. But will also unapologetically fight in a phone booth.
Tyler Dow (Wisconsin) — Dow had his sights set on another Junior World Team until a purported knee injury ended his season. Before that, he put in a solid run at the Senior Nationals, falling only to Manville and Porter. Disciplined positioning allows Dow to scan for openings, and his wealth of age-group experience cannot be discounted.
**Spencer Woods (NYAC/OTS) — Still so young, Woods' advancement to the Open final endeared him to the fanbase because they saw an athletic freak who is unafraid to open up. Will need to recapture some of that moxy to step up another notch here and improvements made since the spring will help.
Fritz Schierl (Ohio RTC) — More reps, specifically from par terre, and Schierl could transform into a downright fearsome competitor down the road. He's not that far away as it is, but the majority of this field is comprised of full-timers who focus on the nuanced positions daily. Will not be overpowered or out-hustled, which is why he has to be accounted for.
Britton Holmes (NMU/OTS) — As he explained this week, Holmes chose 77 because 67 kilos was just too much of a cut to seriously consider. As such, he will give up size and bulk to most. At the same time, he won't have to worry about being sapped for energy come tournament time. A high-intensity athlete whose best days are still to come.
Bookkeeping
77 kilograms by the numbers
Eight athletes already qualified for 2020 US Olympic Trials.
Eight prior US Senior World Team members.
11 current or former US National Team members.
Eight prior Junior World Team members.
Five prior age-group medalists (Smith, University World silver, 2014; Bey: Junior World gold, 2017; Manville: Youth Olympic Games silver, 2014; Chavez: Cadet World bronze, 2014; Berreyesa: Junior World silver, 2018).
Two previous Olympic Trials champs (Provisor: 2012, '16; Perkins: '16).
Two previous Olympic Trials runner-ups (Smith: 2016; Speiller: '16)
As noted above, only eight of the 23 athletes presented in this piece enjoy guaranteed berths in the Olympic Trials. Procedures related to qualification for said Trials, while cumbersome, outline the path to State College, Pennsylvania and are listed below. In specific cases (such as for the U23 World Championships of which Porter and Berreyesa will be a part), athletes directly affected by declared implications will be noted. This stipulation is only pertinent for events holding exclusivity (i.e., U23 Worlds and the Armed Forces Championships).
Procedures edited for content, clarity, and to match our style guide. 
2019 U23 World Medalist — November 2019 — Porter, Berreyesa
Any 2019 U23 Greco‐Roman World Championship medalist is automatically qualified.
2019 Bill Farrell International Open — November 2019 — all
The highest-placed Senior Greco‐Roman USA athlete per weight category winning a
medal, who has yet to qualify, will qualify.
2019 US Olympic Trials Qualifier — December 2019 — all
The Senior Greco‐Roman top-5 finishers per weight category at the 2019 U.S. Olympic
Trials Qualifier will qualify.
2020 Dave Schultz Memorial International — January 2020 — all
The highest-placed Senior Greco‐Roman USA athlete per weight category winning a
medal, who has yet to qualify will qualify. Note: as of this writing, Dave Schultz Memorial is not listed on the calendar and therefore unconfirmed.
2020 Pan American Championships — February 2020 — US Program selection
Any Senior Greco‐Roman USA champion (i.e., gold medalist) will qualify.
2020 Armed Forces Championships — February 2020 — Walsh, Mossing, Mueller (if not qualified)
The highest-placed Senior Greco‐Roman USA athlete, per weight category, winning a
medal, who has yet to qualify, will qualify.  Only gold and silver medals awarded.
2020 Pan American Olympic Qualifier — March 2020 — US Program selection
Any Senior Greco‐Roman USA athlete who qualifies the Olympic weight category at the
Pan American Olympic Qualifier (by placing in the top‐two) will earn an automatic berth
in the final wrestle‐off at the corresponding weight. Note: since the US did not qualify any Olympic weight classes at the 2019 World Championships, all six weight classes will be represented at the Pan Am qualifier.
NCAA Division I Championships — March 2020 — Eligible collegiate athletes
The 2020 NCAA Division I champion will qualify at the (Greco-Roman Olympic) weight category of their choice.
Final US Olympic Trials Qualifier — March 2020 — all
The Greco‐Roman champion of this event, per weight category, will qualify if they have not done so previously.
Summary
The addition of the non-Olympic weight classes and their subsequent temporary removal (domestically) for the 2016 Olympic season resulted in a fair amount of shifting, but it was nothing like what is in store for this year.
It isn't that there are so many more competitors entering 2019-20; there is an increase in participation, but just as importantly, there are more legitimately viable athletes all boasting strong cases as to why they could emerge triumphantly. In '16, even with a bracket that hosted Speiller, Cheney Haight (87 kg, NYAC), Sanders, Hope, and Fisher, Andy Bisek — who was coming off of his second consecutive World bronze and owned a bye to the best-of-three series — was deemed such a far-and-away favorite than anything other than a Bisek victory would have generated shockwaves around the entire planet. Of course, that didn't happen. Speiller charged through the mini tournament and then Bisek closed him out in two straight.
It doesn't matter who you might consider the lead dog this time around — be it Provisor, Smith, Bey, Perkins, Manville, Speiller, or Walsh — the fact that there are arguments to be made for multiple athletes speaks loud and clear to 77's unbelievable depth. What's more, there is the potential for a litany of thrilling, must-see match-ups that have never taken place before, at least not on the Senior level.
The priority is qualifying the weight class for Tokyo. That is not banner news, nor a mystery to most US wrestling fans. But it takes a community to get the job done. In order to achieve qualification, as well as eventually deliver an Olympic medalist, a crowded field featuring a significant number of proven competitors is a giant step in the right direction. That's the story at 77 kilograms in the US and it couldn't come at a better time.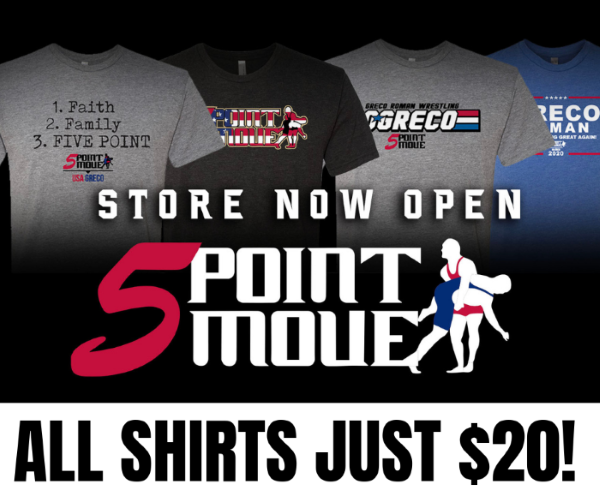 Listen to "5PM28: G'Angelo Hancock, Joe Rau and Max Nowry" on Spreaker.
SUBSCRIBE TO THE FIVE POINT MOVE PODCAST
iTunes | Stitcher | Spreaker | Google Play Music | RSS
Notice
: Trying to get property 'term_id' of non-object in
/home/fivepointwp/webapps/fivepointwp/wp-content/themes/flex-mag/functions.php
on line
999