If the news holds up, 67 kilograms at the 2020 European Olympic Games Qualifier will deliver even more of a challenging and compelling bracket to watch than it already does.
2016 World Champion/multi-time medalist Balint Korpasi (72 kg) is contemplating a move down to 67, citing the absence of an Olympic medal on his resume as the primary source of motivation. Speaking to the Hungarian Federation's official outlet, Korpasi, 32, admitted that such a weight cut would present some difficulty and require the aid of a nutritionist. Even still, since Hungary is without a more viable option in the weight category — and Korpasi now perhaps sensing the twilight of his career — it is an option that seems to make sense for all involved.
"I really have nothing to lose, I have all kinds of medal colors, (but) the Olympic podium is still missing," Korpasi said. "Still a difficult question. Morning measurements have been introduced, my wrestling is largely based on strength, endurance, and would need to be resolved to get to 67 without the slightest loss of performance, because that is the only way I could have a chance."


It has been over seven years since Korpasi last competed in the 60's (66 kg in 2012). The following season he went up to 74 kilograms and stayed there until the addition of non-Olympic 71 kg in 2014. But the example he uses to explain 67's doability relates to 2008, when he attempted to qualify 60 kilos for the Beijing Olympics. That, he insists, was a tougher cut to make than 67 might be at this stage of his career.
"It turned out to be a very bad decision at the time, but 67 kilograms is not as far from the current 72 as 60 kilograms (was from 66), not least because I never weigh more than 76 kg. This is where the dietitian would come in," he explained.
Of the six nations that qualified 67 kilograms at the World Championships last month, four were from the European continent — Russia (Artem Surkov), Serbia (Mate Nemes), Germany (Frank Staebler), and Denmark (Fredrik Bjerrehuus). Hungary entered Mate Krasznai, a solid competitor, but one who finished dead last in the weight category. At 72 kilos, Korpasi wound up with bronze, his second straight medal and third overall counting his gold in '16.
Prominent European athletes/nations still in need of stamping down 67 kilos for Tokyo render quite the list (with the most notable athlete hanging over everyone's heads appearing first). Remember: only the top-two at each Continental Olympic Qualifier secure spots at the Olympics for their respective countries.
Azerbaijan (AZE)
Rasul Chunayev (2015 World Champion, '16 Rio Olympic bronze, two-time World bronze)
Georgia (GEO)
Shmagi Bolkvadze (2016 Olympic bronze, '17 U23 World Champion)
Lithuania (LTU)
Edgaras Venckaitis (2014 World bronze)
Poland (POL)
Gevorg Sahakyan (2018 World bronze)
Romania (ROU)
Mihai Mihut (2018 U23 World bronze)
Turkey (TUR)
Atakan Yuksel (2017 World bronze)
2019 USA U23 WT Quiz
Greco-Roman competition at the 2019 U23 World Championships (live on Trackwrestling from Budapest, Hungary) begins on Friday, November 1. That's plenty of time for everyone to learn just a little more about the US athletes who will be going to battle. And one way to do that is by plowing through this fun-filled trivia quiz.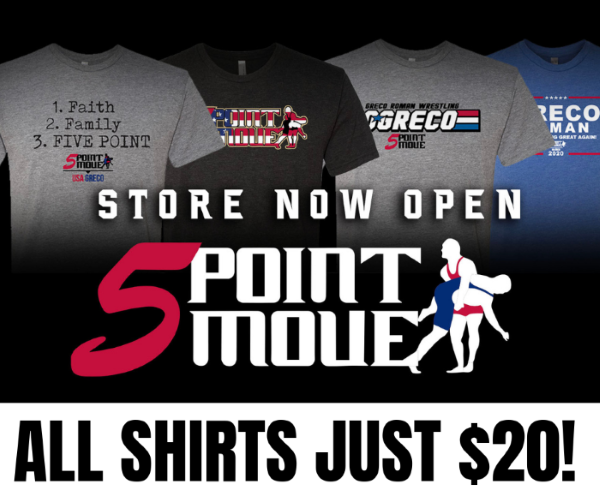 Listen to "5PM28: G'Angelo Hancock, Joe Rau and Max Nowry" on Spreaker.
SUBSCRIBE TO THE FIVE POINT MOVE PODCAST
iTunes | Stitcher | Spreaker | Google Play Music | RSS
Notice
: Trying to get property 'term_id' of non-object in
/home/fivepointwp/webapps/fivepointwp/wp-content/themes/flex-mag/functions.php
on line
999