Think for a moment about how you might define "depth". Traditionally, at least pertaining to a wrestling bracket, depth is used in reference to quantity of quality. The larger the number of skilled, proven competitors, the deeper a weight class becomes in the eyes of most.
Should there reside a higher standard, a deep weight category suggests that more than several athletes are capable of winning the tournament, and that no matter which of them does, it would not come as a surprise.
87 kilograms in the United States has some of that working in its favor entering this upcoming try at a second Olympic Year.
77 is the popular pick for many observers thanks to an overload of star power. A minimum of eight recent US World Team members will suit up for the Olympic Trials in this bracket, including two-time Olympian Ben Provisor (NYAC/BVRTC) and John Stefanowicz (Marines). Neither Provisor or Stefanowicz has competed at 77 just yet under the same-day weigh-in format, but that is likely not to present an issue.


The situation at 60 kilograms is quite similar. Five wrestlers who have appeared on World/Olympic Teams will be in the running, not to mention the weight class' two-time reigning National Champion, Mike Fuenffinger (Army/WCAP).
Then there is 67, which leading into the fall of 2019 was certainly considered suitably competitive, but maybe not quite as crowded as 77 and 60. That all changed this past fall. The rapid ascensions of Calvin Germinaro (Minnesota Storm) and Nolan Baker (NYAC) — in conjunction with Xavier Johnson (Marines) bumping up and the anticipated re-entry of 72 kilogram World Teamer Ray Bunker (Marines) — served to elevate the perception surrounding 67 in a hurry. This despite being a weight class where the #1 guy, Ellis Coleman (Army/WCAP), has just come off of three straight World Team appearances, owns five National titles, and whose domestic record over the course of the quad stands at a remarkable 32-3 — and Ottawa hero Alex Sancho (Army/WCAP) awaiting in the best-of-three final.
All three weight divisions will provide plenty to discuss in October (should the recently-scheduled US Nationals occur) and in the spring, when both the Last Chance Qualifier and Olympic Trials arrive. We know this. We have known it. These three weights are worthy of the exposure that they are going to receive.
That does not mean any of them are more interesting than 87 kilograms, however. Not now, and not in March or early-April. And if you trace things back just a few years, it was easy to see this coming.
It Started In 2017
2017 is when it first began for the current group of US Seniors. At that year's World Team Trials, it was difficult not to notice. The 85 kilogram bracket featured three athletes who had made World/Olympic Teams, a reigning National champ, the National runner-up, and an athlete whom although did not own such credentials (yet), was and still is recognized as a World-caliber competitor.
'17 WTT Seeds
(Credentials acquired prior to '17 World Team Trials)
Kevin Radford (Sunkist) — '16 National Champion
Ben Provisor (NYAC) — Two-time Olympian (eventual '17 Trials champ)
Patrick Martinez (NYAC/FLWC) — Two-time World Team
Joe Rau (TMWC/IRTC, world #7) — '14 World Team; '16 Olympic Trials Champion (eventual '17 runner-up)
Jon Anderson (Army/WCAP) — Multi-time Trials finalist/National Team member (eventual third place)
Khymba Johnson (NYAC) — '16 National runner-up
Lucas Sheridan (Army/WCAP) — 4th at '17 WTT
Jeff Palmieri (NYAC)
Sherwin Severin (Air Force)
Dan Olsen (UA)
Vaughn Monreal-Berner (Marines)
The '17 bracket for 85 kilos was rightfully acknowledged and celebrated for its toughness. Was it as "stacked" as say, 59 or 75 kilograms? Eye of the beholder. But this was a tournament where Rau and Anderson were forced to square off in a quarterfinal. Provisor and Martinez bruised each other up in the semis (and would do so again the following year in the best-of-three). Meanwhile, Anderson rebounded from his loss to Rau and ran the table on the backside after having spent most of the winter piecing together workouts in high school rooms due to a temporary duty assignment.
Skip ahead to '18. Sheridan? Up at 97 kilograms. Same with Johnson. Anderson was in Afghanistan, and Rau had to withdraw the week of the Trials due to a broken jaw suffered in an after-practice incident with a wrestler who is no longer active. It was up to Provisor and Martinez to keep the bracket afloat, which they did. But — without the likes of Anderson and Rau, 87 in '18 did not have nearly the same punch as it did the year prior.
Last season saw a noticeable improvement. Rau sprung to life at the Open, defeating Provisor and Martinez in consecutive matches to take the crown and earn a berth to Final X. Less than a month later, Provisor downed Barrett Stanghill (Minnesota Storm/NTS) in the Challenge Tournament best-of-three; Martinez placed "true second"; and JD Souza (Army/WCAP) and Monreal-Berner demonstrated that they were perhaps starting to turn an important corner in their respective careers.
Then & Now
That "Class of '17" bracket, at the time lauded for its unexpected depth, has been by and large shattered. Only five athletes from that season remain in the weight category — Anderson, Martinez, Monreal-Berner, Olsen, and Rau.
So how is 87 more intriguing now than it was then?
How else does such a thing happen? An influx of talent, a few wrestlers reaching their primes, and the return of two proven competitors from the past.
Olympic Trials: Already In
As of August '20, there are seven athletes holding bracket positions (not counting Rau) for next spring's Olympic Trials. That number could actually be as high as eight, or as low as six. Dillon Cowan (Army/WCAP) sauntered back into competition this past December up at 87, and went on to qualify for the Trials  by placing second (at 82 kilos) in February's Armed Forces Championships. Chandler Rogers (TMWC), who earned his Trials ticket after finishing third at the Bill Farrell Memorial in November, departed the Olympic and Paralympic Training Center to accept an assistant coaching role at Arkansas Little Rock and is reportedly contemplating retirement.
But since Rogers has not publicly declared that he will step away — and for the purpose of demonstrating the (potential) strength at 87 kilograms in place at the Olympic Trials — he is listed below.
*Joe Rau (TMWC/IRTC, world #7) — Rau earned the Olympic license for Team USA in March at the Pan-Am Olympic Qualifier. By doing so, he enjoys an automatic berth in the best-of-three Trials final.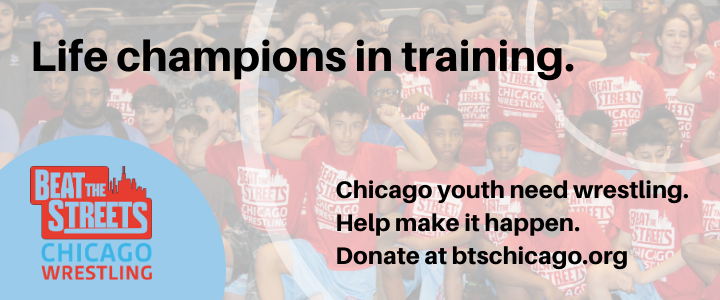 Jon Anderson (Army/WCAP, 1st at '19 Nationals) — Anderson arrived back in the US following his career-disrupting deployment to Afghanistan in the fall of '18 and still had numerous military responsibilities with which to deal before he could wrestle again. So what does he do? Enters the '19 Dave Schultz Memorial with very little preparation and, at least by his own standards, out of shape. Yet — he still put together a solid showing en-route to a finals loss against Alan Vera (NYAC, more on him soon), and almost made a match out of the thing until Vera closed it out late in the second frame. Anderson struggled at the Farrell but regrouped in time for the December Nationals, where he impressively downed Rogers in the semis. Martinez had to bow out of the final due to injury, giving Anderson his first Senior title. But that's just details for the moment. Anderson is in shape, had had steady partners (for the most part) ever since, and will be locked in more than ever before this coming season.
Patrick Martinez (NYAC/FLWC, 2nd at '19 Nationals) — One of the program's most consistent competitors, Martinez's only "down year" was '17, when he placed fifth. In between, he has been as reliable as it gets. Only three Americans have scored wins against Martinez since '16: Rau, Provisor, and Anderson. The pendulum has swung the other way, too. Martinez defeated Anderson to get the spot in '16 (non-Olympic Trials) and got past Provisor in the '18 event. A true workhorse. Martinez is never comfortable with time away from competition. He is always trying to find different ways to challenge himself; and despite his punishing style, is an exceptionally calculated wrestler. He just doesn't make mistakes. Martinez gives up more passives than anything else, and half the time that could go in either direction. Most look at the top-3 here as nearly interchangeable, which sums up 87 as a whole quite nicely.
Chandler Rogers (TMWC, 6th at '19 Nationals) — After an encouraging finish in the '19 US Open (at 82 kg), Rogers endured a most frustrating performance at the World Team Trials Challenge Tournament. He had a late lead against John Stefanowicz (Marines) in the quarterfinal until the bottom fell out; and then he fell to former wunderkind Tommy Brackett in his first consolation match. But what he did in New York is tough to forget. Rogers has improved quickly — and 87 seems a better fit for him than even non-Olympic 82 was. But who knows if we see him again. If we do, and if he continues making critical, discernible strides, a sleeper threat.
Carter Nielsen (Minnesota Storm, 3rd at '19 Nationals) — If the pandemic did not shut down the season, Nielsen would have been either the #3 or #4 seed at the Trials (probably #4). He had momentum on his side; he was also scaring people with his on-the-feet mechanics. Nielsen, who was originally pegged for 77 kilos a year ago, is the fastest and perhaps most intuitive scorer from standing in the entire bracket. No one else is cutting angles like he does, or forcing drags to reach-arounds with as high of a success rate. Martinez was able to outlast him in their initial meeting last December, though a bout with Anderson might provide an even-more suitable baseline for how much of a threat Nielsen really is due to their contrast in styles.
Rich Carlson (Minnesota Storm, 4th at '19 Nationals) — Carlson is vastly underrated. Hardly gets any attention, is hardly talked about. Strange, considering this is an athlete who made Junior World Teams and appeared in the finals of the first-ever U23 Trials. Why does Carlson continuously fly under the radar? A lot of it has to do with his workmanlike methodology. He isn't flashy. Not that 87 is crammed with a variety of offensive juggernauts, but Carlson — not unlike Martinez — is so engrossed in the pummel battle that his skills are rarely showcased in a manner adequately representative of his ability — which is quite substantial.
Barrett Stanghill (Minnesota Storm, 5th at '19 Nationals) — 2018-19 was close to a career season for Stanghill. He was edged by Souza via criteria in the quarters of the US Open but came back strong the next month by advancing to the Trials challenge tournament final against Provisor, who prevailed. Then in the "true second" bout a little while later, Martinez clipped Stanghill 2-1. This is how it has gone for Stanghill. He has been on the doorstep to a National Team spot virtually every year, just missing out each time. Naturally, that is a source of frustration for him. But there is no arguing the steady growth and consistency. Wrestlers like Stanghill, who have participated on a full-time basis for the better part of decade, have a habit of breaking through eventually.
Terrence Zaleski (Marines, 1st at '20 Armed Forces) — We have witnessed precisely one event with Zaleski at 87 kilograms, the Armed Forces Championships in February. There at Naval Base Kitsap, Zaleski looked frighteningly quick compared to his two opponents — which was important in its own way. Zaleski said last fall that he expected to be quicker than his upper-weight opposititon. A small sample size, but he's right so far. That quickness is not as important as par terre, of course. Zaleski is a capable lifter but he will need to defend against some of these monsters. PT defense at 87 is more crucial to success than offense. That's the only x-factor pertaining to Zaleski. If he clears that mystery up accordingly, a live candidate.
Who Is Still Out There?
The athletes on the outside of the Olympic Trials bubble are the real story — and why the Last Chance qualifier next March could be the best one in American history. The 87 kilogram bracket alone may field as many as 18 competitors, with ten of those deemed full-timers. We are only going to highlight six for now, beginning with the man who is not yet eligible to represent the US in Tokyo but is thought of as a legitimate threat to wind up against Rau in the Olympic Trials finals.
Alan Vera (NYAC) — Vera, who is married to former women's freestyler and World medalist Elena Pirozhkova, defected from Cuba four years ago and is still without the proper documentation required to compete for the US in a World/Olympic event. That is going to change, probably by sometime in the fall. In terms of overall skill, Vera is a step or two above his 87-kilo (domestic) contemporaries. An outstanding lift, excellent defense, and can transition on the feet to meaningful, worthwhile scoring opportunities. Stateside, he has won the Farrell and the Schultz, and last season took third at the Ukrainian International Tournament. Vera is no joke, and wears a rather large target on his back. Forget "Last Chance" he is looked at as an automatic top contender in the Challenge Tournament. A correct assumption.
Marcus Finau (NYAC) — When Finau unexpectedly broke his self-imposed exile from Senior Greco last December, he immediately entered this conversation. Everyone remembered his praise-worthy past, including the pair of Junior World Teams and Senior Trials runner-up performance from '13. What they didn't see coming was his entrance into this weight category, where he is sporting a leaner, more streamlined physique with much of the same power. Finau is big for 87, like Vera, like Rau — but had not yet become used to the adjustments necessary for the lighter division. They don't plod the same here as they do at 97. And since he has competed precisely zero times since then, it is unknown how much that has changed. But let's figure that it has. After all, Finau has been able to train with actual partners recently. Supposing he is able to fully regain his feel and instincts and make it all work at 87, it is hard to imagine an Olympic Trials unfolding without him involved.
Jake Clark (Minnesota Storm) — Clark will be 40 by the time the Last Chance Qualifier arrives on the calendar. That will be the focal point for most observers, just as it was four years ago when Clark returned at age 35. But we recall what happened that season, right? After dusting off the cobwebs at the '15 Farrell, Clark went unscored upon a month later at the Nationals and steamrolled the field on his way to the Olympic Trials finals. To be fair, things are a little different now. Clark is married, he's a father, and up to his elbows in responsibilities off the mat, which include running his growing wrestling club. He can't "just train" and have that as his only lot in life. However, there are two variables deserving of mention: word is that on the occasions he has practiced with other Seniors in and around his weight, he has dominated; the other is that no one at 87 is as crafty or capable of upsetting the flow of their opposition. Clark specializes in engineering discomfort, be it on the feet with subtle changes in push-pull and pressure; or by going to his front headlock from par terre that turns faces six separate shades of blue. Dates on birth certificates make for nice storyline filler but wind up arbitrary when the whistle blows. Clark is hoping to prove that once again, and it would not be at all surprising if he does.
JD Souza (Army/WCAP) — Similar to Carlson and Stanghill, Souza is a National Team-quality athlete who receives very little attention despite what has been consistent, encouraging improvement and enough solid performances to be considered a potential breakout. He was on the right trajectory a season ago until a) he was upended by Marine rival Monreal-Berner in Raleigh and b) practically tore his entire knee apart at the seams shortly thereafter. In other words, he is among those who benefited from everything being postponed. Recovery from a major injury, especially in the lower half (and more so in a knee for a Greco athlete) usually invites a nice, big question mark. Not for Souza. His work ethic is fanatical. As soon as he could barely bend his leg, he was feverishly working towards a comeback and quickly ran ahead of schedule. People fixate on his musculature, which is understandable since it looks like he was drawn up by the staff at Marvel. Such talks obscures his skill-set and ability. Few want to take him head-on, so they try to busy him up in the pummel in an effort to push the pace and wear him out. What they forget is that Souza's toolbox is well-balanced and complemented by extreme athleticism. Par terre is iffy, particularly from bottom. That hardly makes him unique.
Vaughn Monreal-Berner (Marines) — The progress has been steady. Noticeable. It has also been a "one step forward, two steps back" proposition. VMB, another big body, has a tendency to put together matches that suggest he is a whisper or two away from jumping up into a top-3 spot. You have to isolate those a little bit, but they are available. He is an actual scorer. That may not seem important, but at 87 kilos points come at a premium, and Monreal-Berner is not afraid to take a risk if it means a crooked number is waiting on the other side of the attempt. There is an arm spin — certainly a rarity for most others here — as well as a more-than solid cascading bodylock with the fitful energy it takes to land one. The issue is that matches can go off the rails (often due to giving up turns, naturally), though there have been some odd head-scratching scrambles, as well. The good news is that (save for the '19 December Nationals, and dismissing Armed Forces where he went up to 97) there have been enough promising  domestic performances over the past four seasons to see that he is inching closer.
Dan Olsen (UA) — You hate to use the word "deserve". Wrestling is meritocratic. Everything is supposed to be earned, not given, and not the result of some fortuitous set of circumstances one might stumble upon. Dan Olsen, "The Viking Warrior", as it were, is very good. He is a solid, lunch-pail type of competitor with substantial Senior-level experience. But, a few years ago, back when he was an assistant at Wheaton College, he was without any Greco partners — save for two-time Olympian and Wheaton head coach Jim Gruenwald. Forget that Gruenwald was then in his mid-40's and instead hone in on how he's 5'4 and (still) maybe about 66 kilos. Olsen left Wheaton, so now in order to compete he makes do on his own more than anything else, though he has popped up in some decent rooms occasionally. The reason this is worth mentioning is because it is not difficult to fathom that if Olsen were in a high-speed, full-time training environment, his career might look drastically different. We have said this all before. Any discussion about Olsen usually begins and ends with his preparation. The Nationals were a bit rough. He did not qualify last December, losing to VMB, Stanghill, and Finau en-route to eighth. With wrestling's shutdown since March, it is any wonder if Olsen has been able to make up necessary ground. Here's hoping he at least gets the opportunity to make that happen.
It Won't Be Long
USA Wrestling recently announcing their intent to hold a National tournament in October means that we may get a sense of just how potent 87 kilograms is well before the springtime. "May", because that event hardly seems like a given at the moment; plus, participation is doubtful to include all of the athletes outlined above (or even half, depending on with whom you speak). Nevertheless, such a tournament would provide a workable litmus test, especially if Vera is cleared by then.
Of course, a National tournament in the autumn, full bracket or otherwise, will not come close to the theater of the Olympic Trials or the Last Chance before it.  The pieces are in place. A weight category that is normally relegated to third-tier priority among wrestling fans is all but guaranteed to deliver more drama than any of the others. Storylines in wrestling aren't written in the middle of an event. They begin taking shape months prior. In some cases, years. That is what we're witnessing for 87 kilograms and it couldn't come at a more appropriate time.


Listen to "5PM38: MWC Wrestling Academy's Zac Dominguez" on Spreaker.
SUBSCRIBE TO THE FIVE POINT MOVE PODCAST
iTunes | Stitcher | Spreaker | Google Play Music
Notice
: Trying to get property 'term_id' of non-object in
/home/fivepointwp/webapps/fivepointwp/wp-content/themes/flex-mag/functions.php
on line
999