There is a maturity in the way he moves. It has been this way for a few years. Zac Braunagel (87 kg) does not compete like a "kid". He didn't when he was just coming up as a promising Cadet, and he doesn't now following a string of impressive on-the-mat achievements.
When a bout begins, Braunagel prowls accordingly, finding his pocket and working to plunge forth underhooks that land like bodyshots. It's nice to see, but it also isn't what has made him unique. The line of demarcation between Braunagel and other age-groupers comes down to what Senior coaches enjoying witnessing the most: stout, uncompromising position; and the ability to see a match through to its conclusion without so much a nanosecond of letup. Not easy to do, particularly in a sport where you are often judged by body language as much as post-match boxscores.
And Braunagel — considered by many a potential Senior star in the mold of Illinois RTC teammate and two-time World Team member Joe Rau (87 kg, world #7) — is not lumped into just one category. He is making equal impacts as both an uber-promising Greco-Roman athlete and collegiate folkstyler. The US has and has had plenty of wrestlers cut from this same cloth but that number keeps diminishing. Some see that as a good thing, since folkstyle tends to receive blame for all of the Senior program's ills. Others are scratching their heads. They, like Braunagel, believe "wrestling is wrestling", a universal language that is merely translated differently under various rule-sets. All involved in the conversation are probably correct to a degree, not that Braunagel cares to argue. He knows what he wants to do, and how he wants to do it. He wants to wrestle and smash people whether the colors are red and blue, or green and red.


After Braunagel wrapped up the second of his two high school state titles, he traversed the treacherous terrain at Fargo en-route to his first National Greco crown. Early on, he was nearly (and wrongfully) bounced out of the tournament on the heels of a contentious match. Adults, even with the benefit of video analysis, took a while to arrive at the correct determination. Braunagel was back in but forced to re-wrestle the same opponent in the same round, and he prevailed in lopsided fashion. The reason it is of interest has nothing to do with the brief controversy. Instead, it is all about Braunagel's resolve. He brushed it all off, added one extra match to an-already long list of matches, and won the most grueling tournament this nation has to offer.
Last season invited a step up the ladder. Really, two. First, he earned the 82-kilogram spot on the 2019 Junior World Team by downing a very tough Max Wohlabaugh in two straight. That meant a ticket to the World Championships. Braunagel started off with a gut-you-out tech over Toyly Orazov (TKM) but fell via criteria in the next round to Satoki Mukai, who in the time since has become a Senior National champ in Japan. Most recently it had been Braunagel's exploits for the University of Illinois. It was quite the ledger in the pandemic-shortened campaign. Braunagel not only qualified for the NCAA Division I National Championships, he was also a team captain…led the squad with nine major decisions…and was an NWCA Honorable Mention All-American.
Remember: this is supposed to be a "Greco guy".
The fact remains, Braunagel is a Greco guy. He happens to be an all-around wrestler, as well, primal in his hunger to defeat another man on equal terms in the most physical manner possible. Crazy to think how this is all just a beginning phase. Braunagel turned 20 years of age in July and most assuredly occupies a place as one of America's highest-profile young athletes. He has plenty of time to develop. He has the patience to discover what that will look like. There is no rushing on his end, only for those hoping to keep up with him.
Zac Braunagel — 87 kg, IRTC
5PM: How long ago in your youth did you start wrestling Greco?
Zac Braunagel: I started wrestling Greco my sophomore year of high school. I didn't do Greco state or anything like that, but I did freestyle state and I won. So, the coaches called my dad and told him they wanted me to wrestle Greco. He said, Okay, sure. My first Greco tournament was going to be the Cadet Duals. I didn't know how to wrestle Greco so I asked them (the coaches) if they could show me a few things. JD Oliva told me the first thing that I needed to do was to keep my elbows at the ribs and I won't get out of position, and how if I did that it would be really hard for people to score on me. Then he showed me an arm drag, and that has kind of taken me to where I am now. Those are the roots. I try to stick to that, and so far it has done pretty good for me.
That's basically it. He told me to keep my elbows at my ribs and don't let opponents get underneath them, and I'll be fine. That's what I have been working with and it has stuck. It has worked. If it ain't broke, don't fix it.
5PM: If you would, describe the difference between winning Fargo, and winning the Junior World Team Trials.
ZB: Winning Fargo I guess was the first major step I've taken in Greco and there were way more matches in Fargo that I had. At the Trials, I think I had four matches, whereas at Fargo I think I had eight, or maybe nine. Just how big of a tournament it is, that was the biggest difference. At Fargo, the guy I had in the finals was Jack Jessen and I had wrestled him three or four times prior. It was more of a familiar thing. There weren't really nerves or anything like that. We had wrestled each other so many times and I knew what he was going to do and he knew what I was going to do. That's why it was a back-and-forth kind of match.
At the Trials, my first two matches I think lasted about a minute or a minute-and-a-half. Then in the finals it was right to a best-of-three so it wasn't too much wrestling involved before the finals. But then in the finals, I found a way to get it done. I guess the biggest difference was that I had way more people to wrestle at Fargo compared to the Trials.
5PM: Do you elevate one over the other in your mind?
ZB: Well, I mean, one meant more. Obviously, the Trials meant more because it led to me representing Team USA at the World Championships. That one obviously has more value to me. But Fargo was special to me, too, because both my brother (Danny) and I won the same year. It was big for me, big for my family. So no, I don't elevate one over the other for that reason, because my brother and I did Fargo together. That was a pretty big deal to me. I'm a big family guy. We're a really close family, so doing that together was huge for us.
5PM: Your first time overseas came once you made the Junior Team, is that correct?
ZB: Yes. My first time overseas was actually freestyle at the Pan-Ams, and then Finland for Greco last summer.
5PM: What was the main difference you noticed for yourself in terms of style and how foreigners compete?
Zac Braunagel: The biggest difference for me was the par terre game. I knew that my par terre defense had to be better, especially over there, but I didn't know how much better. And then when I got there, guys at the Finland camp were just throwing me around. I was getting straight lifted and reverse lifted. It was really pissing me off for a while. We were there for two weeks and it was pissing me off. I hate to get scored on because I'm a competitive guy.
When we were out there, Nate (Engel) was with us and we worked on it. Then on the last day, I might have gotten lifted once and we did par terre go's for an hour-and-a-half. So I made big jumps there with my par terre game. I would say the biggest difference is their ability to lift you out of nowhere. Their par terre game is way better than it is here. That is one thing I have been working on lately, especially with Joe (Rau).
5PM: I once wrote that you profile as an excellent Senior because your base, your position, is really solid, which you have had working in your favor for a few years now. As you have gained experience and now having traveled overseas, do you see that yourself? How on your feet you seem to have a natural developed feel for the positional integrity Greco demands?
ZB: Yes. It's really simple to me. I don't know if it is for everyone else. I just keep my elbows in and I don't really stray from that. I work from the wrists up. If you keep your elbows in and work from the wrists up, I feel like there is not much they can do to get you out of position, except maybe snap you down or try to arm drag you out of that. But that doesn't really happen too often. Joe Rau is now at the IRTC and I have worked out with him a couple of times. He kind of wrestles, not the same way as I do, but he stays in really good position and I do, too. He does the same thing with his elbows, except maybe a little bit more. He has been working with me on that. What I have already known and then adding what Joe knows — and with him kind of becoming a mentor to me now — I feel will translate really well over to the Senior level for me just because we are really similar.
5PM: You're a terrific folkstyler, we all know it, and you would have been in the NCAA Division I tournament had the pandemic not shut everything down. First off, what was your immediate reaction to this all happening?
Zac Braunagel: I'm not completely sure what my first reaction was anymore because I was at practice. I was in the middle of practice and the coaches were like, Hey, bring it in, the Nationals are canceled. And this was my first year, so I was pretty excited for it. But I do remember one of my first reactions. Our 133 pounder this year was Travis Piotrowski. This was his final year and he is a four-time NCAA qualifier. In my eyes he was going to at least become an All-American. The NWCA gave him that. But my first reaction was, Oh sh*t, Travis doesn't have his chance because this is his last year. My brother and I and Travis hung out all the time. We were best friends on the team. My first reaction before myself was like, Oh man, Travis won't get his shot to do it. I don't know. It's just one of those things you can't control but everyone saw coming since everything else was being canceled. We saw it coming. We weren't prepared for it, but mentally, we knew it was coming. It was just a When are they going to say it? kind of deal.
5PM: Did you gain confidence right away in your first season at Illinois, or was there some kind of dual or tournament where you began to find your sea legs?
ZB: I think our first tournament was the Michigan State Open. I went in there and I was really excited to wrestle. My first matches were against guys I had never heard of, I think they were backups or redshirts. Then I wrestled the kid from NIU. He beat me, and then in the wrestlebacks I had Cameron Caffey, who was also on the Junior World Team with me last year. He was top-20 at the time in the country and I think I beat him… I don't know what the score was. 15-4, I want to say? No, not 15-4, but I majored him. I remember that. And after that match it was, Okay, I can do it this year. I'm right there with everyone. I guess that would be the match. It wasn't a tide-turner or anything, but I realized, I can wrestle here. I belong here. 
5PM: Obviously, the one question I have to ask, as I have asked others, is how advantageous is your Greco background when it comes to college wrestling?
ZB: It actually helps me out a lot. I've heard a lot of people saying how they don't wrestle Greco because they wrestle freestyle, or they don't wrestle Greco because they wrestle folkstyle and they don't think it will help them. But it helps me out a lot. In freestyle and folkstyle, I shoot a lot. I grab legs all the time, and there are times when you get stuck under there and have to work your way up. When I work up, I'm at the body and that works right into Greco. I'm already comfortable there before I even get there, you know?
Wrestling is wrestling in my eyes. It doesn't really matter what style it is, it's going to make you better. It definitely has its place for me. In folkstyle and freestyle it helps me out a lot in the upper-body positions where I know a lot of people aren't comfortable. But I feel like a lot more people are more uncomfortable with me now because they're like, Oh, he made the Greco Team last year. They don't want to go upper-body anymore. It allows me to be more comfortable in positions where other people aren't so comfortable.
5PM: There has been a push to get more guys in your age range into full-time Greco because the thought is we are so far behind other countries due to our folkstyle system. But right now, we currently have several really talented younger athletes who compete in college and at age-group and Senior. How do you strike that balance knowing this perception is out there, that the US struggles in Greco because of folk even though we do have age-group types who seem to be able to manage competing in both styles?
ZB: Well for me, wrestling is wrestling. I train all three styles. Even now during the summer, I will still train all three styles. Even last summer I did up until the Pan-Ams, and then I kind of split off and focused on Greco leading up to Worlds. But to me, wrestling is wrestling, and everyone at the IRTC sees it that way, too. We have Joe Rau, Travis Rice, Zane Richards, Nick Dardanes. And everyone in there wrestles both styles, we cross-train all the time. Our head coach is (Bryan) Medlin, whom I think most people would know. His thing is that wrestling any style will help you.
So, I don't really see it as wrestling another style will hurt me in Greco at all because I'll be in the same positions in a Greco or freestyle match. I work from underhooks a lot. When I get underhooks in Greco or freestyle, I do some of the same stuff, though there are differences. Like maybe if I do a throw-by, my hand will go to the waist instead of the leg. But training both styles, you still get a feel for all of the positions you'll be in.
In the IRTC, we'll have freestyle guys and Greco guys training together and we will do edge go's. It looks the same for both guys. It looks the same the whole time because the positions are the same for both styles. I don't think it makes too much of a difference just training one, or just training the other. We like to wrestle everything.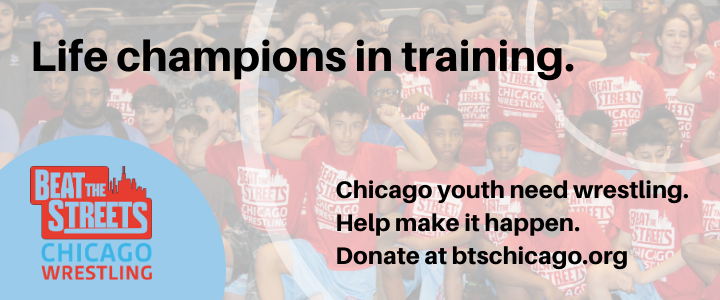 5PM: Are you considering entering the Olympic Trials Last Chance Qualifier?
ZB: Yeah, 100%. Why not? My main partner is Joe Rau. We're going to be at the same weight for it. But yeah. Even if I do Juniors I was thinking about going to the Last Chance Qualifier. If I don't win it, big whoop. It's still mat time, it is still competition. That is what we look for a lot. But yeah, I want to do it.
5PM: How has this unfolded for you as far as training during restrictions/lockdowns? How has it progressed? You have been able to get some practices in and you just attended a Senior camp but was it tough during the beginning stages to do much of anything?
ZB: That's pretty easy, I have a twin brother (laughs). We're always working out together. Plus when we're at home, I have my little brother JoJo, who also wrestles Greco. We find ways. Right at the beginning when quarantine first started, we took a month off. We were lifting and running and stuff but we took a month off because we had just gotten done with the season. The college season is long and grueling, so we let our bodies heal for a bit and relaxed.
Then it started out with my brother and I wrestling in the backyard. We were doing a lot of Greco in the backyard because we didn't want to bounce our knees off the ground. We were doing a lot of Greco in the backyard between me, my twin, and my little brother. When the ground started to become a little softer we did a little freestyle, shooting and stuff like that. We were always finding ways to train, to keep our technique and levels up. Then eventually, my dad come home one day and saw it, so he took a video and put it up on Facebook. One of my dad's friends saw it and told him that he had a wrestling room that we could use and train by ourselves. We began going to a wrestling room and got back into it. We were rolling around again.
That is how it has evolved. Just finding ways to train and not let the time beat us. I know a lot of people are just kind of sitting around right now and not doing too much because wherever we are training no one is in shape right now. My brother and I are in really good competitive shape because we are training everyday and still working towards our goals. It hasn't stopped us too much, quarantine.
5PM: We don't know for sure the fall schedule, whether that is Junior or U23, or both. But for you, and I suppose Danny and Medlin, have you at this point fashioned together a periodization plan in the event one or both of these tournaments come to fruition in the fall?
Zac Braunagel: Yeah, we're still training, we're looking forward to it. My brother and I are training both styles and Medlin is sending us workouts. He has also seen us work out a few times. We are both working towards the same goal as far as making the Junior Team, but we obviously know it could be stopped, canceled, or pushed back again. But we're on a training plan, for sure.


Listen to "5PM38: MWC Wrestling Academy's Zac Dominguez" on Spreaker.
SUBSCRIBE TO THE FIVE POINT MOVE PODCAST
iTunes | Stitcher | Spreaker | Google Play Music
Notice
: Trying to get property 'term_id' of non-object in
/home/fivepointwp/webapps/fivepointwp/wp-content/themes/flex-mag/functions.php
on line
999