Braxton Amos (97 kg, Sunkist/Wisconsin RTC) celebrated in a fashion similar to most wrestlers. You couldn't hear it, but he must have yelled something. He had flexed, pointed, whatever. But then Amos saw that the young man he had just defeated for Junior World bronze, Arkyt Orozbekov of Kyrgyzstan, lying face down in vivid dejection. In short order, Amos' jubilant expression transformed into one of concern. So, on instinct, he strolled over to Orozbekov and began patting him on the back. The scene lasted for more than a few moments. Only when the referee commanded Orozbekov to rise for the end-of-match rituals did Amos once again feel comfortable enough to enjoy the aftermath of his achievement.
This is how everyone shall remember Amos' definitive entrance onto international Greco's World stage.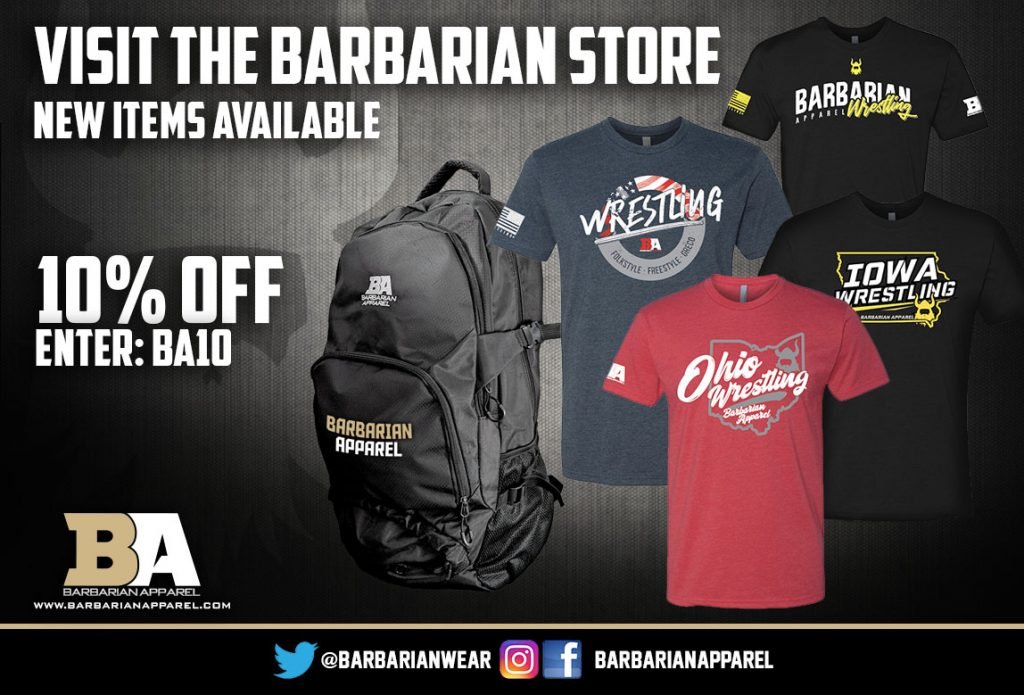 The medal round on the the final day of the 2021 Junior World Championships began at 6:00pm local time in Ufa, Russia and aired live in the United States on FLOWrestling.
Orozbekov had competed earlier on Sunday with a 6-4 decision at the expense of Antti Haanpaeae (FIN) responsible for pairing him with Amos. All three athletes had been vanquished the day prior by eventual silver Aleksei Mileshin (RUS).
Whether or not Amos had scouted Orozbekov is immaterial, for the start of the match brought to bear the American's signature methodology. Upon the whistle, Amos intently stalked Orozbekov, who reacted by reaching for the head. Mistake. Amos easily shucked the hold and got behind for a takedown that he soon converted into a slightly elevated gutwrench. The sequence yielded four points, and the West Virginia-raised Amos was off to the races.
On the reset, Amos hunched perhaps a bit too much — but even that miscue turned out beneficial. Orozbekov had latched over the top of Amos' head, which can present dangerous implications. But Amos remained poised. He also kept it simple: rather than shirk underneath hoping for another restart, he churned his legs forward and forced Orozbekov off the line for a step-out point. A slip, and then a third reset offered a repeat. Amos hung his head and Orozbekov front headlocked, but the hold was not going to be advanced.
Amos clambered forth after yet another reset to work Orozbekov out for his sixth point. It was only 1:10 into the contest, and there had already been five action-induced interruptions. Orozbekov also had begun to appear flustered, frustrated. One more time the athletes made their way back to the center. Needing to at least put a dent on the scoreboard, Orozbekov sought a headlock; and as was the case with the bout's first action, Amos was adequately positioned to respond. He roped Orozbekov's body, looked to lift, and eventually squeezed and pulled and popped to the side for a takedown. The two points were all Amos required, and he had earned Junior Greco World bronze to go along with his freestyle gold from last week.
Amos' bronze is not only an important personal milestone. It also maintains a streak for the American program. Beginning in 2016, the US has walked away from every Junior Greco-Roman World Championships with a minimum of one medal. However — the streak of multiple medals within the same time span did reach its conclusion in Ufa.
2021 Junior World Notes
Team USA finished the Junior World Championships in 17th place, between Poland (16th) and Moldova (18th).
In total, the Americans collected four individual victories (three for Amos, one for Nic Bouzakis at 60 kg).
Two US athletes lost to eventual bronze medalists: Chayse LaJoie (Iman Mohammadi, IRI); Dominic Damon, 67 kg (Muslim Imadaev, RUS)
Across his three victories in Ufa, Amos was credited with 22 offensive points (i.e., not counting passives) and two technical superiorities.
2021 JUNIOR WORLD CHAMPIONSHIPS
August 20-22 — Ufa, RUS
TEAM USA FULL RESULTS
55 kg: Billy Sullivan (LOG-LV) — 15th
LOSS Ishkar Kurbaev (KAZ) 11-2, TF
60 kg: Nic Bouzakis (PA) — 8th
WON Miguel Loureiro Dos Santos (POR) 11-2, TF
LOSS Arslanbek Salimov (POL) 12-5
63 kg: Chayse LaJoie (Spartan Wrestling RTC) — 19th
LOSS Iman Mohammadi (IRI) 8-0, TF
67 kg: Dominic Damon (NMU/NTS) — 24th
LOSS Muslim Imadaev (RUS) 10-0, TF
72 kg: Justus Scott (LOG-LV) — 22nd
LOSS Omer Dogan (TUR) 8-0, TF
77 kg: Matt Singleton (Compound) — 22nd
LOSS Andreas Vasilakopoulos (GRE) 7-0
82 kg: Jonathon Fagen (Spartan Wrestling RTC) –13th
LOSS Mikhail Khachaturau (BLR) 7-2
87 kg: Kodiak Stephens (Beaver Dam RTC) — 20th
LOSS Tyrone Sterkenburg (NED) 8-0, TF
LOSS Maksat Sailau (KAZ) 8-0, TF
97 kg: Braxton Amos (Sunkist/Wisconsin RTC) — bronze
WON Yerzat Yerlanov (KAZ) 8-0, TF
WON Mustafa Olgun (TUR) via fall
LOSS Aleksei Mileshin (RUS) 9-0, TF
WON Arkyt Orozbekov (KGZ) 8-0, TF
130 kg: Luke Luffman (IRTC) — 14th
LOSS Razmik Kurdyan (ARM) 6-1




Listen to "5PM50: Mr. Fantastic Benji Peak" on Spreaker.
Listen to "5PM49: Robby Smith on coaching, fatherhood and mentors" on Spreaker.
Listen to "5PM48: Austin Morrow and Gary Mayabb" on Spreaker.
SUBSCRIBE TO THE FIVE POINT MOVE PODCAST
iTunes | Stitcher | Spreaker | Google Play Music