Next year, All-Army will attempt to capture their 20th consecutive Armed Forces team title.
The third and final round of the 2020 Armed Forces Championships began at 3:00pm from Naval Base Kitsap in Washington (6:00pm ET) and was broadcast live on Trackwrestling.
Army clipped the All-Marine Team 21-20 in their closest dual since '13. The two squads tied in terms of matches won, but Army got the bonus points they needed from a few reliable sources.
It was the '19 World Team duo of Max Nowry (55 kg, world #5) and Ildar Hafizov (60 kg) who got Army started off in the right direction, with both athletes coming away with quick superiors; Nowry got past Josh Medina (Marines) 9-0 towards the end of the first period, and Hafizov tech'ed Colton Rasche (Marines) in under a minute.


At 63 kilos, the Marines finally got on the board. In one of several marquee matchups, Xavier Johnson (Marines) hung on to earn his first win against Ryan Mango (Army, world #13) 6-5. Johnson's signature lift created distance early. They were neck and neck in the pummel, though in the second frame Mango upped the tempo and received his own passivity/par terre chance. He locked lift, and elevated Johnson, who contorted to avoid giving up his back. Mango completed the hold but just missed on a correct throw. Army challenged but the call was upheld, giving Johnson another point.
As the finish line approached, Mango broke through and scored a takedown. With under :10 to go, he gutted Johnson once but could not net another turn. A thrilling ending to a banner bout, and one that got a rise from the Marines sitting on the side.
Alex Sancho (67 kg, Army) and '19 World Team Trials champ Jamel Johnson (Marines) also put on a bit of a show, especially in the early going. Sancho had stayed heavy on a Johnson arm spin attempt to come away with a takedown. Next, Johnson was dinged for passive and Sancho was able to find his side lift for four — though upon impact, Johnson stepped over and caught Sancho on his back and close to a fall. In the midst of the same sequence, Johnson managed to rotate one gutwrench and trailed 7-4. However, there was no further scoring from then on, allowing Sancho to hold steady for the decision.
There was no holding steady at 72 kilograms, as '19 World Teamer Ray Bunker (Marines) bombed Michael Hooker (Army). What was predicted to be another close, all-out brawl between the two ended surprisingly early. Bunker used a pair of reverse-lifts — both scored for five — to put Hooker away via tech. And again, the Marines became riled up.
A little cold water was poured in the proceeding match when Vlad Dombrovskiy (Army) overcame National Team member Peyton Walsh (Marines) 9-6. Walsh opened the scoring by stopping a Dombrovskiy attack and landing on top. From there, the Marine assumed his lock and hurled, picking up correct hold points. After the reset, Dombrovskiy sat back on a Walsh arm spin before cranking him over for two and a 4-4 criteria lead. Towards the end of the first, Dombrovskiy powered through Walsh at the edge for four more, plus one following an Army challenge that wasn't called in their favor. Walsh would grab two points in the second period, but nothing else.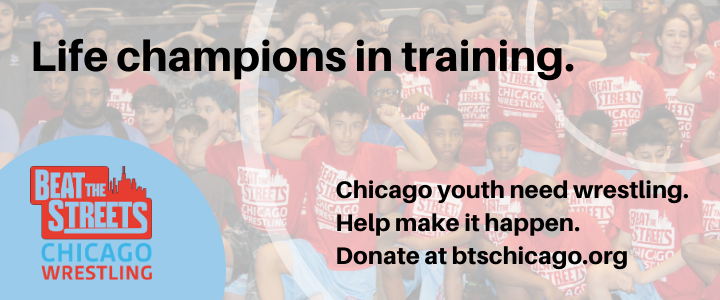 The last of the '19 World Team members to compete on Saturday was John Stefanowicz (82 kg, Marines) and his opponent was a very interesting and capable one — former National Teamer Dillon Cowan (Army), who returned to competition this past fall. They had battled previously, with Stefanowicz having emerged victorious the last time they met in November of '17. But still, given Cowan's notable skills and experience, this was one more match originally thought of as a potential barnburner that ultimately ended in one-sided fashion.
Stefanowicz hustled a spin-behind takedown to begin. Following the restart, a tight arm drag provided two more points, and then Stefanowicz converted to a gut that translated into a 6-0 lead. With the first period on its last legs, Stefanowicz collected a pair of step-outs to turn the lights out.
Terrence Zaleski (87 kg, Marines), in action for the first time this season, looked explosive earlier in the day and kept his team in the running with his performance against George Hooker (Army). He was fresh, Zaleski, despite his two prior bouts. Step-outs were the name of the game. Zaleski put Hooker on his heels and off the line twice to start; in between, he was awarded a passivity point but couldn't get to his lift; back on the feet, and there was yet another step-out, this time resulting in a caution for fleeing and a 5-0 advantage. :24 into the second, Zaleski stalked Hooker and engineered a nifty throw, thus securing the 9-0 tech — as well as a temporary 17-15 lead for the Marines in the team score.
It was temporary because of Lucas Sheridan (97 kg, Army). Both of Sheridan's wins in the first two rounds at Armed Forces were achieved via pin, that whammer of a headlock. It worked again here. Squaring off against Vaughn Monreal-Berner, who normally occupies 87 kilos, it was a matter of patience, and timing. Midway through the first, Sheridan isolated head-and-arm and drilled his go-to, instantly planting "VMB" on his back. The pin was evident right away, though it took just an extra second or two for full confirmation. When the signal arrived, Sheridan and his Army teammates celebrated. They knew that anything short of a severe shocker at heavyweight meant their streak was safe.
That doesn't mean what transpired in the last bout of the day shouldn't be construed as an upset. With the Marines shifting around their lineup, two-time National champ — and Olympic Trials contender at 97 kilograms — Daniel Miller was inserted at 130 kilos. Miller, who did wrestle heavyweight during his time at the Naval Academy, went virtually untouched in the first two rounds on Saturday. But operating against Toby Erickson (Army), himself a US National champ in '16, is a different story. Erickson is mountainous by comparison, and an extremely skilled big man. But he appeared almost handcuffed working against his smaller opponent.
Hard contact was made by both athletes from the whistle, with Erickson experiencing little trouble moving Miller off his spot. They liked trading blows, it created more energy in an already turbulent environment. But before they could settle into a nice, physical match, a warning rang in and served to deflate some of the intensity. Miller did a fine job of chipping in space and using his shorter frame to dig inside of Erickson's clutches. Erickson — beholden to more length and strength — was keen to go up top at Miller's head in between rattling off in the ties to steer position.
Erickson soon enjoyed the first passivity/PT. From top, he locked gut, and somehow, Miller defended. Back standing and they plodded, neither able to do much to gain an upper-hand. The second period saw Miller the recipient of a passive point without a follow-up score. He owned criteria, which put the onus on Erickson to make the next move. The tempo ebbed, a common occurrence. Before any late-match strategy could develop, the officials knocked Erickson for another passive, providing Miller with a clean 2-1 advantage. Erickson responded with a headlock try. A questionable decision due to where he stood in the pocket relative to the Marine Captain's stature. Miller immediately shrugged the attempt off and covered for a takedown. Erickson rose to his feet after Miller came up empty from par terre hunting for lane. None were available. Impressively, Miller took a 4-1 decision over a stout heavyweight, and in the process, collected his third straight Armed Forces gold.
Air Force Blows Past Navy
'19 World Team Trials winner Alex Mossing is likely not satisfied with his showing today (despite a strong effort against Stefanowicz earlier), but he did notch his first-ever win at 82 kilograms in a dual that saw Air Force win all but two bouts in their Round 3 dual with Navy. Mossing made reasonably quick work of Austin Craig via tech. One athlete who opened a few eyes today was Diante Cooper (97 kg), who is now heading to the Olympic Trials after going 2-1. Against Navy, Cooper pinned Mark Saunders, his second such victory of the day.
2020 Armed Forces Championships
February 22 — NB Kitsap (WA)
Round 3
Army — 21 Marines — 20
55 kg: Max Nowry (Army) def. Josh Medina (Marines) 9-0, TF
60 kg: Ildar Hafizov (Army) def. Colton Rasche (Marines) 8-0, TF
63 kg: Xavier Johnson (Marines) def. Ryan Mango (Army) 6-5
67 kg: Alex Sancho (Army) def. Jamel Johnson (Marines) 7-4
72 kg: Ray Bunker (Marines) def. Michael Hooker (Army) 11-0, TF
77 kg: Vlad Dombrovskiy (Army) def. Peyton Walsh (Marines) 9-6
82 kg: John Stefanowicz (Marines) def. Dillon Cowan (Army) 8-0, TF
87 kg: Terrence Zaleski (Marines) def. George Hooker (Army) 9-0, TF
97 kg: Lucas Sheridan (Army) def. Vaughn Monreal-Berner (Marines) via fall
130 kg: Daniel Miller (Marines) def. Toby Erickson (Army) 4-1
Air Force — 34 Navy — 11
55 kg: Teron Woodson (Navy) won via forfeit
60 kg: Cordney Chairs (Air Force) def. Bobby Raines (Navy) 6-5
63 kg: Cooper Hunt (Air Force) won via forfeit
67 kg: James Culp (Air Force) def. Cory Asato (Navy) 8-0, TF
72 kg: Dane Robbins (Air Force) def. Bobby Yamashita (Navy) 2-1
77 kg: Brandon Mueller won via forfeit
82 kg: Alex Mossing (Air Force) def. Austin Craig (Navy) 8-0, TF
87 kg: Justin Rau (Air Force) def. Kyle Fox (Navy) via fall
97 kg: Diante Cooper (Air Force) def. Mark Saunders (Navy) via fall
130 kg: Reggie Williams (Navy) def. Karl Oeser (Navy) 9-0, TF
Olympic Trials Qualifiers
The top placewinners at Armed Forces in each weight class — if not already qualified — earned spots in the US Olympic Trials (April 4-5 in State College, PA).
55 kg
Josh Medina (Marines; silver)
60 kg
Colton Rasche (Marines; silver)
72 kg
Michael Hooker (Army/WCAP; silver)
77 kg
Vlad Dombrovskiy (Army; silver)
82 kg
Dillon Cowan (Army/WCAP; silver)
87 kg
Terrence Zaleski (Marines; gold)
97 kg
Diante Cooper (Air Force; silver)


Listen to "5PM33: The Marine Corps' Jamel Johnson" on Spreaker.
SUBSCRIBE TO THE FIVE POINT MOVE PODCAST
iTunes | Stitcher | Spreaker | Google Play Music | RSS
Notice
: Trying to get property 'term_id' of non-object in
/home/fivepointwp/webapps/fivepointwp/wp-content/themes/flex-mag/functions.php
on line
999