This past week, Nolan Baker (67 kg, NYAC) dominated the fan polling for 2019's Outstanding Individual Performance, walking away with over 80% of the vote.
The performance, or in this case tournament, for which Baker was nominated occurred seven months ago — so it was not the Bill Farrell Memorial or the recent US Nationals. Instead, Baker was acknowledged for his stunning run to third place at May's World Team Trials Challenge Tournament.
Despite having been on the 2018 U23 World Team, Baker entered the event in Raleigh as little more than a question mark. It was his first Senior tournament and he had just completed a season of folkstyle for Northern Illinois University. Everyone might have understood his capabilities; but considering the minefield of top Greco athletes present in his bracket, expectations — even in Baker's own mind — were low.
What a difference half a year makes, huh?


In Raleigh, Baker went 5-1 (two pins and two tech falls) and concluded his march through the consolation bracket at the expense of excellent full-timers Austin Morrow (NYAC/NMU) and Benji Peak (Sunkist/NMU), respectively. Similar to his sparkling victory at the '18 U23 Trials, it was as if he had come out of nowhere prior to taking out a string of talented competitors, though that would no longer be the case going forward. Skip ahead to today, and everyone has become extremely familiar with Baker and his devastating methodology.
Now an Olympic Trials-qualified athlete who has taken up residence at the Olympic and Paralympic Training Center, Baker is as firmly established as it gets. One important tournament is perhaps most responsible for kickstarting his Senior career, and he relives what was going through his mind both before and after he generated shockwaves in North Carolina.
2019 Outstanding Individual Performance
Nolan Baker (67 kg, NYAC) — World Team Trials Challenge Tournament
5PM: After the U23 Worlds in 2018, your life resumed, college resumed as far as your other wrestling career. When did you decide you were going to enter the World Team Trials Challenge Tournament?
Nolan Baker: I don't remember exactly what month it was. It was within a month before the tournament happened. Since I won U23's the year before, I looked online and it said you get two years of automatic berths into the Senior World Team Trials. But the year I won U23's, the Senior Trials happened immediately after U23. We weren't prepared for it all, so we just didn't go. I think it might have happened and we didn't even know that it happened.
I thought, Okay, we've got one more year, let's do it next year. And then guys like Wesley Dawkins and Britton Holmes, who I wrestled at U23's, had done pretty well at the Senior Trials. So then I was talking to my family and friends like, Oh, I beat these guys, so that would mean I could do well, too. But I just hated saying that because it was cheap and didn't mean anything since I didn't go.
Life went on and we kind of just forgot about the Senior Trials, and then a couple of weeks before, I called my dad while I was waiting for a bus after class and asked him, Hey, can we go to this thing? He said, "Sure." So we booked flights, booked the hotel, did all that, and it was, Okay, I guess we're doing it.
Obviously, any tournament you go to you want to win. But I didn't go to the tournament because I had aspirations to get on the National Team or win the tournament. I didn't even know what it took to get on the National Team until after it was over. I just wanted to go that way if I never qualified again I could say that I did it. I just wanted to say that I went to the World Team Trials, and that was the last guaranteed year of qualification. That was my motivation for going there.
5PM: Do you think it was weird you wrestled Corey Shie in the first round of your first Senior Trials?
Baker: For sure, because I hadn't wrestled him since however long ago in Fargo, I think my sophomore year of high school. I kind of got ticked that I had him first-round because I knew he had pinned me before. I was like, I came all this way to wrestle the Senior World Team Trials to go against a guy my own age who I also wrestled before? Because in my own mind, I wanted to grab an older guy I hadn't seen before so it could be a whole new experience. But then I had Corey Shie first-round and it was like, Crap.
But right before match got underway I was like, That was seven years ago. I started wrestling him and I thought, Wow, this is actually a competitive match, he's not going to pin me right now. And then I tech-falled him and I was like, Wow, I guess I'm good at Greco! 
After that first match was out of the way we could open up for the rest of the tournament. Because then my tournament wouldn't be defined by that one match no matter what. So it was good to get that out of the way.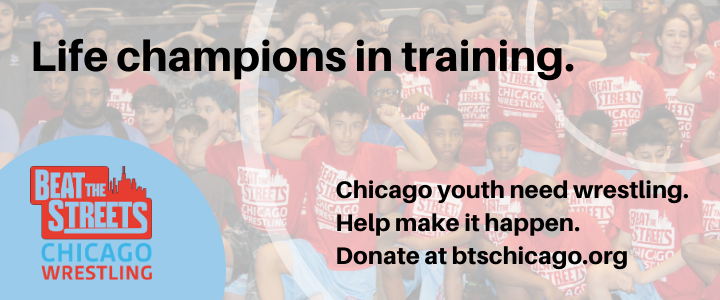 5PM: There was a succession of very good opponents you wrestled in Raleigh, including Morgan (Flaharty), Morrow, and obviously Benji. Considering your expectations going into this tournament, what were your expectations coming out of it? 
Baker: It was kind of the flipside to the coin because I thought coming out of the tournament, That was awesome. Obviously, that was one of the best tournament experiences you could have. First I was pumped I beat Shie; then I lost to (Hayden) Tuma; and then I went into the wrestlebacks and one-by-one I won four matches in a row. I remember I was texting my brother after every match because when I got off the mat there would be a text saying "Let's Go!" or something like that. I just kept texting him back, I don't know how I'm winning! How do I keep doing this? I just kept winning match after match.
That was truly what you tell little kids to do at a tournament. Don't look at the end, just look at the next match in front of you. I truly looked at the next match in front of me because I didn't know if I would get past that match. Every match came and went, and I was like, This is awesome. It was awesome to go through that and come out with the third, and to redeem yourself from the top side (of the bracket).
But at the same time, I wasn't sure how that would translate to more tournaments in the future because it felt like I had wrestled a nearly perfect tournament on the backside of the bracket. I didn't know if I could recreate that. It was almost so good in my mind that I didn't trust it. But it was definitely awesome. To go there with my dad to Raleigh and carve out a third place for myself was really cool.
5PM: How do you feel now that you have wrestled every major guy at 67 with the exception of Ellis (Coleman)? How has the perception of your viability changed?
Baker: Well even though he was a 72-kilogram guy, I haven't seen (Ray) Bunker yet, but besides those two, I have gotten a look at all of those guys, and again, it's the flipside to the coin. I respect all of them greatly now because I have grabbed them and can feel how good they are. But at the same time, I've wrestled a lot of these guys twice now.
Over the past two months, I have wrestled Jamel (Johnson), Xavier (Johnson), and (Alex) Sancho twice — so they may come out and tech me or I might come out and tech them — but the mystique is gone. I don't have to sit in bed wondering how I stack up against these guys. I have a pretty good idea if we go out and wrestle each other about how it's going to go. That has really been a great benefit to me I think for my wrestling as well as my mental state going into the (Olympic) Trials, the fact I've been able to grab all these guys.
5PM: Did it feel like a weight lifted off that you got it done and qualified for the Trials a couple of weeks ago?
Baker: It was weird. As much as qualifying for the Trials was the goal going in there, I looked at all the guys in the bracket and I was like, This is a pretty stacked weight class. So I tried to just take it step-by-step because I had never All-American'ed at the Senior level before. I got third at the World Team Trials last year but I didn't go to the US Open, so I technically could not call myself a Senior All-American. Going into this tournament it was, First thing's first, become an All-American. So when I beat Xavier on the frontside, it was, Boom, All-American.
From that point on it became about qualifying for the Olympic Trials, and I did that, too, so it was like, Hell yeah, icing on the cake. I probably had the wrong mentality going in, but it worked out for me. It was just like, Big win, big win, big win for two days in a row. That was really cool.
5PM: You are ending matches in your favor currently, mostly by pin, at a rate near 70%. Does that matter to you?
Nolan Baker: At the end of the match, it doesn't. At this level, I'll take any win I can get. But it's ingrained in me during a match that I have to pin this guy. For the last two years of my high school run, we were going for the all-time Illinois pin record and we fell two short. But for two years it was, You have to pin this guy or you're not going to get the record. So I just went for the pin every single match, every single match. My junior year going into the state finals, I had pinned every single opponent and I did not pin the guy in the finals. I still won by a major decision, but I didn't pin the guy. And I remember like a week after being in my room and tearing up because I was so upset with myself that I didn't pin the guy. It was like my high school career was ruined because I didn't pin this guy. Which, looking back now I see it's just stupid, so I don't think like that anymore.
But still ingrained in me is the second I am wrestling a guy in a live match, I almost get insulted if I haven't pinned him yet. I could be up 8-2 on a guy and my mindset is just Pin him, pin him, pin him! Say I win the match 8-2. That's fine. But when we're in the match, no matter what the score is, I want to pin this guy and show I'm the boss. That's my mindset about it.


Listen to "5PM32: Previewing Senior Nationals with Dennis Hall" on Spreaker.
SUBSCRIBE TO THE FIVE POINT MOVE PODCAST
iTunes | Stitcher | Spreaker | Google Play Music | RSS
Notice
: Trying to get property 'term_id' of non-object in
/home/fivepointwp/webapps/fivepointwp/wp-content/themes/flex-mag/functions.php
on line
999