Yesterday, it was announced that Max Nowry (60 kg, Army/WCAP, world #5 at 55 kg) and G'Angelo Hancock (97 kg, Sunkist, world #2) were named 5PM's co-Athlete of the Year, marking the first time since our inception two wrestlers are sharing the award.
As illustrated in the press release, both Nowry and Hancock enjoyed outstanding seasons in 2019. Nowry competed the most he has dating back to his high school years and ended the official season by finishing 5th at the World Championships. Hancock stood out thanks in large part to his incredible ledger compiled overseas. Last year, the 21-year-old collected a variety of impressive medals, including a gold from the vaunted Hungarian Grand Prix.


Both spoke on the record regarding being named Athlete of the Year and what comes to mind when reflecting on 2019, as well as how what transpired last year might influence 2020.
2019 Athletes of the Year
Max Nowry & G'Angelo Hancock
5PM: (To Hancock) You don't like awards, at least not really. Everyone already knows you don't like rankings, and you also don't like awards. So what is it like being recognized with an award despite your feelings?
G'Angelo Hancock: Above all, I thank God. I'm grateful He has placed me in this position and it's a blessing I've made it this far. But as far as that goes, I was cleaning out my apartment today and I remember when I first moved in, I put all my plaques in the corner as I was getting my house ready and they stayed there for three or four months.
I was talking with Pat Downey about it today, because I was cleaning and putting them all in my closet. Those things used to mean the world to me and now it's like they are… I don't want to say dust collectors, but they're just medallions. The amount of satisfaction is so much greater being around these people and doing all of these things once I envisioned the Olympic gold. Once that became the dream, it kind of just took off from there and the awards and all of those things don't stand out anymore. Because, the goal is too large.
5PM: Is it difficult looking back at the year now that the new season has of course fully started?
Hancock: No, not really. In my opinion, there's nothing to look back on, really. This has been the full-out plan since the day after I took third at the 2016 (Olympic Trials). Of course, winning a World Championship is always the goal, I am always going to try to peak at the Worlds. But we're training through that, this is the time to peak. So I don't really look back. I see this as this is the growth I've been working towards this entire time, that I have dedicated four years of my life to this plan. I don't look back with any emotions whatsoever. I am looking forward to the rodeo.
Max Nowry: No, it's kind of refreshing in a way. 2018 was a little harder to swallow. 2019, even though I didn't come away with a medal at the end of the competition year, but overall I felt a lot more rejuvenated and a lot younger mentally. 2019 was just good overall for my career and mental health.
5PM: (To Nowry) What was your most memorable match or matches from '19?
Nowry: My match with (Nugzari) Tsurtsumia prior to the World Championships. I gave up some stupid points in my opinion, but that was a good match whether I won or lost. Leading into the World Championships, I think that helped me mentally to where I was ready. It was my first Senior World Championships and I felt ready to go just wrestling someone like him before the Worlds. I was just excited. I just went in there to have fun.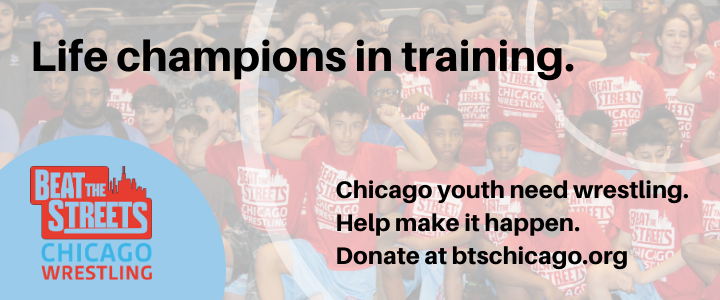 5PM: Did you have moments this past week with the New Year holiday when you looked back at the past year?
Nowry: Ah, a little bit. I didn't so much in a New Year-type of thing. I took December off. I had been sick and needed a break. I felt physically worn down traveling every single month throughout the calendar year. There wasn't a month when I didn't travel. December, I used that time to cross-train, to just keep my body moving and not just sit around. That also allowed me to reflect back on when I first started training after my surgeries to the progression I made throughout the year and to how my body is feeling now. Being able to take that mental and physical break in December was a big thing for me. I started doing more stuff with yoga and getting my body back to where it needed to get. This month was a good reset for me to see where I've picked up from my surgeries to now. It was a big travel year for me in 2019.
Hancock: I did, for sure. I was grateful. I was sitting back in my room building my little shoe rack all happy because I am upgrading my little house, just feeling all good. I was thinking, Man, I'm grateful to be in the position I am in, God has blessed me. Wrestling has put me in the position to where I can be who I am, and that's an amazing feeling. For sure. 2019 was an outstanding year and it really showed to me a lot of insight about who I can really be this next year in 2020. That was a big thing to me, for sure.
5PM: Does this all feel like unfinished business, especially with January now here and another stretch of time spent overseas coming up?
Hancock: Most definitely. 100%. I feel like this entire time has been a quest and now it's do or die. It is all coming down to this year, so definitely.
Nowry: For me, it doesn't feel like unfinished business. After the Worlds I said I didn't have any regrets. If I did, then yeah, there would be some unfinished business-type of feeling. But since this is a new competition season, I am not looking… I mean, it is the Olympic Year and everyone builds up to a cycle. Whatever happened in my mindset leading up to the Worlds, and how I was prepared and ready for it, it excited me and is carrying over to this year. Yeah, I have to bump up and wrestle bigger guys, but instead of dwelling on it, I am having fun. There is a lot more energy in the room. Whether we're drilling, going live, or just hanging around, I have a lot more energy naturally. That is my big focus this next calendar year.
Last year was last year. It didn't end on a high note, but it did end on a very positive note for myself. I started having more fun with it and I'm just carrying that over. Just carrying that energy and momentum over to this year. Once January does kick off next week with camp, it's going to be another hectic couple of months with us going from camp, straight to Italy, straight to Denmark, and then we come back for our Armed Forces stuff. It is going to be hectic, but it's a nice little reset and I'm excited to carry that fun motivation over.
5PM: What is the first thing that needs to happen in 2020 to make this year more impactful than last?
Hancock: For me it's going to be qualifying that ticket to the Olympics. That's the first thing that has to happen in 2020.
Nowry:  If the guys get it done in March, then you have more to look forward to in April trying to make the (Olympic) Team. If they don't get it done in March, then the attitude and mood kind of changes going into Trials. First thing's first is in March all six guys qualifying their weights.
For me impact-wise, keeping that attitude I talked about. Everyone knows that golf is my thing outside of the wrestling room. That helps me refresh. Sometimes, I think about wrestling differently, and sometimes I don't think about wrestling at all, which frees my mind a little bit. Just being able to reset when I leave the room has been a big thing for me, that way I'm not wearing down on myself.
5PM: Max, you were also voted 'Impact Performer of the Year' in the fan vote, which is geared towards international competition. I found that interesting since you hadn't been able to go over and travel much in recent years compared to this past year, when you were incredibly active. 
Nowry: I talked about this a couple of times over the past month. Since it was 59 kilos, which is what it became when I first joined the Army, I wrestled at the most three or four times a year. That was all domestically — Nationals, Trials, maybe Armed Forces, and maybe (Dave) Schultz. And last year, I was all over the place.
The last time I wrestled more frequently was when I was in high school. But in 2018 when 55 kilograms was brought back, now I am wrestling more frequently, more throughout the year, and not just training for one tournament per quarter. That revived me a lot mentally. Last year, I traveled a lot, but 2019 was even more. It was very exciting because I was constantly on the go. There were times when it got a little draining, and I would tell Coach (Shon) Lewis and Coach (Spenser) Mango, and they would let me taper back a little bit because I'm at an age and point in my career when they can trust me when I tell them how my body is feeling.
Being able to have that year-round competition schedule helped me train better because I was able to listen to my body more and wrestle more frequently. Plus, it made me happier. I was wrestling more often, getting after it, getting my hands on more foreigners. I like wrestling foreigners because I'm not afraid to get scrappy with then. I don't know if people look forward to that or not, but I look forward to getting into little scuffles sometimes. To me, that's fun because wrestling is a physical sport.


Listen to "5PM32: Previewing Senior Nationals with Dennis Hall" on Spreaker.
SUBSCRIBE TO THE FIVE POINT MOVE PODCAST
iTunes | Stitcher | Spreaker | Google Play Music | RSS
Notice
: Trying to get property 'term_id' of non-object in
/home/fivepointwp/webapps/fivepointwp/wp-content/themes/flex-mag/functions.php
on line
999