United States Greco-Roman, you won't have to worry about it if combatants like Braxton Amos (97 kg, Wisconsin RTC, 5PM #9) keep matriculating into the program.
It's not because Amos, 19, is an excellent athlete, though he certainly is one. And it's not because Amos at this stage of his competitive career is even completely and totally 100% committed to Greco, because he isn't. Yet. Rather, it is because Amos, despite his young age, exemplifies core values which project awfully well as he moves ever forward into adulthood. Character, it matters. Without that unmistakable fabric interwoven with integrity, passion, toughness, and a sense of service, all you have is a wrestler, and a wrestler without character is like a boat missing its rudder.
Amos' on-the-mat exploits have been generously documented over the past few years. As a high schooler for Parkersburg South in West Virginia, he won three state titles and finished with an unbeaten record. And, he did all of this sans a freshman season due to injury. Naturally, that sort of thing snags some attention.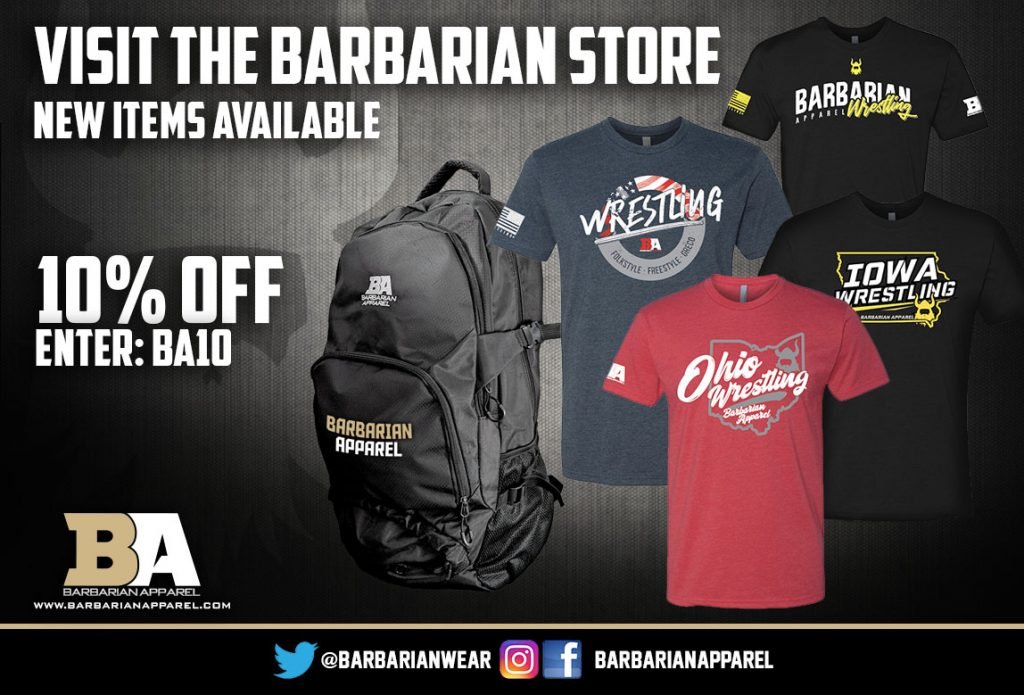 And Amos, as most might be aware, was considered the top recruit in the country by people with computers who diligently follow items big and small pertaining to scholastic wrestling, and then he was also named the winner of the Dave Schultz High School Excellence Nationals Award by the National Wrestling Hall of Fame. Dozens of top colleges wanted a piece of him, another understandable byproduct of his perceived trajectory. The University of Wisconsin won the Amos sweepstakes, either before or after one or all of the above, but none of that is really the point at the moment.
Similar to Cohlton Schultz (130 kg, Sunkist, 5PM #2), another recent blue-chipper, "Amos-the-actual-human-being" supersedes "Amos-wrestler-guy". Wins are great. Dominance, even better. Compete here, compete there, win Fargo a few times… Get a passport stamped and see a little more of Planet Earth. All of it is superb and deservedly acknowledged. Accomplishments are important as tracking mechanisms, but they are misleading because you can't peer through a narrow scope when searching for shooting stars. Wrestling folks make this mistake often and then create "memes" intended to invoke inspiration. Oh, what flawed business it is, to sum up an athlete based on talent and triumph instead of their perspectives on why the whole endeavor means something to them in the first place.
So here we are. Amos, who placed third at the US Senior Nationals in October, is a day away from appearing in the Last Chance Olympic Trials Qualifier. He will be a major name in the bracket, which is to say, anticipated by most to place in the top-2. Such a performance would grant him entry into the Trials; and, since timing is a useful concept, USA Wrestling just announced that Amos holds the #2 seed. He didn't know his seed on Tuesday afternoon when we spoke. If he did, the reaction would have probably been underwhelming. Amos knows better than to play paper games. That is what makes him an effective competitor. An equal-opportunity destroyer: Amos does his best to approach each match, each opponent, with the same degree of respect so that he may attack, as much as he can, with the same margin of viciousness.
He's humble that way.
Humility is, in a sense, paradoxical to self-awareness. You can't know that you are humble. To suggest that you can is a sign of arrogance because, some insist, it means that a little part of you thinks you are better than someone else. Amos? He understands his own athletic capabilities, and his career goals reflect confidence in the future. But the reason why each and every adversary is treated as the same threat is because he would not dare presume an upper-hand that is the result of an imaginary meritocracy. Amos targets opponents as candidates for vanquishment utterly devoid of prejudice. It is as if to him, they earned that much just for standing toe-to-toe.
He says that he's simply "happy to be here", and you take him at his word since wrestling season in Madison wasn't always a picnic this year due to restrictions and the flexibility required to formulate the competition schedule. You believe Amos again because he short-sells a potential appearance at the Olympic Trials by deferring to those who are "getting paid to do this for a living". It's true. Amos isn't getting paid yet. That will probably change down the road. At the same time, every other sentence out of his mouth suggests he would still do all of this for free.
And you believe that, too.
Braxton Amos — 97 kg, Wisconsin RTC
5PM: What is the scene like in West Virginia when it comes to wrestling, just in general? How it's structured, participation, things like that?
Braxton Amos: It has its ups and downs. Some years, there is good participation in folkstyle, freestyle, and Greco. And then other years, you have guys who, for some reason, just want to do folkstyle and kind of get away from freestyle and Greco — which, has never made sense to me, but I'm not one to judge. The choices they make are their own. By the time I started freestyle an Greco to the time I left it grew a lot just because there were guys like me, Brayden Roberts, and John Martin Best who had a lot of success out at Fargo and in Akron. None of us made a World Team, but we were really close. Closer than anyone from West Virginia had been in a while.
It was getting better when I left. I'm not really sure how it's doing now because I haven't been back in a capacity to actually sit down and talk to people from around the state and go, How are you guys training? What are you doing for training? Are you competing in a lot of places? It was definitely interesting growing up in state where there were a few of us who did it. But to get on a Junior or Cadet dual team we had to get released so that we could compete for different states for those tournaments.
5PM: Entering the US Nationals in October, you understood the landscape and scope of competition available. Preparation for that tournament for most wasn't what it usually is but I have to imagine that you gained a lot of confidence from your performance. Forgetting your result overall, because you did place third, there was also that one match versus Nick Boykin, as well, where you were right there with him every step of the way. 
Amos: Yeah, Nick had beaten me at the Junior Nationals in Vegas 7-2 or 5-2, something like that. I thought going in that I could beat him. There really wasn't a point at any time during that match where I've thought, Well, if I had done this differently I would have beat him at Juniors. There was never that point. Getting ready for Seniors, I knew I was going to have to wrestle Boykin. He's a tough wrestler. I knew that I was going to have to get ready to have a six-minute hard match with him. Coming out of that match, there were parts where I could say, If I did this differently, it's a completely different match. And a little bit later in the film if I stop it again, If I change my hand placement on my gutwrench… If I don't let him arm throw me on the edge I can change the outcome. 
I proved to myself that I can start competing against Senior-level guys. Am I saying that I am going to go out there and make a deep run in the (Olympic) Trials? No (laughs). These guys are getting paid to do this for a living. But do I belong in the bracket? Maybe. That tournament did give me a lot of confidence in that I can start doing this for real now.
5PM: That tournament was different for some people, depending on who they were, where they are in their respective careers, and who was in their weight. But is that what the Nationals were for you, more or less a gauge for what Senior feels like? Because, you're no longer an age-group 17-year-old anymore.
Amos: Oh yeah, I viewed that tournament as a chance… I mean, I wanted to compete again. I hadn't competed since my high school state tournament, which, no offense to West Virginia state high school wrestling, but it's not…great. I hadn't really gotten pushed since the Pan-Ams going into my senior year. I just wanted to go and get pushed. Win or lose, I was just happy to be there. I just wanted to see where I stood as far as to at least make the Trials. And I wanted to see where I was at.
Now that I kind of know how the tournament turned out, I am feeling good about Last Chance coming up. Going in, I didn't really have any expectations. I just wanted to see how I would do against grown men, you know? Like you said, I wasn't 17 anymore. It was time to grow up and start wrestling adults instead of other 17-year-olds.
5PM: I feel that coming off of being part of a collegiate season could be an advantage for someone who also has a solid Greco foundation. Do you agree?
Braxton Amos: I don't know. I have seen really good Greco guys go to college and stop doing Greco. No, let me rephrase that: I have seen guys who are really good at Greco stop doing Greco altogether. I guess they wouldn't be "Greco guys" if they stopped doing Greco. It's a double-edged sword. Do I think the conditioning and structure of a college program helps someone in either Greco or freestyle? Yes. Do I think they are dangerous in folkstyle? Yes. Do I think that folkstyle can hurt Greco? Also, yes.
It's hard to change from wrestling folkstyle to training Greco quickly. I have been training Greco for the last two or three months getting ready for Last Chance. I couldn't really imagine going from NCAA's last weekend to, You're not allowed to grab legs and someone is going to throw you on your head now this weekend (laughs). That is a hard switch to flip at a high level in my opinion, but it's one that I will have to figure out how to do pretty soon.
5PM: You have a really low key, easy-going demeanor. I've also seen you wrestle many times and you're a very, very intense competitor. Are you able to just turn that part of you on and off when it comes time for a competition?
Amos: To an extent, yes. But I mean, there is some work up to events. Over the last week or two it is going to bed on time, eating right… Doing the little things right so that you can do the big things when it counts. For the last week it has been, Everything in the world can take a backseat for the next couple of weeks because I have a job to do. But outside of those couple of weeks, I'm pretty laid back. I'm happy to be here, happy to be training. I guess it's a slow flip between being relax and laid back to competition. But there is a switch. It's just not an instantaneous flip. That would be the easiest way to put it.
5PM: You have a tournament on Friday. If all goes well, you potentially have a two-day tournament the next weekend. This could all end with you representing the United States in Tokyo four months and change from now. But in either case, it all begins on Friday. Does this represent the start of international styles for you up until the start of the next college season?
Amos: As of right now, the plan is to wrestle both styles this weekend. Make plans accordingly for the Olympic Trials. If I qualify for both, then I have to figure that out. I don't even know what the issue is there (laughs). Deal with the problems as they arrive as far as booking hotels and competing over the next two weeks. And then hopefully whenever USA Wrestling drops the info for U20 and U23's, sign up for that and try to make two World Teams there.
Outside of whenever U23's is, I have no idea what I'm doing this summer (laughs). If I had to guess, probably a lot of training and a lot of enjoying the sunshine in Madison. If (Chris) Bono and (Jon) Reader call me up and say, 'Hey, there's a Senior-level Greco tournament happening at this date and in this city, do you want to go?', then I'm probably going to go. If my weight is going where it needs to be for college and we can make it work, then we'll make it work. I like t compete. I like to wrestle. Whether it's freestyle, folkstyle, or Greco, I just like to get on the mat and wrestle really good wrestlers. That's kind of where I'm at.
5PM: Are your coaches Bono and Reader supportive of you pursuing Greco-Roman?
Braxton Amos: Yes, they are very supportive of whatever the guys are willing to sacrifice and train hard for. They are very supportive of that. Whether it's Greco or freestyle, the coaches have said, You have our support until you give us a reason to not support you. If there is a guy on the team who doesn't show up to practices and is not proving that they want to do something 100%, are they going to support it? Probably not, whether it's freestyle or Greco. They have been 100% supportive of freestyle and Greco for me. It's more about how much you are willing to put into it.




Listen to "5PM47: Nate Engel and Xavier Johnson" on Spreaker.
Listen to "5PM46: Taylor LaMont and Jessy Williams" on Spreaker.
Listen to "5PM45: Chatting with Dennis Hall and Max Nowry" on Spreaker.
Notice
: Trying to get property 'term_id' of non-object in
/home/fivepointwp/webapps/fivepointwp/wp-content/themes/flex-mag/functions.php
on line
999