The conversation has changed, but that is due more to timing than anything else. The contents of the discussions really haven't, however, at least not since the autumn of 2017, when Britton Holmes (77 kg, All-Army) was a freshman at Northern Michigan University.
Holmes had already made an impression by then. The previous year he won the Malar Cupen in Sweden, a very large and hyper-competitive age-group tournament. It was his first overseas experience and, because of that fact, a lot of Greco people got excited. Doesn't happen everyday. High school seniors new to international looks and feels usually find the crossover puzzling. Holmes on that day didn't have any such issues. 12 months later, the Colorado kid again defied expectations by placing third in the inaugural US U23 World Team Trials.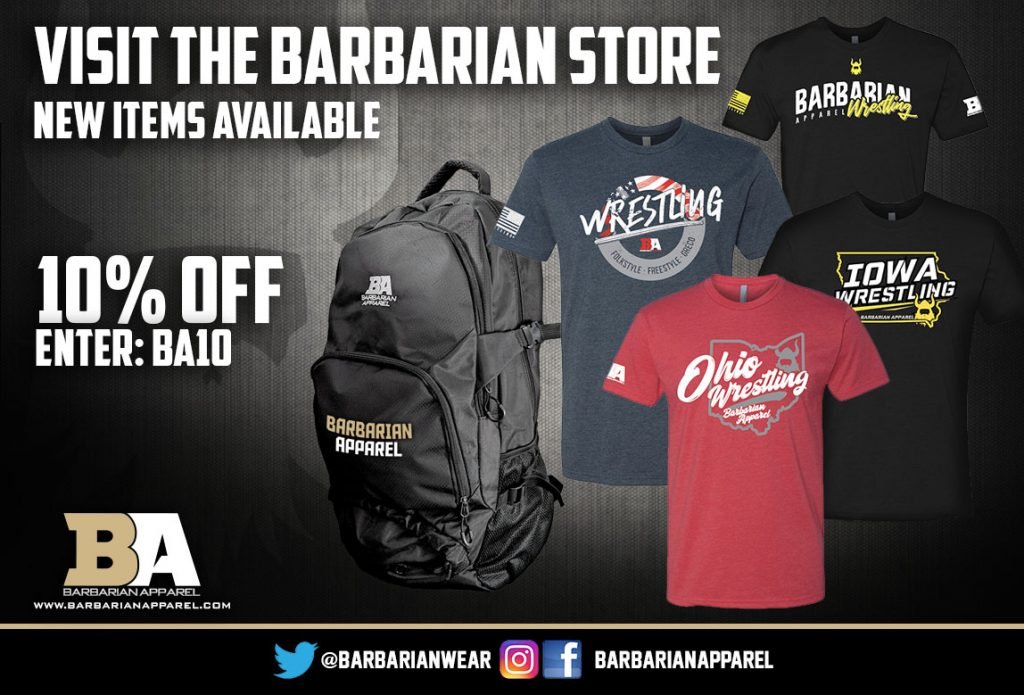 Talk increased. Even those on the outside of the Greco bubble look at tournament results. But the dialogue was off-center. Far too much chatter was focused on box-score hypotheses and recycled drivel like, Do you think he can make a World Team someday? Sure, Holmes might eventually represent Team USA at the Olympic Games of World Championships before his career is a done deal. That can and may happen. Maybe this year for all anyone knows. Except, his candidacy related to potential World-level Senior showcases is only one half of a larger topic.
What always comes first is his desire to fight. 
TC Dantzler — '08 Olympian, World Team member, and noted coach — played an important role in Holmes' wrestling upbringing. Dantzler has an uncanny knack for being able to interpret an athlete's makeup and coaching according to that, as opposed to sticking with a formulaic blueprint. The one thing that stood out to him the most about Holmes was his in-match mechanics. As a teen he wrestled…violently. But, also needed doses of encouragement. So the story goes, Dantzler had a nickname in mind that he felt most accurately described Holmes' style. "Britton, I would tell him, 'You're a bad muthaph****, that's what you are. You're my bad muthaph****.' That's what I called him. I still do," Dantzler recounts, almost wistfully. (Note: spelling of the expletive in said manner at Mr. Dantzler's insistence — Ed.)
Unprintable though perhaps accurate alias aside, Dantzler understood early on what others have discovered for themselves more recently. Holmes is more than equipped athletically and technically, but it is his natural inclination to drive forward with a tinge of unquenchable angst why he is, in competitive terms, a problem — the type of wrestler opponents remember and prefer not having to encounter. Because they know, whatever the outcome is, a high probability exists for some bruising. Some lung-burning. The only hitch Dantzler sees with Holmes is and has been harnessing that aggression. "Britton is someone I'd have to reel back in. 80% of his losses have been because he is always driving forward, and that is why he has given up scores," observes Dantzler.
Of course, there is something to that, and a statistical breakdown isn't necessary for mining the data. Holmes got off to a fast start at NMU but began running into the same snags which are common developmentally. Still, he kept plugging along in spite of these setbacks to make the '19 U23 World Team Trials finals, where he was defeated by Lenny Merkin (67 kg, NYAC, 5PM #12). When "Olympic Year v. 1.0" arrived the proceeding fall, Homes moved up to 77 kilograms, competed twice, and returned to Colorado with the intent to join the Army, which is where this whole thing leaves off.
Just as he did at NMU in '17, Holmes has already raised the eyebrows of his new Army teammates (he will have to wait for potential placement in the World Class Athletes Program). He was barely out of Advanced Individual Training last month when the feedback started. A lot of those older wrestlers were not familiar with Holmes and his otherwise well-known methodology. They were quickly impressed — and it wasn't just the strength and attack style that elicited reactions. According to several, Holmes' technical proficiency is also involved in the dynamic.
With the Last Chance Olympic Trials Qualifier now about to take center-stage, the question at hand is: will this be a different Britton Holmes than the one to which people are accustomed? And if so, why? Maturity? Clearer focus? It would be an understatement to say that he hasn't had a ton of time to prepare for the tournament, but maybe shove that to the side for just a second. What matters most is that Holmes is back and there are a lot of people who want to see him compete. They know that much. And what they also know is that he always makes it worth their time to tune in.
Britton Holmes — 77 kg, All-Army
5PM: When did you exactly get out of basic/AIT, and how long did it take you to assimilate into a training routine after graduating?
Britton Holmes: February 11th is when I was done with basic and AIT. I graduated that day and they got me home at 10:00 at night. I couldn't wait to get back on the mat but it took way longer than I thought it was going to because of COVID. As soon as I got there, I had to quarantine for two weeks. In the middle of basic, I caught COVID and quarantined. Then I had to go from Oklahoma to Missouri for job training, and then another two weeks of quarantine. It was just craziness. I was in a bay with 50 other guys, no phone, nothing. The only material you could read was the Bible. It was almost jail, but it was also just a lot of thinking. Thinking about wrestling, the U23's happened while I was in there, and just seeing the results of that… It was just a lot of thinking.
Right when I got out I was thinking about wrestling and that was the first thing I did, text Coach Spenser (Mango) trying to figure out when they were wrestling. They were in Boise at the time and coming back in the next week or so. I was there the first practice I could be and started going after it. It was weird at first after being off for so long. My lungs weren't there and the wrestling was different. But it almost felt like it sparked a fire, or something, because I felt so good getting back into it. Maybe it was getting away from the sport for a little while, I guess. The mental game. Going through that whole mental period and coming back to wrestling was good for me.
5PM: The last time we talked on the record was right when you had decided you were going to go 77 kilos. A lot of stuff has obviously happened since then. Even though you had started to shift your diet and training towards the weight class, do you now feel more like a 77 than you did in the fall of '19?
Holmes: Yes, I would say that I'm not the biggest 77 out there but I have definitely filled the weight. I walk around at 80, 81 kilos, so I'm not crazy over or anything. But getting in there and being able to wrestle with more guys… This will be my second tournament at 77. I don't know, I think part of me was timid going into that one. But now? I don't know. I feel confident at the weight. I would say that I have filled it in pretty well.
5PM: I've heard reports about you since you've been back. Unprompted reports, meaning it's not like I've asked. But some of these guys who have had feedback didn't know you before and have come away impressed by everything — your strength, fight, and technique. Do you notice these things in yourself? Do you yourself feel different comparative to when you left?
Holmes: I don't know. Coming into that new room, it's always like I have to show out and show the guys that I'm right up there with them. But like I said, when I got back it was different; and then everything started clicking mentally with getting back into the flow of wrestling. It wasn't like, surprising. It got me excited. It put a fire under me. All I could think about was wrestling for the seven months I was in training. Once I finally got to do it, I don't know. I've been going as hard as I can and taking every moment.
Especially in the room, there are so many high-level guys. Being able to pick their brains and seeing how they do things? It has made me put it all out there. I'm in there to wrestle and get better. There are better guys in there than me, and my goal is to surpass them. I'm in there to create my path. It's all exciting and new. It feels like a new slate. I wouldn't say that I've surprised myself but it has definitely been fun getting back into it.
5PM: Have you reconnected with TC since being back in the area?
Holmes: Yes, before I even left for basic, there was a little bit of time when I was still here and then all of the COVID stuff broke out. Stuff was being shut down. But he has always been the first person I talk to when I get back. It's him. It is always trying to meet up with him and pick his brain, or get in some private sessions with him. Because, he's the one who started the whole Greco thing for me. I have a lot to say about TC. TC is the man. I am always in contact with him, and he's always shooting a text and telling me to watch this video, do this, do that.
5PM: Was there ever a doubt that you would enter the Last Chance Qualifier if you could? Or was this an automatic once you knew you would be able to at least train for a bit beforehand?
Holmes: I knew that I didn't compete as well as I wanted to in Dallas ('19 Nationals) and NYAC ('19 Bill Farrell Memorial), so Last Chance is on my list. I knew that was the tournament I need to enter and be ready to go. I knew that as soon as I got out of AIT that I may not have the most time to get ready for it; but I knew that I was going to get there and make everyone remember my name. I was definitely not having any second thoughts about it. I was going to this tournament.
5PM: If this whole thing has been a rejuvenation of sorts, do you look at Last Chance as another way to reintroduce yourself? Not to be corny about it, but are people going to see a new Britton Holmes?
Britton Holmes: I am still the same Britton. I'm going out there to wrestle and, win or lose, you're going to remember my name. You're going to be dog-tired because I'm putting everything out there. I don't know if it's the new me. I know that God has a plan and I'm just following Him. I'm just following the process and trying to get better everyday. So I don't know if I would call it "new". It's just another tournament to me.




Listen to "5PM47: Nate Engel and Xavier Johnson" on Spreaker.
Listen to "5PM46: Taylor LaMont and Jessy Williams" on Spreaker.
Listen to "5PM45: Chatting with Dennis Hall and Max Nowry" on Spreaker.
Notice
: Trying to get property 'term_id' of non-object in
/home/fivepointwp/webapps/fivepointwp/wp-content/themes/flex-mag/functions.php
on line
999