On Saturday, 2019 US World Team member Ray Bunker (72 kg, Marines) overcame a 5-0 deficit against Ahmet Yilmaz (TUR) to earn bronze at the Wladyslaw Pytlasinski Memorial.
It was quite the match. Yilmaz scored four from a throw and a step-out to take command early in the first period. Bunker kept coming, of course, and he got on the board with his own step-out. Then after a Yilmaz attempt at the body went south, Bunker latched onto a four-point front headlock that provided a criteria lead. Yilmaz did try and meet Bunker's intensity through a portion of the second period but couldn't keep up, as he had begun taking a throttling in the tie-ups due to Bunker's relentless pace. The result was a sprinkle of step-out points for Bunker that helped seal the inspirational victory.
That last bit is very much an enormous component to the overall narrative. Bunker is a fighter's fighter who relies on his physicality and ability to press opponents. Though his technical approach is constantly improving, it is his refusal to give quarter why he has ascended to the World level. Bunker's bout with Yilmaz serves as more than sufficient evidence to this effect for those unaware.


But the weekend's result is just a snapshot during what is the main training phase for the World Championships. Bunker still has work to do, and it continues immediately, as he will spend the remainder of the month shoring up his game prior ahead of the arduous final training camp for the Worlds.
Before that happens, the Marine was kind enough to take a time-out from Warsaw to discuss his thrilling win against Yilmaz, what it means for him at this stage of the training block, and what he plans to work on the rest of the week.
Ray Bunker — 72 kg, Marines
5PM: Going into this trip, what were your goals given that Poland is your pre-World tour or warm-up?
Ray Bunker: One of my goals for a pre-World warm-up was to score from the zone. We worked on it at camp — destroy, defend, and deny the lock from bottom par terre — and I did that in the first match. But in the semfinals I just wasn't ready to go. Having the right warm-up is something I need to work on. Getting the right amount of sleep, stuff like that.
5PM: What were you telling yourself down 5-0 to Yilmaz during the bronze round? Because, he all but broke late in the match. Did you have anything specific in mind?
Bunker: I was telling myself to chip away at this lead, never give up, and keep fighting hard. And I did that, I kept the fighting spirit of pushing through pain and not feeling good. That's what it is going to take at the Worlds. But also, staying away from certain positions. I just had to turn the match into a war. That's how I wrestle and that is how I am going to beat some of these guys. But the Turk had a phenomenal gas tank and I wasn't expecting that, so I definitely have some things I need to work on at this camp.
But as far as confidence goes, it really makes me believe that no matter what the score is, I can win. No matter how difficult the situation is, I can overcome it. I am not going to be the guy who just falls down when everybody expects it. I am going to be the guy who finds a way to win. If there's a will, there's a way, and we're going to see who wants it more. That's how I want it to be and that's how that much was. I wanted it more than he did.
5PM: This is an important training camp you guys are sticking around for. What is your main objective this week and how does your performance from the weekend figure into the equation?
Bunker: For this camp, I am looking forward to training hard, being open-minded, and learning as much as possible from the coaches and my teammates. But most importantly, that semifinal match I wrestled was a big eye-opener. I believed I was going to walk through the tournament and beat everybody. With just that match, I learned a lot about myself and the areas I need to improve on. At the end of the day, that could have been a very good thing.
Coming back from that I have a better picture of what I need to work on whether it's on the feet, in par terre, or in the zone. There are areas I can improve on and that match in the semifinals made me realize that.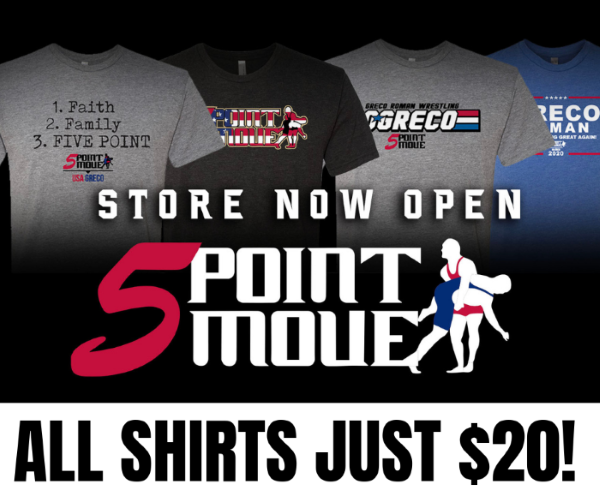 Listen to "5PM26: Princeton's Lenny Merkin and new USOTPC Greco-Roman athlete Nolan Baker" on Spreaker.
SUBSCRIBE TO THE FIVE POINT MOVE PODCAST
iTunes | Stitcher | Spreaker | Google Play Music | RSS
Notice
: Trying to get property 'term_id' of non-object in
/home/fivepointwp/webapps/fivepointwp/wp-content/themes/flex-mag/functions.php
on line
999