Going on this week (and wrapping up tomorrow) is the 2018 Winter Camp held at Northern Michigan's Olympic Training Site. As reported, there is a large presence of top Seniors, many of whom from the Army's World Class Athletes Program. Also in the mix are two wrestlers many are familiar with, 2016 Olympian Robby Smith (130 kg) and two-time US Trials champ Joe Rau (87 kg).
Back in the summer, Smith and Rau left their respective training environments in effort to start anew at Northwestern's emerging Chicago RTC. During this time period, Smith was gearing up to participate in his first National camp since 2012 in which he was not a member of the World Team. As for Rau, he soon departed for a lengthy stay in Europe that included appearances at both the German Grand Prix and Wladyslaw Pytlasinski Memorial.
Rau managed to remain in the news throughout the fall thanks to yet another European tour. It was just last month when the 27-year-old (in order) won Russia's SA Lavrikov Memorial, silvered at the Haparanda Cup in Sweden, and went 0-1 at Haavisto Cup in Finland. As for Smith, he had other matters to attend to. For starters, he was drafted to David Taylor's team in the fledgling American Wrestling League. More importantly, he also got married to his long-time girlfriend, Kelly.


The 2018 NMU Winter Camp offered a quick opportunity to catch up with both athletes and conduct a pulse check.
5PM: How has camp been going?
Robby Smith: Monday we went hard, real hard. Wrestled a lot of live. Tuesday, we wrestled a lot of live in the morning and then there was an open drill in the afternoon with a short lift after that. Everyone has been responding very well. I think the Northern kids have been getting a lot out of it working with different athletes. I mean, I've got guys coming up to me today asking me stuff. So, they're taking advantage and doing really good. It's pretty awesome.
5PM: For you, Robby, this is your first camp of the season and it features heavyweights you know well and have competed against a bunch of times previously. Do you use a camp like this at an early point in the season as a gauge?
Smith: Yeah. For me, especially since we've been training a lot more folkstyle at the Chicago RTC, I needed to feel where my timing was at in Greco. It's no so much of a gauge as to where I'm at relative to the competition, it is more of a gauge for timing and speed. Because, folkstyle is a lot different than Greco. It's such a different sport. When you're wrestling folkstyle with the scrambles, it's a faster pace. This (Greco) can be much slower, and you pick and choose when you go.
The first day (Monday), I was a little bit overzealous but then I started dialing it back and figuring out where I wanted to be. It's a nice gauge for that, because I need to know heading into Schultz and National Team camp in January that my stuff is still on time and I'm moving in the right direction.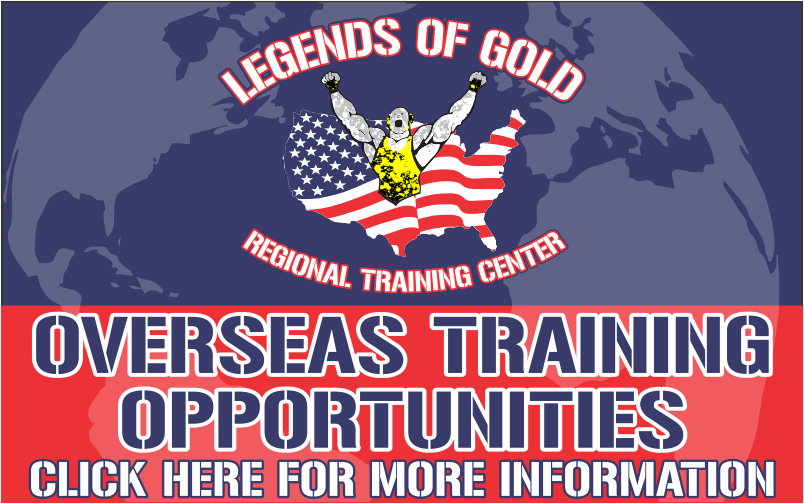 5PM: Joe, this is your fourth or fifth training camp since the summer. All of those camps, with the exception of the Springs camp, were international. When you get so many different looks from foreigners, now that you're back home do you have to adapt your style since Americans compete differently than foreigners?
Joe Rau: Yeah, a little bit. I've been talking to Andy (Bisek) and Robby about cleaning up a lot of my mistakes. I want to build to where I'm wrestling Americans and foreigners in a way that I can beat both of them. But I think I definitely change my style up a little bit when I'm wrestling foreigners, and it's the same thing against American guys. I think I use more Greco technique against Americans. Sometimes, I just let it rip and go more folkstyle against foreigners without losing too much good Greco positioning, if that makes sense.
When I am wrestling anybody, I am looking for angles, I am ripping drags, snaps, getting my two-on-one's, and looking for reach-arounds. Some throws here and there, too. I wrestle everyone that way. Maybe it was because I was competing against foreigners, but I was wrestling a really high pace with a lot of offense. Maybe it's because when I was out there, I was out there, you know? Just on my own and competing a lot. Here, I have Robby pointing out what I need to do and my positioning feels better. I am focusing on things and my scores are coming from that, instead of trying to force these folkstyle attacks.
That is something I've noticed a lot. Americans lack good Greco positioning, so I try to beat them with that. And foreigners might lack some scrambling ability and intense chain-wrestling, so I might use that a lot, too.
5PM: Robby has been a leader, mentor, and coach of sorts going on years now. That has obviously expanded for him now that you're both in Chicago. He's known for this. But in Europe, you were around a lot of the same NMU athletes who are in camp, and you yourself seem to be turning into someone who people are looking towards for advice and elements of leadership. Is that a role you feel you are growing into more at this stage of your career?
Rau: Yeah, and I think I did that a lot at (Minnesota) Storm with some of our younger guys, and even some of our peers. Pat Smith and I would talk at length about a lot of stuff, our philosophies, our mentalities, technique, and we'd help each other out. I helped out Barrett (Stanghill) a lot while I was injured and coached him up to help him make that U23 World Team (in 2017). Having these kids from Northern and on that tour, I like it a lot. It is just flattering to hear some of them say it, but it's true — a lot of them watched me wrestle at Trials and saw me make the Teams that I did and be in the mix. They look up to me, they verbalized that, and that's really cool.
That really means a lot and I just want to be the person guys like Andy and Robby were for me. That's a big part of it for me. I'm not saying I am the most selfless guy in the world, but I care about American Greco. I care about it a lot and I want to see guys get better. I try to put my competitiveness aside sometimes when I'm competing against younger guys in my own weight. I want to help them get better. And when they get better, I get better, too. When these young guys at my weight improve, that in turn makes me get better. And if American Greco gets better all-around, then I get better.
Win or lose, that should be more people's goals out here. A lot of times, there is competitiveness among clubs and training environments, and we're just shooting ourselves in the foot. Right now, Greco in the US isn't where we want it to be. The people who are going to unite are going to unite, and some won't. As far as I go, I want to help anyone who asks me for help. A lot of people helped me out, and that is who I want to be. That is kind of the coolest thing about moving forward in my career.
CLICK HERE TO DONATE TO THE USA GRECO-ROMAN PROGRAM
SUBSCRIBE TO THE FIVE POINT MOVE PODCAST
iTunes | Stitcher | Spreaker | Google Play Music | RSS
Notice
: Trying to get property 'term_id' of non-object in
/home/fivepointwp/webapps/fivepointwp/wp-content/themes/flex-mag/functions.php
on line
999