Former National Team member and US Open finalist Paul Tellgren reflects on how he used to approach the biggest tournament of the year. 
The US Greco-Roman Senior Open showcases the best talent in the United States, men who train full-time and sacrifice blood, sweat, and tears for the opportunity to represent their respective clubs and training centers. Merely getting onto the podium is a great accomplishment in and of itself, let alone earning gold and setting yourself up nicely for a run at a World Team.
Some athletes have dreamed their whole lives of a US Open crown, while others just want to qualify for the World Team Trials and let the chips fall where they may. Me? I wanted to win. I wanted to get the best possible seed for the World Team Trials and make sure I staked my claim as one of the best lightweight wrestlers in the country.
For weeks leading up to the Open, practices become tougher and longer, quite frankly, pretty brutal. Then there are you and your teammates, together realizing that in all likelihood, you'll be competing against some of the guys you share a wrestling room with. Techniques are honed, weight is dropped, diets are fastidiously observed, and every night's rest and every day's workout is treated with the utmost respect.
Many visualize and meditate about how they will perform. I always tried to envision the specific technique that would allow me to beat this or that opponent, feel and move with it, even dream of it, before it became time to execute via muscle memory. In peak condition, we'd then travel to Las Vegas, battle-tested and ready for the task ahead of us. The first priority was always checking our weight and seeing how much had to be dropped. My diet and training regimen always left me comfortably around seven to nine pounds over, or about 4 kilos, the day before weigh ins.
The day of the weigh in was always very tough, mentally and physically, with most athletes severely dehydrating themselves while having no food in their systems — yet they were already down 10 to 20 pounds from the weeks before and holding not much in the way of body fat percentage. Once the weight was made we got some rest and replenished our bodies, which usually included a large carbohydrate load, gallons of water and sports drinks, as well as whatever else we longed for while in starvation mode.
The tournament itself
The day of the competition always seemed surreal to me. I would just wake up and realize I was going to war. I was going to scratch and claw and bash heads and grab fingers and break ribs and limbs for one shot at that title.
My performance was usually an indication of how I had been training and living throughout that year. Nerves ran high, especially my first few years at the Open. Because, to be honest, I was more afraid of losing then I was excited to win. Fears, insecurities, and mistakes from the past can race through an athlete's mind at times. As I warmed up and prepared my body for battle, I tried to envision glorious moments of victory from the past, or focus on techniques I had worked on leading up to the event. My warm up music was hardcore, heavy metal, or some form of rock. Then my testosterone would start to rise. I'd begin sweating and loosening up.
How it works is matches are called, athletes present themselves on the mat, and the whistle is blown. When it was my turn, almost simultaneously, my nerves would disappear. Fears just evaporated and I was in my zone, feeling the flow of strategic combat. "Loving the fight" was something a coach of mine always emphasized, and there is nothing quite like colliding with another Greco athlete in a fury of holds and moves, bashing heads, breathing hard, pummeling with every muscle in your body before executing a technique successfully. This is "the grind", that's what they call it. It takes on a shape during the match and you can literally feel the will power of an opponent drain, or overtake yours, as a match progresses.
This fight continues into the later rounds with some athletes advancing, and so many more being eliminated. I always loved the feeling after my second or third match. I was in a hyper vigilant state; my body felt like a wrecking machine, it hummed with precision and function, I was a rocket in full flight, roaring upwards.
There is a distinctive feeling once the final matches are set. Those dreams I keep referring to, they seem like they can be made or broken in a matter of minutes. The audience starts filling up, adrenaline starts pumping hard, and I could hear my heartbeat in every breath as I stepped on the mat for my final match.
A protocol is in place for when it's over. I came off the mat exhausted and realized it was time to go back to the drawing board, focus on mistakes, get better at what I did right so I could put forth my best performance of the year at the World Team Trials.
That's why the US Open is very important, but it also just a test, a gauge of  your performance. With all the prestige of a National title, it's a stepping stone to a grander goal; representing our great nation at the World Championships and hopefully coming home with a medal.
So, yes, look for exciting action and explosive techniques. Appreciate the "grind" and the "fight",  and try to recognize the amount of work that goes into the performance of each and every athlete. It is truly an honor and a blessing to be able to compete against our country's best in a sport that we all love. Whatever the end result is, we're wrestlers. We are warriors, we're tough, resilient people. The lessons we take away from a competition like this one can transcend the sport itself and mold us even more into becoming the fighters we were always meant to be.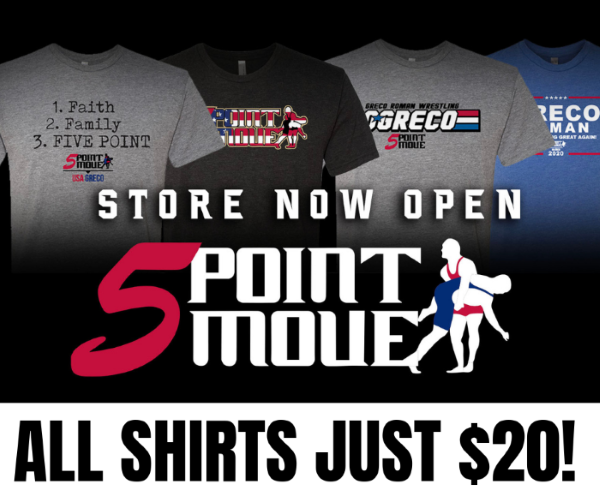 Listen to "5PM22: Sammy Jones guest co-hosts as Five Point Move visits with Lucas Sheridan and Sam Hazewinkel" on Spreaker.
SUBSCRIBE TO THE FIVE POINT MOVE PODCAST
iTunes | Stitcher | Spreaker | Google Play Music | RSS
Notice
: Trying to get property 'term_id' of non-object in
/home/fivepointwp/webapps/fivepointwp/wp-content/themes/flex-mag/functions.php
on line
999