While attention shifted to Fargo, North Dakota this week for the 16U and Junior Nationals, the Seniors were hard at work preparing for the 2019 Pan American Games, scheduled to begin August 7th from Lima, Peru.
The deal is easy to understand, as the only weight classes to be competed at the Pan Am Games are the six Olympic categories. Accordingly, the US World Team members who occupy the Olympic weights will be participating.


Among the lot is 2018 World silver Adam Coon (130 kg, NYAC/Cliff Keen, world no. 2), who stomped through the Pan Am Championships this past April before eventually defeating Cohlton Schultz (Sunkist) in two straight at the Final X Series in June. Coon talks to the camp's itinerary, and then to close it out, recalls his days as an age-grouper who won four Greco-Roman "stop signs" inside the Fargodome.
Adam Coon — 130 kg, NYAC/Cliff Keen
5PM: Word going in was that this was going to be a particularly intense camp. Did it turn out that way?
Adam Coon: We had a lot of good guys in here just ramping up the intensity. It was a great camp. We got a lot of work in, a lot of technique, and when it was time to ramp it up, we definitely did. So it was nice to have that time to work and now we're ready to go. It was a good camp all around to get in now that we're getting closer to the Pan Ams.
5PM: There were a couple of days mixed in that provided a semblance of rest with some video watching and other stuff. Did that break up the week for you nicely?
Coon: For sure. It was nice to be able to get off the mat a little on those days, rest the body, watch film, work on the mind, and then go to practice and drill those areas. We did that a couple of times with different athletes intermingling and we started competing a little more. So it wasn't as intense compared to the rest of the days (laughs).
5PM: Coming out of the Pan Am Championships, then your slate of activity after that, Final X, and now the Pan Am Games are next, did this preparation add a twist to what your training plan had been — or is it more of a continuation of how you've been training all along?
Coon: It's just a time for a lot of work, a lot of learning some new tricks as well as improving my old tricks. I don't want to say it's a 'long season', because that makes it sound like I'm dreading it. It's just a long period for me to work on different things that much more. I am using it as a stepping stone to continue to improve at any step so I'm that much more ready to go. I'm using it as one big, long, nice training cycle in-season.
5PM: In your younger days, you had a lot of success at Fargo. It is a tournament you won a bunch of times. I doubt you had much time to watch this week, but what do you think of the tournament now and its relationship to our sport?
Adam Coon: For those who want to choose the college route like I did, there are a lot of college coaches who will go down there to see what the level of competition is. It's the highest national-level tournament in our country for the high school ages. And it is such a great confidence booster, too. It is such a grueling, hard week, but it is so rewarding at the same time. Yes, I got to wrestle on the highest stage, so it was definitely rewarding there. But at the same time, just to compete with those guys. My first time out there I ended up not placing either time — and I wound up progressing into multiple national titles. It is just the price of being out there and wrestling with a bunch of great competitors. It is just a great event. Now, it's a little bit different from when I was there but I am sure the competition is just as grueling.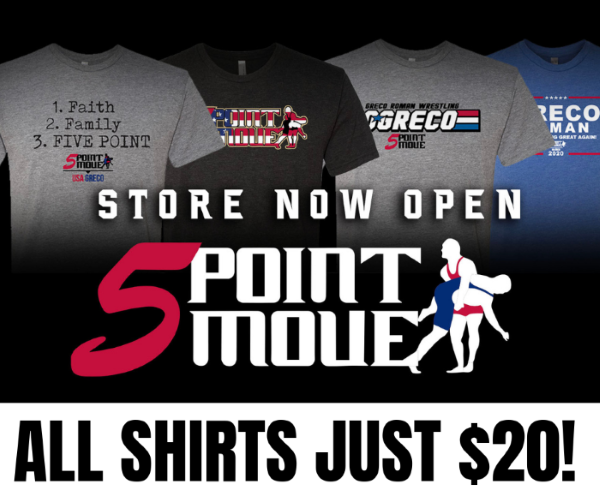 Listen to "5PM26: Princeton's Lenny Merkin and new USOTPC Greco-Roman athlete Nolan Baker" on Spreaker.
SUBSCRIBE TO THE FIVE POINT MOVE PODCAST
iTunes | Stitcher | Spreaker | Google Play Music | RSS
Notice
: Trying to get property 'term_id' of non-object in
/home/fivepointwp/webapps/fivepointwp/wp-content/themes/flex-mag/functions.php
on line
999