Chayse La Joie (120 lbs, MI), Ridge Lovett (138 lbs, ID), and Jace Punke (220 lbs, IL) cashed in on becoming two-time Fargo Junior National champs on Friday but there were plenty of big moments to go around in a final round that began — and ended — with fireworks.
The finals of the 2019 Fargo Junior National Championships kicked off at 2:00pm (MT) and aired live in the US on FLOWrestling.


Brandon O'Brien (100 lbs), one of two Iowa champs to emerge from the chaos that is Fargo, got the festivities started by coming back against freestyle titlist Daniel Sheen (IL). Sheen drew first blood thanks to a passive chance and converted a turn to go up 3-0. It stayed that way moving into the second period when O'Brien drove Sheen down for four. But — Sheen quickly reclaimed the lead by finding O'Brien's head and arm, and cranking for two exposure points. After a reset, O'Brien scored on a takedown and follow-up gut to surge back ahead, ultimately walking away the winner of an 8-5 decision.
At 106 lbs, Andre Gonzalez (CA) held a 1-0 lead over Ryan Rowland (FL) entering the second but widened the gap big time with a nifty front headlock that caught Rowland coming in. A caution-and-two on Gonzalez brought it closer, though there wasn't enough from then on to threaten his standing — and as such, he made it to the finish line a 5-2 victor.
Billy Sullivan (113 lbs, NV) is a hardcore, Greco-first athlete who trains full-time and has already pocketed loads of relevant international experience. The hard work combined with his ability paid off this week. Sullivan met up with a severe talent in Sheldon Seymour (PA) and put this one away early. After receiving the first passive, Sullivan, who competes for Legends of Gold in South Dakota most of the year, brought Seymour up and pounded out two nice side lifts to race out in front 9-0. The native Nevadan closed the show shortly thereafter by spinning behind for two — in a sequence that was challenged by Pennsylvania — giving him three more and a 12-0 tech.
Repeat Champs
La Joie had himself a fitful challenge in Anthony Molton (IL), an athlete who likewise profiles as a future star. They had some exchanges early on, too. La Joie did snare the advantage from jump street, coaxing Molton off the line for a step-out before zipping a tidy arm spin for a correct throw. But at 5-0, he couldn't coast, as Molton dented the proceedings with a takedown. From that sequence, La Joie answered back and exposed Molton, and then added another step-out to enter the break up 8-2. Soon into the second, he wrapped it all up, wailing a four that resulted in the 12-2 runaway.
Facing Cade Lucio (CA), Lovett needed a minute to get going. A quick try at arm spin and a look to come out the back didn't materialize. But that was due to Lucio's gameness. Eventually, Lovett got to the body and converted for a correct hold, and then he followed up with a pair of guts. Now in control with a 6-0 lead, it seemed like a matter of time. Lucio, to his credit, sped up his undoing by trying an offensive maneuver, an arm throw. However, Lovett clutched and yanked back, popping Lucio up and over for four to seal the deal.
Unfortunately, Braxton Amos (WV) was unable to compete in the final due to injury, so Punke did not have a match in the final. Certainly not something you want to see happen in a tournament like this one, but hopefully Amos heals up soon and is back competing.
Russell, Drury, Burks, Foca, & Luffman
Camden Russell (126 lbs, NE) and Haiden Drury (132 lbs, WA) have something in common other than the fact they both earned "stop signs" on Friday. In 2017, Russell traveled to Europe as part of the Go Greco Developmental Tour, seeing matches in Croatia and Serbia. The next year, he won the Austrian Open. Drury, a Fargo champ at Cadet a year ago, got himself over to Austria this past March and won a medal.
The tandem leaned on this experience in their respective finals bouts for similar reasons. Russell did business with skillful up-and-comer Cael Swensen (MIN) and had to fight tooth-and-nail. Swensen got on the board first with a step-out before catching Russell's throw attempt for a counter two. The leather-tough Minnesotan owned a 3-0 lead at the break, but it was a lead that would evaporate. With his passive/par terre chance, Russell ratcheted a gutwrench to surge ahead on criteria. Back on the feet a short time later, and the Nebraskan locked the body and tossed Swensen for four. Even still. Swensen was not out of it. He wanted to clash and step into an opportunity. He came really close right before the conclusive whistle by using an underhook and nearly lateraling Russell at the line. The call was two; Minnesota challenged and lost; and the final score read 8-5 in favor of Russell.
In one of the afternoon's marquee matchups, Drury took on '16 Cadet World Team member Mosha Schwartz (CO). Drury had the first passive/PT try and diligently worked on a gut/lift. He may have tried too hard. As he went to elevate, Schwartz found an opening within the loose lock and stepped over, netting two. They jousted tactically for the remainder of the period with Schwartz holding the 2-1 margin. With just over :30 to go and down 3-1, Drury locked around Schwartz at the edge and pulled him in for two. That gave Drury criteria. At the buzzer, Schwartz wanted the officials to have another look. The challenge was denied with the final score 4-3.
2018 Cadet World Team member James Burks (NE) did not waste much time against Cael Carlson (MN), jetting out to a 4-0 advantage on the strength of a takedown and gut combo. Back to the feet, and Burks was there with a step-out. Another reset, and an arm spin that was originally scored four but was amended via challenge to two. Either way, it was a hefty 7-0 lead for Burks who ended matters soon after, but not before another review. Carlson plowed forward with Burks' back towards the edge. As it happened, Burks responded by locking double over's and hipping Carlson over off the boundary. At first, it was scored two for Carlson. But then following the review/conference, it was changed to four for Burks, icing the contest at 11-0.
New Jersey's Chris Foca (182 lbs) had been lights out most of the week, particularly in Greco, and he wasn't going to be stopped on Friday. Jacob Anderson (AK), who had an admirable showing, as well, just did not have answer for Foca's attack, which started with a takedown and two guts — and then ended after the very next reset with an inverted arm spin, capping Foca's superb run to the title at just :42 into the first period.
2018 Cadet World Team member Luke Luffman (285 lbs, IL) gives off a little of that throwback feel, and it also helps that he can rely on solid fundamentals to continue attacks. Working opposite top-seed Spencer Trenary (IA), Luffman collided inside for a takedown and immediately ripped two guts. Trenary was knocked for passivity midway through the first, giving Luffman another point before the Illinois athlete scored a takedown to send this one on its last legs. Fast-forwarding into the second, Luffman hustled Trenary off the line for one more point, and subsequently, the Junior National crown.
Notes:
Illinois won the team title with 61 points followed by Iowa (46 pts), California (44 pts), and Nebraska (38 pts).
Seven finals matches ended via tech. There were only two in the 2018 Fargo Junior finals.
Four finalists appeared in a World tournament previously, all Cadet (of course): champs Lovett, Burks, and Luffman; and 132 lbs runner-up Schwartz.
2019 FARGO JUNIOR NATIONALS
July 18-19 — Fargo, North Dakota
FINAL MATCHUPS
100 lbs: Brandon O'Brien (IA) def. Daniel Sheen (IL) 8-5
106 lbs: Andre Gonzalez (CA) def. Ryan Rowland (FL) 5-2
113 lbs: Billy Sullivan (NV) def. Sheldon Seymour (PA) 12-0, TF
120 lbs: Chayse La Joie (MI) def. Anthony Molton (IL) 12-2, TF
126 lbs: Camden Russell (NE) def. Cael Swensen (MN) 8-4
132 lbs: Haiden Drury (WA) def. Mosha Schwartz (CO) 4-3
138 lbs: Ridge Lovett (ID) def. Cade Lucio (CA) 10-0, TF
145 lbs: Anthony Echemendia (AZ) def. Edward Scott (PA) 10-0, TF
152 lbs: James Burks (NE) def. Cael Carlson (MN) 11-0, TF
160 lbs: Cade DeVos (IA) def. Ryan Cody (FL) 5-1
170 lbs: Angel Garcia (PA) def. Lance Runyon (IA) 7-0
182 lbs: Chris Foca (NJ) def. Jacob Anderson (AK) 10-0, TF
195 lbs: Vincent Baker (GA) def. Artem Loginov (CA) 13-2, TF
220 lbs: Jace Punke (IL) def. Braxton Amos (WV) via injury default
285 lbs: Luke Luffman (IL) def. Spencer Trenary (IA) 10-0, TF
2019 Junior All-Americans
100 lbs
Brandon O'Brien (IA)
Daniel Sheen (IL)
Kaleb Casey (WI)
Christian Forbes (OK)
Michael Longo (CT)
Carson Nishida (IL)
Cael Keck (MO)
Robert Gardner (PA)
106 lbs
Andre Gonzales (CA)
Ryan Rowland (FL)
Jeremy Bockert (AK)
Chad Bellis (IL)
Caleb Coyle (NE)
Quade Smith (UT)
Kenny Sailas (CO)
Steven Foster (PA)
113 lbs
Billy Sullivan (NV)
Sheldon Seymour (PA)
Joseph Couch (MD)
Angelo Lozado (CO)
Nate Rubino (NE)
Christian Decatur-Luker (NC)
Gary Steen (PA)
Richard Treanor (NC
120 lbs
Chayse La Joie (MI)
Anthony Molton (IL)
Jakason Burks (NE)
Cooper Flynn (TN)
Chris Kim (PA)
Grant Treaster (KS)
Zach Keal (KS)
Christian Cabuag (CA)
126 lbs
Camden Russell (NE)
Cael Swensen (MN)
Adam Allard (IA)
Nick Masters (GA)
Brody Norman (IL)
TJ Long (OK)
Theorius Robison (CO)
8Chase Randall (WA)
132 lbs
Haiden Drury (WA)
Mosha Schwartz (CO)
Kellyn March (SD)
Caleb Gross (WI)
Tarrell Wallace Jr. (FL)
Ezekiel Hulet (IL)
Preston Martin (KS)
Khyler Brewer (MO)
138 lbs
Ridge Lovett (ID)
Cade Lucio (CA)
Caden Mccrary (GA)
Joshua Saunders (MO)
Robby Vaughn (WA)
Antonio Segura (CO)
Bretli Reyna (FL)
Logan Hatch (WI)
145 lbs
Anthony Echemendia (AZ)
Edward Scott (PA)
Chandler Mooney (MN)
Payne Carr (KY)
Luke Odom (IL)
Chance McLane (MT)
Vincent Zerban (IL)
Aaden Valdez (CO)
152 lbs
James Burks (NE)
Cael Carlson (MN)
Aaron Gandara (AZ)
Kaden Reetz (WI)
Grigol Khochiashvili (PA)
Kevin Contos II (OH)
Maxwell Kristoff (IL)
Steven Villalobos (FL)
160 lbs
Cade DeVos (IA)
Ryan Cody (FL)
Adrian St.Germain (WA)
Weston Milnes (CO)
Cael Valencia (CA)
Jace Luchau (CA)
Wyatt Pfau (CO)
Caleb Waddell (GA)
170 lbs
Angel Garcia (PA)
Lance Runyon (IA)
Nevan Snodgrass (OH)
Nico Zavala (CA)
Caden Rogers (PA)
Dajun Johnson (WI)
Greyden Penner (MO)
Jaden Bullock (VA)
182 lbs
Christopher Foca (NJ)
Jacob Anderson (AK)
Colton Hawks (MO)
Josh Labarbera (IL)
Kalyn Jahn (WI)
Jackson White (MO)
Ashton Habeil (FL)
Trevor Swier (IL)
195 lbs
Vincent Baker (GA)
Artem Loginov (CA)
Isaac Trumble (NE)
Matthew Kaylor (ND)
Jonovan Smith (CA)
Denzel Mabry (CA)
Kasten Grape (NE)
Matthew Cover (OH
220 lbs
Jace Punke (IL)
Braxton Amos (WV)
Gabe Christenson (IA)
Cade Lautt (KS)
Cody Fisher (IA)
Cabe Dickerson (OK)
Jacob Christensen (CA)
Ramin Abraham (IL)
285 lbs
Luke Luffman (IL)
Spencer Trenary (IA)
Nash Hutmacher (SD)
Donovan King (MI)
Alex Coleman (OH)
Joey Slackman (NY)
Ryan Johnson (TX)
Aydin Guttridge (IL)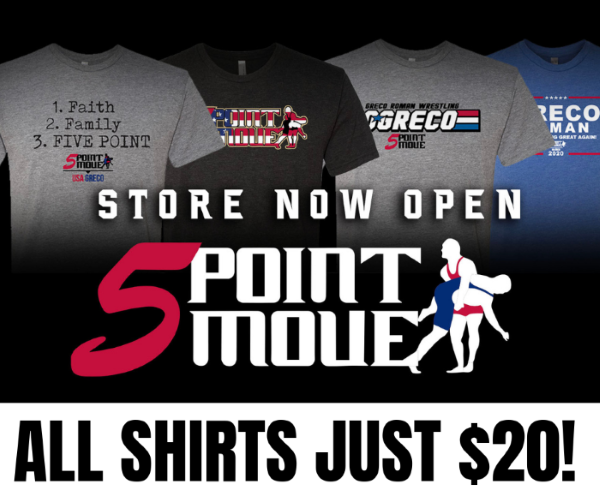 Listen to "5PM26: Princeton's Lenny Merkin and new USOTPC Greco-Roman athlete Nolan Baker" on Spreaker.
SUBSCRIBE TO THE FIVE POINT MOVE PODCAST
iTunes | Stitcher | Spreaker | Google Play Music | RSS
Notice
: Trying to get property 'term_id' of non-object in
/home/fivepointwp/webapps/fivepointwp/wp-content/themes/flex-mag/functions.php
on line
999