Yesterday, one half of the roster for the Senior Greco-Roman camp taking place this week was released along with a Q&A featuring Terry Pack. Lightweights, which is to say 60 to 67 kilograms, will begin practicing tomorrow (December 3) at Pack's Legends of Gold in Beresford, South Dakota. US National Team head coach Matt Lindland, GR Operations Manager Gary Mayabb, and 2006 World Champion Joe Warren (NYAC) are expected to run the sessions at LOG.
At the same time the lightweight wrestlers are populating mat space in SD, nearly 20 upper-weights will be doing the same 160 miles away at MWC in Papillion, Nebraska under the watchful eyes of Zac Dominguez and Herb House. Dominguez, who has been on numerous World Team staffs in recent years, has grown into an increasingly larger role with regard to the Senior level. In '18, he was a coach for the Budapest World Team; last year, he accepted a spot on the New York Athletic Club's considerable coaching staff; and most recently, he ran a Senior camp this past summer that received high praise from those in attendance. Many Senior athletes have expressed admiration for Dominguez's coaching style, which has helped raise his profile even more in conjunction with MWC's availability to host this late-autumn camp as the pandemic unfortunately continues.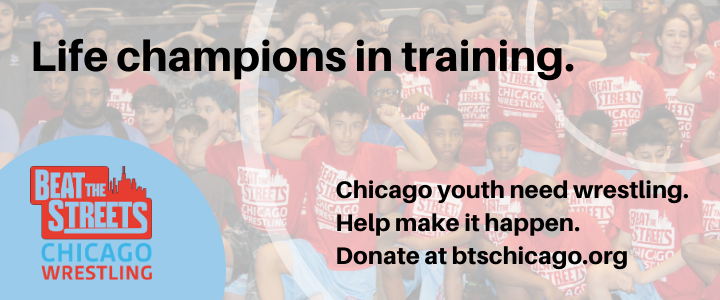 The upper-weight roster for MWC is stocked with plenty of recognizable names. '18 World silver Adam Coon (130 kg, NYAC/Cliff Keen, world #6, 5PM #1), two-time World Teamer Patrick Smith (77 kg, Minnesota Storm, world #19, 5PM #1), '18 World Team member RaVaughn Perkins (77 kg, NYAC, 5PM #4), three-time National champ Kendrick Sanders (77 kg, NYAC/NTS, 5PM #6), three-time World Team rep Patrick Martinez (87 kg, NYAC, 5PM #3), and two-time World Team member Joe Rau (87 kg, TMWC/IRTC, world #7, 5PM #2) are all on the list. In total, eight of the 19 wrestlers who will train in NE are already qualified for the US Olympic Trials.
In order to set the tone for this conclusive Senior training camp of the calendar year, Dominguez answered a series of questions pertaining to the general outline and objectives he and House plan to observe over the next week. (Full camp roster is included below the Q&A.)
5PM: You already had one of these camps back in the summer. When it comes to this camp compared to the one in August, are there differences you're looking to implement? And if so, what do they potentially look like?
Zac Dominguez: Probably not too different but perhaps I will exert more input. Based on what Matt sent me and how I translated it over to the app, I can see where there will be times I may be able to teach and coach more, as opposed to just running a practice. It is easier to just run a practice, and it is different when you are teaching while running a practice, which is what I could be able to do with the set of practices that I have seen so far.
5PM: Many of the Seniors who will be in this camp likely won't have the opportunity to compete before the Last Chance Qualifier and the Olympic Trials. It seems that way, at least. Even though you are not the everyday coach for these guys, how do you keep the morale up and keep them motivated during a camp in spite of the fact that there might not be a competition for them coming up on the horizon before the spring?
Dominguez: You know, that's always the trick. You have to be able to have a little fun with it; but guys sometimes need someone to be a little hard on them, as well. I think I can break them down and build them back up, but in a good way, like, Okay, this guy wants to help, he's here, he cares. And then they are responsive to it. I'll know in three or four days if I am supposed to be the tough guy or the nice guy. Usually, if there is a camp and it's me, Herb, and (Bryan) Medlin, Medlin is the hard ass. That's how he was when we grew up (laughs). I get to be the good guy.
But I told him that I wouldn't mind being the tough guy. I'll push them a little hard, maybe turn the heat up higher than they want, or make practice go a little longer and change it up on them. But — not in a bad way. Just to keep them on their toes, which I think is the most important part. An athlete who is stale and doesn't move will just give up and die, right? They need to be moving, they need to be working, they need to be doing things that make them remember that they do have tournaments and time-frames they need to be on. They need to stay active and stay in control.
5PM: You were at the Coralville Nationals, you were obviously at Junior/U23 last month, too. Are you prepared for athletes who may wish to approach you about things they might be struggling with, and how might you divide your time with one-on-one's for an athlete or two during this camp?
Dominguez: After I received the schedule from Matt, I set aside times that I think will be good if someone wants to meet with me. I have six of them set aside. Hopefully, there's not more than that, but if there is, it's great. I just have to stay ahead of it. My plan has to be ready for them to get into my plan. That is kind of the way that I've been coaching. I try to stay ahead of it so I know what the problems are going to be — although I let them figure out their own problems — and then I'm there to answer their questions because then I'm figuring that they would be coming with problems. It's a win-win, in my opinion.
5PM: Will you have any of your own guys, age-groupers, in on this camp?
Dominguez: You're going to laugh at me, but I don't have any of my own guys in on this camp right now. The ones who would be there will be going up to South Dakota. I don't currently have a 77 who I'd want to send out against RaVaughn Perkins. They'd get destroyed. I don't mean that in a bad way. For instance, I also don't have a heavyweight I'd want to send out there against Adam Coon. He's just scary enough as it is (laughs).
Plus, I don't want to distract. These camps are serious, especially because of the plan Matt put together. This is more of an in-tune camp, so I don't want any distractions. They get in, they do their jobs, we cut them loose, bring them back in, and they keep doing their jobs. I want them to feel good about what they are doing without having to wait on partners and things like that. I don't want to create problems that they don't need to have.
5PM: How important is it for athletes to have the ability to switch partners during a camp like this, especially in light of the circumstances currently surrounding the sport and training opportunities?
Dominguez: I think it is very important. To be honest with you, it should take them three practices to return to their original partners based on looking at the workouts and what we're doing. They can go through three practices wrestling with different guys before they get back to the original guy.
That, in my opinion, is huge. You want to talk about feel? Everyone is going to defend the gutwrench differently. But everyone becomes comfortable drilling with the same guy, Oh, I like drilling with this guy so I'm going to drill with him the whole time. Well, the problem is that you get used to his tendencies. What I always tell my youths is, You're getting used to each other's laziness, and I make them change drilling partners. They are not allowed to have the same drilling partners all week at my club. Sometimes, you get a big guy and a little guy. Hey, it's okay, you can learn something different. Sometimes that happens in my room with my guys but that's what my expectation is with these guys. They can change partners and not get the same feel.
Now, don't get wrong. When you're at a tournament you want the right feel. But at a camp like this, feeling the defense from six different people will make your gutwrench better. The same thing for lift defense. Or, one guy might have a great arm throw, another guy has a great headlock, or bodylock. Being able to feel that, all of that, goes into your memory bank. Okay, this is what that feels like, he did it way differently. At a camp, it is really important to change partners and get that good feel across the board.
5PM: None of the coaches will be able to witness the fruits of this camp in the short-term since there are no tournaments coming up it would appear. That being said, this is really important to the athletes. In that vein, what is it that you're hoping to accomplish more than anything else?
Zac Dominguez: That we are pushing them a little further along the line, that there is a light at the end of the tunnel. There is a Trials coming and we are four months out. I am going to keep reiterating that to them, We're only four months out. This is not like it was last April when they postponed the Trials or last June when it felt like it was going to be years. We are four months from a competition and I want to keep pushing them along the line of, If you haven't put it in full gear yet, you've got to do it now. It's that time now. It's not July or August when I ran the previous camp and it was a little more laid back, a little more fun. And I mean that in a good way. It just felt good to be back on the mat. Now, we are training. We're doing what we are supposed to be doing. We're back in action.
MWC USA SR Greco Upper-Weight Camp
December 3-10 — Papillion, NE
77 kg
Ryan Epps (Minnesota Storm)
Brandon Mueller (Air Force/WCAP)
Alec Ortiz (Minnesota Storm, 5PM #11)
RaVaughn Perkins (NYAC, 5PM #4)
Kendrick Sanders (NYAC/NTS, 5PM #6)
Fritz Schierl (TMWC/Ohio RTC)
Patrick Smith (Minnesota Storm, world #18, 5PM #1)
Spencer Woods (5PM #10)
87 kg
Tommy Brackett (UA)
DM Hallett (NMU/NTS)
Patrick Martinez (NYAC, 5PM #3)
Lukas Poloncic (Minnesota Storm)
Joe Rau (TMWC/IRTC, world #7, 5PM #2)
97 kg
Diante Cooper (Air Force/WCAP)
130 kg
West Cathcart (NYAC/IRTC, 5PM #6)
Adam Coon (NYAC/Cliff Keen, world #6, 5PM #1)
Tanner Farmer (IRTC, 5PM #10)
Donny Longendyke (Minnesota Storm, 5PM #8)


Listen to "5PM42: A Dennis Hall Thanksgiving" on Spreaker.
SUBSCRIBE TO THE FIVE POINT MOVE PODCAST
iTunes | Stitcher | Spreaker | Google Play Music
Notice
: Trying to get property 'term_id' of non-object in
/home/fivepointwp/webapps/fivepointwp/wp-content/themes/flex-mag/functions.php
on line
999