Thursday begins what will likely be the final camp of 2020 for United States Greco-Roman Seniors. The circumstances, in keeping with the general pattern this year has had to offer, are unusual. One training camp — but split into two locations with different personnel involved.
Upper-weights (77 to 130 kg) will converge on MWC in Papillion, NE where Zac Dominguez and Herb House are set to take charge of running the curriculum. Meanwhile, lightweights (60-67 kg) will meet up 160 miles away in Beresford, SD, the site of the expansive Legends of Gold campus helmed by Terry Pack. US National Team head coach Matt Lindland and Greco-Roman Operations Manager Gary Mayabb are expected to coordinate training sessions at LOG, with 2006 World Champion Joe Warren (NYAC) potentially coming on-board to coach, as well.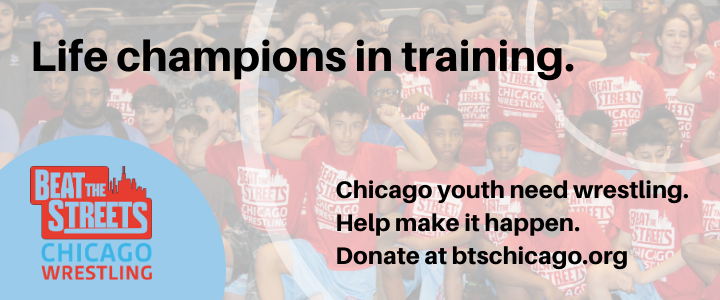 Legends of Gold, in operation for over five years, is an exceptionally unique institution. Built on a 40-acre complex, wrestlers from age-group through Senior can live on campus in the dorms and attend practices in a 7,200 square-foot wrestling room that comfortably fits eight mats with space to spare. It is so massive that this past spring, LOG hosted a youth tournament on-site — 54 teams, hundreds of wrestlers, and not a single issue. Just as importantly, all three disciplines are available for instruction and training throughout the year at LOG, which fills a critical need for Greco-Roman from a developmental standpoint.
Pack has long been willing to take on a larger role for the US program by availing LOG's considerable resources, and now is as good of a time as any for that to happen. If anything, it is the best time. That's because South Dakota is one of very few states where COVID-19 has not resulted in a domino-effect-like shutdown. For the most part, life in and around Pack's neighborhood is normal. There are no travel restrictions to enter SD, and LOG — despite its large roster — has managed to avoid infection cases thanks to judicious guidelines. Pack uses the word "bubbled" to describe the environment. It fits. As he explains, athletes on campus are just that — on campus. They can practice, go to the cafeteria, lift weights, and head to the dorms without ever having to exit the facility.
All of that indeed matters. What also matters is how this training opportunity came to fruition, and what Pack is hoping will be the end result.
(Camp roster is included below the Q&A.)
5PM: How did this come about as far as LOG hosting the lightweights? What were the conversations like, how did this all basically happen?
Coach Terry Pack: I don't know the specifics for how which weight classes were going where, but Matt (Lindland) has been here before. So has Gary (Mayabb) and other people on the team, so they have seen our campus. I think they were looking for a place that would be a little more COVID-friendly and they could kind of bubble. I think a lot of people saw our success in bubbling kids back in April when we bubbled all of our camps, and I think that made them feel comfortable.
Matt actually reached out to us, and I to him pretty much simultaneously asking, What can we do to help?  Matt said, "This is what you can do to help", and it all worked out. I don't know the logistics were as far as who went where, but I definitely think that by coming here they would never have to leave campus. They can go from the wrestling room to the weight room to the dorms to the cafeteria, and I think all of those things were a benefit for them to come here to us.
5PM: Considering you have the most prolific program of its kind in the country, this is an opportunity for age-groupers to witness top-level athletes in-person and work alongside them. How are you going to be able to incorporate your own wrestlers into this experience?
Pack: We'll see what happens because USA Wrestling has stipulations regarding how much contact they want with wrestlers who aren't USA Wrestling athletes, so that might play a little bit of a role. But our goal is to be able to get our guys in there and let them watch practices, and get guys like Matt, Gary, and Joe Warren to talk to our team and motivate them. I mean, our kids love Greco. We train Greco year-round and I think our guys will be super-excited to have those kinds of people here. So, my main utilization for them is just the mindset piece that says, Greco is important. Here is what you can do. Matt is a silver medalist… Here is what Joe Warren has done… Here is what Greco can do for you… If you love Greco, these are your opportunities… I think that's what they need to hear because people don't hear that in our sport, at all.
5PM: You yourself as a coach, what are you looking for regarding your own interests when it comes to drilling and how these practices will be run? What are you looking forward to the most about how it will be organized?
Pack: I think for me is that I've seen a lot of these kids since they were young, and I want to see what their developmental level is from where they were to where they are, because obviously, that's what we're trying to do with the IDA (International Development Association). We want to build that developmental level up to get them to the Senior level. What's cool is that Billy Sullivan will be here with the Senior-level guys. He was a guy who went 0-2 at Fargo before he came to us, and now he's a World Team Trials placer in his age-group and a Fargo champ. So for me, I want to see that developmental piece of what they are changing from that youth piece to the Senior level so that we can incorporate that for our guys who are in-between.
5PM: Pretty much everyone around the country knows how massive and beautiful your campus is. Is there any talk, any thought, or plans to potentially have more camps for Seniors? Or even a Senior-level event given the amount of space you have?
Coach Terry Pack: And the funny part about that is that is something I'm actually going to talk to Matt about while he's here because we had a sponsor who would cover the cost for all of the athletes coming here. We're covering their rooms, all of the electric, water, and that stuff. We're not charging them anything. We want to show them that people love Greco and that we are a viable resource for Greco to host tournaments. We can bubble them in their own dorms. There are so many things that we can do here that other places can't. That's what we want to show them. We want to show them that we can be one of your most valuable resources for USA Greco.
LOG USA SR Greco Lightweight Camp
December 3-10 — Beresford, SD
60 kg
Nick Dardanes (TMWC/IRTC)
Dylan Gregerson (UVRTC)
Mason Hartshorn (CYC)
Sammy Jones (NYAC/UVRTC, 5PM #5)
Dylan Koontz (TMWC/Ohio RTC)
Corbin Nirschl (MWC)
Orlando Ponce 
Travis Rice (NYAC/IRTC, 5PM #10)
Zane Richards (TMWC/IRTC)
David Stepanian (NYAC/NTS)
Carter Stephenson (EAP)
Billy Sullivan (LOG)
67 kg
Nolan Baker (NYAC, 5PM #7)
Joe Dashou (Minnesota Storm)
Morgan Flaharty (NYWC)
Calvin Germinaro (Minnesota Storm, 5PM #8)
Logan Hatch (EAP)
Duncan Nelson (NMU/NTS)
Benji Peak (Sunkist/NTS, 5PM #11)
Robert Perez III (EAP)
Noah Wachsmuth (EAP)
Jasiah Williams (CSU-Pueblo RTC)


Listen to "5PM42: A Dennis Hall Thanksgiving" on Spreaker.
SUBSCRIBE TO THE FIVE POINT MOVE PODCAST
iTunes | Stitcher | Spreaker | Google Play Music
Notice
: Trying to get property 'term_id' of non-object in
/home/fivepointwp/webapps/fivepointwp/wp-content/themes/flex-mag/functions.php
on line
999